On to today's post.  Our Customizable Holiday tags were such a huge hit that we thought we'd partner with The Little Umbrella again for a set of Mother's Day tags!  A few of these are obviously designed to pair perfectly with our Olive Oil, but there are also some that can be used no matter what you're gifting the lovely ladies in your life!  We love anything and everything that comes out of the Little Umbrella, and these are no exception. Look how darling!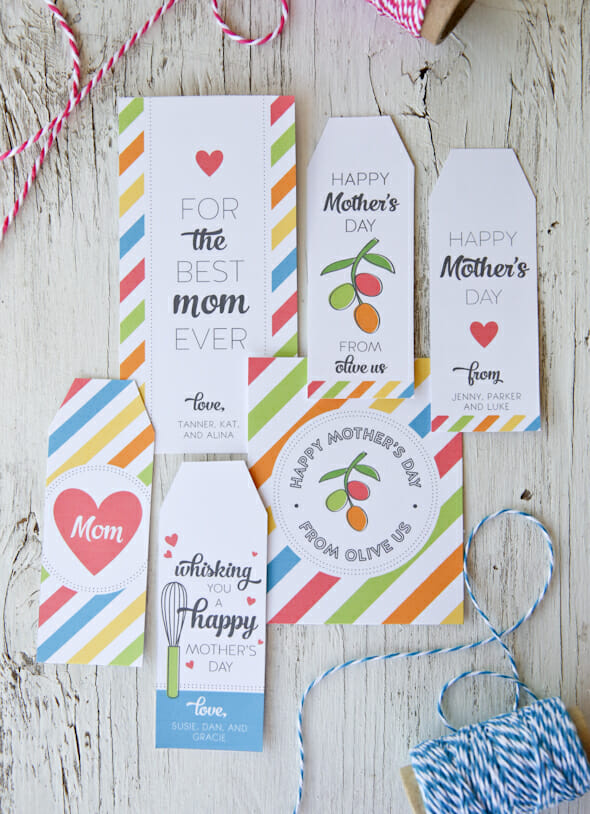 If you've never played around with these Customizable Tags before, you'll have so much fun.  Every color on these tags can actually be hand-picked by you!  You can make them to match anything, see the preview of what you've created, and then print from home (did we mention for free?).  You also type in the fields saying who the tags are  from, and you can do each tag differently if you want.  It's so much fun- and these tags are perfect for all of the goodies from our shop that are currently headed all over the country!
A couple of these are perfectly sized for our kraft boxes, I love how these look, tied on all pretty.  Take note if you are purchasing these bundles from the Shop, the 2 and 3-pack bundles don't automatically come with a box.  If you want the box, you must select it!  Then you can print out a cute label and pretty it up like this:

This 2-pack bundle is the best deal in the Shop, especially with the sale right now.
And we are so happy that you all have been loving our new Letterpress Boxes as much as we do!  The darling tags look great on anything.
And my favorite might be the this one! Hundreds of you ordered these whisks, so I'm guessing this will be a popular tag!
The tall skinny ones fit perfectly around a bottle of oil, but they'd also be darling on a box of chocolates or tied onto a pretty box.  Head over to The Little Umbrella and play around with it!  Print off a page or two just to keep on hand!
And pssst… no matter what you're gifting the women in your life, our cute Tote bags make a really awesome gift bag.  They're less than 13 bucks right now when you use the discount code: MOM in the Shop! Please remember to leave a note in the note section if you are sending gifts!

Hope you enjoy the cute tags, thanks to The Little Umbrella for partnering up with us again!  Snap a picture of your cute gifts and tag us on Instagram so we can see!
 Click here to download your free Mother's Day Printable tags!