It's here!  One of our most favorite sales of the year, because it's one of  your most favorite sales of the year.  The time to stock up for all of those special women in your life (including YOU!) Starting *today* and all the way through Friday, use code MOM15 to save 15% on your entire order in our Shop.  Here's some of our favorite things!
First of all, if you're looking for an incredibly easy gift that EVERYONE will love, we've made it pretty darn easy for you.  We have Mother's Day Gift Boxes that are thoughtfully packaged in a cute box and filled with goodies to delight just about anyone!
The gift box comes with one bottle of our Artisan Extra Virgin Olive Oil in the flavor of your choice (we have Garlic, Lemon, Basil, Blood Orange, Rosemary, Lime, Bacon, Jalapeno, Chili, or regular), a darling Mini Heart Whisk, one of our brand new Premium Illustrated Tea Towels in this adorable Salt & Pepper Shaker print, and because everyone needs a little something sweet- a box of Old Fashioned Vanilla Cream Caramels.  The Caramels are created for us by a specialty candy maker who cooks them in giant copper kettles for the most amazing soft pieces of heaven.  These Mother's Day Gift Boxes are an awesome value and we have a certain quantity of them and when they're gone, they're gone!  So if you're thinking about purchasing any, you'll want to grab them fast!
If you're buying gifts for someone special, grab one of these darling gift cards to go along with it.  These custom cards are individually letter-pressed with the most adorable hand-rendered illustration on thick, cotton paper.  I would totally frame this after receiving it!
Now- if you are like us and your heart goes pitter-patter over anything rainbow- you NEED these rainbow whisks!
Kate and I are picky about whisks, so like our adorable Mini Whisks, we designed these full size rainbow whisks and had them made just for us!
They are exclusive to Our Best Bites and top quality.  They're strong enough to stand up to heavy whisking, and you can pop them in the dishwasher when you're done.  They're food grade silicone so they won't scratch your dishes, and they're heat proof up to 450 degrees F.  These come in a set of two, with both a traditional whisk and a flat whisk.  If you've never used the flat whisk before it's one of my favorite tools.  It's the perfect thing to whisk anything in a skillet, and especially amazing at de-glazing pans.  Treat yourself to one of these darling sets.  I promise it will make you so happy every time you use it!
If you're on the hunt for gifts, our Letterpress Gift Sets are a top seller for a reason.  You get to choose any flavors you like in these darling custom boxes.  You can get our small bottles, or our larger bottles in these thoughtful, stylish sets.  They look especially cute with a Mini Heart Whisk tied on to the box.
Lastly, if you visit our textile section, you'll see lots of fun new things.  We are in LOVE with these amazing illustrated tea towels.
Check out all of the individual designs; some of the even have recipes on them!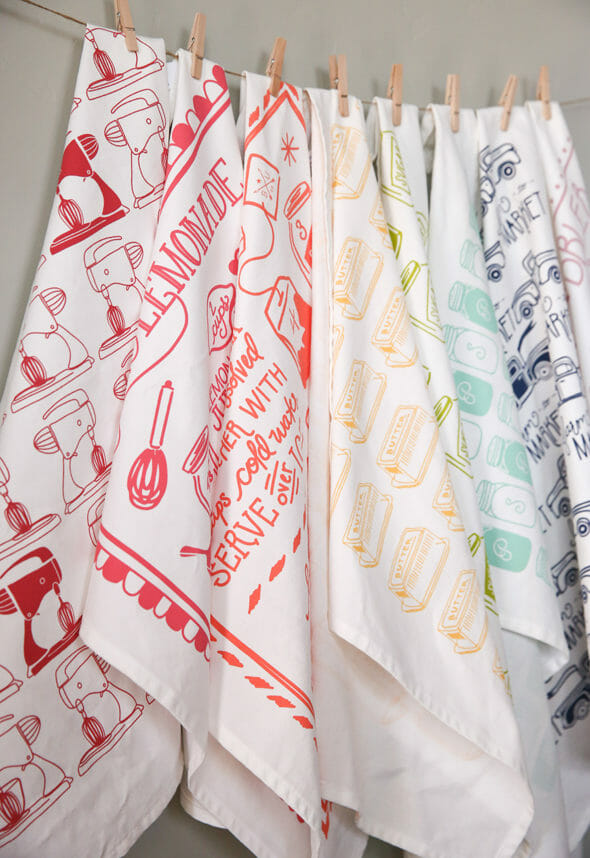 We also have some darling new floral tea towels in stock, and a couple that coordinate with our new aprons!  
I'm a little obsessed with aprons.  I pretty much wear them all day long when I'm at home because I'm constantly getting myself dirty, and with 4 little kids it's the only way I keep myself looking even halfway decent.  If basic is your style, you'll love our Retro Mod Aprons.  We have them in several fun graphic prints, like this "Simple Addition"
And this Mod Squad.  They have long ties so you can wrap them around and tie in front if you want.
We also have a few fun fashion aprons in stock!  Bright florals and cute styling give these aprons such a fun look.  Check out all the different aprons, here.
One very important note about all of the textiles (Aprons and Tea Towels):  They are limited in quantity and will almost certainly sell out!  I don't want you to be mad so I'm telling you now- if you see something you like, go get it!!
Head over to The Shop and click around.  There are tons of fun Olive Oil and Vinegar flavors to choose from.  Order single bottles, or stock up on gift sets; either way, you'll save.  Don't forget to use the code MOM15- you'll need to enter it under "view cart".   Have fun shopping!