**Please note:  ALL oil flavors will be re-stocked by tomorrow (Thursday)!  If anything is sold out when you shop, and you want to wait, the coupon code is good through Friday, so everything will be in stock tomorrow (we just had a delayed shipment, so a few things sold out faster than expected!)
Just in time for Mother's Day, we have lots of new goodies to introduce (and also a discount code)!  Let's get right to it.  First and foremost, our beautiful new Letterpress Boxes.  We are utterly in love with these.  We wish you could all hold them in person so you could see the quality and craftsmanship here.  But if nothing else- look at that heart cut-out!
Every side is a little work of art, which makes them such beautiful and thoughtful gifts.
These are available with any *two* flavors of your choice, in our smaller, 147ml bottles.
A bonus surprise is that the bottle separator inside the box is actually a cute little letterpress book mark!  We love this fun feature.  Click Here to order our 2-Pack Sampler in this Letterpress Box. 
We still have our larger standard bottle 3-pack bundles, and these kraft boxes are available for those.  We love the shape and size of this box because it's perfect for adorning with a cute tag.  ALL of the darling tags you're seeing in this post are available for free to you!  We'll be sharing more about them on Friday!  We especially love this one that says "From Olive Us," it makes it so easy to buddy up with siblings or your family to gift your Momma something spectacular!
We also have the kraft boxes available for the standard bottle 2-Pack Bundle.
And our Bestselling 4-Pack Gift Boxes are also a great option.  They allow you to try 4 flavors and have really great presentation.

Also new to the shop are these Heart-Shaped Mini Whisks!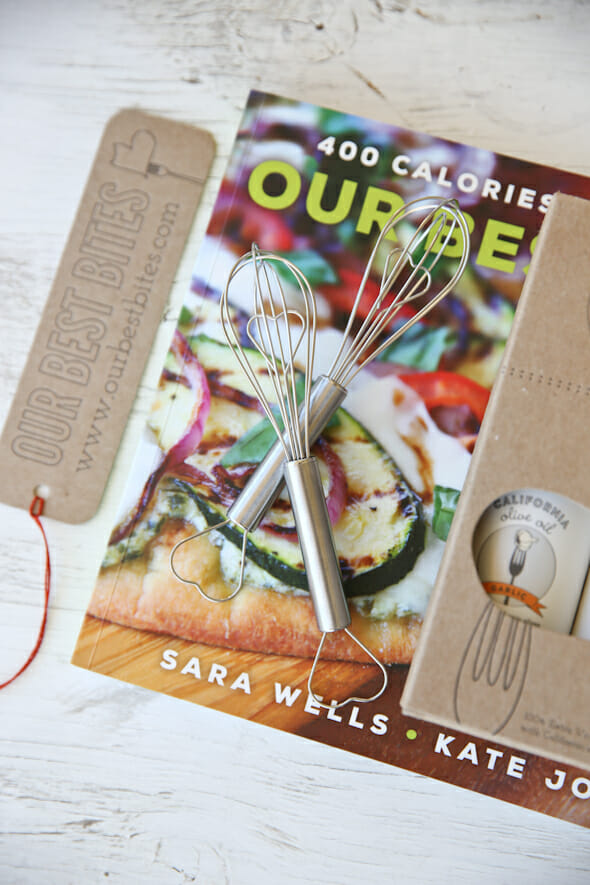 This is our favorite size (really!) to use in the kitchen, and it just so happens that it's the absolute perfect size to tie on a 250ml bottle.
They also look adorable tied up on a cute tea towel.
We LOVE tea towels/flour sack towels.  They're light weight, rustic-cut, and hand printed.  Perfect for decorating your kitchen, laying over a bowl of rising dough, or just drying hands.  And they make the cutest gifts.  I actually collect tea towels any time I see cute ones and keep a little stash because they're so perfect to pair with a yummy treat or cute kitchen utensil.  We've got two new designs in the Shop! One is our favorite Julia Child Quote,
And our other is our favorite Tom Haverford quote:
They're both adorable and functional!  And since we love that first quote so much, we put it on a darling Cotton Tote Bag, too!  This bag is the perfect size.  It's soft but sturdy Cotton, and it has a 22″ handle so it's long enough to sling over your shoulder.
It also has gusseted sides and opens up a full 7″ (like, as wide as a brown paper grocery bag) so it's great for carrying groceries, or for just running around town.
I use mine as a church bag sometimes, or even a gym bag.  Gotta remind those gym rats about what really matters!
If you haven't tried our Artisan Olive Oils yet, now is a great time. Stock up for all of the ladies in your life, and don't forget teachers!  These make awesome teacher appreciation gifts, and also end of the school year gifts.  I used this awesome Printable that Kate made last year for our teachers and it was such a huge hit!  School is almost out, so think ahead.
 Happy Shopping!
—> Use Discount Code: MOM for 15% your entire order! <—-
One tip.  In order to enter the discount code, make sure to click on "view cart,"  if you proceed directly to checkout you'll miss it, and we don't want that to happen!