Over the 7 years we've been writing professionally about food and cooking, the question we get asked the most is about what products to invest in when it comes to kitchen equipment.  And over and over again, we tell you that a good set of knives will be the best investment you'll ever make.  Some people are hesitant to purchase professional quality knives because they come with a price tag and they figure a knife is a knife, right?  So wrong.  If you've never used professional quality knives, you don't know what you're missing until you cut with a high end, razor-sharp blade in your hand.  It makes every task in the kitchen easier, more pleasant, and much more efficient.  I personally eyed these gorgeous knives from New West Knifeworks for a long time, and I have been giddy for months now waiting to show you mine, and also give you a chance to win one of these amazing pieces for yourself!  This is a company, and a brand that we fully stand behind and we're so excited to introduce them to you if you haven't heard of them already.
There's so much I want to tell you besides "look how awesome these are," but seriously; look how awesome these are!
These are New West Knifework's Fusionwood 2.0.  These gorgeous knives arrive individually cased in leather (so you can see what a stunning gift a single knife would make.)
Take a look at those handles.  I can't stop staring at them.  Each one is unique, and a little work of art all in its own.
"Over the years we've developed handles which exhibit the highest fusion of beauty, form and function.  We carefully layer dyed veneers of select hardwood which are then impregnated with a proprietary engineering grade resin.  Since the resin is pulled into the wood using a vacuum process, there is no surface treatment to deteriorate. The final handcrafting of the handle creates a seamless interface with the user's grip that can't be matched by a machining process.  The finished knife feels like an extension of the hand." – New West Knifeworks
These photos aren't edited at all- the colors are naturally that rich and beautiful. Just look at those!
Kate and I are partial to all things rainbow, and this one here has my heart.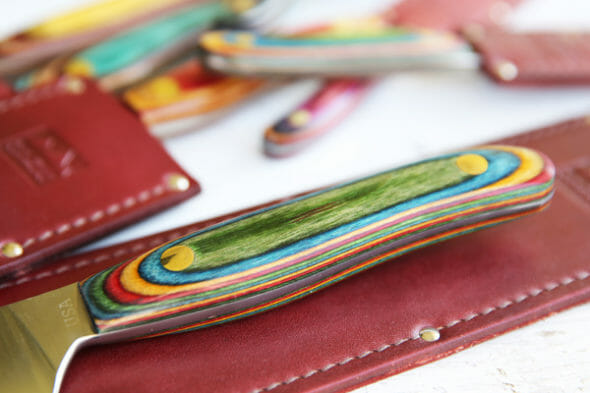 New West Knifeworks produces all of these quality knives right here in the USA (love that.)
"The knives are designed, engineered, and tested by Corey Milligan at New West KnifeWorks. The blades are cut, ground, and finished by the Lamson and Goodnow Company, Americas oldest cutlery manufacturers, in Shelburne Falls, Mass. The 170 year old factory uses modern precision tools in concert with the hand skill of knifemakers who are part of a legacy of artisans that have been making knives for generations.  The factory is run completely on hydro-power generated on site making this the greenest knife you can buy." -New West Knifeworks
When it comes to the actual blades, these knives are professional quality and made from the finest high-performance steel.  You can read more about the technical aspects that makes these blades so amazing, but I will just say this: they are sharp.  Very sharp.  And strong.  These are the kind of knives that cut through anything effortlessly, and will literally last you a lifetime (no really, they have a guarantee!)
A full knife block set comes with the beautiful knives you see here.  There is one for every use in the kitchen from the tiniest paring knife to the giant Superbread.
In addition to the beautiful knives, they sit in the most gorgeous wood knife block.  There are a variety of styles of blocks, and they all display theses  knives in a way that makes them the talk of the kitchen.  I mean that.  People constantly see mine displayed on  my counter and say, "Wow, are those your knives??"  With knife handles this stunning, it would be a shame to hide them away- I love that these look so awesome sitting out on my counter.
If a full knife block isn't in your budget, check out their line of individual knives.  Buying one great go-to knife is an awesome addition to any kitchen.  (And then ask Santa for more).
In addition to giving you all a chance to win a knife today, you can sign up here to win a whole knife block from New West Knifeworks.  They also do giveaways on their Facebook page, so make sure to head over there and follow their page.  Lastly, they're now on Instagram, so you can keep in touch that way as well by following @nwknifeworks.
Now, today!  Enter to win the Petty Utility Knife, a beautiful, all-around workhorse in the kitchen.

This beauty can be yours- and you can choose your handle color!  This knife will be your new best friend, pinkie-swear.
What kitchen items are on YOUR wish list this holiday season??  Leave a comment- you never know, we might just get some ideas for Christmas Giveaways!
Speaking of Christmas Gifts- we dropped a brand new Our Best Bites Olive Oil Co. Flavor Pack on Amazon!  It's a 4-pack with BACON, GARLIC, LIME, & CHILI.  Hello love. Comes in a gift box- grab it while it's hot (and in stock!)