I hope everyone had a great Christmas! Yes, I know it's not 2012, but today I'm re-sharing my family's favorite New Year's tradition, our New Year's tree! My kids look forward to this and eagerly await the morning they wake up to find our Christmas tree transformed. Check out all of the details below and consider starting a fun new tradition with your own family!
***2016 UPDATE*** We love this tradition so much that we actually decided to create a fun little printable pack all about it! It includes 40 pages of exclusive, never-before-seen New Year's Eve recipes, beautiful printables for your very own NYE tree, photo booth printables, and tons of great party game ideas! Get it here for $7.99!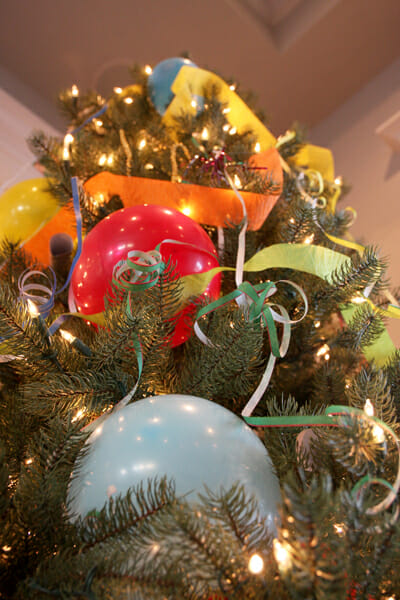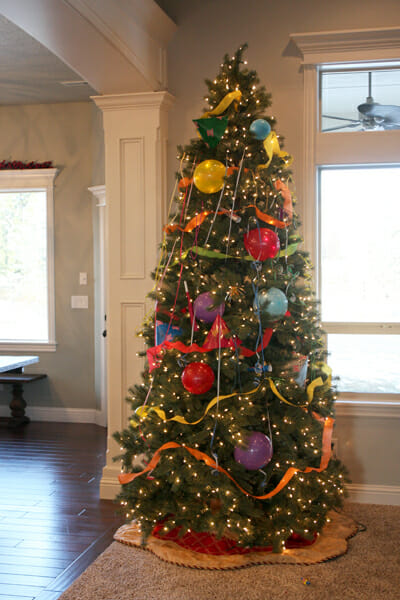 Original post:
It's no secret that I'm a holiday-junkie. I love fun family traditions and my little family has been creating a lot of our own. But one holiday that we haven't really done much for is New Years. Partially because my kids are so young that a holiday centered around staying up late hasn't been of much interest and my husband and I have been total party poopers the past few years and usually end up watching the ball drop on tv and then hitting the sack. The other reason is that I go a little crazy for Christmas so I'm usually still winding down from that by December 31! But every year I read my sister-in-law Emily's family blog and see her fun New Years tradition. She fills balloons with money and "fortunes" or New Years wishes, ties them to the un-decorated Christmas tree and their family celebrates by popping them at midnight. Or "midnight" (whenever you decide that happens 😉 Each year I think, "ooh, I'm totally going to remember that for next year." And then I do remember. About a week after New Years when she blogs about it again. Doh! So this year I actually remembered to ask her about it, and as I was decorating my own New Years tree I thought some of you guys might like the idea too so we're bloggin'. Because that's what I do 🙂
I usually leave my Christmas tree up until after the New Year anyway, so I love the idea of taking off all of the ornaments and giving it a quick makeover. I did mine after my kids were in bed last night and they were SO shocked and excited when they woke up and saw our tree this morning. They freaked out even more when they realized there was money inside the balloons. I ran to the party supply store yesterday and spent about $10 on cheap New Years party stuff.
We had to have some noise makers (even though I have three sons and they were pretty much born with built-in noise makers)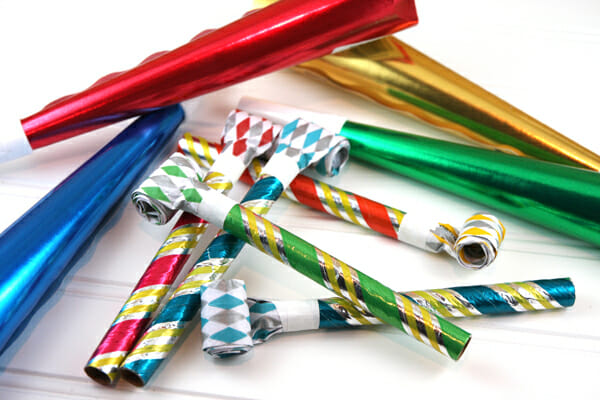 And big funny glasses are a must
I know my boys will LOVE these crackers; you can get them pretty cheap at party stores
and anything else you want.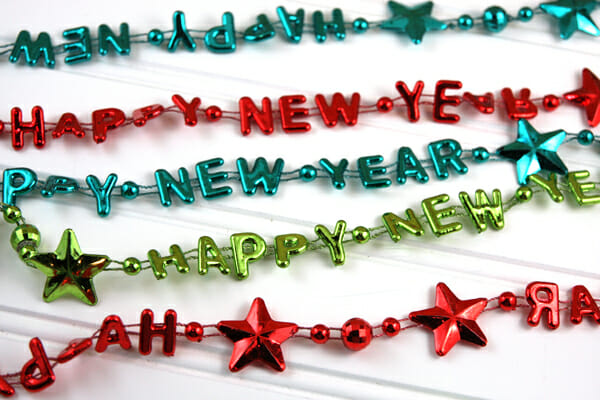 I already had a bunch of balloons, from making another one of these…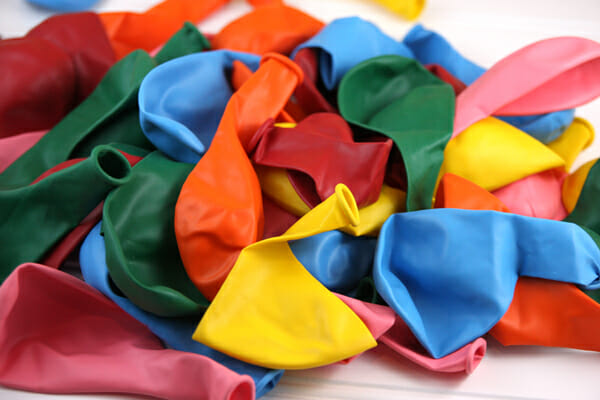 My sister-in-law slips little wishes for the New Year in her balloons. I started thinking of some and then while I totally had writer's block after only a few (I know, I'm pathetic) I spotted a little book of jokes my boys got for Christmas. I thought those would be fun, so I put silly one-liners in all the balloons (What do you get when you cross a kangaroo and an African Elephant? Big holes all over Australia!) Just cut them into little strips and roll them up and slip them right in there. If you want to print off the silly ones I used, click here. 2012 Edit: This year I asked YOU all for jokes and you came through like champs! I literally sat up forever reading every single one of them and laughing my eyeballs out. Head over to our facebook page and read through the post, it's hilarious. (What kind of cheese is not yours? Nacho cheese!) Someone else just commented that it would be fun to insert favorite family memories from the past year. I thought that was a great idea too.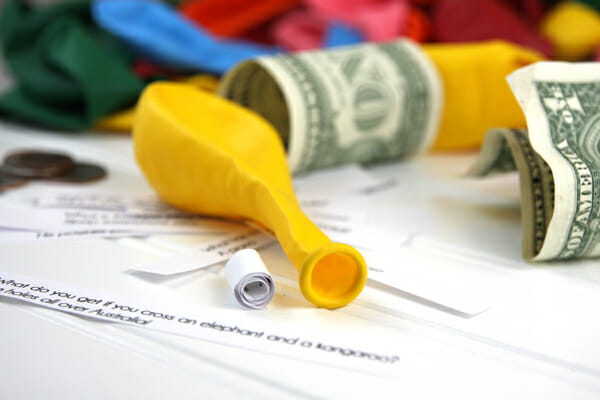 I also put some coins in the balloons. Guess where I got the coins? My kids' piggy banks. Don't judge. My kids are little and their banks are totally loaded. They get 99% of their haul from 3 places:
1. Around the house (and therefore belonging originally to me)
2. From the change dish in my car (again, mine)
3. From a straight-up raid of my wallet. (Um, yes, for sure mine.)
Therefore it's not bad parenting, it's actually more like the circle of life.
I even put $1 bills in a few of them, which my kids will freak out about. Because if there's anything they've learned in their young years, it's that they should be collecting the "green money".
I am actually very surprised at how much the opening of a latex balloon can fit. You could actually fit little trinkets in there, but after Christmas the last thing my kids need is more trinkets. So we'll settle for jokes and money! Confetti sounds like a natural choice too- but only if you enjoy vacuuming up confetti for the next 5 years of your life. I hate confetti.
Just tie the balloons to the tree and add in any other decorations you want. If your tree is real, and really dried out I suppose you'll have to be careful with the prickly needles and your balloons! This one is artificial (total embarrassment from this Seattle girl!) so it's no problem. If you're worried about your balloons popping, I recommend under-filling them with air so they're nice and squishy. That should help.
(If you still have lights on your tree, either leave them off, or just make sure not to put balloons or paper stuff right on the lights; especially the old-school kind that get pretty hot. You should also leave any sort of popper that actually has some little firework-y thing in them off.) The bonus is that you're really not making more work for yourself since everyone will grab stuff off the tree on New Years Eve, therefore cleaning it all up for you!
When you're ready to count down to the new year, grab the party off the tree and pop the balloons at midnight! (Or 7pm if your kids can't tell time yet, like mine 🙂 Read jokes or fortunes, collect the booty, and call it a year.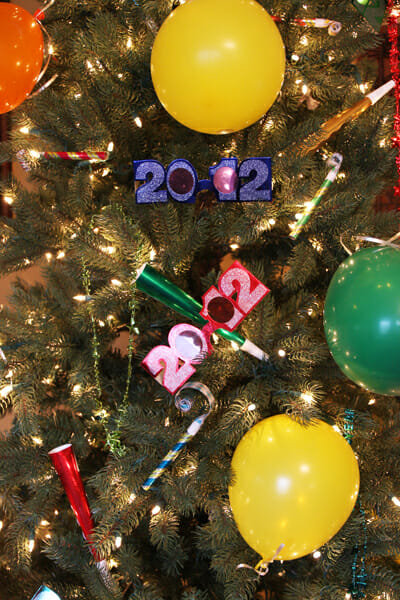 Here's our tree that will be ringing in 2013!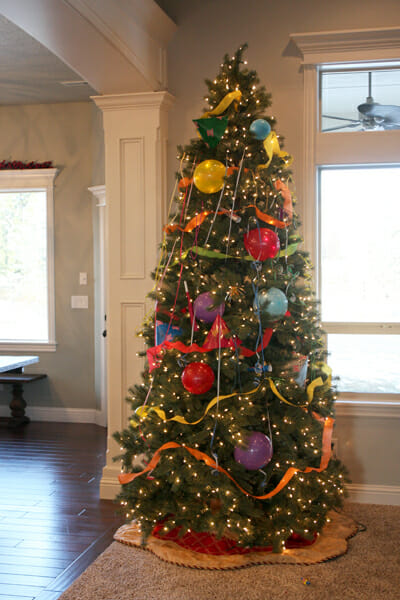 If you like this idea- Pin it and help spread the word before New Years!