We've been so excited for this!  Today officially begins the Our Best Bites Fit Club.  For those not in the loop, you can read this post to catch up.  We love this community that's grown over the last 7 years, so think of this as your virtual club, and everyone in it, your virtual friends!  This really only works if you all participate!   Kate and I are working overtime to provide some amazing things for you, so we need you to be involved, leave comments, participate via social media, etc.  That's the only way we can gauge interest, and we'll keep this up if people are interested!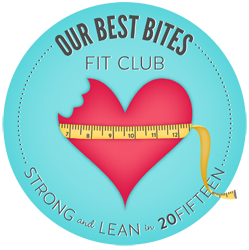 So you're probably wondering what is going to be happening. There's tons going on, so listen up!
We want to be very clear for people who are not interested in this topic, that Our Best Bites will continue to be a food blog!  We'll even continue to post naughty treats sometimes, because we believe it's all about balance. But we'll also incorporate posts here in The Scoop section, dedicated to the Fit Club to share info on a variety of topics, including our favorite things (gear, nutrition, fitness, etc.), reviews, and definitely some awesome giveaways.  We'll certainly continue sharing healthy recipes as well.
It's hard to believe that there are people who are as smart, or smarter (gasp!) than Kate and me, but they exist.  We'll be introducing you to some Fit Club team members who are experts in their fields.  You'll meet the first one this weekend with your first Weekly Workout Challenge!
We're challenging you to join by completing a weekly workout!  This can be what you use for your personal workout plan, or it can be a bonus addition to exercise you're already doing.  Every single week we're going to give you a new workout you can do, and they'll come in an awesome printable format that you can either screenshot on your phone or print out and keep on a little ring.  The workouts are designed by professional trainers and will introduce you to different styles of exercise!  After a few months you'll have a whole collection of workouts that you can easily turn to.  These workouts will be going live on The Scoop at some point every weekend, either Saturday or Sunday so you'll be ready to go on Monday.  Make sure to follow us on social media so you know when they're live!
Along with the weekly workout, each week we'll introduce a new challenge that we'll focus on during the week.  We'll follow-up and remind you about the challenges via social media, so stay connected!
This is key.  There will be a variety of ways to follow along with us and you may not use all of them.  The most basic is this blog.  Check regularly for updates and info.  Next, follow @ourbestbites_fitclub on Instagram.  If you don't have an instagram account, it's super easy to sign up, even if you only use it for this fit club!  You can also see it (but not comment) on your computer if you like.  Kate and I will be alternating hosting the Instagram account so you'll get to see us both there.  We'll also have a Facebook Group, but it's not quite ready.  We'll let you know as soon as it is!
Now here's what you need to do TODAY, right now.  Or at least sometime over the weekend!
1.  Photograph.  You can't tell how far you've gone unless you know where you started.  You can see tons of mine, here.  Trust me, I totally wanted to delete all of those "before" pictures, but I'm so glad I have them!  Some time in the next few days take a photo of yourself.  It's not for us, it's not for Facebook, it's for you.  No matter what your current state, you'll be glad you did this.  You'll be amazed at the changes you will be able to see down the road when you can compare it to your starting point.  Wear something snug to the body and take a photo of your front, side, and back. I recommend taking new photos once a month.  And who knows- you might want to be featured here, or win a prize!
2.  Weigh and Measure.  I've made this cute chart for you- print it out and hang it up near your bathroom scale!  Grab a calendar and write in the dates under the weeks.  I left them blank so you could use this chart any time.  –> Download by Clicking Here!
Weigh yourself once a week on the same day and around the same time.  Then hide that scale!  Weighing yourself daily can be both misleading and frustrating. Once a week is a good check-in.   You'll notice that every third week has a little symbol.  That's because I suggest doing measurements every three weeks.  That's enough time to see very small glimpses of progress.  Measuring weekly isn't necessary.
When it comes to actual measurements, I've left these blank as well so you can customize it.  Use a regular ol' flexible measuring tape.  I suggest measuring your waist and hips at the very least.  You may want to measure your bicep and calves as well.  It's also important that you measure in the same place, so you can make notes about that as well.  For example, on mine it says things like "stomach: on belly button" "Around freckle on right calf", etc.  Use markers that will help you be consistent.
Measure fat.  This is optional, but you might consider getting an inexpensive tool to measure your body fat.  They're only a few bucks, and it's a good way to gauge how your body is changing (regardless of what the scale says!)
Okay, so that's a lot of info. We're starting with baby steps, but there's so much more to come!  Here's a synopsis of your homework!
– Print off the chart and do your initial weigh-in and measurements.
– Check in over the weekend to get the first Weekly Workout Challenge and goal.
– Make sure you're following us on Instagram and Facebook
– Leave a comment on THIS post.  Use a fake name if you want, just let us know you're with us!  Share a health or fitness goal YOU'RE focusing on.  Let's do this thing!