One thing Kate and I have always wanted to include on the site, but never really had a great place to do it (before The Scoop!) are travel reviews.  Every time we mention we've traveled somewhere we get loads of comments and emails asking for details and opinions and ideas.  Now that summer is nearing, and people are starting to think of family vacations, I thought it would be fun to share some of my favorites here on The Scoop.
I want to make it very clear that these are NOT sponsored posts.  No one is paying for our trips; these are things we've planned, carried out, and financed our own and I just thought it would be fun share, and hopefully useful for others planning on trips, whether they be fun outings close to home, or big trips across the globe.
So first up in this installment is one I got a lot of interest in, when I mentioned I had been there in a previous post. (If you haven't made these Hawaiian Style BBQ Ribs with Grilled Pineapple, oh my gosh do it now.)  My family loves Hawaii.  I mean, who doesn't?  We've taken several family vacations there and have explored lots of islands.  The one we go back to over and over again is Kauai (that can be another post) but last time we did something a little different and stayed at the Aulani Resort on Oahu.  My husband had a medical conference to attend, and who sends their husband alone to a Disney Resort in Hawaii??  Not this chick.  So we made it into a family vacation.
*Note that some of the photos in this post are taken from the Aulani website.  It's pretty obvious which ones.  If it's short and rectangular shaped, or shows random strangers that aren't members of my family- it's from Aulani .

Location:  The Aulani Resort is part of the Ko Olina Resort Community & Marina,  located on the western shore of O'ahu about 17 miles from the Honolulu Airport and a short drive Waikiki.  Aulani rests on 21 acres of beachfront property.

The grounds are beautiful and we found we had fun even when not in the water wonderland, but simply wandering around exploring all of the nooks and crannies.

The resort is owned by Disney, so it's incredibly family friendly.  They have regular hotel rooms, and also villas and suites with eat-in kitchens, etc.
You can see their room options here.
I have to admit, when I heard it was a Disney resort, I worried it might be a little too…Disney.  I wasn't interested in going to a Hawaiian Disneyland, but that wasn't the case at all.  The Disney influence is there, but it's very subtle, and done in a really classy way.  The entry of the resort is beautiful.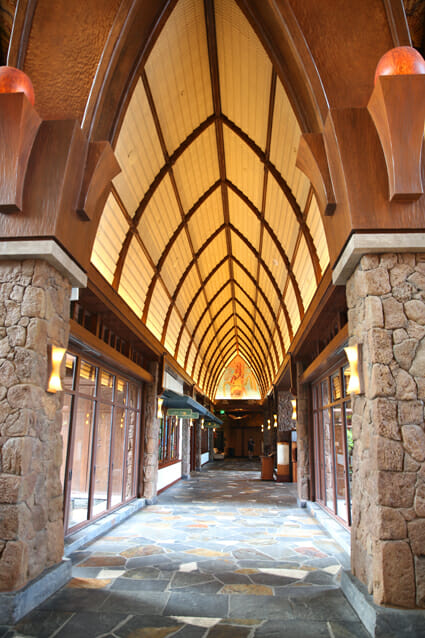 and you'll see things like Lilo and Stitch
and maybe run into guys like this in the middle of the pool:
But it's not over-the-top Disney, which I liked.
The resort itself has everything you would expect a nice resort to have, like good restaurants, shopping, great service.
The center of the resort is quite literally a paradise.
Pools– There's several pools, and they all include areas with shallow wading water that's great for young children to splash around in.  The resort also offers free life vest rentals, which I thought was awesome.  And they're the squishy comfy kind.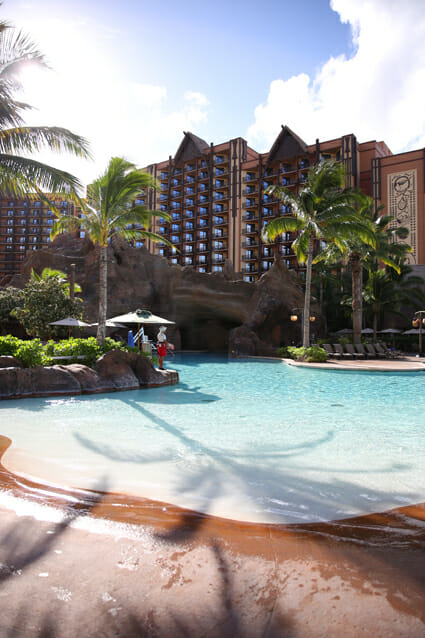 In the center, sits a giant volcano with 2 different water slides that go down it and some caves you can swim through.
There's also a lazy river (my favorite.  I'm lazy.)
Outdoor Play– If you're there with younger children, they have some especially nice features.  Aside from the swimming pools, hot tubs, and the lazy river, there is this giant play structure:
It's surrounded in shallow water (like, a few inches) and is basically like a giant jungle gym that has water spraying all over.  My little boys loved this part, and I loved that they could freely run around without me being as worried about being in a deep swimming pool.  It was a great place to splash, play, and run around.
The Reef– another fun thing is that there's a big snorkeling lagoon right in the middle of the resort, amid all of the swimming pools.  You can hop in and explore the underwater world, and friends and family can watch you through a window below.
My younger boys, who weren't quite ready for snorkeling, loved watching Dad and big brother through the window.
Aunties Beach House– Before we left, my husband told me there was a child care center (for kids 3 and up, and potty trained) on the resort and I told him that was ridiculous.  Who goes on a family vacation and leaves their kids at daycare with strangers??  Well.  I promptly ate my words.  It's no daycare.  I didn't get any photos of this place (so I'm using one from the website.)  But this is a 5,200 square foot gorgeous house.  Think Hawaiian Pottery Barn.  There's endless rooms full of dreamy toys and activities.  There was an art room filled with fun art supplies and big work tables, a gaming room with probably 16 different gaming systems (Play Stations, X-Boxes, Wii's, etc), a movie room with a big screen and Disney shows, a dress up room full of costumes, several play rooms with interactive tables (think coffee table, but the entire top surface is a giant iPad!), and outdoor play area, and more. They have free play, and then tons of planned activities for children like science lessons, Hawaiian crafts, story time, song time, etc.
The staff there was wonderful, and plentiful.  There were so many adults and youth counselors that it seemed almost everyone had their own chaperone/play buddy.  They were all incredibly kind, fun-loving, and so helpful.  I was very impressed at how well run it was, and my kids loved it.  My husband had meetings most mornings, and I found out very quickly that watching 3 small children in the water by myself was overwhelming.  So we would all wake up and have breakfast and then when he went to his meetings I would take the kids to the beach house.  That allowed me to hit the gym, get our things ready for the day and snag a good spot by the pool.  When meetings were over before lunch we'd grab the kiddos and spend the rest of the day playing.  They had a blast doing crafts and activities and loved making new friends, too.
Outdoor Movies– there's lots of fun activities, and our kids loved the outdoor movies each night under the stars.  You can bring a pillow, and they provide woven mats and everyone grabs a spot on the lawn for a Disney flick.
Okay, their picture turned out much better than mine…
Beach- a few steps away from the resort pools is the Aulani Beach.  It sits in a calm lagoon, so the tiny waves are gentle and it's perfect for swimming.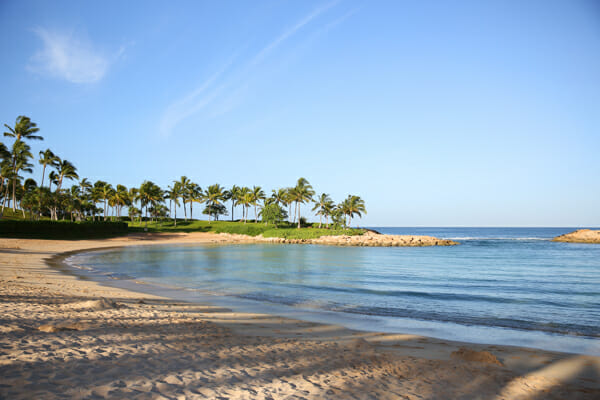 We found it also didn't get very crowded, aside from the very middle of the day.  We'd usually go in the morning or late afternoon, and found it really peaceful.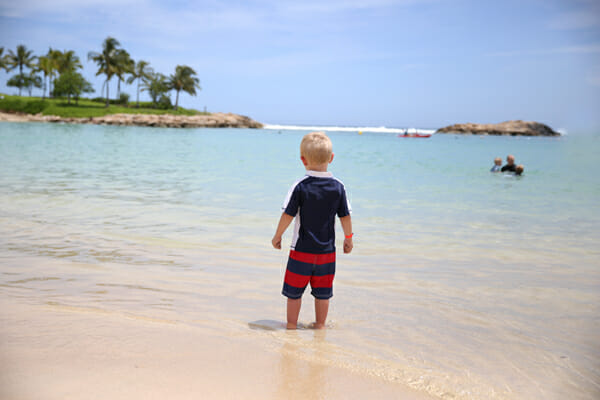 All in all, we loved Aulani.  It was a fun family vacation and we had a blast and made lots of memories.  The downsides for me (and keep in mind, some of my cons will be pros for others!) were these:
1.  The Price.  If you're a member of the Disney travel thing, it's probably a better deal, but straight-up out of pocket, it was pricey.
2.  The Island.  Granted I think everyone should experience Oahu once, and take advantage of all of the timeless touristy things, like Pearl Harbor, Hanauma Bay, Matsumotos Shave Ice, The Dole Plantation, The Polynesian Cultural Center, the LDS Temple, etc.  It's not my favorite island.  I think it's a little crowded and touristy, and not the most scenic (in my opinion.)
3.  It's a resort.  Again, this could be a major plus for a lot of people, but we're not really resort people.  We usually stay in a house or condo where we can go to Costco and buy groceries for the week, do our own laundry, and most importantly, explore the island and not be surrounded by a bunch of other people.  I don't love vacationing surrounded by other tourists.  We like to be off the beaten path a little bit and hang out in local joints and beaches hidden away.  It's just more our style so the whole resort thing is a different type of vacation.
That being said, our family had a great time there. Our kids still talk about it almost a year later.  Hopefully this post is helpful for anyone considering an Aulani vacation, or if nothing else, a mental vacation for you today 😉  If you have any questions that I didn't cover, don't hesitate to ask!  We'll have more posts in our travel series throughout the summer.