I'm a pretty organized person. People sometimes ask me if this blog thing takes over my life, and for the most part, my obsessive organizational skills keep that from happening. I plan way ahead of time, prepare my photos before my deadlines, check my calendar 50 times a day, etc. But then there are those rare occasions when life just takes over and my blog brain slips away for a little while (which is often a good thing!). Today was one of those days.  My husband and I went out with friends and stayed out later than my thirty-two year old body is used to.  It was totally worth it though, especially seeing as it ended at Applebees at 11pm (seriously, why are there not more places open at 11pm??) where we won the late-night trivia game with answers to questions like, "What's the abbreviation for trinitrotoluene?" "What's considered the luckiest number worldwide?" and "What is 15 feet high, 26 feet wide, and 1500 feet long?" (TNT, 9, and the Great Wall of China in case you're wondering) We pretty much rocked it and won first place and after awarding us with our grand prize $10 off coupon (yessss) they made a special announcement that there was "talk" of cell phone usage. Seriously, we had no idea that wasn't allowed. Wasn't everyone googling? Okay, probably not the girl who named the "Caribbean ocean" as the largest lake in the world. But I digress. It was midnight when I yawned and noted how tired I was and my husband casually said, "It's not your turn to post on the blog tomorrow, is it?" Doh! So here I sit at 1 am in my nice warm bed on my nice soft pillow as my husband snoozes and I write about fish. What's that you say? Why don't you stop blabbering about Applebees trivia and just get on with the recipe? You could have been done with the recipe by now and had your head on that nice soft pillow? Okay, got it.
Remember this post where I told you about my amazingly awesome sister Becca? The one where she made her famous Orange Teriyaki Steelhead for our bbq after our Seattle book signing? Just say yes. I know you remember. I followed her around the kitchen taking note of everything she did, and totally annoyed her by making her actually measure things. Thanks Becca!
This is a great method to know for cooking fish.  You're basically going to create a sealed foil tent so it can steam inside.  Use heavy duty foil because it's larger and stronger.  Place one sheet across the width of the pan and one sheet across the length of the pan like you see here: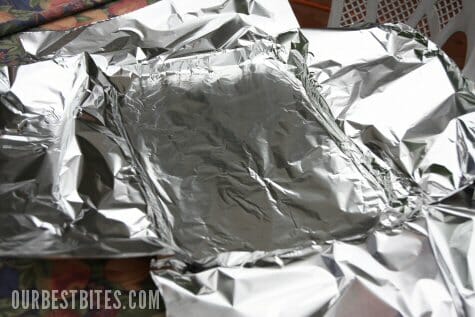 Make sure to leave quite a bit of overhang because you'll be folding all of those up.
The marinade comes together really fast. It's got both orange marmalade and orange juice in it which gives it a really well rounded flavor.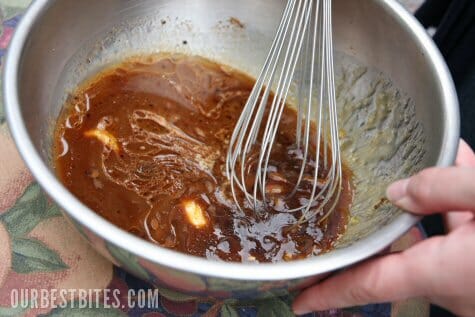 And a punch of green not only adds to the flavor, but makes it look pretty too!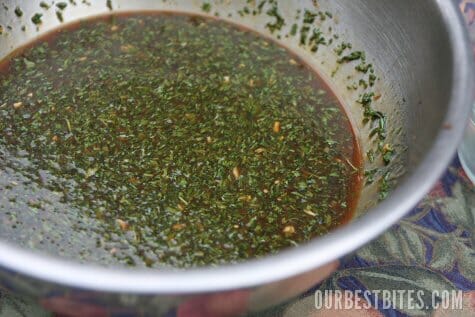 Rinse off your fish under cold water and pat dry.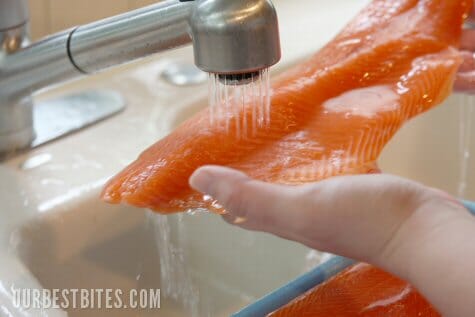 Then place it skin side down on your prepared baking sheet.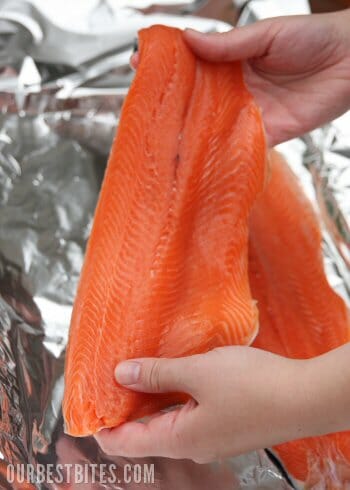 Grab that yummy sauce and pour it all over the salmon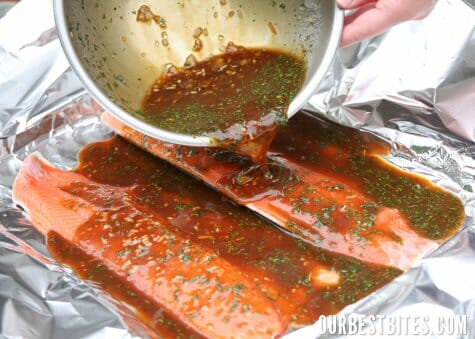 And then pull up the edges of the foil to make a big pouch.  This is why you needed the overhang on your baking sheet- you want to make the big tent of foil so it can fill with steam to cook the fish.
Pop it in the oven, and after only about 30 minutes you can crack open that foil.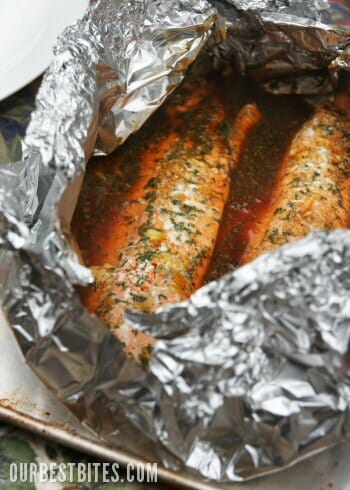 Spoon juices over the fish to serve…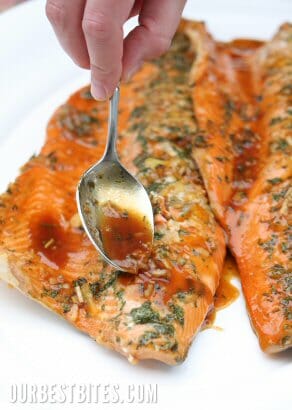 and eat up!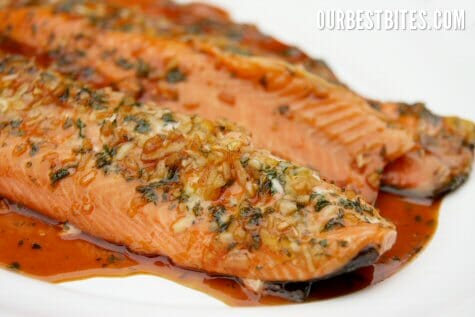 Orange Teriyaki Salmon
Recipe by Becca Smith for Ourbestbites.com
*This makes quite a bit of marinade.  You could definitely get away with a little more fish in there, or even half the recipe for smaller portions.

about 2  pounds salmon; one large filet or 2 smaller ones
3/4 C orange marmalade
4 Tablespoons butter
1/2 C orange juice
3 Tbs bottled teriyaki sauce
6 Tbs soy sauce
1 Tbs worshershire sauce
2 Tbs vinegar
1/4 cup olive oil
2 cloves garlic, minced
1 Tbs brown sugar
1/2 tsp liquid smoke
1/8 tsp ground red pepper, or 1/4 tsp red pepper flakes
several cracks black pepper
2 Tbs chopped dry onion, or 1/4 C minced fresh onion
3 Tbs dry parsley or about 1/2 C fresh
Preheat oven to 325 degrees.  Layer a piece of heavy duty foil over a large baking sheet  Lay on one more sheet in the opposite direction, leaving about 8″ of overhang on all sides.
Place marmalade and butter in a small microwave safe bowl and heat for about 30 seconds, or until butter is melted.  Whisk until smooth.  Combine this mixture with all ingredients (except fish) in a bowl and stir until smooth.  Rinse salmon in cold water and pat dry.  Place skin side down on baking sheet.  Pour marinade over fish.
Starting from one end, gather the foil overhang together and roll them together to seal a tent-like pouch.  Bake in oven for about 25 minutes. Fish should be opaque and flake easily with a fork.  Test fish and return pan to oven for an additional 5-10 minutes if necessary.  Serve salmon with sauce spooned over top.
Grill instructions: Preheat gas grill to 325. Place foil pouch on upper rack if you have one, or on indirect heat on the main rack.  Follow the same baking instructions as if it were in the oven.
Fish can also be cooked in a foil tent over a camp fire. Season the fish as desired (you can also add a couple of tablespoons of water to help it steam in the hot fire) and close up your foil tent. Nestle your foil pouch into the glowing embers where the heat isn't as intense as the flames. Cooking time may vary depending on the size and variety of fish, so check it after 10 minutes. If it's not done, check at 2-3 minute intervals after that.