Sara and I were talking the other day and realized that we haven't done a theme week in a long time–like a week where we post every single day about a certain theme. Since this is the week before Mother's Day, and since we're moms and since many of you are moms, and since pretty much everyone has a mom and/or mom figures in their lives, we figured this was something worth celebrating. If you see something on the list you love, you can subtlety send this to your significant other/kids/dad and let them know you're in the market for something awesome. We have lots of fun things planned this week, so be sure to check back every day!
Now…let's talk Mother's Day gifts. Everyone has their views on Mother's Day presents and what they want or don't want. Mother's Day can be intensely personal, rife with lots of emotions, so let me preface this with these are things that I have and that I would want for Mother's Day–this is like Kate's Favorite Things, Mother's Day edition. That said, there are a few of MY hard, fast Mother's Day gift rules.
1. Buy her something for HER. I know as a mom, especially when I'm pregnant (I'm NOT, by the way…just clarifying that times 1,000), I end up spending a lot of my "funny money" on baby or kid items and don't buy anything for myself. I also remember a moment when my older two kids were about 4 and 1 and all I wanted in the universe was my own water bottle without having to fight someone for it. It's easy to let our identities be defined by our kids and our mother-ness, but there's nothing wrong with a little something just for her.
2. Don't buy her a scale. Unless she specifies, like, 22 times, don't buy her new exercise clothes or workout videos or gym memberships or sessions with a personal trainer or a vacuum or a scum buster.
3. Unless she tells you, "Honey, there is nothing more in this universe that I want than a Harry Potter Lego set," don't buy her Harry Potter Legos. Not speaking from any kind of personal experience here.
Now…what should you get? There are always gift cards (Target, Starbucks, one for a spa/massage/pedicure, iTunes, Amazon, etc.) But what if you want to get something a little more personal? Well, today I'm your girl–here's a collection of some of my very favorite things, ranging from $6-$450. As always with favorite things posts, all of these opinions are TOTALLY my own and I haven't been compensated in any way for any of these products.
1. Yeah…that's a Blendtec. Did your wife have triplets? Did your mom kick cancer's butt this year? Did you buy her a scale last year? Are you all-around awesome and need something to show for it? If so, this is your thing. This is the grand-daddy of all Mother's Day gifts. Shop around–it's likely you can find a deal on these somewhere, but that pricetag can be a tough pill to swallow no matter what. The damage? $359-$454.
2. If the Blendtec is the grand-daddy of Mother's Day gifts, a 7 1/4-quart Le Creuset is the Godfather. Literally. Those things are heavy enough to use as a weapon. Luckily, it'll clean up nicely afterwards and will last forever, definitely something that becomes a family treasure. The one in the picture is $299 on Amazon.
3. Moms love Our Best Bites cookbooks. Just sayin'…Find them here and here at Amazon for $18-$19.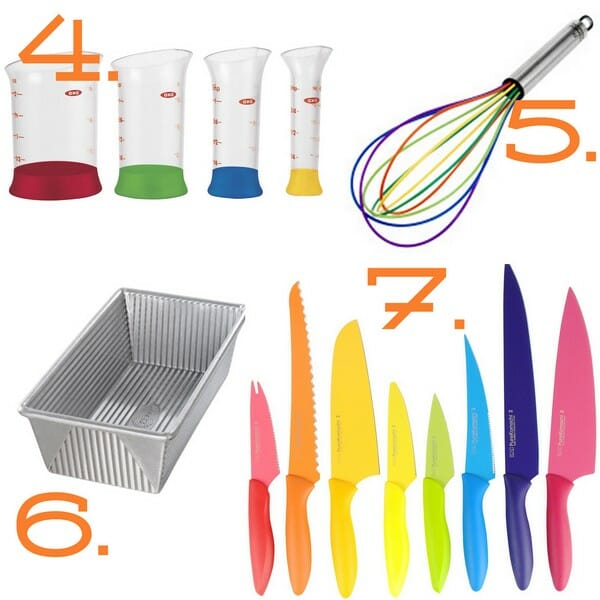 4. These little OXO beakers are so handy! They're for measuring small liquid measurements, like under a tablespoon. Plus they're adorable. $10 on Amazon.
5. Every time this whisk shows up in my prep pictures, I get about 10 emails wondering where it came from. Also…in case you can't tell from this picture, I like rainbow-colored stuff. Like a 5-year-old. Sue me. Anyway, you can find this whisk here at Sur la Table for $15.
6. I talked about these pans in this post and they are AWESOME–hands-down the best bread pans EVER. You can get them on Amazon for $15.
7. Can we talk knives for a second? Knives and I have a complicated relationship. When we remodeled our kitchen in 2011, I bought a new set to celebrate and I kind of ended up hating them. Enter these bad boys. They are so cute and so sharp and so easy to take care of and they work AMAZINGLY. And the best part? You can get this set without breaking the bank–they clock in at $55. This is seriously the first knife set I haven't regretted buying.
Now…does your mom love her iPhone? Your BFF have a DSLR camera? These are some of my favorite things!
1. Canon 40mm lens. This is a cute, tiny little pancake lens that's relatively new in the Canon world. Many people swear by the 50mm lens, and I LOVE mine and think it's fabulous. But it can be a little limiting. I think the 40mm is a fantastic all-purpose lens–it's great for keeping on your camera when you're walking around, it's great for food, it's great for snapping pics of your kids, AND, in terms of lenses, it's a steal at around $149.
2. There are tons of cute camera straps floating around, but I think this one might be my favorite. It's pretty, feminine, sturdy, and comfortable. $49 on Amazon.
3. There are people out there who love a big, fat Otterbox for their iPhone, and honestly, based on how my phone gets abused, I probably should have my phone in one. But I like something sleeker and smaller. And, of course, available in a rainbow of colors. These are available for iPhone 4/4s or iPhone 5 for about $10.
Now…I'm not going to get into fashion or jewelry because I feel like jewelry is super personal and I'm by no means a fashionista. But here are some of my favorite things I think are just CUTE.
1. This shirt from Gap is comfortable, cute, forgiving, available in lots of colors, and looks great with shorts or jeans and it's $25.
2. This is my FAVORITE purse–it's cute, it's practical, it's the perfect size, and it even has pockets for bottles/sippy cups/water bottles so it can double as a diaper bag. This is the pattern I have, but there are lots of other adorable prints here. If you're not sure about the purse, the wallets, clutches, and smaller bags are just as cute. $98 at Zappos.
3. I love flip flops. These cute little Roxy flip flops are cute enough to wear out of the house (unlike those cheap $2 ones from the bargain bin, which also have their place). $19 at Amazon.
1. Sara and I love all things aqua and Essie's Turquoise and Caicos nail polish is no exception (I also love Candy Apple Mint) $6 from Target.
2. This mascara. Oh, my gosh, I've been searching for this mascara for all of my post-pubescent years. I got a sample of Benefit They're Real mascara and it is a mascara miracle. I get effortless, non-clumpy, long, pretty eyelashes. At $20 for the full-size at Sephora, It's spendier than drugstore mascara, but you can also get a decent-sized travel tube for $10.
3. Crimpers are all super cool right now, but since I lived through the '80s and early '90s, I don't need to re-live it. The Bed Head Deep Weaver, on the other hand, gives you big, beachy waves in just a few minutes. And at $21, you can't really beat it when it comes to hair tools (hello, $100 flat irons).
4. I have a hard time with coconut-scented stuff. Sometimes it smells like Hawaii and sometimes it has a weird after-smell. I tried this lotion on one day and ended up smelling myself all the way home. It smells like the stuff they use in tanning salons (although I've never actually gone tanning, cross my heart and hope to die. I did, however, have one rather unfortunate experience with spray tanning when my legs turned green.) If that's up your alley, Aruba Coconut Body Cream is $12.50 at Bath and Body Works.
Now…have you hated everything I've posted so far? Not seen anything that's grabbed your fancy? That's okay, I'll give it one more shot. Here's my collection of random stuff…
1. These Copco cups are my FAVORITE! I fill them up with water throughout the day. They're cute, easy to clean, and come in lots of colors. Plus, they're perfect for filling up with smaller trinkets like gift cards, chocolate, chocolate, and chocolate. $8 from Amazon.
2. Hitting the road this summer? Luggage a little trashed? This luggage set is sturdy and comes in great colors. It's nice enough to hold up, but it's not SO expensive that you'll die inside when it gets marked or ripped or crushed as luggage inevitably does. $149 for the set of 3 suitcases at Amazon.
3. Yes, that is Stephen King. As in Stephen King, the horror novelist. 11/22/63 is big and heavy and I totally recommend reading it on an electronic device because it's not nearly as daunting that way. It's about a time-traveling English teacher who is trying to stop the assassination of John F. Kennedy. It's funny and sad and not really scary (although there are some crossovers into some of his other stories, like It) and, at the heart of it all, a love story that left me in tears in the final pages. It's not exactly G-rated, but it's a book that was kind of life-changing for me (for the better). It ranges from $9.99-$24.99 on Amazon.
4. Yeah, I'm still addicted to Bath & Body Works candles. These are 3 of my favorite summer scents (apparently I'm into fruity smells this summer). Every time I'm burning Island Margarita and someone comes over, they comment on how amazing it smells. Market Peach and Lemon Mint Leaf are equally yummy. These range from $3-$20 at Bath and Body Works, but coupons and promotions are NOT hard to come by.
Hopefully this gives you some ideas for Mother's Day gifts, even if we're kind of down to the last minute! Be sure to come back every day this week–we've got giveaways, recipes, and other fun stuff that you don't want to miss!