If you're a fan on our Facebook Page, or if you follow us on Instagram, you heard the big news over the weekend!  We officially opened our shop and debuted the first  items in our new product line. 
Kate and I use olive oil pretty much every time we head into the kitchen to cook.  Sometimes the choices in oil is overwhelming- we know you agree because we get LOADS of emails about this very topic.
We've been working hard over the past year, sourcing olive vineyards in order to create a custom product that was incredibly high quality, without an outrageous price.  While Italy might be the most well-known for olive oil, California is actually the olive capital of the US.  We definitely wanted to produce a product made right here in the United States of America.  We love knowing that our line keeps Americans working in the work force, and makes use of our own wonderful resources.

If you don't know much about how olive oil is made, the reason "Extra Virgin" is the most sought after, it's because that's the very first press.  The actual olives are pressed to extract the oil and the first press is the most rich and flavorful.  After that, subsequent "presses" become less and less potent, and that's where we get "light" olive oils.   All of our premium oils are Extra Virgin and made in small batches.
Taste was obviously our first priority, but after that- we wanted to make sure our bottles LOOK as good as they taste!  That's why we've designed each one in fresh, fun colors so they look amazing wrapped up in a ribbon for a gift, or simply sitting on your shelf.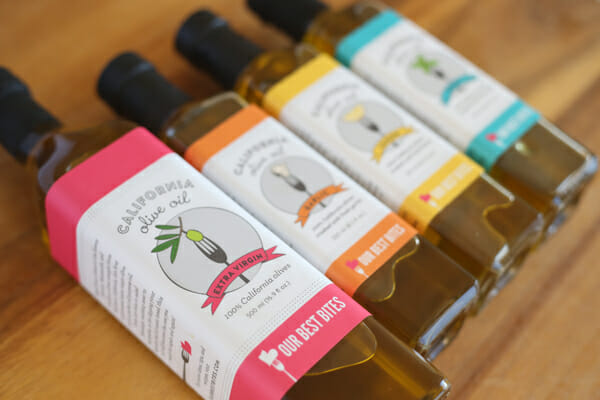 Currently in the shop, we have large 500ml bottles of our Extra Virgin Olive Oil, and smaller 250ml bottles in 3 flavors: Garlic, Lemon, and Basil.  Flavored olive oil is an amazing thing.  It's not artificially flavored.  For example, the way we get our lemon olive oil is by taking actual fresh California Lemons, and literally crushing them to extract their oil, just as we do the olives.  The olive oil is infused with the bright, clean, fresh scent of lemon.  The same is done with fresh garlic and basil.  The result is an oil with a whole other layer of flavor, and you use them just as you would regular oil.  Here's a run-down!
Our Extra Virgin Olive Oil is made from made from a blend of the finest Mission, Manzanillo, and Sevillano olives straight from Northern California.  This is a first cold pressed extra virgin olive oil and it's your perfect all-purpose oil. You can use it in everything from from stir-fries to salad dressings, sautéing meat to marinades, or for dipping your favorite loaf of rustic bread.  It has a perfect flavor, with the richness you expect from premium olive oil, but with a mellow enough flavor to really work in a variety of cooking dishes.  This bottle is twice as large as our specialty flavored oils and will work it's way into everything you make!
It's no secret at ALL that here at Our Best Bites, we're fans of garlic. Two of our very favorite things come together in this bottle, when flavorful roasted garlic is infused into our first cold pressed extra virgin olive oil. Use this anywhere you might want a little extra garlic flavor, like drizzled over hearty bread, a garlicky starter to your favorite soups and sauces, jambalaya, pasta, marinades, dressings, or your favorite meat straight on the grill.  If you love garlic as much as we do, this bottle might take the place of your regular extra virgin!  Kate and I personally go through loads of this flavor because it's so, so versatile in the kitchen.
Almost every time I open my cupboard door, I grab this bottle, open it up, and just smell. The bright, clean flavor of California's very best lemons is infused into our first cold pressed extra virgin olive oil, making it easy to add a little splash of sunshine into your favorite salad dressings, meat marinades, or for sautéing fresh vegetables. Grilling Greek-inspired chicken or lamb? Try making a simple marinade with our lemon extra virgin olive oil, some red wine vinegar, and a sprinkling of Greek seasoning, or use it to sauté green beans or asparagus for a quick, healthy side dish.  This oil instantly brightens any dish- and it's great for baking sweets, too!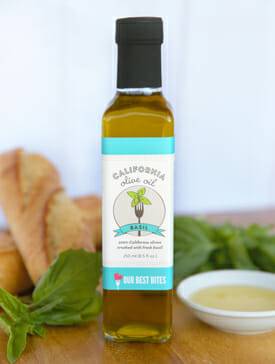 A little bit sweet, a little bit spicy, a whole lot of home; fresh, aromatic basil is the secret (or not-so-secret) ingredient to so many of your favorite comfort foods. When you're making your favorite pasta sauce, try sautéing your garlic and onions in our basil-infused first pressed extra virgin olive oil straight from California. It's also fabulous brushed on top of homemade focaccia loaves before they go into the oven, Italian-inspired soups, or your favorite chimichurri or pesto recipes.  At my house, I've been drizzling this over pasta and topping with Parmesan cheese.  Amazing.
You can purchase any of our flavors as single bottles, including the basil,
that delicious garlic,
the bright, fresh lemon,
or the Extra Virgin.
And if you can't decide, the 3 pack is the way to go!  You instantly save 10% when you purchase all 3 flavors together.  You'll have no trouble at all going through all the bottles (trust us!) and you could even pick a bottle for yourself and share another bottle or 2 with a friend.
If you want to tack on an Extra Virgin to that 3 pack, we'll give you some savings there, as well!  Save 10% when you order everything together.   So far this is our top seller!

These bottles make terrific gifts.  Just today, I made up some gift baskets for some of my family members with a loaf of artisan bread, a cute little dipping dish and one of our flavored oils.  (I tucked in some homemade jam, fruit, and chocolates, too!)
They're stylish and delicious so any foodie is bound to love and appreciate it.  It's also perfection paired with one of our cook books!
If you'd like these for Christmas gifts I suggest you order ASAP, we definitely have a rush of orders already, and if you order soon you should have no problem having them arrive in time!  If you'd like to ship this to someone directly, and would like a gift packing slip included, just leave a note with your order (you should have that option in paypal).
Also, we've had lots of questions about shipping internationally.  While we don't have international ship rates, we're happy to send our products anywhere in the world for the actual ship cost.  Simply email us at [email protected] and our shipping manager can give you a shipping quote for your location.  If you decide you'd like to order, you'll receive an invoice via email.
We also offer case pricing, and wholesale if you'd like to carry our product in your own retail store.  Send all inquiries to [email protected].
Head on over to the shop and check it out.  We're positive you're going to love these as much as we do and we can't wait to debut more items to our product line in 2014!