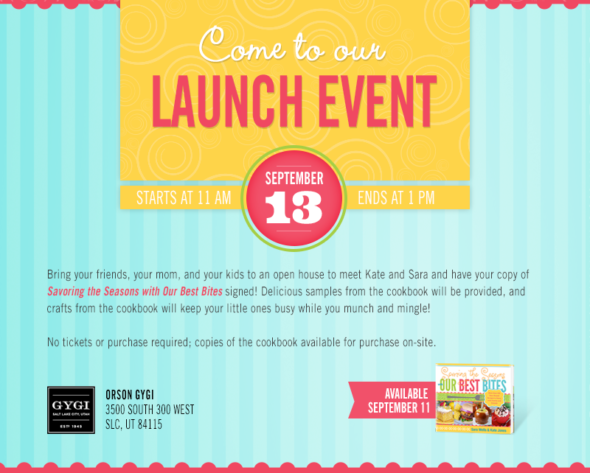 Fall is gearing up and we have tons of fun stuff on our schedules, most importantly, lots of opportunities to meet many of YOU!  We'll be having a big ol' party at our favorite so-much-fun-culinary-stuff-you'll-want-to-die store in Salt Lake City, Orson Gygi.  If you're in the area, mark your calendars and stop on by to celebrate the launch of our New Book!  It's NEXT WEEK!  It's a fun mix-and-mingle event where you can sample food from our new cook book, say hello to us, get books signed, and do a little shopping if your heart desires (and I guarantee that at Orson Gygi, it will desire).  If you have little ones, bring them along too- there will be some kid activities and plenty of snacks.  We sure hope to see you there!
Other Upcoming Events:
Denver, CO: September 14-15
Time Out for Women (ticketed event)
Baton Rouge, LA: September 21, 7:00 pm
Book Signing at Barnes & Noble (7707 Bluebonnet Boulevard)
Boise, ID: Saturday Sept 22nd, 12-1:30pm
Book Signing at Boise Deseret Book
*Also, Boise Costco Signing TBA
Logan, UT:  Friday, October 12 7-8:30 pm
Book Signing at Deseret Book Logan (1309 N Main #150, Logan)
Salt Lake City, UT: Saturday, October 27, 6-7:30pm
Book Signing at Flagship Deseret Book (45 W South Temple, SLC)
Mesa, AZ: Friday November 2, 6:30-8pm
Book Signing: Deseret Book Gilbert-Mesa South (1350 S Gilbert Rd #4, Mesa, AZ)
Note that in Logan, Salt Lake City, and Mesa, we will be speaking at Time Out for Women in addition to the book signings listed above.
And if you haven't heard, our new book is available for pre-order, right now!