Do you ever have those days where you feel like the universe is conspiring against you? Getting today's post ready was painful and it was not happening. So…change of plans.
If you've just joined us in the last few months, about 2 years ago, we wrote a book.
And people liked it! Like…it became a national bestseller! So we wrote another one…

And that one became a national bestseller. Which was awesome.
Some other awesome things about our books?
-There is a picture for every recipe.
-It has a spiral binding on the inside so you can lay it flat while you're cooking, but the spine is printed with the title, so you can find it when you need to.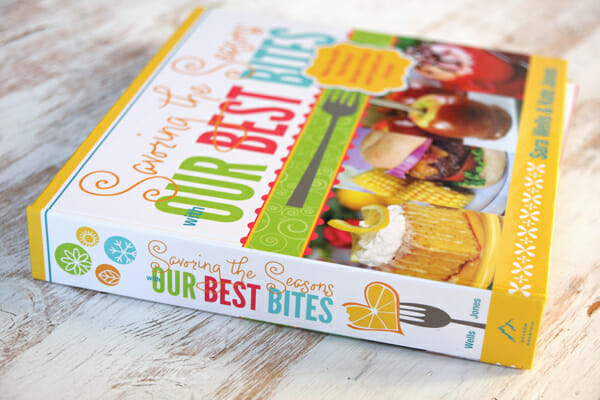 -It has this adorable bookmark with a conversion chart on it.
-Both books have a "rollover index" where you can look up recipes by ingredient. So if you buy a whole quart of buttermilk or a bunch of cilantro and you're looking for a way to use them up, we're your girls.
So since things were not going my way today, I'm having a bowl of ice cream and giving away 3 books to 3 lucky friends!
Here's the deal:
-To enter, leave a comment on this post telling us your favorite season, holiday, or tradition.
-The giveaway runs from today, 3/6/13 until 3/13/13.
-We'll pick 3 winners and notify them via the email address they use to enter the giveaway. Be sure to use an email address you check often and not the email address you use when you order something from Bath & Body Works because you know you're going to get 10 advertisement emails a day.
-The winners will get to choose either Our Best Bites: Mormon Moms in the Kitchen or Savoring the Seasons with Our Best Bites.
–The winner must respond within 48 hours of when we send the notification email. If we don't hear from you, we will select another winner.
-If you want to forgo the whole contest thing, you can purchase the books from Amazon, Deseret Book, Costco, Sam's Club, Walmart, and many other bookstores. If you are unable to find it, any bookstore should be happy to order it for you.
Ready? Set? Go! I'm gonna go eat some ice cream and lick my sad corrupted memory card wounds…