This post was sponsored by California Pizza Kitchen, but all opinions and ideas are ours.
This year, our 4th of July was a bust. My son and I were both sick and then it just down-poured on the 3rd and 4th, so we missed our city fireworks, couldn't light them ourselves, and our "barbecue" consisted of me running out into the rain and flipping chicken as quickly as possible and coming back inside completely drenched. I couldn't even get on Facebook or Instagram because I was so bummed, looking at all the fun everyone else was having.
So I promised my family we'd somehow make up for it. We decided to invite our friends and their families over for an outdoor movie night. But I wanted it to be more than tacking a sheet up on the garage–this was making up for our entire failed 4th of July. It had to be big.
Like any great party, I thought about the food first. The main attraction was California Pizza Kitchen oven-ready pizzas. You always think of summer entertaining with the grill, but for this particular party, it was way too hot to stand in front of all that concentrated grill heat, so I just baked these two at a time inside my house, set the timer on my phone so I could come out and enjoy the party, then cut them into two-bite pieces as soon as they were done and it worked great! All the heat was inside my house, but we weren't there.
CPK's new Hand-Tossed Style The Works pizza was the first to go–sausage, pepperoni, green peppers, mushrooms, and olives on top of a crust that was chewy on the inside and crispy on the outside. There's a really good balance between sauce, cheese, and toppings so you get a little bit of everything instead of being completely overwhelmed by one component.
I also set out CPK's Gluten-Free BBQ Recipe Chicken Pizza, which everyone loved–they were surprised it was gluten-free and couldn't tell a difference between this and the regular crispy crust.
The crispy thin crust is really perfect for a party like this because it's easy to eat, easy to pick up, and, especially with the small pieces, it doesn't feel quite as big and heavy as eating entire slices of pizza. Even after it got super dark and we turned on the movie, I kept catching people going back to the food table and sneaking a little piece or two of pizza (the one below is actually the Hand-Tossed Style BBQ Recipe Chicken with Bacon.)
If you need help finding these pizzas, go to www.CPKfrozen.com and click on the yellow "find grocery store" button in the top right-hand corner. You can (obviously) also just look for them wherever you shop in the frozen pizza section, but I found that some stores in my area had much more variety than others, especially with these new Hand-Tossed Style and Gluten-Free options.
Since our guests arrived about an hour before the movie started, we needed to have food available right away. I set out watermelon wedges and grapes cut into small bunches…
Cucumber water and strawberry lemonade (I cheated and just used strawberry lemonade mix and then added a pint of sliced fresh strawberries and a sliced lemon.)
And you can't have a movie night without popcorn!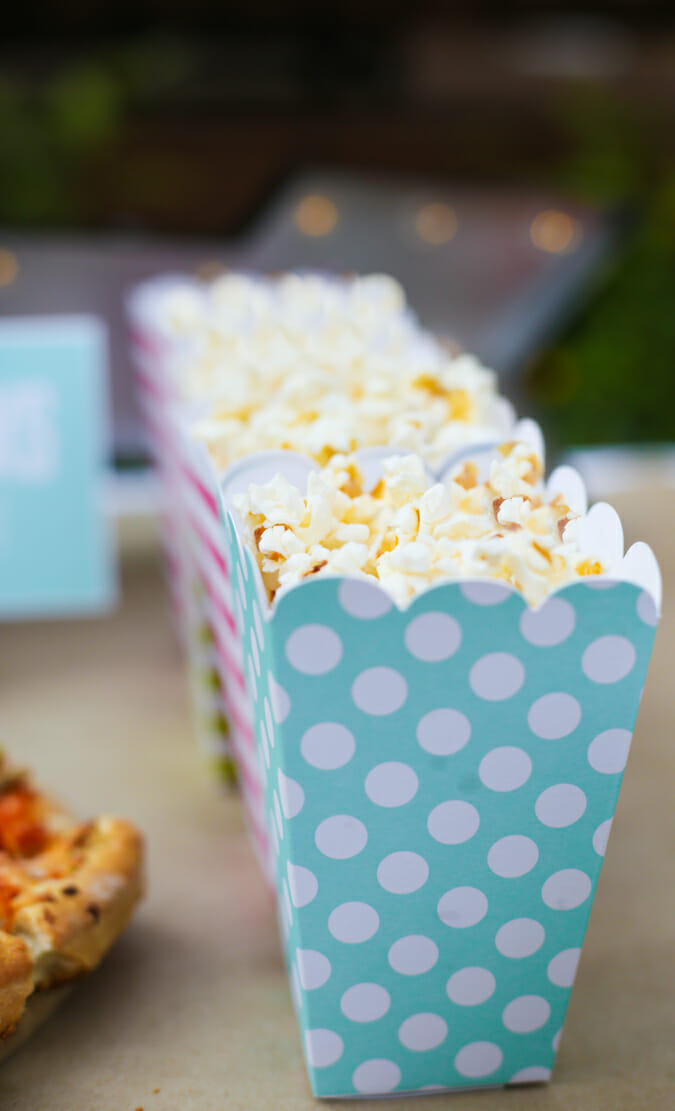 We also had a s'mores bar with graham crackers, round buttery crackers, marshmallows, and different types of chocolate. And a box of baby wipes to try and keep the mess under control. It was way too hot to light a fire, so I turned on the stove side of my grill and set out bamboo skewers so people could just roast them over that flame.
Throwing an outdoor party in Louisiana in July is no small feat. The heat, humidity, and bugs (and that armadillo that crashed our party) are oppressive, even at night, but I wasn't going to let that stop us from having a blast. I bought a bunch of spray bottles from the dollar store and filled them up earlier in the day, then refrigerated them until party time. I kept them in a tub of ice so the kids and adults could grab one and keep cool. I also had several cans of bug spray available.
I set out bubbles, sidewalk chalk, and glow bracelets (which also turned into glow necklaces and headbands, sported by kids AND adults). The best part was when everyone jumped in, not just the kids.
I also set out a cooler of ice pops–I sprinkled some dry ice in the bottom of the cooler, then topped it with a bag of regular ice. That way, no one came in contact with the actual dry ice, but it kept the ice pops frozen.
For logistical and safety reasons, I wanted to keep the party on our long driveway and the area by our garage and keep the cars in front of our house, so I set up these signs–I just printed them out and taped them to painter's sticks. Then I lined the driveway with mason jar lanterns–I put some rice in to a 16-ounce jar and added a tea light.
As it got dark, it turned kind of magical.
Around here, bug spray isn't enough to keep the insects away, especially when light and food are involved, so we also staked down some tiki torches near the areas where most of the people were going to be.
They added to the dreamy feel of the night and we really didn't have any problems with bugs.
This party was seriously one of the best, most fun nights we've had with family and friends (definitely making up for our dud of an Independence Day.) Whether you go big like we did or enjoy things on a smaller scale, it's such a fun way to spend a summer night under the stars!