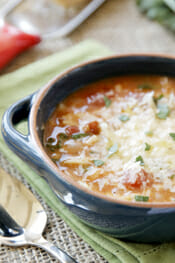 If you follow me on social media, you might know I had a baby a couple of days ago.  And I'd like to point out how dedicated I am blogging from a hospital bed post-surgery to make sure all y'all don't go without dinner.  KIDDING.  I'm not a crazy person.  Well, crazy enough to voluntarily gestate a 4th child, but we'll skip that conversation.  I'm writing this post ahead of time so I can actually be resting up and focusing on our new babe by the time you read this.
This is one of my favorite soups, and browsing over the ingredient list, it doesn't appear to be anything overly impressive.  It's not loaded with gooey cheese bombs like this Lasagna Soup, nor topped with an entire Mexican restaurant like some of our Tortilla Soups.  It's super simple ingredients that somehow come together for something so flavorful and so comforting.  There's nothing I love more on chilly fall days than to smell a pot of hot soup simmering away on the stove-top, and this one is simple and delicious; a perfect weeknight meal.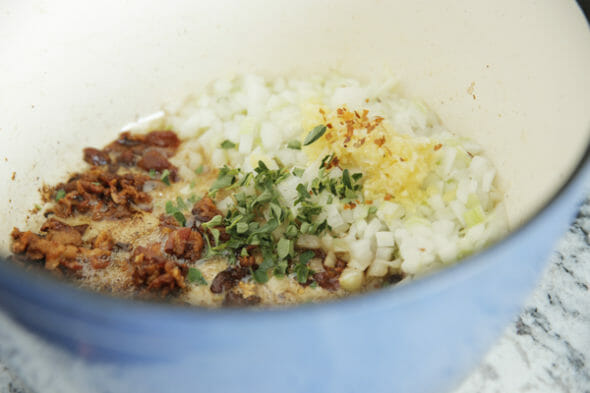 You know it's going to be good when a recipe starts out with bacon.  After you crisp up some chopped bacon in your pot, you'll saute your aromatics right in it.  Garlic and onion sauteing in bacon drippings is seriously one of the most amazing flavors in the world.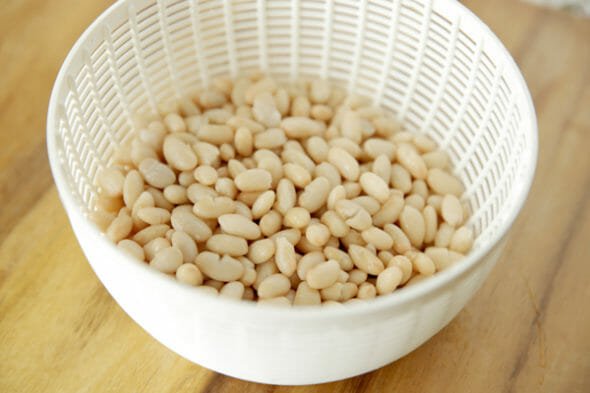 Fagioli just means "beans" in Italian, so these creamy white beans get added to the pot along with canned tomatoes and broth.
You can choose your pasta; any small pasta shape will do.  I like to choose pasta that is similar in size to the other things in the pot, so it all fits nicely on the spoon, ya know?  Bow Tie or mini bow tie work really great; I especially love the minis.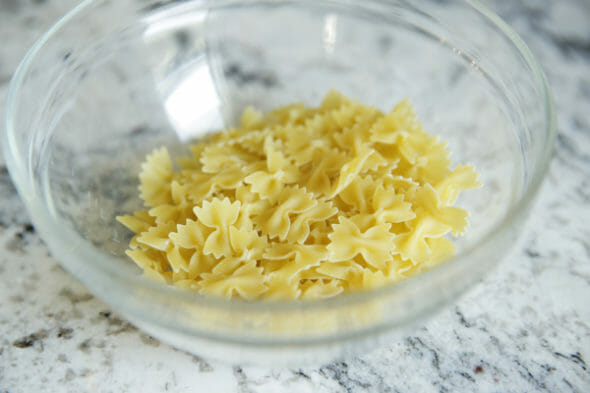 This soup is so simple, but the flavors are so good.  It's such a great example of how great food doesn't have to be complicated.  Topped off with a little fresh Parmesan cheese (grate your own, skip the bagged stuff) and some fresh basil or parsley.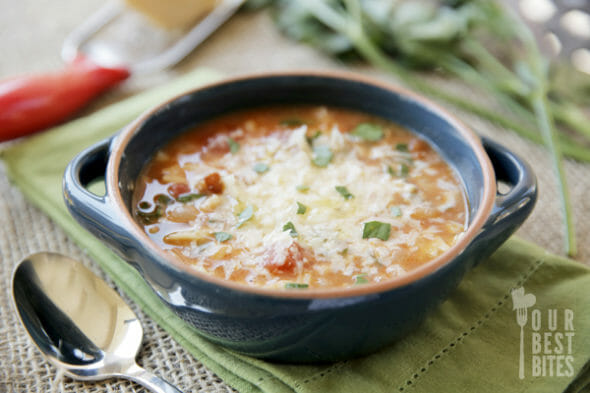 The recipe also calls for a little drizzle of Extra Virgin Olive Oil over each serving, and it's important that you use a quality olive oil.  It adds flavor, richness, and body that you wouldn't expect.  This is the perfect use for a good, flavored olive oil and almost any of our flavors are delicious here (I've tried just about all of them on this soup!)  Basil or Garlic are obvious choices,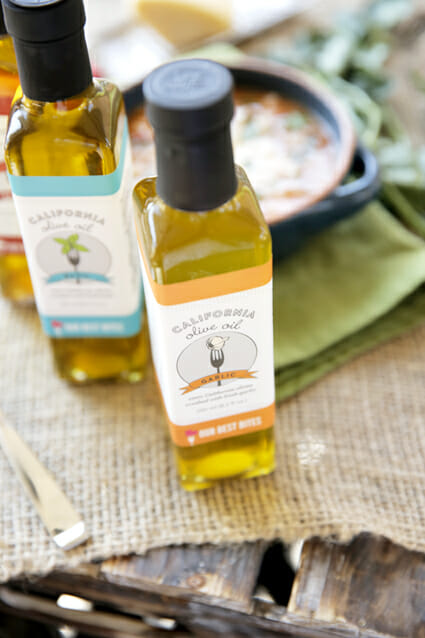 and hello- bacon.  If you've got your hands on our Smoked Bacon Olive Oil, that's my absolute fave on this one.  (I should note that Bacon is currently in-stock!)
This is the perfect chilly-fall-day dinner. Pair it with an easy salad and a warm loaf of crusty bread (If you plan ahead, try it with our Rosemary Foccacia Loaves) and you're good to go.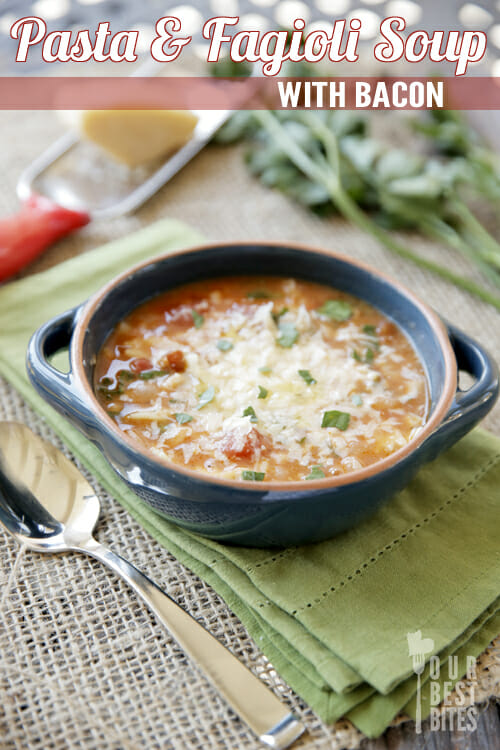 Pasta e Fagioli Soup (Pasta and Bean Soup with Bacon)
Recipe from the ATK Family Cookbook
This recipe is best when made with authentic Parmesan and a full-flavored extra-virgin olive oil.  Ditalini, orzo, mini bowtie, and stellini are all good small pasta options.
Ingredients
4 ounces bacon (4 slices), chopped medium
1 onion, chopped fine
4-6 garlic cloves, minced
1 tablespoon minced fresh oregano (or 1 tsp dried)
1/4 teaspoon red pepper flakes
1 28-oz can diced tomatoes
2 15.5-oz cans canellini beans, rinsed
3 1/2 cups low-sodium chicken broth
2 1/2 cups water
salt
8 ounces small-shaped pasta (1 3/4 cups)
1/4 cup minced fresh parsley
pepper
2 ounces Parmesan cheese, grated (1 cup)
Extra-Virgin olive oil (for serving)
Instructions
1. Cook the bacon in a large Dutch oven over medium heat until crsp, about 8 minutes.  Stir in the onion, garlic, oregano, and red pepper flakes.  Cook until the onion is softened, about 5 minutes. Stir in the tomatoes with their juice, beans, broth, water, and 1 teaspoon salt.  Bring to a simmer and cook for 10 minutes.
2. Stir in the pasta and cook until just slightly underdone.  Off the heat, stir in the parsley and season with salt and pepper to taste.  Sprinkle individual bowls extra herbs if desired, and then with grated Parmesan and a drizzle of olive oil before serving.
Make Ahead
This soup can be prepared through step 1, cooled, covered, and refrigerated for up to 2 days or frozen for up to 1 month.  Reheat over low heat before proceeding with step 2.