What? It's July 15th? I think I heard rumors that there's some kind of movie about a boy wizard or something. No, seriously, my Facebook and Google Reader feeds are full of evidence that the blogosphere is aflutter with Harry Potter recipes and party ideas.
In case you haven't guessed, Peach Shakes are not a Harry Potter recipe.
I just can't do it, you guys. If I do a Harry Potter party or even a recipe, then I have to come to terms with the fact that it's over.
I got this in my mailbox a couple of weeks ago:
and I burst into tears. Not kidding. Not only does that picture of Daniel Radcliffe make me feel unbelievably old, but this is the end of an era for me–the first two books came out while I was in high school, the third my freshman year of college. When the fourth book came out, I laid on the grass outside my student apartment and read like a big nerd while everyone else played volleyball. When the fifth book came out, I'd been married for 2 years and laid on the same lawn while my husband and his brothers went swimming. I was a new mom when the sixth book was published and read it at the same apartment, willing my then-six-month-old (now-six-year-old) baby to sleep just a little bit longer so I could get through another chapter. And when the seventh book was published, I had another brand-new baby and my husband and I found ourselves on our way out of the same apartment, recently unemployed and terrified and broken-hearted. But we had Harry Potter and that somehow made the situation a little more bearable. While I was sad the books were coming to an end, I knew we had more movies before it was over.
But now it's over.
I finally sucked it up and bought tickets to the movie yesterday afternoon and then I cried some more. I think I thought if I just didn't buy them, it wouldn't have to end. So funny that things don't work that way, right?
It's like I'm packing up all those memories: talking about them in passing during high school English classes, waiting in line for the first movie as a brand-new newlywed, the realization that Sirius Black was a good guy, re-reading again late, late, laaaaaaaaaate into the night, seeing pre-Twilight Edward for the first time, running into a crowded movie theater full of Incredible Hulk fans to find my brother-in-law Peter thumbing through the fifth book to see who died at the end and yelling, "Oh, Peter, NO!", writing my senior thesis paper in college on Harry Potter coming of age as the epic hero, snuggling a sleeping baby and giggling when Harry and Ginny kissed for the first time, my heart breaking again and again at the end of the seventh book, watching my kids fall in love with the stories. Gah. This is why I didn't post a Harry Potter recipe today.
So instead, we get Peach Shakes. And I don't even feel like I can talk about them except that they are simple and perfect and a delicious way to use up your ripe summer peaches–if you've got a lawn you can lie down on without being eaten alive by fire ants, go read Harry Potter in the grass for me while sipping on one of these.
You'll need really good vanilla ice cream (leave it on the counter for about 10 minutes to soften up a bit), fresh peaches (don't forget to peel them first), a few tablespoons of freshly squeezed orange juice, and a few tablespoons of sugar (this is mostly to taste–some peaches will be sweet enough that you won't need the sugar).
Combine the ingredients in the jar of your blender (liquid first, ice cream last) or in an immersion blender-friendly container. Then just blend until smooth! If you're using a fancy blender like a Blendtec of Vitamix, you're not going to have any problem with this mixing up, but if you're using a regular blender, you might have to get the ice cream a bit softer and use a plunger or scraper to make sure everything gets properly "shaken." You might need to add a little more sugar or orange juice to sweeten or thin it out a little (or both). Pour into 2-4 glasses and serve immediately.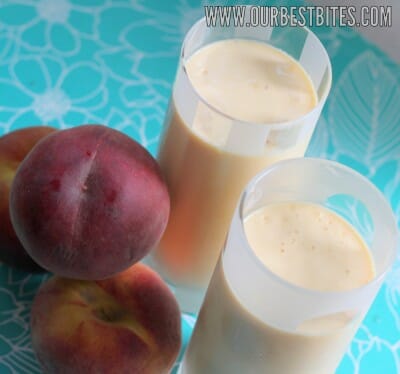 Peach Shakes
Recipe by Our Best Bites
Juice from 1/2 of an orange
3 c. ripe peaches, peeled and sliced
1 1/2 c. high-quality vanilla ice cream
Enough ice cubes to reach desired consistency
2+ tablespoons sugar (you may need more or less–if your peaches are very sweet, you might not need any at all)
Place the juice, peaches, ice cream, and ice to your blender and blend until desired consistency is reached. Add sugar as needed and serve immediately. Makes 2 large or 4 small servings.
If you are looking for some awesome Harry Potter treat ideas, here are a few of my favorites from around the web! Just click on the pictures to see the recipes!
First, we have Butterbeer Cupcakes from Cook Like a Champion.
If you don't want to use Schnapps, I'd bet a tree full of Bowtruckles that you could just use a little more butterscotch sauce.
From our girl Bridget at Bake at 350 (who never ceases to amaze me), we've got these Butterbeer Cookies (noticing a pattern here? Butterbeer may be my saving grace during this very difficult time). Aren't they gorgeous??
Heck, let's just go for straight Butterbeer–head over to Delightful Delicacies for a virgin Butterbeer recipe appropriate for teetotalers and underage Wizards everywhere.
I actually had a really hard time finding anything that wasn't Butterbeer themed. One of our readers pointed out these gorgeous pumpkin pasties from Ezra Pound Cake (Word to the wise: Googling "pumpkin pasties" will only make you believe that there are people with some very strange fetishes out there!):
When I headed over there, I discovered all sorts of Harry Potter goodies. These chocolate frogs are perfect!!
Be sure to check out her whole Harry Potter dessert menu here!
Finally, be sure to check out these adorable Golden Snitch Cake Pops from Beantown Baker:
If you're not a Harry Potter fan and you've made it this far, I appreciate you humoring me and my sentimental walk down Diagon Alley. If you are a fan, I hope your goodbyes are not nearly as dramatic as mine apparently are. I know it's been said all around the world, but thanks again, Harry.