This homemade Poppyseed Dressing is an all-time favorite, especially for dressing up a spinach salad or your favorite sweet and savory combinations.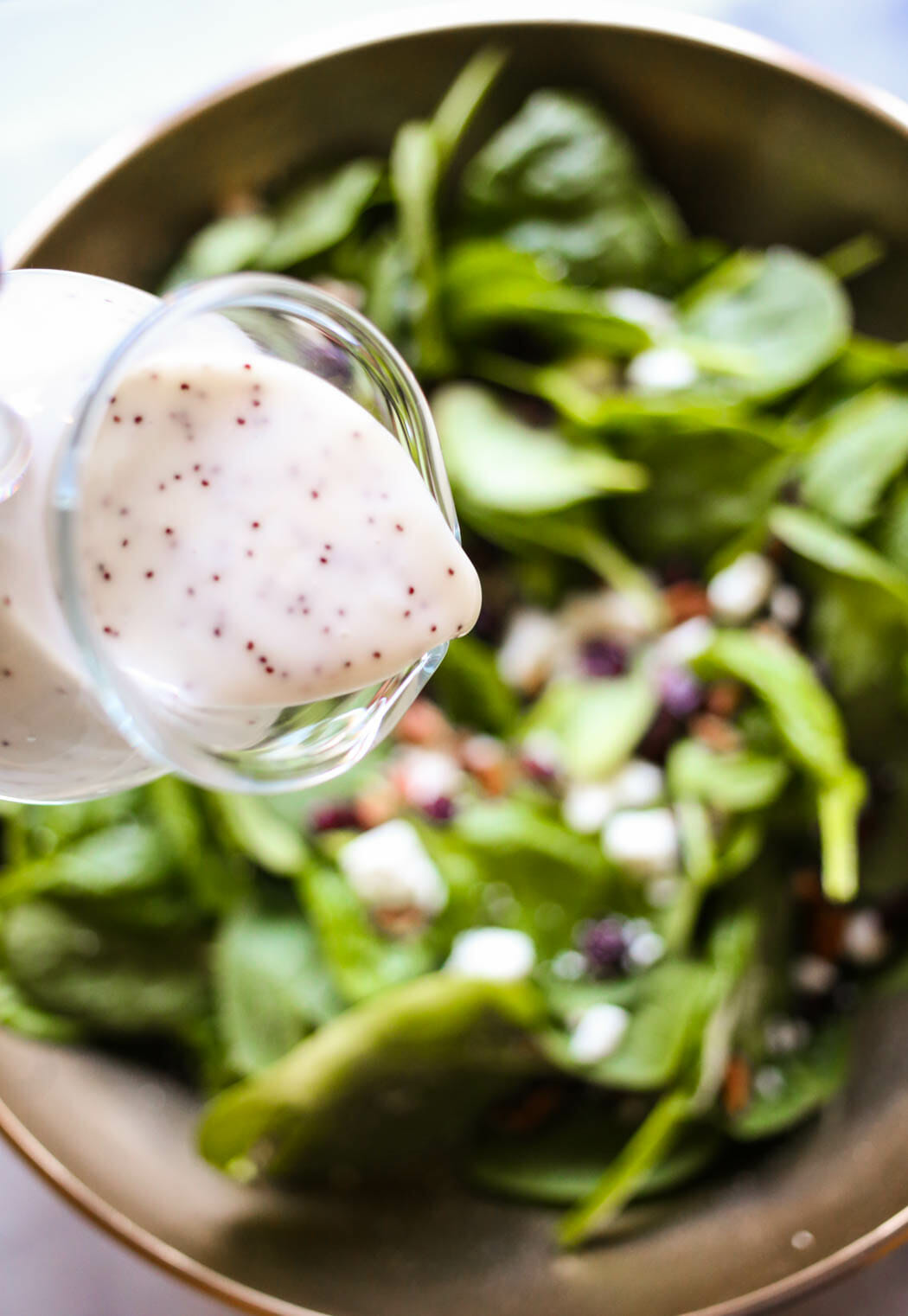 A little check-in
Oh, hey, y'all. Anyone ready to yell "uncle" on 2020? I'm over it. Sara said a few weeks ago (legit don't actually remember how long ago that actually was because #2020) that her covid experience felt like the lost months and my response was that this feels like the lost year.
That isn't to say that there haven't been wonderful things…I actually look back at the quarantine days with quite a bit of fondness. They feel like yesterday and a lifetime ago. I started teaching, which I love. The kittens have been a bright spot. We're all healthy.
And yet…I'm so tired. We were slammed with another hurricane last Friday, and while this wasn't devastating like Hurricane Laura, it was another complication in a complicated year. The thought of going back to school and "un-hurricane-ing" my room makes me want to crawl into a hole, if I'm being honest. I feel like I'm coming up short in just about every area of my life. My thirties are over in another couple of months, and honestly, I'm not sad about it. This has easily been the hardest decade of my life. That's not saying my forties will necessarily be better, but at least I can say peace out to this period of my life. This isn't a pity party. Just…being honest and keeping it real because that's what I do.
kate, why are you telling us this?
I honestly don't know what the point of telling you all this is, especially since it has literally NOTHING to do with spinach poppyseed dressing, but I feel like most of us are friends that have known each other a long time, and sometimes friends tell each other things like, "Hey, I'm tired. Are you tired? Because I'm freaking tired."
Anyway.
back to salad dressing
This salad dressing is one of my favorite comfort foods. I love it on this Spinach Mandarin Poppyseed salad (please ignore the 2009-esque photos). Honestly, it's perfect with any salad that has a combination of sweet and savory flavors. I have legitimately become a poppyseed salad dressing snob. I will no longer eat store-bought poppyseed dressing because even the best ones have a touch of mayonnaise flavor that makes me want to go to the same place I want to go when I think about un-hurricane-proofing my hurricane-proofed classroom.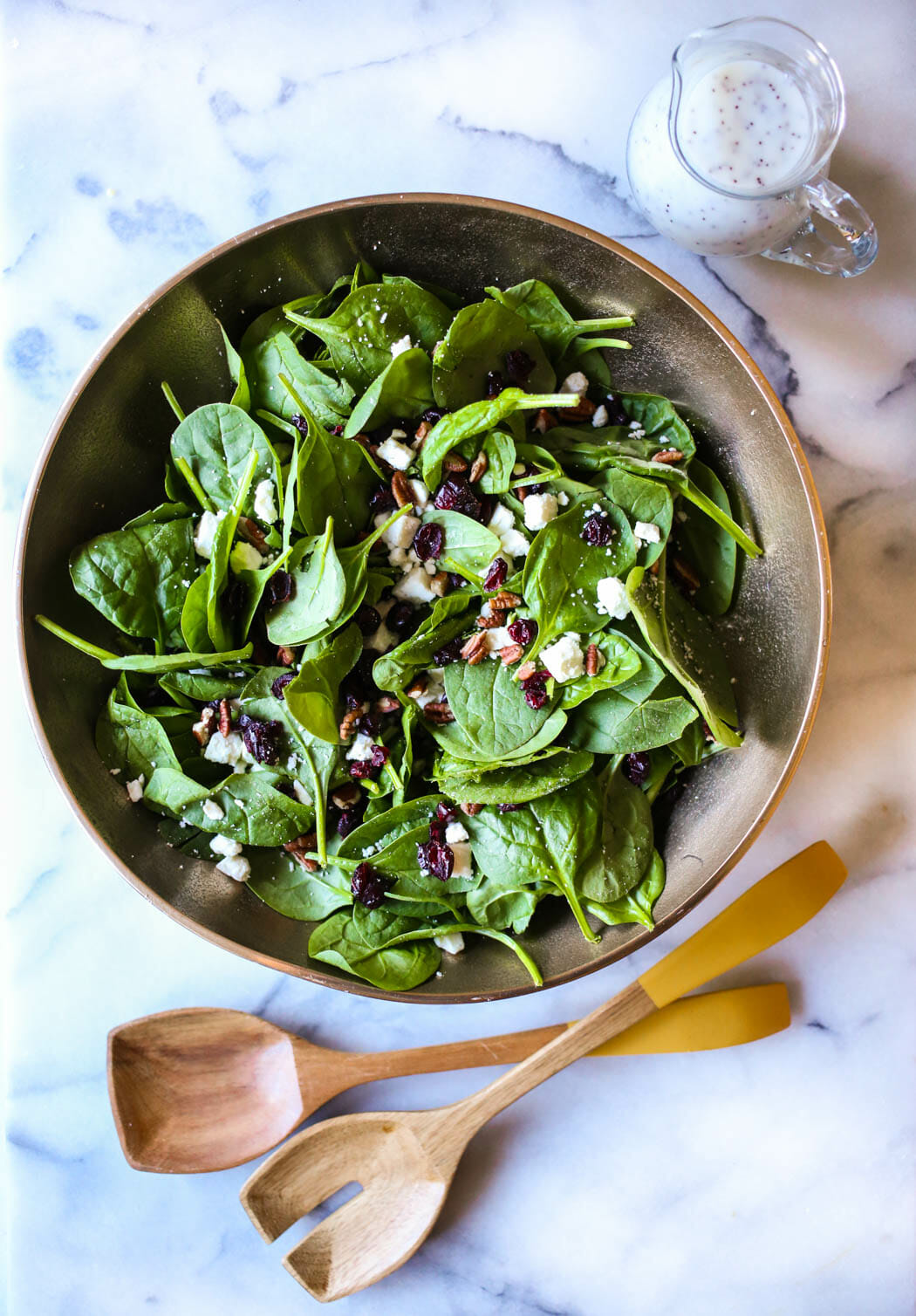 On thing I love is that it is easy and it is cheap (insert your jokes here) and I pretty much always have the ingredients. Sugar, oil, poppyseeds, salt, pepper, dry mustard, and a green onion.
You just pop everything but the poppyseeds oil into your blender, give it a whirl, add the oil in a steady stream, then whisk in the poppyseeds and voilà! You're done!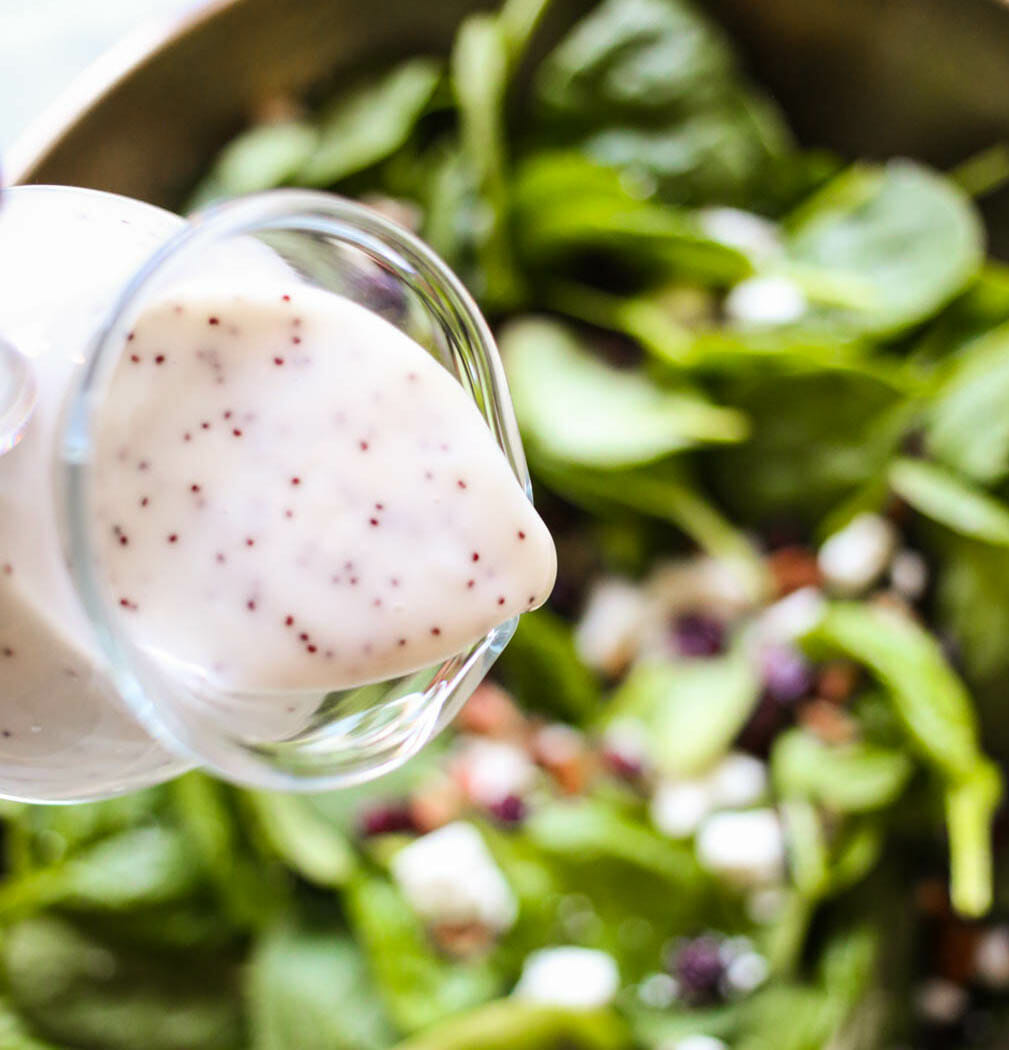 Print
---
Description
This homemade poppyseed dressing is perfect for sweet and savory salads, heads and shoulders better than any store-bought poppyseed dressing, and comes together in a matter of minutes!
---
1/3 cup white vinegar
1 teaspoon kosher salt
A few turns of freshly ground black pepper
3/4 cup sugar
1 teaspoon mustard powder
1 green onion, ends removed (both the "hairy" end and where the green part starts to get floppy)
1/2 cup neutral-flavored vegetable oil like peanut or canola (check for allergies before using peanut oil)
1 teaspoon poppy seeds
---
Instructions
In a blender, combine vinegar, salt, pepper, sugar, and dry mustard. While the blender is running, add the green onion. Continue running the blender and add the oil in a steady stream and is fully incorporated into the dressing.
Pour the dressing into a serving or storage container and whisk in poppy seeds. Serve over leafy greens.
---