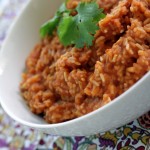 So apparently I have this rice thing going on lately. I've even had a whole extensive rice tutorial on tap for months now to supplement replace this old, old, old post from the first few weeks of our blog because I guess rice and I are BFFs right now. But who has time to post extensive rice tutorials when there are things like Red Chile Rice to be made? To be eaten? To be fantasized about? Because this rice and Zapp's Salt & Vinegar potato chips consume about 85% of my waking thoughts right now.
Sometimes I feel like I'm in recipe overload. I have a million cookbooks that I haven't cooked my way through, I get cooking magazines that don't get read for months and months, and then there's the blogosphere and Pinterest and Allrecipes. However…ever since we started Our Best Bites, I've had a little bloggy crush on The Homesick Texan. I love, love, love her recipes and, since moving to Louisiana, there have been so many times when I've been homesick for really, really good Mexican food. Of course, it's not just about the Mexican food–my head is screwed on straight enough to not be truly homesick for beans or rice or taco stands–but it's about the memories, the flavors that shaped who I am in the kitchen, how I cook, what I love.
One of those defining moments was when I kind of made the shift from red rice to green rice, usually made with tomatillos and limes and cilantro. Up until fairly recently, that's been my preference for a long time. But one night, I was just wanting good ol' red rice, so I pulled out my copy of Lisa's cookbook and made her red chile rice. And oh, my gosh. It was heaven. Simple ingredients, easy recipe, and unbelievably delicious–it truly had the power to convert me back to red rice. At least at home.
You'll need some crushed tomatoes (I could only find large cans, so you'll probably have some left over), 1/4 of a medium yellow onion (I used 1/2 of a small yellow onion here), 2 cloves of garlic, 1 canned chipotle chile (I seeded mine because I'm a baby), 1/2 teaspoon ground cumin, a pinch of cloves (I left it out this time because I have a spice organization crisis brewing and I didn't have it in me to find my cloves), 1 tablespoon of lime juice (I love my lime…I may have added a touch more), 1 tablespoon vegetable oil, 1 cup uncooked long-grain rice, 2 cups chicken broth (moderate to high elevations should use an additional 1/4 cup), and salt to taste (do you like my parenthetical commentary to every ingredient?)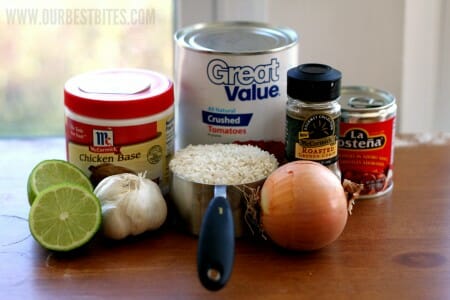 Measure out your crushed tomatoes.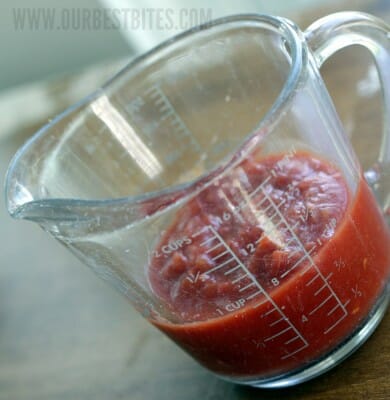 The recipe calls for straining them, but I found I both needed and wanted the liquid, and I'm at a very low elevation.
Place the tomatoes in the jar of your blender. Add the onion and garlic (don't bother chopping either one), cumin, cloves and lime juice. If you're brave, pop a whole chipotle pepper in there. However, since I am a wuss prone to heartburn and because I have little kids, I snapped on a pair of latex gloves, sliced the pepper in half, and ran it under some water to rinse away the seeds (most of the heat is contained in the seeds).
I tossed the seeded pepper into the blender, then I added a small spoonful or two of the adobo sauce from the chilies. That's my little compromise.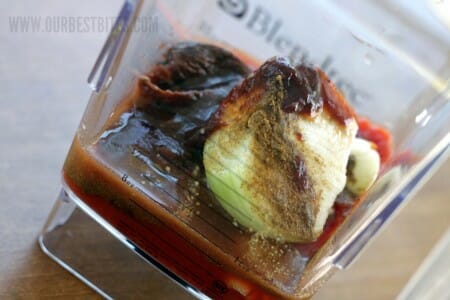 Blend the mixture until smooth and set aside.
In a large, heavy-bottomed skillet with a lid, heat the tablespoon of oil over medium heat. When hot, add the rice and saute for about 30 seconds.
Add the tomato puree and prepare yourself for the most delicious thing you've ever smelled. Cook for one more minute.
Add the chicken broth and bring to a boil. Cover tightly and cook for 20 minutes or until tender. When the rice is done, remove from heat and allow it to stand, covered, for an additional 10 minutes. Stir to incorporate the sauce and serve it alongside your favorite Tex-Mex food (burritos, tacos, enchiladas, refried beans, black beans, etc.)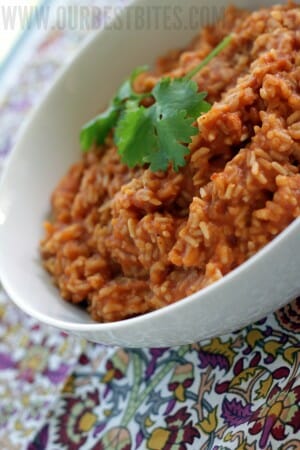 Red Chile Rice
Recipe lightly adapted by Our Best Bites from The Homesick Texan Cookbook
Ingredients:
3/4 cup tomato puree
1/4 medium yellow onion
2 cloves garlic, peeled
1 canned chipotle chile, seeded and rinsed, plus 1-2 small spoonfuls of adobo sauce from the can
1/2 teaspoon cumin
pinch of cloves (optional)
1-1 1/2 teaspoons freshly squeezed lime juice
1 tablespoon vegetable oil
1 cup long-grain white rice
2 cups chicken broth (high elevations should use an additional 1/8-1/4 cup)
Kosher salt, to taste
Instructions:
In the jar of a blender, add the crushed tomatoes, onion, garlic, cumin, cloves, and the chipotle chile. If you're concerned about heat, slice open the chile, run it under some cool water to remove the seeds, and add the seeded chile to the blender, along with a small spoonful or two of the adobo sauce (more if you want more heat and chipotle flavor). Blend until smooth and set aside.
In a large, heavy-bottomed skillet with a lid, heat the oil over medium. Add the rice and saute for 30 seconds. Add the tomato mixture and cook for an additional 30 seconds-1 minute, stirring constantly. Add the chicken broth, stir, bring to a boil, then cover tightly, reduce heat to low, and cook for 20-30 minutes (longer for higher elevations) or until the rice is cooked. Remove from heat and allow to stand, covered, for 10 minutes. Stir to combine and serve. Serves 4-6.