Last week in my post about the cheesy pasta bake, I mentioned that I'm not a huge cauliflower fan.  I didn't eat it much growing up and I've never been able to swallow it raw as an adult.   But then a few years ago I tried cauliflower puree, back when it was all the rage and people tried to convince you it was a perfectly acceptable low-carb substitution for mashed potatoes and no one would ever know it wasn't potatoes because it tasted just the same!  For the record, those people are full of crap.  Those are the same people that tell you to put marinara sauce on a spaghetti squash instead of actual spaghetti.  Do not trust those people; it will end in disappointment my friends.  While cauliflower is an absolutely horrible replacement for mashed potatoes, I was shockingly surprised to find that I actually liked the flavor of the puree.  If you or your spouse or kids have vegetables they don't like, my advice is to experiment with different cooking methods.  It's amazing what a difference one cooking method to another makes in taste and texture and you might just find you love something you previously despised!  When it comes to vegetables, there is one tried and true cooking method that will transform just about anything into something delicious: roasting.  If you're ever in doubt about how to cook an unfamiliar veggie, or you're not too fond of it- roast it.  I swear.  Amazing things happen.  (Hello Brussel Sprouts!)
So here's a great, quick and easy side dish recipe.  Start with a head of cauliflower.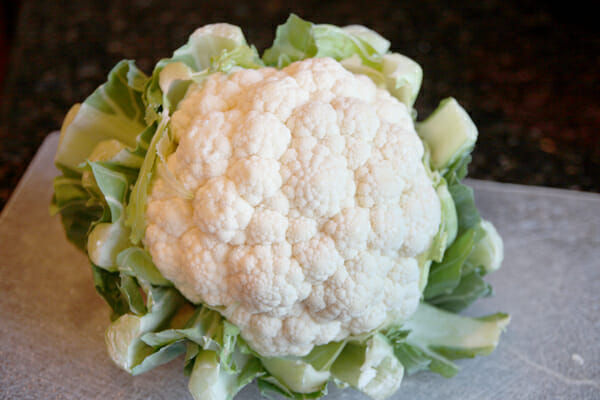 Remove all of the stem and leaves and then just carefully cut it into large florets.  It's a little different than broccoli in that the pieces sort of stick together more.  You'll want to slice the florets into about 1/4 inch slices.  See in this picture below, it's basically just one piece of stem. You'll want to keep most pieces attached to at least some portion of a stem so it doesn't all fall apart on ya.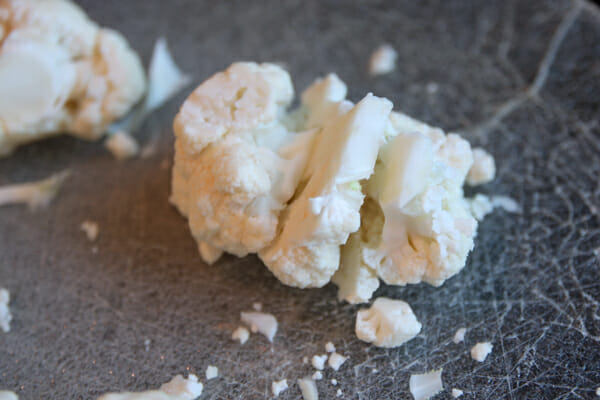 Just toss it all on a foil lined baking sheet so it's in a single layer.  You want all of the pieces to have contact with the pan so they can brown and caramelize.  Next, drizzle on fresh minced garlic and extra virgin olive oil.  A little trick you'll see in the instructions is that I heat the oil and garlic in the microwave just to warm it.  That infuses the oil with the garlic flavor, therefore better flavoring your veggies.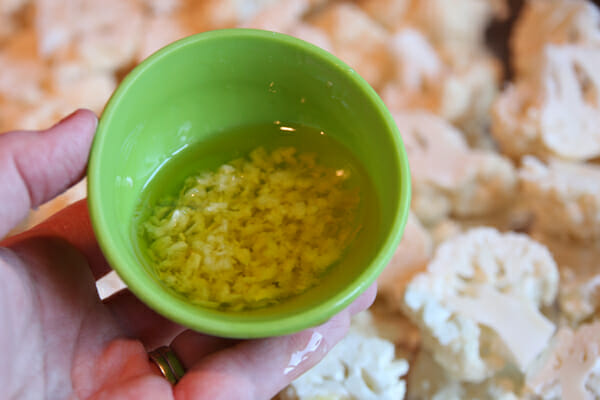 And sprinkle on some kosher salt and fresh cracked black pepper, too.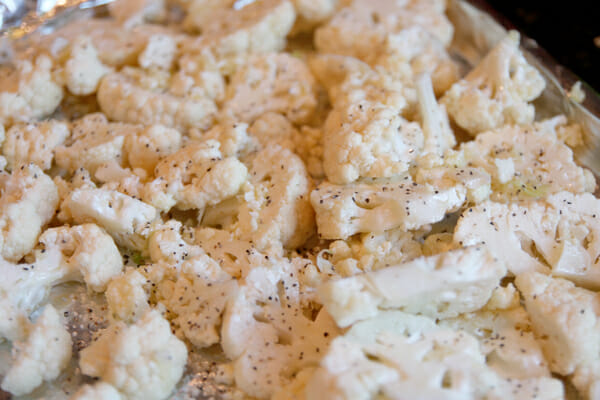 You'll notice when you toss it all together that you'll have little bits all over.  It's crumbled pieces of cauliflower and garlic and it's the best part after it's cooked!  Scoop all of those up and sprinkle them on top of everything else before you put your pan in the oven.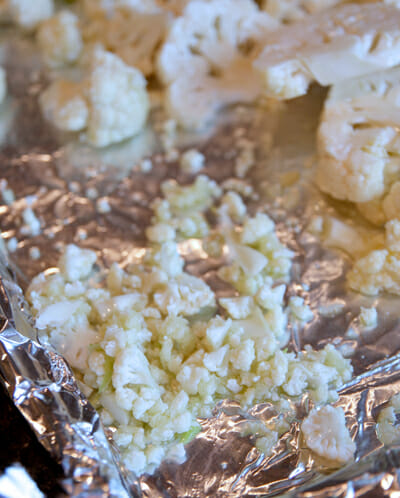 Now, pop that pan in a hot oven and let it do its thing.  Everything starts to brown and caramelize and smell amazing.  You'll toss it midway through, and then toss it with a little parmesan cheese in the last few minutes of baking.  See how it looks like it all shrank in the photo below??  That's because I ate half the pan with my fingers before I even snapped a picture.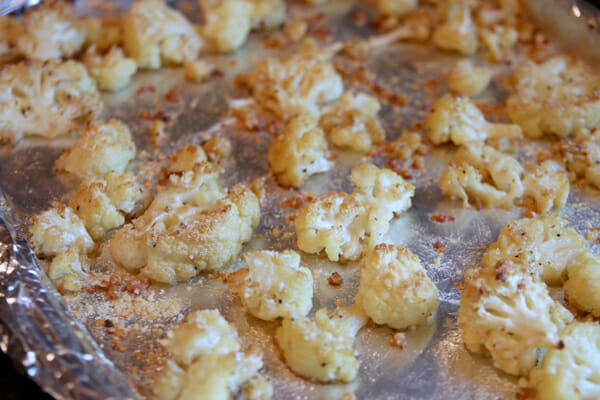 In fact, I just ate it all plain.  Comin' from a self-professed cauliflower hater y'all!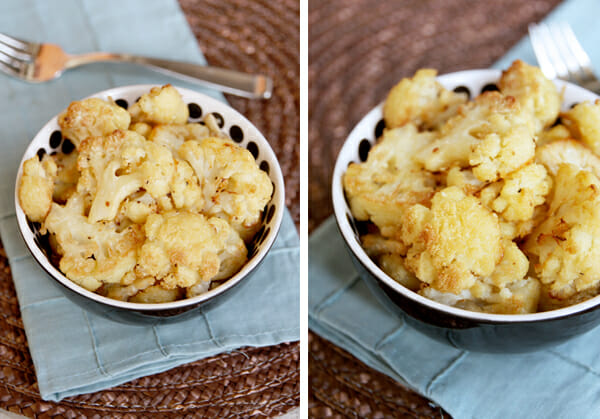 PS, if you own our cook book you'll see this is basically the exact same way I cook my broccoli.  Try it with both!  

Roasted Garlic-Parmesan Cauliflower
Recipe by ourbestbites.com
Ingredients
3-4 tbs olive oil
3-4 cloves garlic, minced
1 head cauliflower
kosher salt and pepper
2-3 tablespoons crumbled Parmesan cheese (stuff in a green can a-okay!)
Instructions
Preheat oven to 400 degrees.  Place olive oil and garlic in a small bowl.  Heat in microwave for about 20 seconds and set aside.
Remove stem and leaves from cauliflower head and trim into large florets.  Slice each floret into 1/4 inch slices and place on a foil-lined baking sheet.  Drizzle with oil and garlic mixture and sprinkle with kosher salt and black pepper.  Use clean hands to toss to coat.  Add more olive oil if needed.  Bake for 15 minutes and then toss with spatula.  Bake 10 more and then toss with Parmesan cheese.  Continue baking for 5-10 minutes until slightly golden brown on edges.