Happy New Year!! I hope everybody had a fun, happy, safe holiday. If this is your first January with us (or in case you forgot), we like to spend the entire month of January showing you that we don't just know how to make naughty diet disasters–we actually try to cook and eat healthy most of the time.
Confession time: I kind of gain a lot of weight when I'm pregnant.  One of my goals this pregnancy/New Year's resolutions/whatever you want to call it is to not gain fifty million pounds this time around because, well, I never really lost the last fifty million I gained the last time around.
One of the hardest things for me when I'm pregnant is that not only am I completely flat-on-my-back nauseous for a good 3-4 months, but I'm also ravenously hungry, which just seems like such a cruel paradox. What got me in trouble the other two pregnancies was that I used my ravenous hunger as an excuse to eat whatever I wanted or that it was my body's way of telling me I needed, say, 4 Wendy's Jr. Cheeseburgers Deluxe (is that the correct plural? I feel a little like Yoda saying that…) in a single day. My strategy this time, especially now that my "morning sickness" (whoever came up with that term is hilarious) is starting to wind down, is to not let myself get hungry, but to keep myself constantly surrounded by healthy snacks that won't make me crash and burn. And ice cream.
Hummus is one of my favorite snacks, even if my husband threatens to leave me every time I make it because he thinks the garlic usage is excessive (I didn't know there was such a thing as excessive garlic usage). We have an awesome basic hummus recipe in our book, but I like mixing things up every now and then with this Roasted Red Pepper Hummus. It has all the classic hummus elements like chickpeas, tahini, garlic, cumin, and lemon, but it also has the sweetness of the roasted red peppers (which also helps offset the bitterness of the tahini, which can sometimes be a little overwhelming) and the brightness of a little chopped cilantro, which scared me at first. But you guys should know us better than to be too scared of cilantro; that's just silly.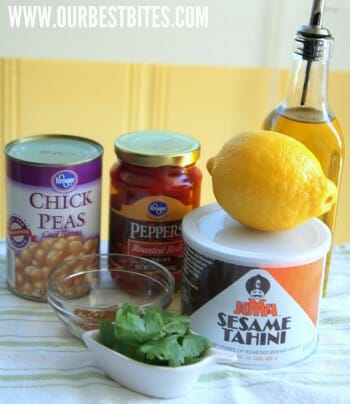 Speaking of tahini…it's kind of a must in hummus. I find it in the Mediterranean section of the grocery store, but you can also often find it with the kosher foods (or both places, and sometimes there's a good $1-2 difference in the price). And speaking of price, it's expensive. Not as expensive as buying store-bought hummus all the time (which isn't nearly as good, at least in my opinion), especially since a jar of tahini should last you a little while (unless you're some kind of hummus junkie). That said…if you don't want to buy tahini, don't have room for it in your grocery budget, or are just plain not super crazy about the flavor (it's kind of like slightly bitter nut butter), here's a little secret: try getting an all natural peanut butter. Like the kind that you have to stir up when you use it and doesn't have any added sugar or anything. It's not exactly the same, but it's surprisingly close and a good substitute in a pinch.
Anyway.
Toss all your ingredients (except the oil and cilantro) in the work bowl of your food processor or the jar of your heavy-duty blender…
and blend until smooth. With the machine running, add the oil in a steady stream and process until the desired consistency is reached. Add in the cilantro and pulse it a few times until the cilantro is evenly distributed. If you can, let it stand for an hour, and then serve it with fresh veggies (I like it with carrots, celery, sugar snap peas, and grape tomatoes) or whole-grain pita chips. You can also spread it on a bagel or roll it up in a whole-wheat tortilla with some turkey and your favorite veggies. You could also substitute it for regular hummus in this 7-Layer Greek Dip.
This makes about 2 cups of hummus.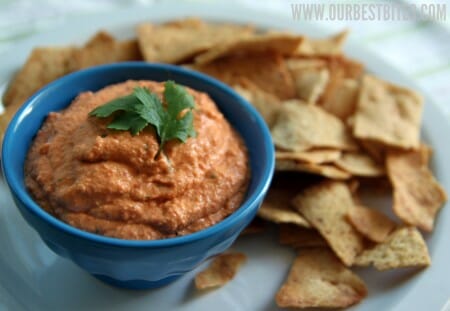 Roasted Red Pepper Hummus
Recipe from The All-New Ultimate Southern Living Cookbook
Ingredients:
1 15-oz. can chickpeas (garbanzo beans), rinsed and drained
2 garlic cloves, smashed
1/2 cup drained and chopped roasted red bell peppers
1/3 cup tahini
1/4 cup fresh lemon juice (about 1 large lemon)
1 teaspoon kosher salt
1/4 teaspoon cumin
1/4 teaspoon coriander
1/4 teaspoon ground red pepper (or 1/4 heaping teaspoon of red pepper flakes)
2 tablespoons extra-virgin olive oil
1 tablespoon chopped fresh cilantro, plus more for garnish
Instructions:
Place all ingredients except for the oil and cilantro in the work bowl of a food processor or in the jar of a heavy-duty blender. Process until smooth, then add the oil in a steady stream and process until desired consistency is reached. Add the cilantro and pulse a few times until the cilantro is evenly distributed. Chill for at least an hour if possible before serving. Serve with pita chips and fresh veggies. You can also spread it on a tortilla or bagel and top with your favorite sliced veggies and turkey for a protein-packed lunch. Makes about 2 cups of hummus.