Herb Roasted Turkey Breast is perfect for a weeknight dinner, or a smaller holiday meal. It also works really great for roast turkey sandwiches!
I still remember the first Thanksgiving I spent with my husband on our own when we just had a little toddler and a baby.  I recreated everything my family of 6 grew up on religiously because I couldn't possibly imagine anything different!  I slaved for an entire day making every last dish, imagining my children's sparkly eyes as they would gaze upon the table and have a perfect holiday to add to their forever memories of their childhoods.  We sat down at that fancy table, with enough food to feed an army and my baby cried, my toddler picked at the funny chicken, and the entire thing was over in less than 10 minutes.  It was anticlimactic to say the least. My point here is this.  It's okay to customize your holiday!  It's okay to do things a little different, and it's okay to NOT cook a giant turkey if:
a.) You don't want to.
b.) You don't need an entire turkey
c.) Your family really just likes the white meat
d.) The thought of doing the whole bird thing gives you panic attacks.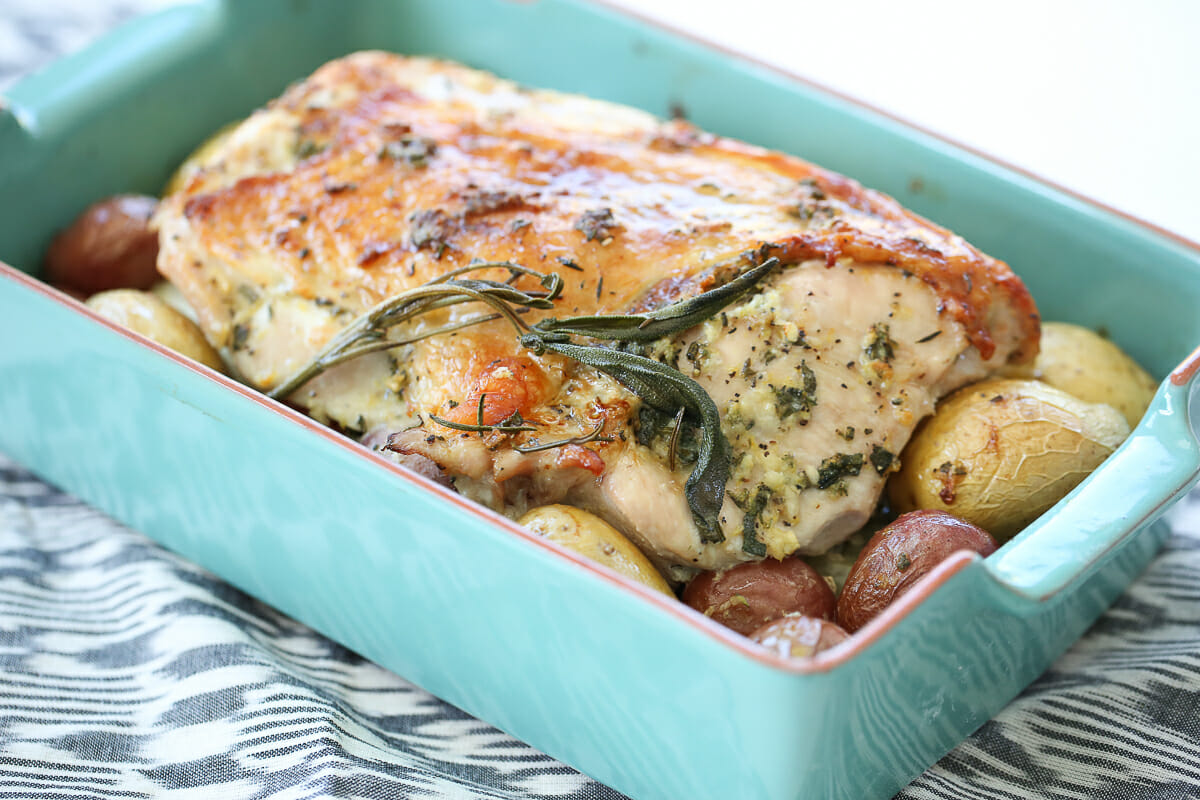 This turkey breast takes minimal prep and produces moist, flavorful turkey that's great for a holiday meal, or sandwiches during the week.
What Turkey Breast Should I buy?
You can find turkey breast in the meat department of the grocery store.  Sometimes it's packaged with other portions, like legs and wings, and sometimes you can find just the breast.  It's usually attached to the bone and looks like a giant chicken breast.   If you find a boneless Turkey Breast, that works great, too. I've written this recipe for 1 breast, about 3 pounds, but you can certainly do more than that at at time.  You could also include the other turkey portions if you purchased that way. If you're serving a crowd, you can fit 2 or more in a roasting pan and just double or triple the herb mixture.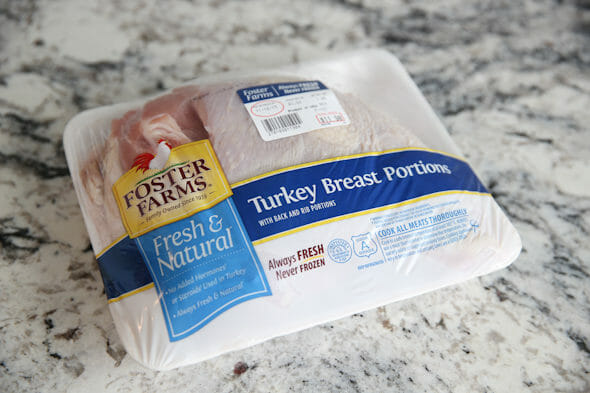 Step 1 Brine the Turkey:
You don't have to brine a turkey breast, it's totally optional.  I do feel it makes a difference in the final product.  Brined meat comes out juicier and more tender.  Turkey breast only really needs an hour or so.  To make a simple brine, just combine water and salt.  You can adjust the amount so you have enough to cover the turkey.   There are all sorts of fancy brines, and you can certainly use any of those, but since we're putting so much flavor ON the actual meat, I'm just sticking with the easy basic brine mix of salt and water.  You can really make as much as you need, using the ratio of 1 tablespoon salt for every 1 cup of water.
Step 2 Make Garlic Herb Butter
While your turkey is brining, you can prepare the garlic herb butter mixture.  I use a combo of olive oil and butter, along with some lemon zest, garlic, and fresh herbs.  You can usually find these little packs of herbs in the produce section of the grocery store that have all 3 of the ones you need: rosemary, sage, and thyme.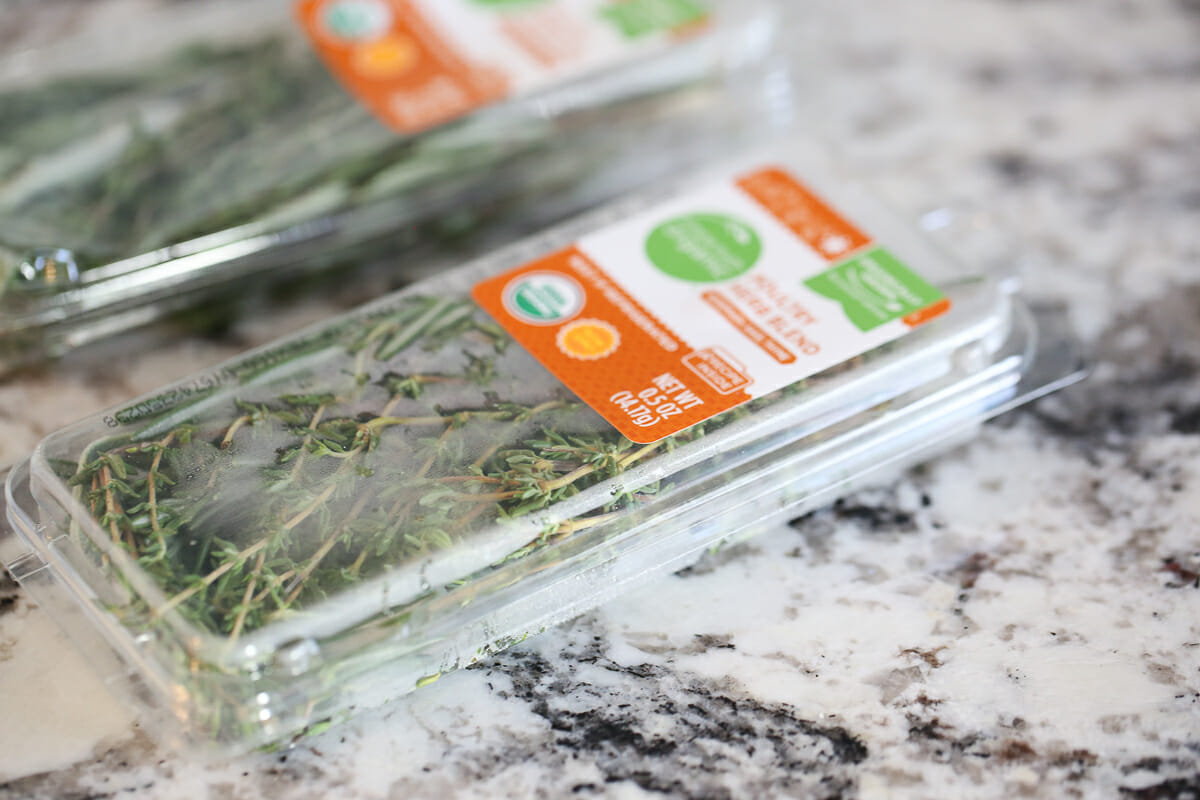 While your turkey is brining, you can mix up the herb rub.  I use a combination of both butter and olive oil, along with some garlic,  lemon zest, herbs, and salt and pepper.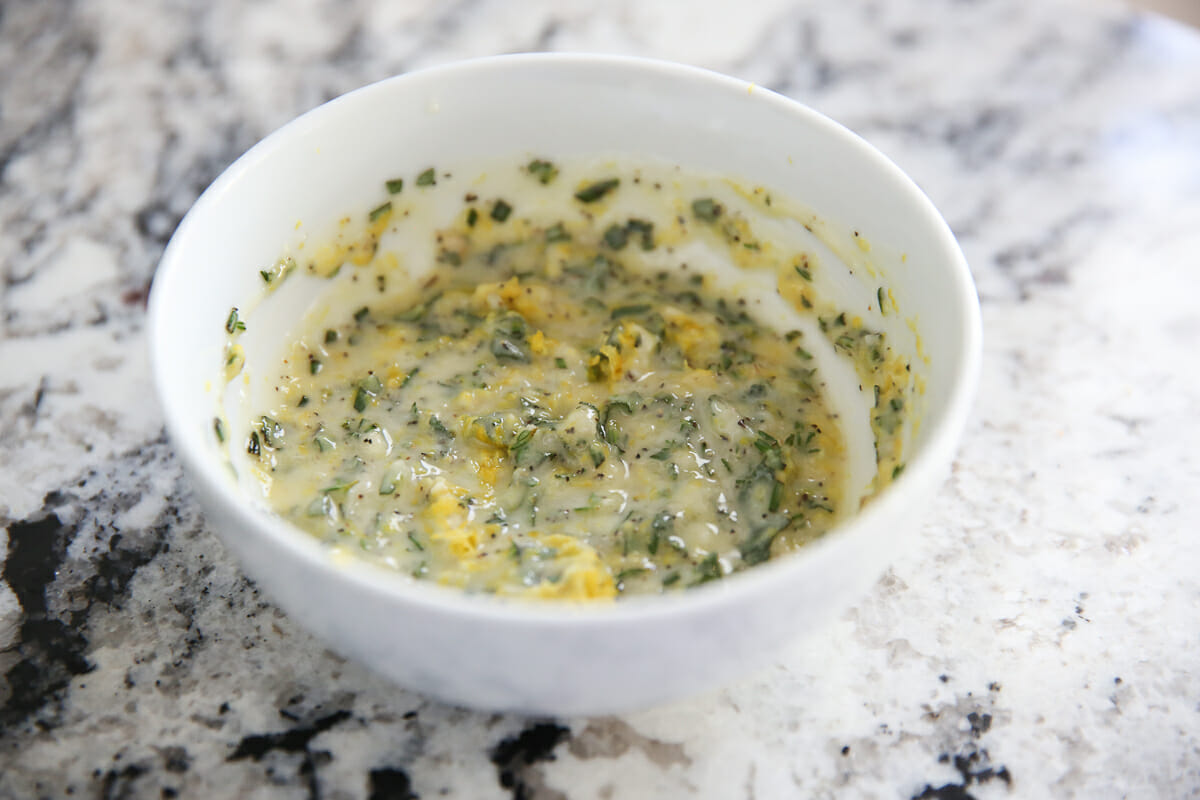 When you're ready to go, you'll use your hands to spread it all over the meat.  The most important part is separating that skin on top without actually tearing it off so you can spread the butter mixture in between the turkey and the skin.  You can gently use your hands (yes, it feels as gross as it sounds, but it's worth it, I promise!) or the handle of a silicone spatula can sometimes work well.  Take the butter mixture and rub it on all surfaces of your turkey.  If you have any leftover herbs, you can add them to the pan as well.
Step 3: Roast
I'm not using a roasting pan here, but I do like to use onions and/or potatoes to lift the meat off the bottom of the pan.  I slice an onion in thick chunks like this:
If using potatoes, you'll want to cut them in half first, or zap them in the microwave to give them a head start, otherwise they might not quite be soft yet when the turkey is done.
Use a digital thermometer to cook to temperature and avoid overcooking. I suggest basting a few times during the cooking process as well, to get that nice golden brown top.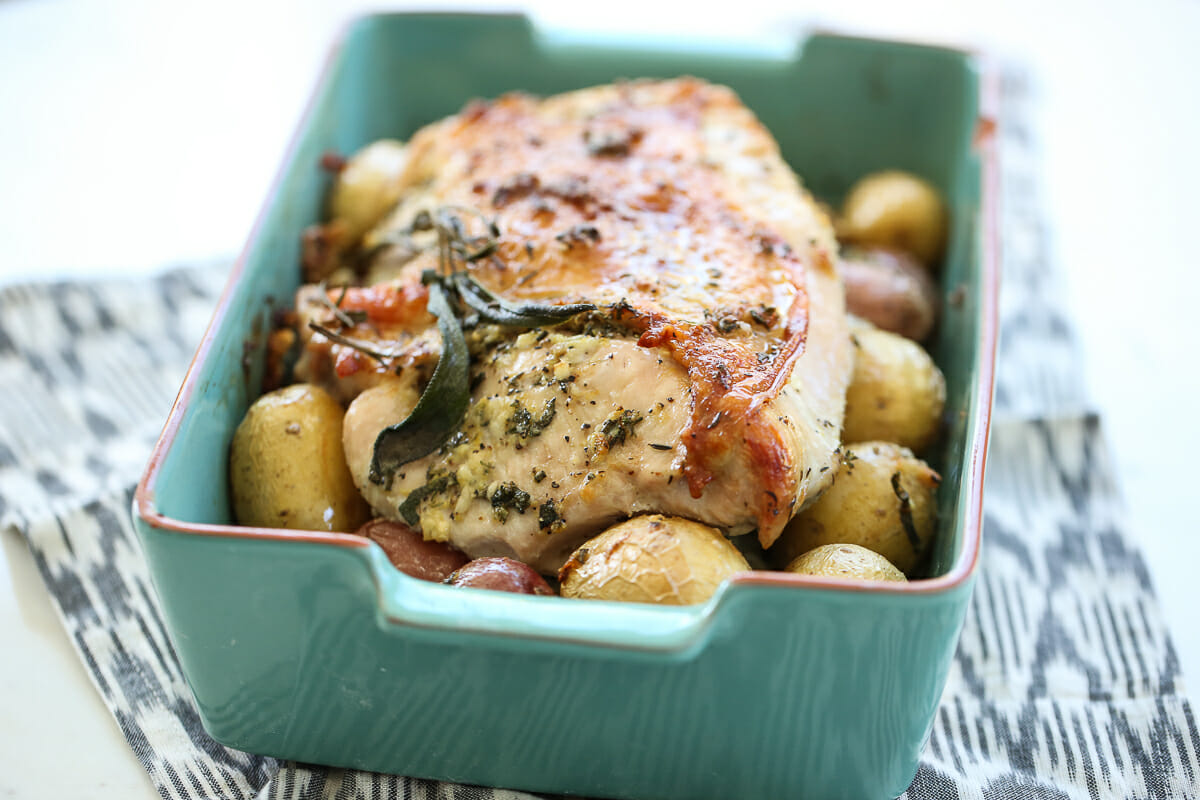 Cover your pan with foil and let the meat sit for 5-10 minutes for the juices to redistribute.  Then carve it off the bone and slice it up.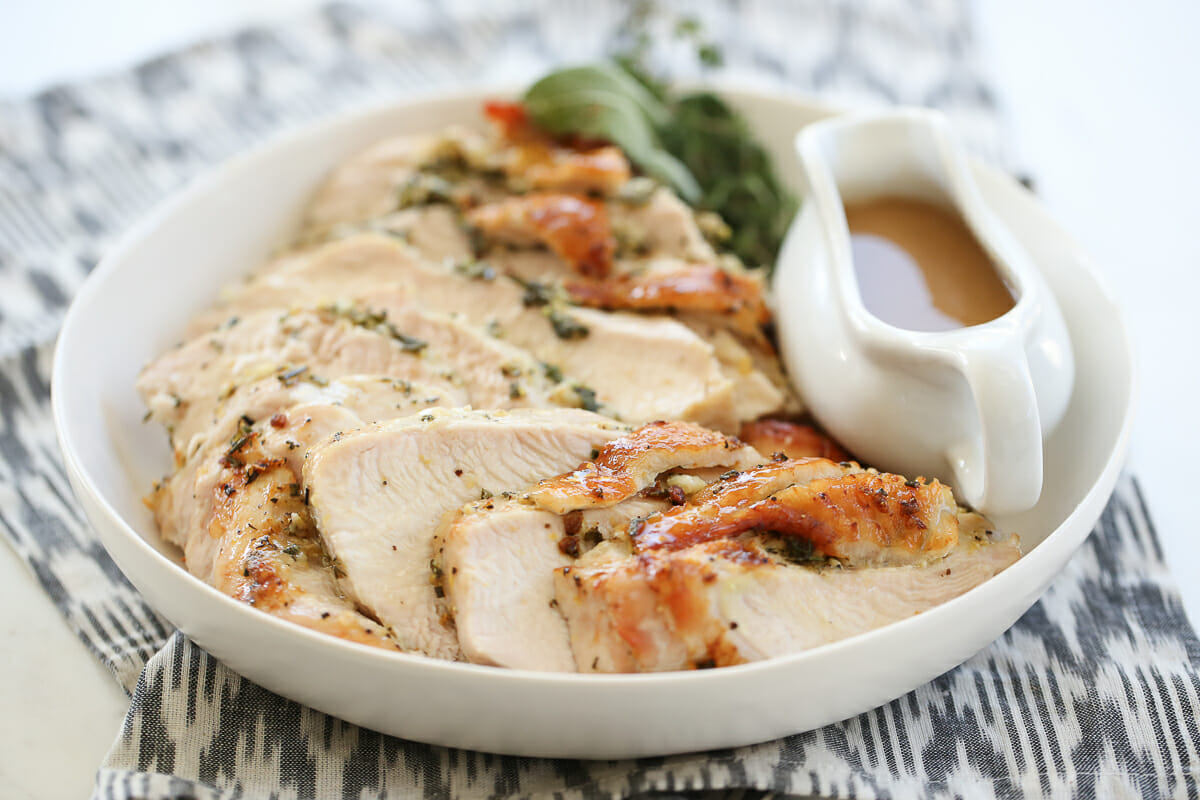 The juices and drippings are SO flavorful, so they are good on their own, just drizzled over the meat, or you can use them and follow this tutorial for some killer homemade gravy.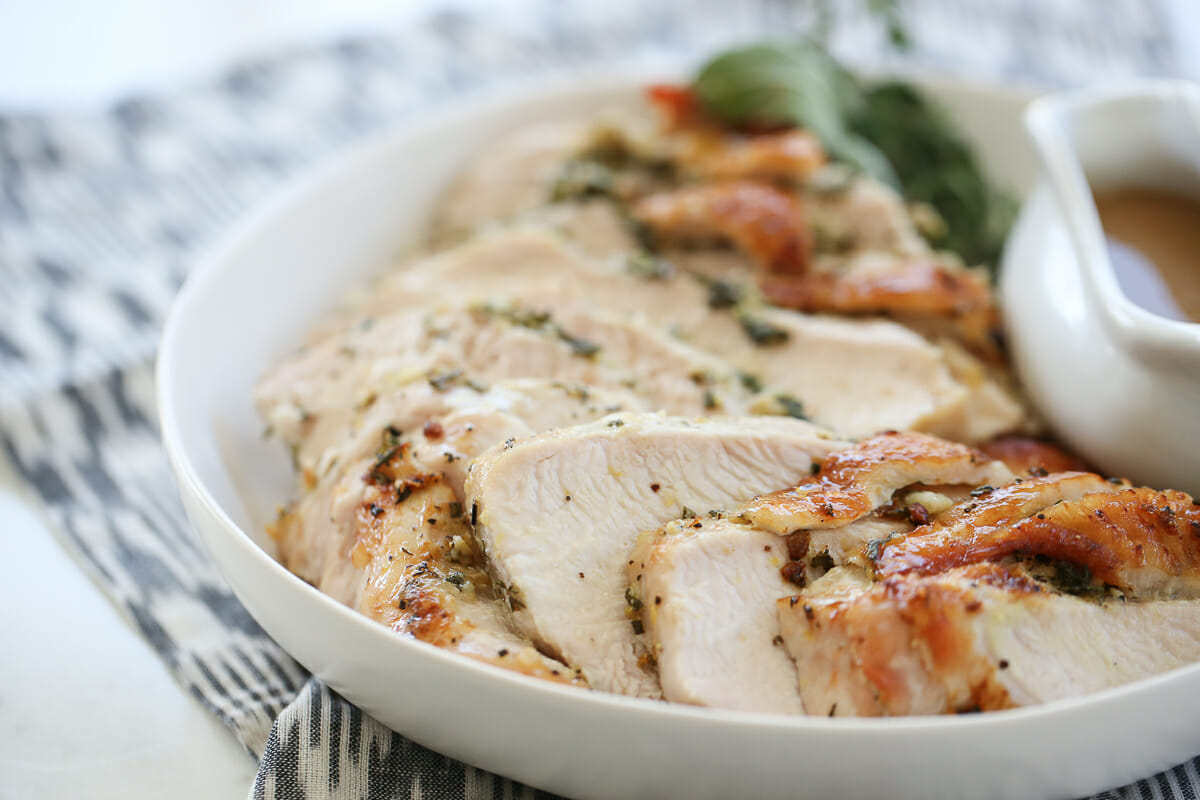 Try this out for thanksgiving, or for a nice dinner at home during the week.  And if you DO want to cook a whole turkey, definitely check out our very popular Thanksgiving turkey recipe, right here.
Print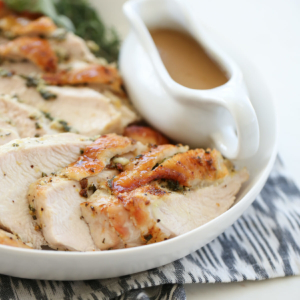 Herb Roasted Turkey Breast
---
Description
An easy oven-roasted turkey breast basted in classic herbs. Perfect for family dinner, or a holiday meal when you don't need the whole bird!
---
3

-ish pound turkey breast
Brine
8 cups

water

1/2 cup

salt
Turkey
4 tablespoons

butter, melted or very soft

2 tablespoons

extra virgin olive oil

4

–

5

cloves garlic, minced

1

–

2

teaspoons lemon zest (more if desired- I usually do most of the lemon!)

1 tablespoon

minced fresh rosemary

1 tablespoon

minced fresh sage

1 tablespoon

fresh thyme leaves

1/2 teaspoon

black pepper

1 teaspoon

kosher salt

1

–

2

onions, cut into

3

–

4

thick slices, each
optional: very small potatoes, cut in half if larger than 1″
---
Instructions
For the brine: Combine water and salt in a large bowl or roasting pan (you'll want something deep enough to submerge turkey in water). Place turkey breast in brine and let sit for at least 1 hour, and up to several hours.
For the herb rub: Preheat oven to 425 degrees. In a bowl, combine butter, olive oil, garlic, lemon zest, herbs, salt and pepper. Remove turkey from brine and pat dry with paper towels.
Place onions in baking dish that fits your turkey breast.  Place turkey breast on top of onions. Gently separate skin from turkey breast without tearing it off (the handle end of a spatula or wooden spoon often works well.) Spread the butter-herb mixture all over the turkey, especially stuffing it under the skin and spreading it all around. If you have extra whole herbs, just place them around the turkey. If using *potatoes, drizzle them lightly with olive oil to coat and then place them surrounding the turkey. (*See note in note section)
Place turkey in preheated oven for 10 minutes and then reduce temperature to 350 without opening oven door. Continue baking until internal temperature reaches 165 degrees. Baste turkey a couple of times toward the end of baking to achieve nice golden skin. (This means use a baster, or simply a spoon, so grab juices from the bottom of the pan and pour them over the top of the turkey.) Time will vary depending on size of turkey, generally a 3-ish pound breast will take 1-1.5 hours. Use a digital thermometer and remove turkey as soon as it reaches temperature so you don't overcook.
When done, remove pan from oven and tent with foil for 5-10 minutes to let juices redistribute. Carve meat off breast bone and then slice. Make sure to pick the meat off bones- it makes great sandwiches!  You may discard the onions if desired, or slice them up and serve with your meal.
---
Notes
If desired, drain off meat juices and make homemade gravy. You can also simply spoon the drippings over the carved meat. They are incredibly flavorful and make a great sauce on their own!
Serving Amount: I like to plan on about 1 pound per person when purchasing meat. That doesn't mean that every person will eat an entire pound of meat! That's usually enough to yield a generous serving for each person. For example, a 3 pound bone-in breast will easily serve 3 people, plus some left over for sandwiches. a 3 pound boneless breast will feed slightly more.
*If using potatoes, you'll want to either microwave them for about 5 minutes before adding them to the pan, or cut in half or quarters, depending on the size, just to ensure they have enough cooking time.
---