If you follow me on Instagram, you probably know that I have pets. Lots of them. More than I ever meant to have at once…it's a long story. But one of my great questions in life is what my pets are thinking. What they're doing when I'm not around. What happened to Milo the Cat's tail before he adopted us (most of it is gone…)
So when we starting seeing previews for The Secret Life of Pets last spring, we knew it was a must-do for our family. We don't see a ton of movies in the theater as a whole family because it's so dang expensive, but this is one that we saw and we all loved it. If you loved the Despicable Me movies, this was made by the same people, so that was a selling point for us. My kids have been dying for it to come out on DVD/Blu-Ray so they can see it again and tomorrow (December 6th!), you can pick it up in stores everywhere!! Plus the release comes with close to an hour of bonus footage and 3 new mini movies!)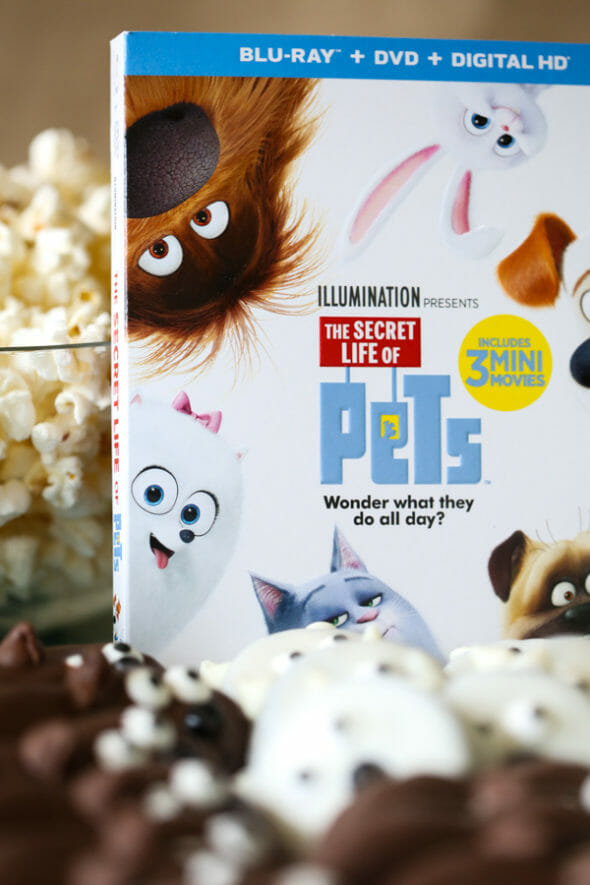 Since we're so excited to see it again, we're having a little viewing party.
For starters, I made some drink labels–you can put these on water bottles or wrap them around juice boxes (click here or on the image for a full-size printable).
I just bought a case of mini water bottles (but it will work on the taller ones–they're the same circumference)…
Then I removed the labels.
After I cut the labels into strips,
I just wrapped them around the bottles and taped them–it took about 5 minutes!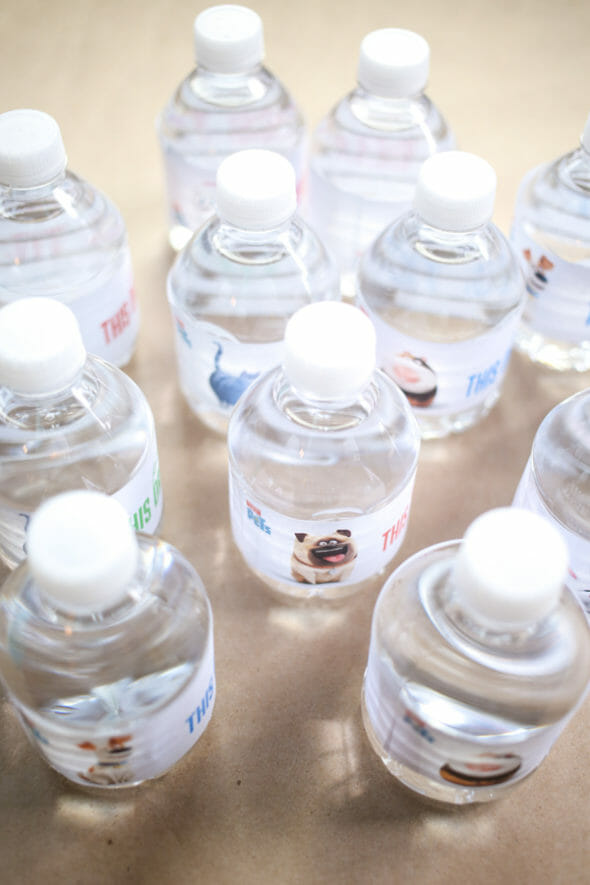 Then if you set them out with a jar of markers, people can write their names on their drinks!
I also dipped some cookies in chocolate/white chocolate to look like Buddy the Dachshund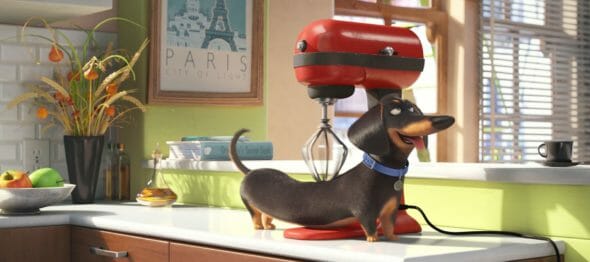 and Gidget (the Pomeranian? Whatever she is, she's adorable.)
To make both of them, you'll need a package of Oreos (I used mint because Christmas. Also, because mint…) and a package of Nutter Butters, a package each of vanilla and chocolate bark coating, some black jelly beans (try buying them in bulk at the grocery store), candy eyes (check the cake decorating area), white and regular chocolate chips, and black decorating gel or a decorating marker.
Cut some black jelly beans in half…
And break the chocolate into a microwave-safe bowl…
and melt it according to the package directions.
Drop an Oreo into the white chocolate bark and use two forks to turn the cookie to coat it, then lift it out of the chocolate and let the excess drizzle back into the bowl.
Place the dipped cookie on wax or parchment paper and quickly drop two candy eyes close together onto the cookie.
Add half of a jelly bean for a nose and place two white chocolate chips on top for the ears.
Allow the chocolate to set up completely. (For the dachshund, dip it in the regular chocolate, then add two eyes on the end and one regular chocolate chip on top for the ear.) When the chocolate is dry, use the marker or decorating gel to draw a smiley face on the hardened chocolate. If you want, you can also use decorating bows (available online or in cake decorating stores) or use a marker to draw on Gidget's bow (like in the picture above).
I set these out with the water bottles and a bowl of popcorn…
This is really one of our favorite movies we've seen this year–if you're looking for something to watch over the holidays with your kids, I definitely recommend it!
This post was sponsored by The Secret Life of Pets, but all crafts, printables, ideas, and opinions are ours.