I love a good skillet meal, and especially one that can all be made in ONE pot.  The pasta in Skillet Baked Ziti cooks right in the skillet and then it's popped in the oven at the very end to melt the gooey cheese topping. This family friendly dinner is great served with a side salad and a slice of garlic bread.
how to make this skillet baked ziti
If you want to make this meatless, the sausage is optional.  I like both the flavor and the bulk of the sausage, and it does stretch out the servings by quite a bit.  You can use ground turkey sausage here if you like, and you can use either the "sweet" or "hot" variety.  Remove it from the castings and cook it until it's browned and cooked through.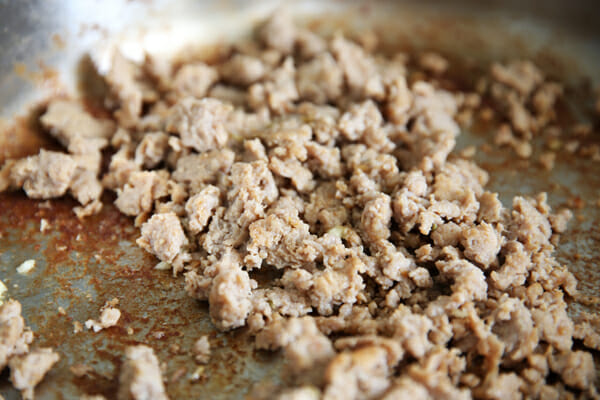 Then add a generous amount of fresh garlic,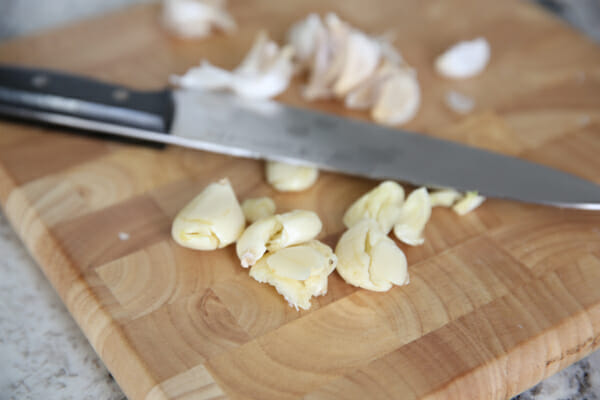 and some red pepper flakes.  This isn't a spicy dish- these just add flavor.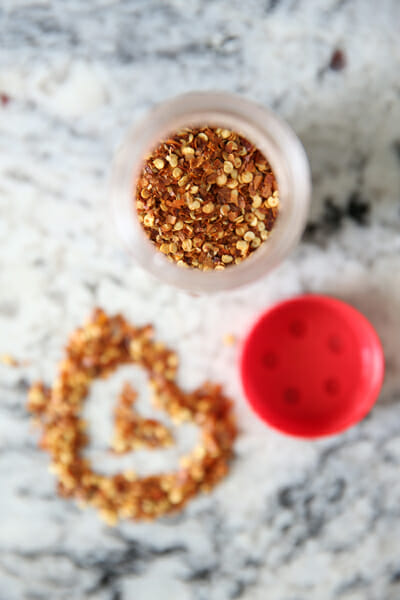 After those saute for a minute, add some canned tomatoes.  This recipe calls for using whole tomatoes, pulsed in a food processor as opposed to a can of crushed tomatoes.  The recipe comes from Cook's Illustrated, and if you follow America's Test Kitchen, you know there's always a long scientific reasoning behind it. That being said, if you have a can of crushed tomatoes, I'd say don't let that stop you from making this, I'm sure it would be just fine.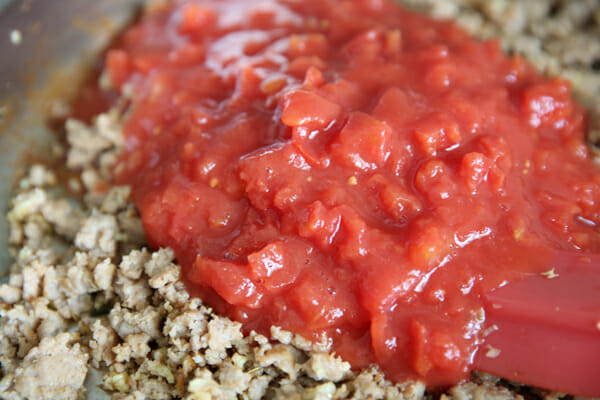 Then add some water; this is the cooking liquid for the pasta.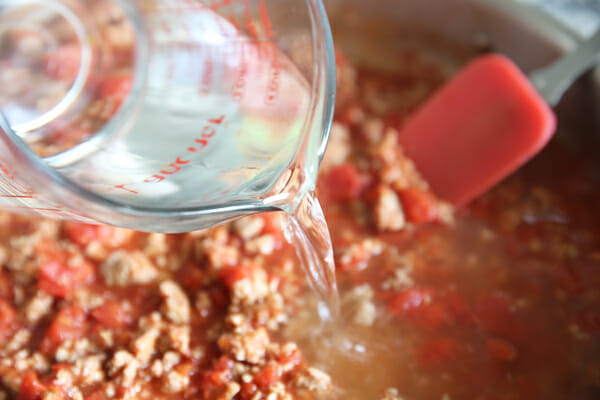 Add the dried pasta right into the skillet.  My store was actually out of ziti (really) so I'm going with rigatoni.  Anything with little ridges is great because they help hold onto the sauce.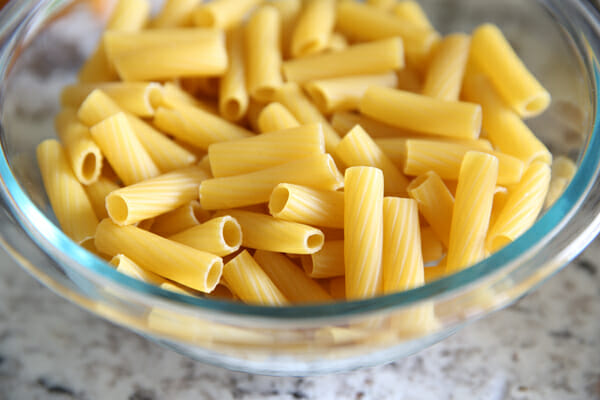 It's important that your skillet have a lid at this point.  You'll want to cover it up to trap in that moisture so the pasta can cook.  Peek in frequently and stir things around.  You'll see the pasta isn't completely submerged in the liquid so that's why it takes longer than just boiling pasta in water.  It will absorb almost all of the cooking liquid.
finishing off the pasta
When the pasta is tender, add in a little cream.  It adds richness, depth, and substance to the sauce.  I personally wouldn't substitute it with anything else.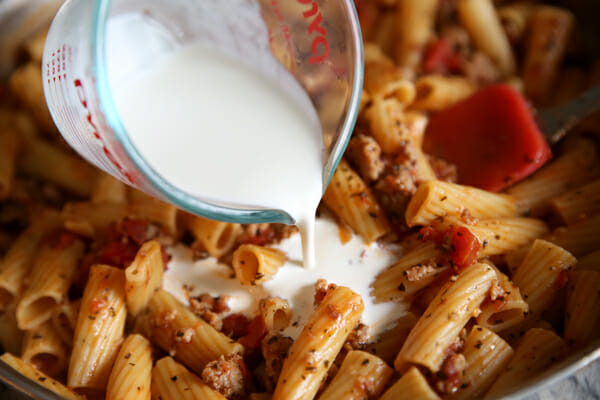 It's finished off with some fresh basil and parmesan cheese and then placed in the oven just to melt it all together.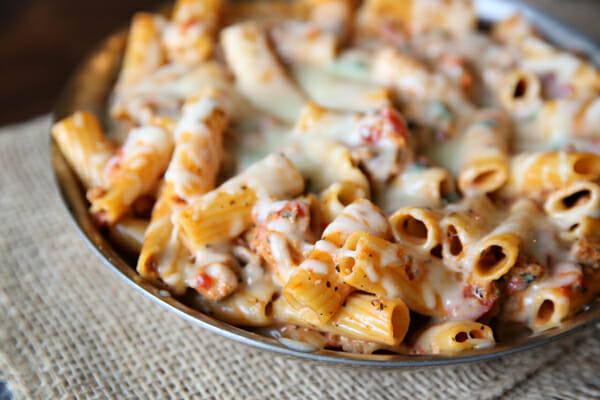 It's comforting, warm, and perfect for a chilly night.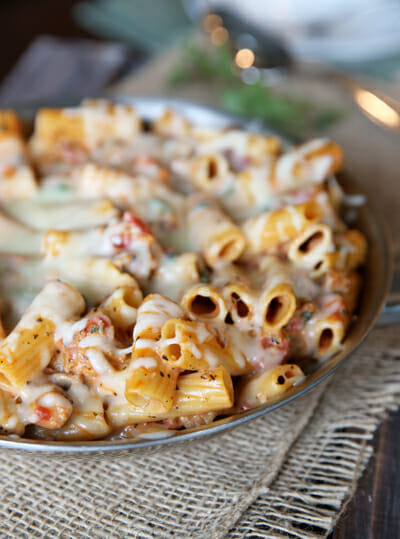 Pair it with a simple salad for a filling, balanced dinner.  It would even be totally appropriate for company.  Everyone loves a good Italian dish!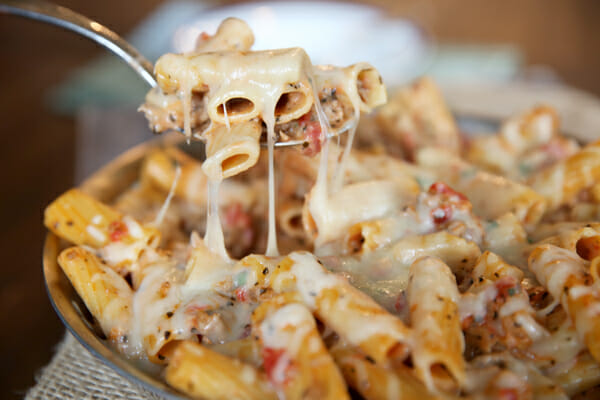 Print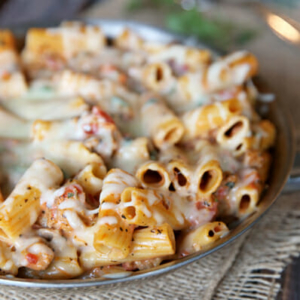 Skillet Baked Ziti
Author:

Sara Wells

Prep Time:

10 minutes

Cook Time:

50 minutes

Total Time:

1 hour

Yield:

4 servings

Category:

Dinner

Method:

Baked

Cuisine:

Italian
---
Description
This Skillet Baked Ziti adapted from America's Test Kitchen is a fantastic one-dish dinner that your whole family will adore!
---
1 pound Italian sausage or Italian turkey sausage ("hot" or "sweet")
1 (28-ounce) can whole peeled tomatoes
1 tablespoon olive oil
6 medium garlic cloves, minced or pressed (about 2 tablespoons)
1/4 teaspoon red pepper flakes
Salt
3 cups water
12 ounces (about 3 3/4 cups) ziti pasta
1/2 cup heavy cream
1 ounce Parmesan chees, grated (1/2 cup)
1/4 cup chopped fresh basil leaves (fresh is best, but if you need to sub dried, use a heaping tablespoon of dried basil and add it in with the tomatoes)
ground black pepper
4 ounces mozzarella cheese, shredded (1 cup)
---
Instructions
Adjust an oven rack to the middle position and heat the oven to 475 degrees.  Pulse the tomatoes with their juice in a food processor until coarsely ground and no large pieces remain, about 12 pulses.
Heat 12-inch or larger oven-safe skillet to medium high heat and add 1/2 tablespoon olive oil.  Remove sausage from castings and cook, crumbling with a spatula until browned and cooked through, about 3-5 minutes.  (If you're not using sausage, just add a little more olive oil and start with the next step, sauteing the garlic and pepper flakes.)  Add garlic and red pepper flakes to sausage and cook for 1-2 minutes, until fragrant.   Stir in the processed tomatoes and 1/2 teaspoon salt.  Reduce the heat to medium-low and simmer gently, stirring occasionally, until the tomatoes no longer tate raw, about 10 minutes.
Stir in the water, then add the pasta.  Cover, increase the heat to medium-high, and cook, stirring often and adjusting the heat to maintain a vigorous simmer, until the pasta ins tender, 15-18 minutes.
Stir in the cream, Parmesan, and basil and season with salt and pepper to taste.  Sprinkle the mozzarella evenly over the top.  Transfer the skillet to the oven and bake until the cheese has melted and browned, 10-15 minutes (or just until melted, like, 1-2 minutes).  Serve.
---
Notes
Note: This recipe is to be cooked in a 12 inch skillet.  I recommend using one slightly larger if you're adding the sausage as well.  Make sure your skillet is oven proof (no plastic handles) and has a lid.
Keywords: baked ziti, ziti pasta, baked ziti with sausage