NOTE:  This giveaway is now closed.
The lucky winner is #1327, Lynda M.  Congrats Lynda, we've emailed you!
So last week while Sara was surfing it up in Hawaii, I had the chance to spend a few days in Ohio to attend the Around the Family Table with Smucker's event. I had such a fabulous time meeting all the incredibly nice people associated with Smucker's, other bloggers, and taking a peek behind the scenes.
Right after I arrived, I had time to change my clothes and then we all met in the lobby so we could go to dinner. I was so excited to run into some of my favorite bloggers like Laura from Real Mom Kitchen, Shelley from Cookies and Cups,
and Lesley from The Hungry Housewife
(just to name a few!) Dinner was a delicious blur, but there was lots of incredibly delicious food (hello, mozzarella tomato basil cheese bread) and TV talk (hello, fellow Friday Nights Lights fanatics!)
The next morning, we were a chipper bunch when we boarded the bus at 6:45 am. That's right. We were all delightful. We drove to the Smucker's store in Orrville, Ohio. So, um, remember my glass jar obsession?
Um, yeah, that's an entire wall of jars. Shiver me timbers.
Now…I've got a little confession to make: I'm kind of a scrooge. The Christmas season stresses me out. Don't get me wrong, I'm a HUGE fan of Christmas, but usually when I find places have decorated for Christmas a second earlier than the day before Thanksgiving, I feel the need to slip a little Xanax into my system. So it was entirely possible that between the presence of a Pillsbury Doughboy that waved at me when I walked in the door (I'm not big on life-size mascots–they freak me out) and the fact that the Smucker's store was fully decorated for Christmas, I could have become rather unpleasant to be around. But I found it charming and adorable and I wished they'd decorate my house for Christmas and then take it down for me before 2012 starts.
After a quick breakfast, we headed on all sorts of tours and experiences. I gleaned a plethora of information about coffee, especially for a non-coffee drinker. I even got to be my own barista with Melissa from Stockpiling Moms, and since neither one of us drink coffee, we had lots of fun playing around with the different coffee drinks that were photographed and then poured down the sink. We also got to make this amazing two-ingredient ice cream and add any combination of mix-ins we could think of.
We learned about all sorts of things like viscosity, the differences between jams, jellies, and preserves, and different types of olive oils. We even had the chance to swish and spit different olive oils, which I respectfully declined to do (although I bet the guy sitting next to me on the plane ride home who chewed and spit tobacco into a clear plastic water bottle may have participated). We got to see how Smucker's products are developed and tested and then we got to make our own pie crusts. Tired yet? Yeah, I was having a lot of fun and also wanted to curl up in the corner and take a nap.
That night, we went to dinner at Fahrenheit in Cleveland, which, apparently, is right around the corner from The Christmas Story house (which caused my mother-in-law to scream. Literally.) The food was awesome and it was great to meet Chef Rocco Whalen.
The next morning, we were up and on the bus super early again. First up (that is, after I spilled a Diet Coke on my lap and kicked a bottle of water over) was meeting Kelsey Nixon from The Next Food Network Star.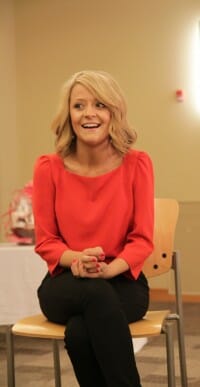 She was completely adorable and funny and (I'm totally not sucking up here) meeting her was definitely one of the highlights of this trip.
Especially since she knew who Sara and I were, which was kind of hilarious. Remember the Sloppy Joe post? Yeah, we talked about her serving Sloppy Joes to Martha experience. It was all I imagined it would be (and I'm not being sarcastic here, I completely mean it!)
We also did a really cool food photography seminar where we got to take pics of the pumpkin pies we made the day before.
And then we got to shop in the Smucker's store. I was very tempted by all the Orchard's Finest preserves because I am not a store-bought jam fan, but these were deeeeeelicious. I was conservative in my choices (Triple Berry, Cinnamon Apple, and Cherry) because I figured I could buy it at home, but I was wrong and now I am sad. In retrospect, I would have bought more jam. Life lesson: When in doubt, always, always buy more jam.
Everyone else was heading home that night, but because I live in the boondocks, I couldn't get a late flight into my little airport, so we said our goodbyes and I headed back to the hotel and got to meet one of our sweet readers in the hotel lobby (thankfully she wasn't a big, scary man that was going to steal my jam). The next morning, I had to (unfortunately) break my never-set-my-alarm-before-4:00 am (it's actually 5:00 am, so it was very unfortunate!) so I could head home and see my kiddos and the husband. I had such a wonderful time and can't thank Smucker's enough for including Our Best Bites around their family table!
But this post isn't JUST so you guys can wish you could set your alarms for 3:45 am so you can sit next to a nausea-inducing tobacco-spitter–we've got a giveaway. I've seen this basket in real life and it is huuuuuuuge. Apparently they LITERALLY need two people to carry it.
Wanna know what's in it? We've got…
Crisco Baking Sticks (butter-flavored)
Crisco extra-virgin olive oil
Dunkin' Donuts Coffee (mocha mint)
Eagle Sweetened Condensed Milk
Folgers (small red can)
Folgers (stick pack)
Hungry Jack Funfetti Pancake Mix
Hungry Jack Wildberry Pancake Mix
Jif Natural Peanut Butter
Jif-to-Go 3-pack
Martha White blueberry muffin mix
Millstone hazelnut K-cup
Natural peanut butter stirrer
Pillsbury Easy Frost cream cheese frosting
Pillsbury Pumpkin Cookie mix
Smucker's Hot Caramel Topping
Smucker's Natural Creamy Peanut Butter
Smucker's Orange Marmalade
Smucker's Orchard's Finest Strawberry Preserves
Uncrustables sandwich keeper
Uncrustables VIP coupons (2)
White Lily All-Purpose Flour
Wanna win?? Tell us what you're most looking forward to this holiday season. The giveaway will end next Saturday, 11/19/2011 at 10:00 pm and the winner will be notified by email and announced on Monday's post. One entry per person, and please be sure to use an email address that you check on a regular basis.
Good luck!