When I was a kid, one of our family's favorite meals, and one of the first things I learned how to make by myself, was a creation we called "Cowboy Grub."  Don't ask me how we came up with that name, but my Mom would make a box of Kraft Macaroni and Cheese and when it was all done, she'd crack open a can of chili and stir them together and top it with some shredded cheddar cheese.  I have vivid memories of eating hot bowls of the cheesy-chili pasta; it's definitely a taste of my childhood.  Looking back now, I can see that it was a go-to meal when the cupboards were bare and also when we were short on time.  It was one of the rare meals that all of the kids in my family liked, and now that I'm a Mom myself, with kids of differing palates, I realize why my Mom turned to this meal so much!  When I saw that Kraft introduced a Cheesy Southwest Chipotle variety of their classic Macaroni and Cheese, I  knew I wanted to use it to re-create an updated version of my beloved Cowboy Grub.
Besides the Southwest Chipotle, Kraft has introduced 3 other varieties of the classic Mac and Cheese.  There's a Creamy Garlic and Herb Alfredo, a Three Cheese Jalapeno, and even a Buffalo Cheddar.  As we've stated many times before, we only partner with products that we've tried and enjoyed in our own homes, and believe it or not- even food bloggers eat boxed Mac n' Cheese!  We tried all of these new variates and we both thought that these updated versions were like the Blue Box's sophisticated, hipper, big sisters.  They're yummy on their own, but they also provide a really great starting point that you can use to add other ingredients and create unique meals, and that's just what we're going to show you!  Kraft asked us to come up with some recipes featuring each of the new varieties and we had so much fun with it and we'll be sharing them over the next month or so.  So first up:  My Cheesy Chipotle Chili Mac- super easy, super fast, and super filling dinner.
Start by preparing the Chipotle Macaroni and Cheese according to the package instructions.

While that's cooking, brown a little lean ground beef and diced onion in a skillet.  We'll season it with garlic, cumin, chili powder, salt and pepper, and cook it until it's nice and browned.

When it's finished cooking, add in a can of canned, diced tomatoes that have been drained, and some tender canned kidney beans.  This can all be done in the time it takes the pasta to cook, so this is a seriously quick-fix meal.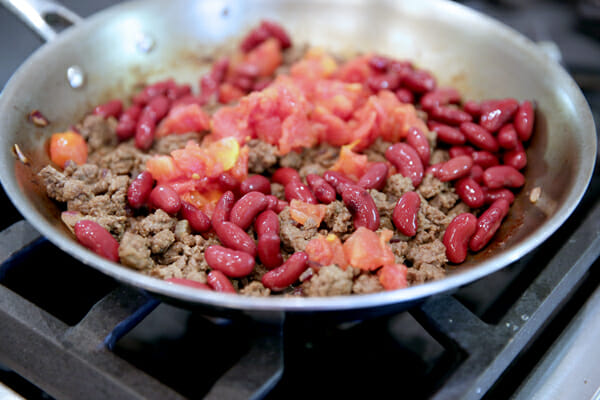 When the Mac and Cheese is finished, add all of that creamy, cheesy goodness into the skillet

And combine everything together.
Serve in bowls with your favorite southwest toppings.  I think sliced green onions are a must, and a little shredded cheese and a dollop of sour cream are the perfect finishing touch.

As a true testament to the history of this dish- ALL THREE of my boys licked their bowls clean and asked for seconds.  (At that point I looked out the window to scout for flying pigs.) Score one for Mom!
Southwest Chipotle Chili Mac
Recipe by Our Best Bites
1 box Kraft Cheesy Chipotle Macaroni and Cheese
2 teaspoons olive oil
1/2 lb lean ground beef
1/4 cup diced onion
1/2 teaspoon garlic powder
1/2 teaspoon chili powder
1/2 teaspoon cumin
1/2 teaspoon kosher salt
1/8 teaspoon pepper
1 can tomatoes, well drained
2/3 cup canned kidney beans, drained and rinsed
Prepare Macaroni and Cheese according to package instructions.  Heat a separate 12-inch skillet to medium-high heat.  Add oil, and then ground beef and diced onion.  Immediately season with garlic powder, chili powder, cumin, salt, and pepper.  Cook until browned and drain fat only if necessary.  Add tomatoes and beans and cook for 2-3 minutes, stirring often.  When Southwest Chipotle Macaroni and Cheese is fully prepared, add it to skillet and stir everything together.  Serve with sliced green onions, shredded cheese, and a dollop of sour cream.  Yield: 4 1-cup servings.
Before you leave, make sure you check out one new feature!  If you're reading this post via email, make sure to click here so you can see what I'm talking about!  On the right-hand side of our page, there's a link right under the pink box with our social media icons.  (Looks like this!)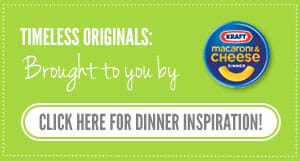 Click there and you'll find some major dinner inspiration!  We've featured a whole bunch of our favorite dinner recipes from here on Our Best Bites, and what's even better is that on that page you'll find bonus recipes that we're posting exclusively to that page for a while!  The first one us up today and it's one of my favorite things to make for my 3 kiddos.  Let me know what you think!

Brought to you by Kraft Macaroni and Cheese