It's been awhile since we've given away a bag of our favorite things, and now that we have these fantastic Fries Before Guys totes, we have the perfect bag to put everything in!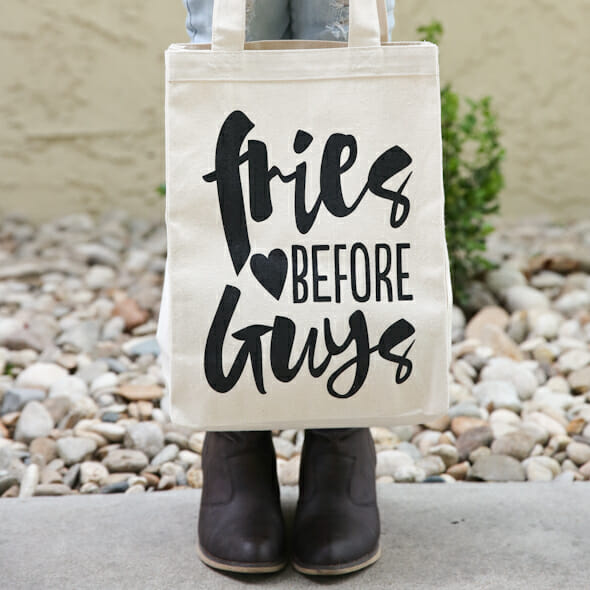 You guys, summer kind of snuck up on me. My kids have been out of school for almost 2 weeks now, but summer activities don't really pick up until this week, so we've been scrambling a little. And by scrambling, I mean I've done my daughter's hair twice, both times for church, and there's been a lot of no structure and door-slamming. I'm getting my act together this week, I promise.
So I packed together a bag of goodies that I know would help make my summer more fun, and I hope y'all feel the same way!
I started with one of our Fries Before Guys bags and a copy of our latest cookbook, which is packed full of summer friendly salads, grill recipes, and single-serving lunch ideas so you're not tempted by your kids' Mac and Cheese.
I added this super-cute striped beach towel…
and loaded the bag up with some of my favorite things.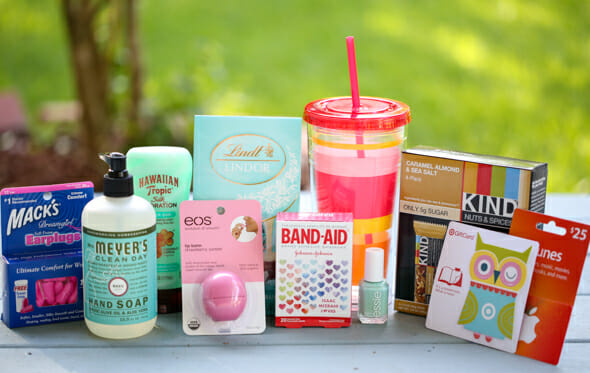 This includes:
1 package of ear plugs (for her). Because sometimes I feel like if one of my kids accuses another (or me!) of ruining their lives forever, me sticking earplugs in my ears is the best course of action. I have no idea what the "for her" part means–I hope that they are more functional for women and not just hot pink.
1 bottle of Mrs. Meyer's basil hand soap. I actually really love the seasonal peony scent that's out right now, but the basil really smells like summer and also the males in my house will wash their hands with it without scoffing that I'm making them smell like a summer dream.
Hawaiian Tropic Coconut Papaya Lotion. This isn't sunscreen (we know, this is a hot topic), it's just a summer lotion that will make you smell like a tanning salon, minus the threat of melanoma.
EOS Strawberry Sorbet Lip Balm. 
Lindt Chocolate Coconut Truffles (do you see a color theme here? Sara and I both have a problem.)
Cute Band-Aids. When I was a kid, I vowed that when I was a grown-up, I would always have non-beige adhesive bandages on hand and unlike my other promises I made myself (like I'd let my kids be the grownups for the day and I'd be the kid?! Pshaw!), I have stuck to the fun Band-Aids promise. And every grown woman needs her own stash.
A double-walled tumbler. For your water. Or your Dirty Diet Coke. Whatevs.
Essie Nail Polish in Fashion Playground.
Caramel-Almond & Sea Salt Kind Bars. My faaaaaavorite. I think they taste like  candy bars, and not in an I've-been-dieting-and-protein-shakes-taste-like-Frosties way. I've only seen them at Target (well, and Amazon, but they're ridiculously expensive there), so I always stash up when I'm there. And I hide them from my little people.
$25 Target gift card. Because sometimes the best gift you can give yourself is a trip to Target.
$25 iTunes gift card. 
To enter, use the Rafflecopter below, but to get additional entries, be sure to follow along with us this week on our Instagram accounts (Kate, Sara, The Shop, and Fit Club) because you'll have chances for more entries, plus an extra tote (just the tote…you don't want them to show you up by getting the same cool earplugs) and a cookbook for a friend! Ready? Go! 🙂 P.S. If your comments aren't showing up right away, they will soon–we've been getting a lot of spam on older posts, so we're moderating for the time being until we can get them under control.
Rules and Fine Print and Stuff. This giveaway is completely sponsored and paid for by Our Best Bites because we love you. Giveaway Begins June 1 and ends June 7 at 11:59 Central Time. Winners will be announced shortly thereafter. Due to federal restrictions, the winner must be a resident of the United States.