Sweet Fruit Salsa is one of our favorite things to eat with Baked Cinnamon Chips. It's a perfect family snack, a light dessert, or an awesome appetizer to take to a gathering. You can mix and match your favorite fruits, and this recipe gives multiple ways to customize. Serve it with the baked chips, or served on things like crepes, yogurt, oatmeal, or ice cream!
Scroll past recipe card for step by step photos and more details.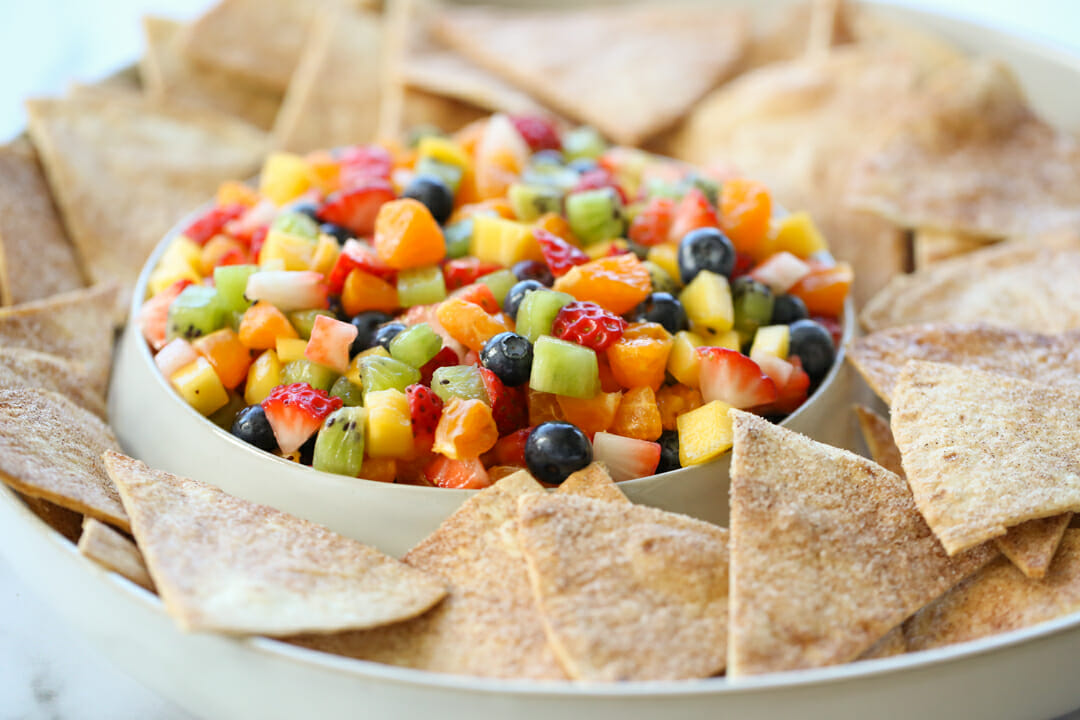 Print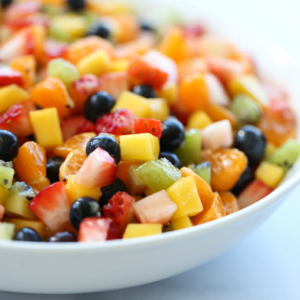 Sweet Fruit Salsa with Cinnamon Chips
---
Description
This recipe doesn't contain measurements, rather ideas for how to customize your own fruit salsa.  Chop up whatever amount of fruit you'd like, and then sweeten and flavor to taste using our suggestions!
---
---
Instructions
Chop fruit into equally bite-sized pieces.  See blog post for lots of ideas, some of our favorite are: Strawberries, orange segments, pineapple, blueberries, mango, and kiwi.  Sweeten with sweetener of choice.  You can use granulated or powdered sugar, honey, or a low-calorie sweetener of choice.  Salsa is great just like this, or feel free to try some of the flavor enhancers below!
Citrus Juice:  Try the juice from a mandarin orange or a squeeze of lemon or lime.
Flavor if desired.  Try a little grated ginger, or fresh chopped mint leaves, or a sprinkle of cinnamon, or top with shredded coconut.
---
How to make Fruit Salsa
When you were a kid did you ever read those "Choose Your Own Adventure" books? Like, "If you choose to enter the big scary building that says Do Not Enter then turn to page 47. If you choose to listen to your mother and go home for dinner turn to page 62…" and then you get alternate endings? Well this is a "Choose Your Own Recipe" post! There is really no right or wrong here- this "recipe" is more of a collection of ideas for customization. Have fun with it!
1. Choose Your Fruit
You can choose your fruit based on what's in season, or flavors you love together, or colors. Here's some ideas for a colorful fruit salsa. I love to make a rainbow version!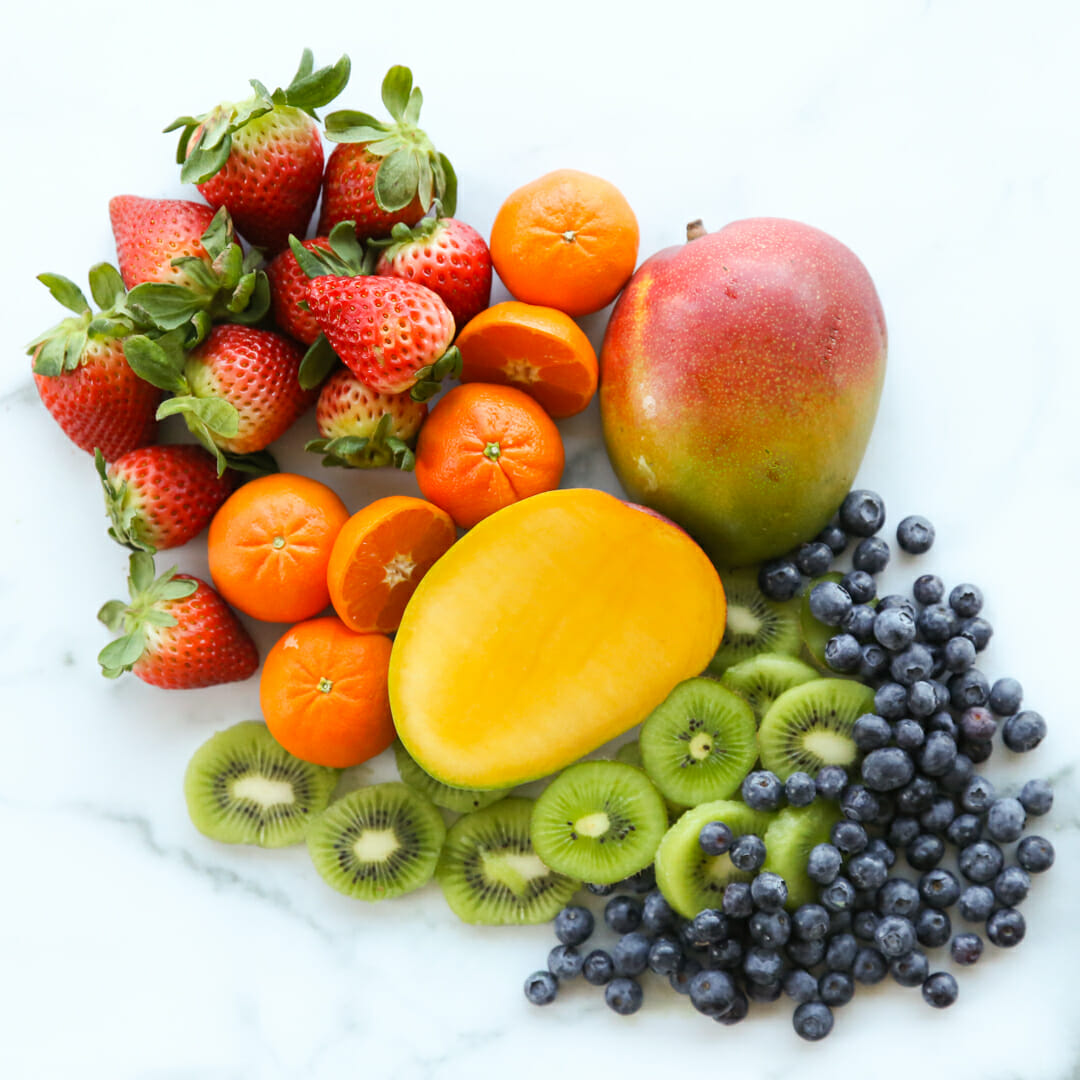 Red: Strawberries are my standard because they hold up really well, they're usually inexpensive, and everyone loves strawberries. But watermelon, raspberries or pomegranate seeds would be fun too.
Orange: Mango , Peaches, nectarines, or orange segments work well.
Yellow: Pineapple! Fresh is best, but in a pinch, open up a can. I guess nectarines, peaches, and mangoes are all yellow as well.
Green: I love the bright color and great texture of Kiwi in fruit salsa. There's always honeydew too.
Blue/Purple: Blueberries , blackberries, or halved grapes. I prefer blueberries because the size works well and they will stay more in tact. If you have extra large blackberries, you might want to cut them in half- but if you do, stir them in gently at the very end because the juices run all over.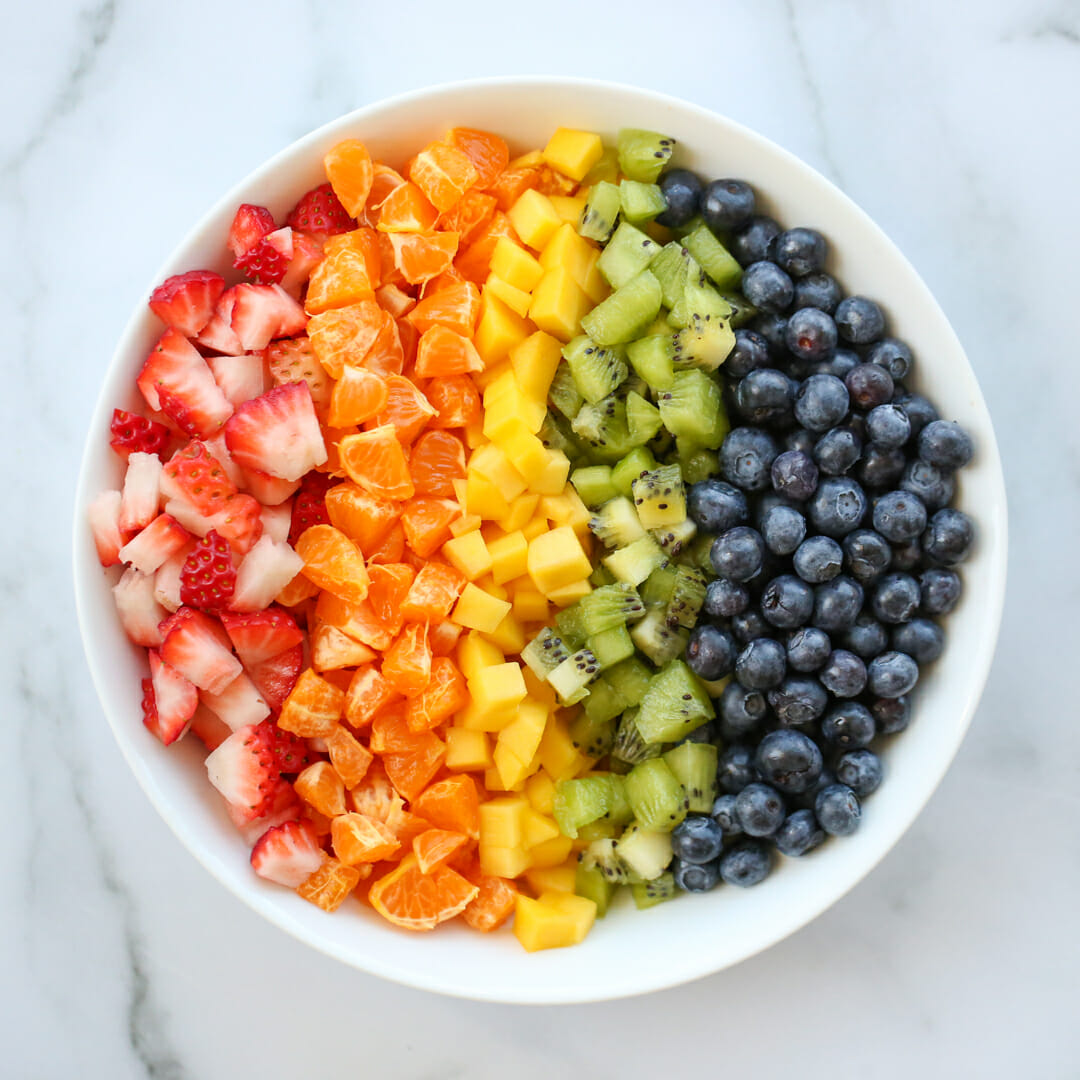 2. Choose Your Sweetener
A little sweetener helps enhance all the flavors and marry them together.

Honey: I love the flavor of honey with fruit.
Powdered Sugar: It dissolves fast and gives a light sweetness.
Brown Sugar: Takes longer to dissolve but adds an interesting flavor. Much deeper flavor than white sugar.
Granulated Sugar: What I use the most. It tastes good and makes a nice syrup with the fruit juices.
Swerve: This is my favorite calorie-free sweetener. The powdered version looks and feels just like powdered sugar and is a great way to keep this dish healthy.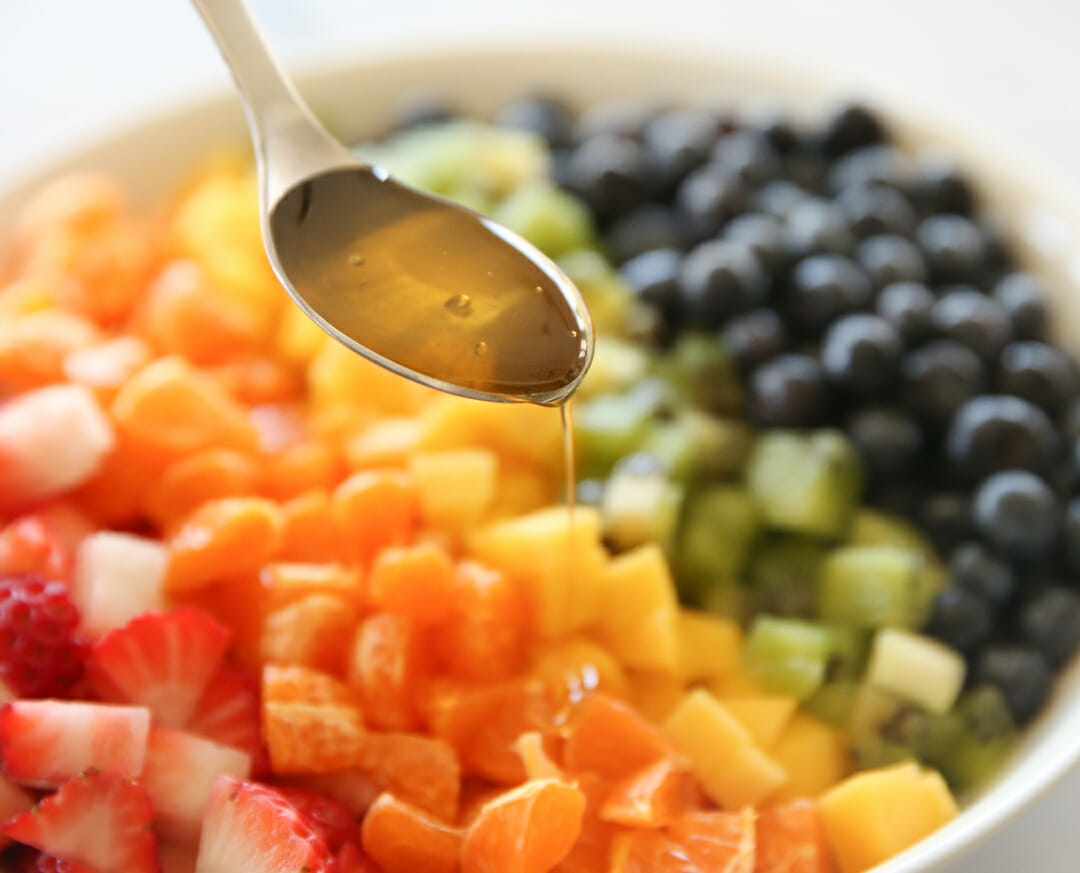 3. Choose Your Extras
Pick and choose from these flavor enhancers.
Citrus Juice: Lemon, lime, orange. Just a few big squeezes. The fruit will give off a lot of juice so you don't want to add too much additional liquid, but a few squeezes of citrus really enhances the flavor of the overall dish. My absolute favorite is a couple of cuties or mandarines cut in half and squeezed in there.
Cinnamon: A few dashes of cinnamon goes great with the cinnamon chips.
Mint: A little chopped mint reminds me of cilantro in regular salsa and makes everything so fresh tasting. But beware, a little goes a long way and if you add too much it will really overpower the taste of your yummy fruit. My husband hates it when I put mint in- he thinks it ruins the salsa and tastes disgusting, so you may want to go sparingly on that one!
Coconut: shredded coconut is especially good when you have tropical fruits like pineapple and mango in your salsa. Sprinkle some on top or stir it in, but either way do it just before serving or it will get all soggy.
Toasted Coconut: If you're taking this to a party, then add some toasted coconut on top for great presentation.
Ginger: A little fresh ginger adds a fun twist. A little will go a long way. P.S. ginger + coconut = yum.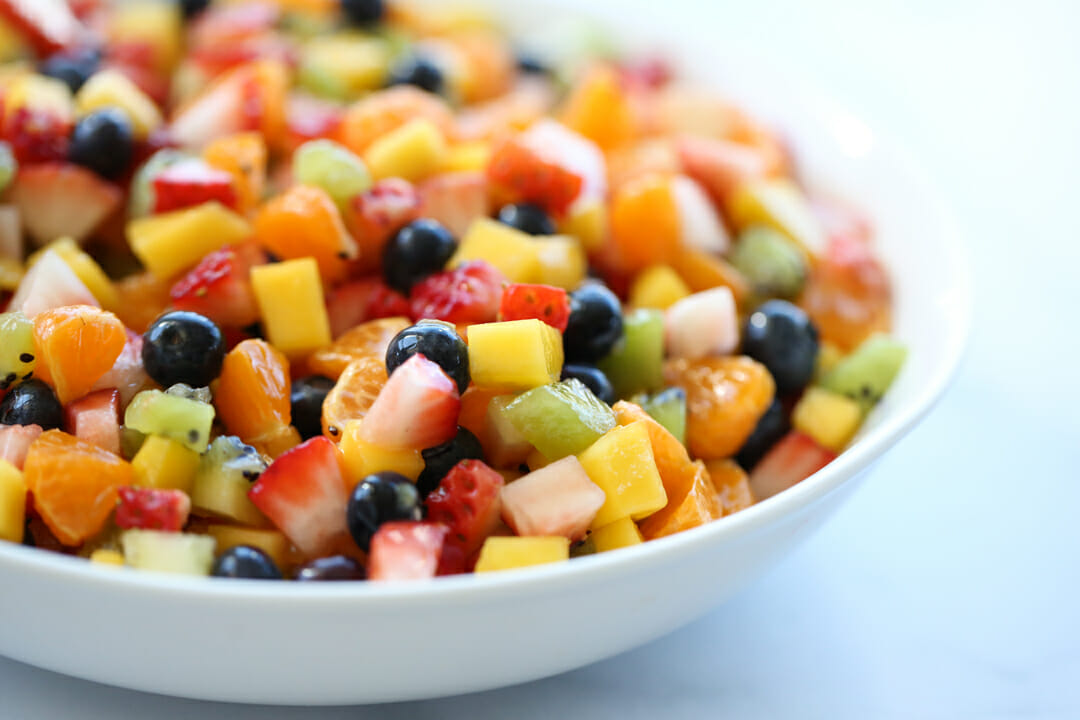 4. Eat it!
I like to chill it before serving, but you can definitely eat immediately if you'd like. Serve with Baked Cinnamon Chips for dipping. Also fantastic over ice cream! Ooh, how about cinnamon chips AND ice cream. Now that's a party.