Several years ago, after the birth of my 3rd baby, a good friend brought over dinner with the most amazing enchiladas.  They were some of the best I'd ever had- just how I like them, with perfect flavor, cheesy but not too cheesy, lightly creamy insides and an incredible sauce.  I promptly texted her and told her I had to have the recipe and she wrote back, "Oh I'm so glad you liked them.  You can find the recipe on page 28 of YOUR cook book!"  We both got a good laugh out of that.  Flash forward a few years and the same thing happened when I was eating dinner at my sister-in-law's house and complimented the amazing enchiladas my whole family was scarfing up.  "Well I would expect you to like them, it's your recipe!"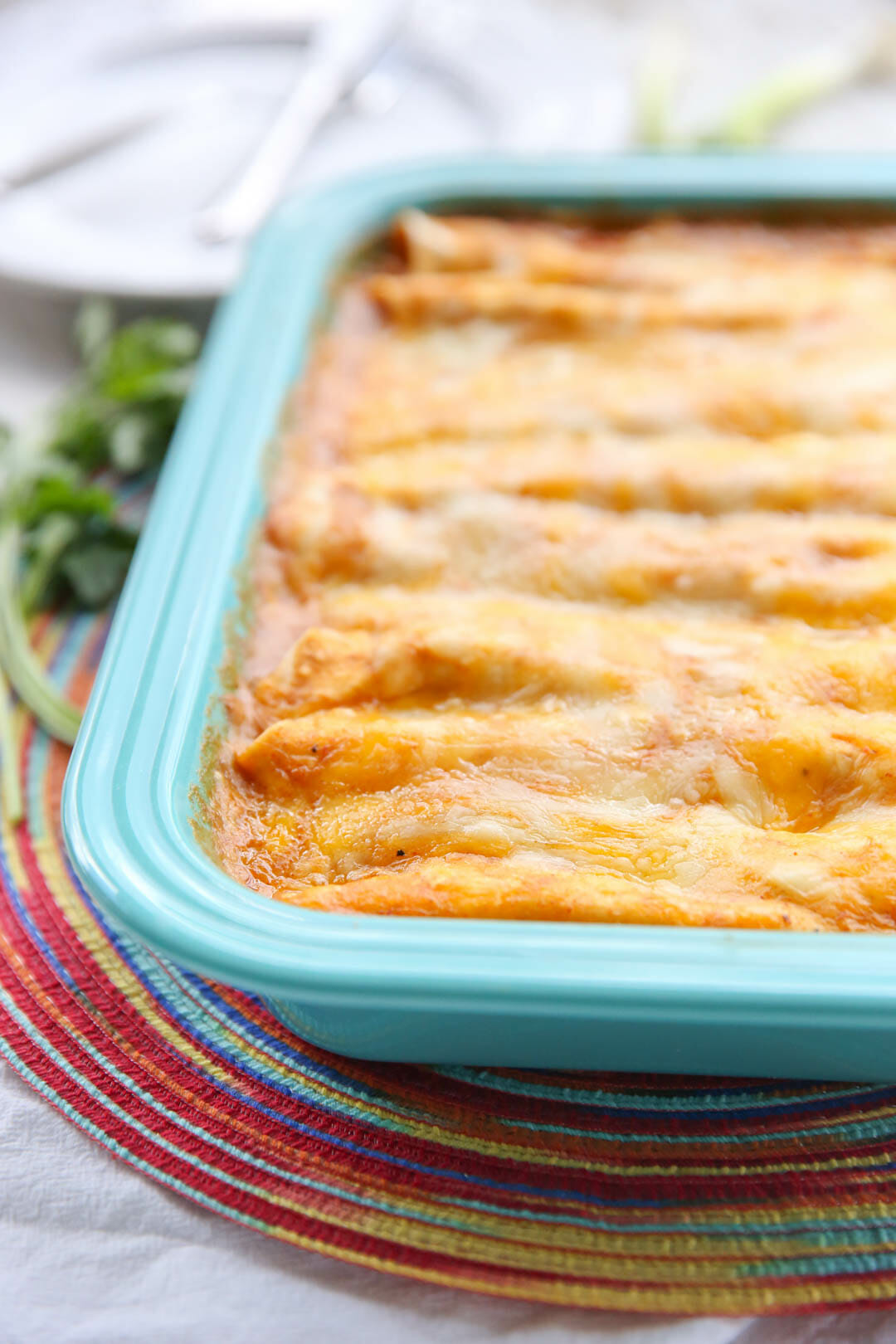 So here's the thing. When developing recipes for our books, I sometimes make things 5, 10, 15 times to get it just perfect.  And after that process, sometimes you just don't make them again for a while!  I had completely forgotten how good these were and from then on, they became a family regular.  And I know where to find the recipe now.  Over the years since our Savoring the Seasons book came out, this is consistently a reader-favorite so I felt like it was time I share it with all of you guys, here!  Because everyone needs a great enchilada recipe.  Let me tell you my requirements when I was coming up with this recipe:
1.  From scratch, no condensed soup, canned sauce, or seasoning packets.
2.  With the above being true, it still had to be easy to toss together.  NOT labor intensive.
3.  Using mostly pantry ingredients that I normally have on hand, no specialty weird stuff.
4.  Delicious and indulgent, without being super horrible for you.
You guys, this recipe checks off ALL the boxes.  For me, it's perfection.  Here's how you make it!
The sauce takes a little more time than opening tin cans, but honestly not all that long!  It's easy.  You'll start by melting a little butter and whisking in a little flour.  This is what will thicken the sauce.  Once that cooks, you'll whisk in chicken broth until it's smooth and creamy.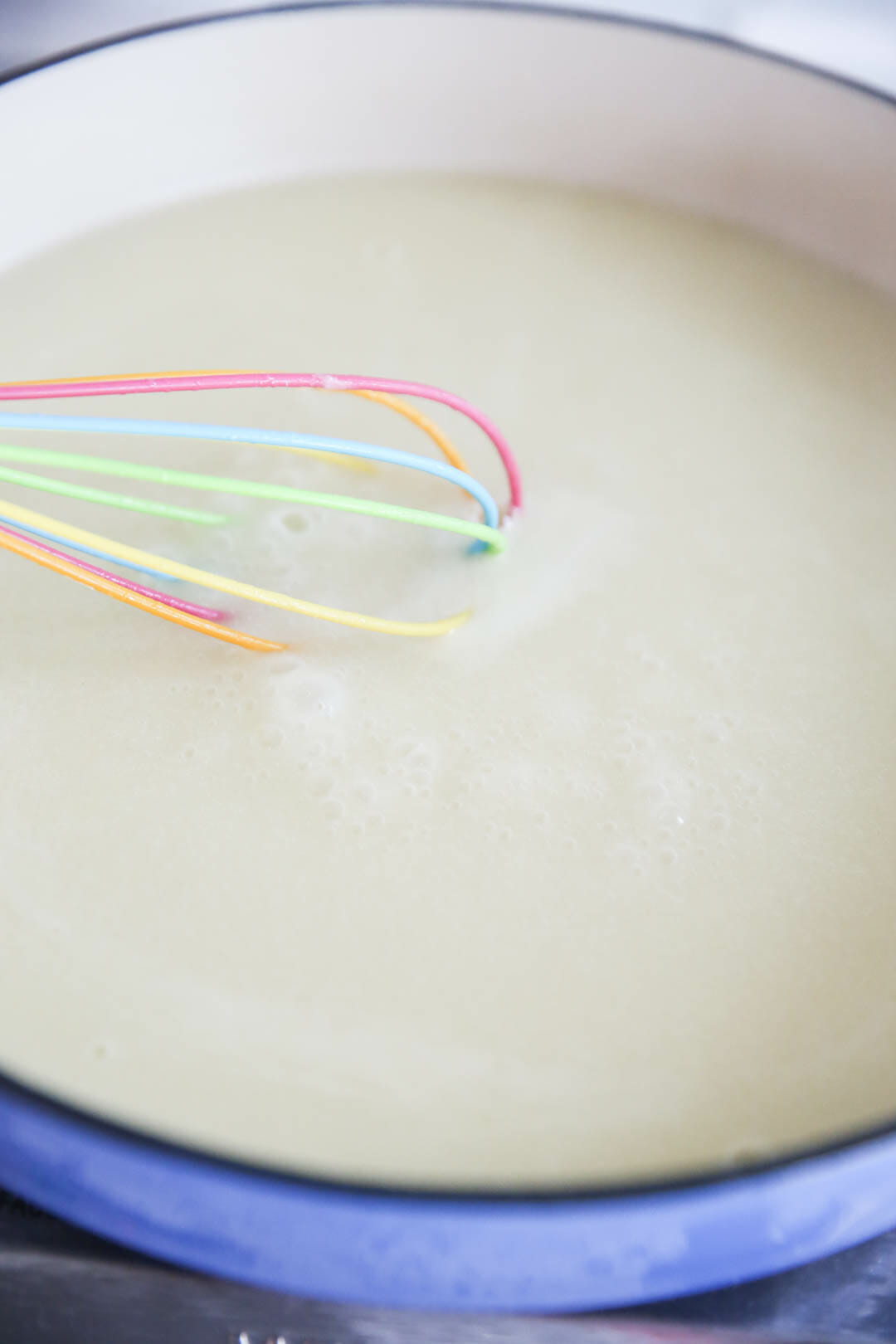 I'm using all dry spices so there's no need to chop onion or peel garlic.  Just add powdered garlic, onion, cumin, coriander, pepper, and chili powder.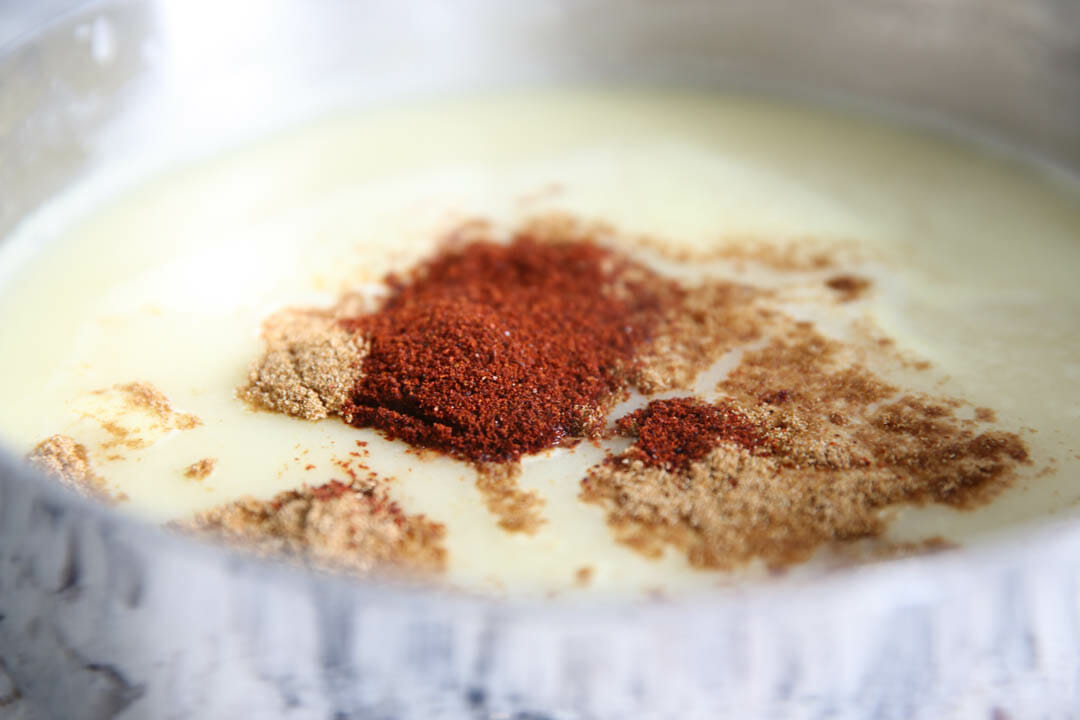 Whisk it together and then stir in just a little sour cream.  Sauce done!  Only takes about 5 minutes.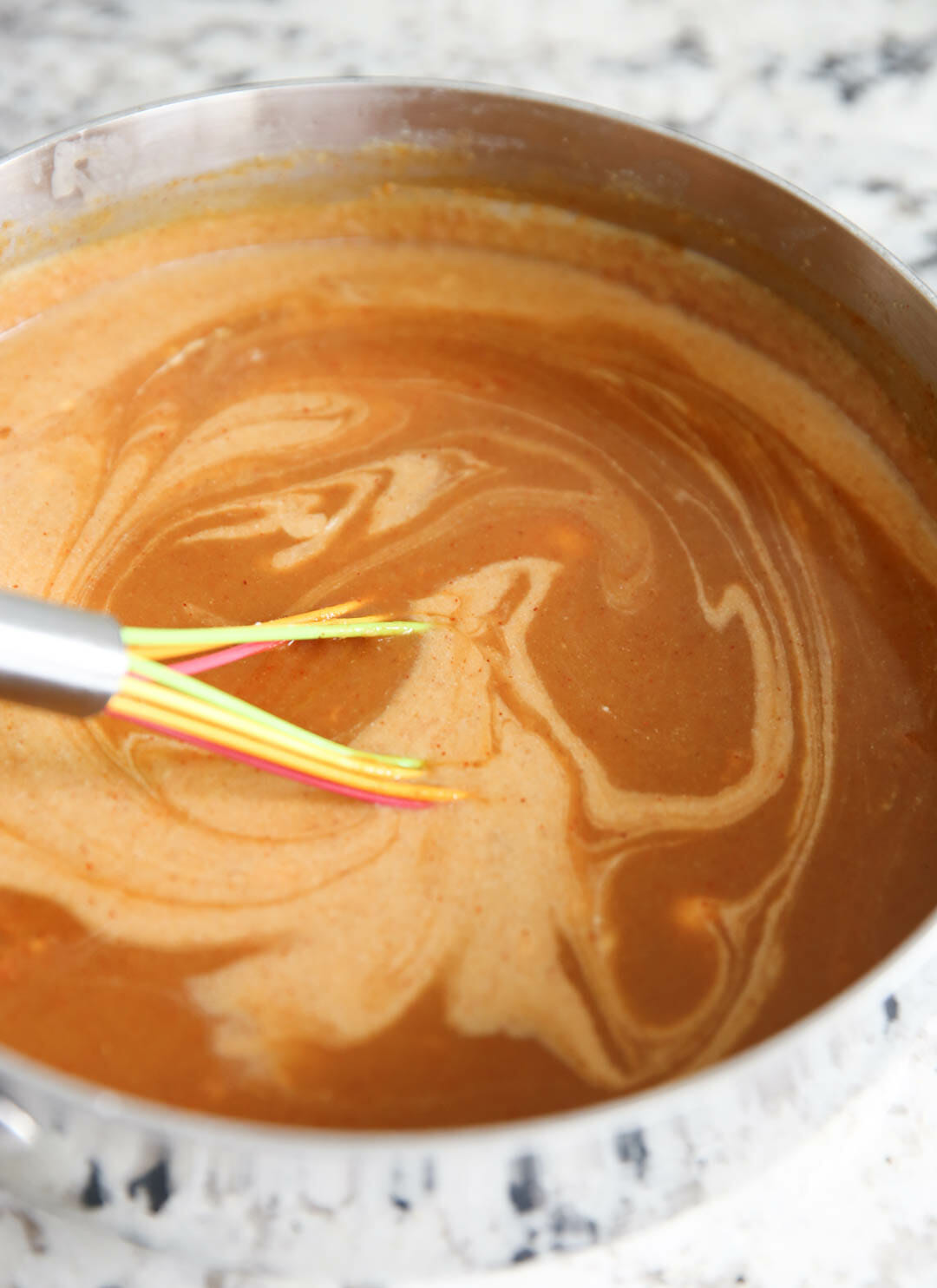 For the filling, I combine just a little low-fat cream cheese and mild green chilies.  You can add hot chilies if you like heat!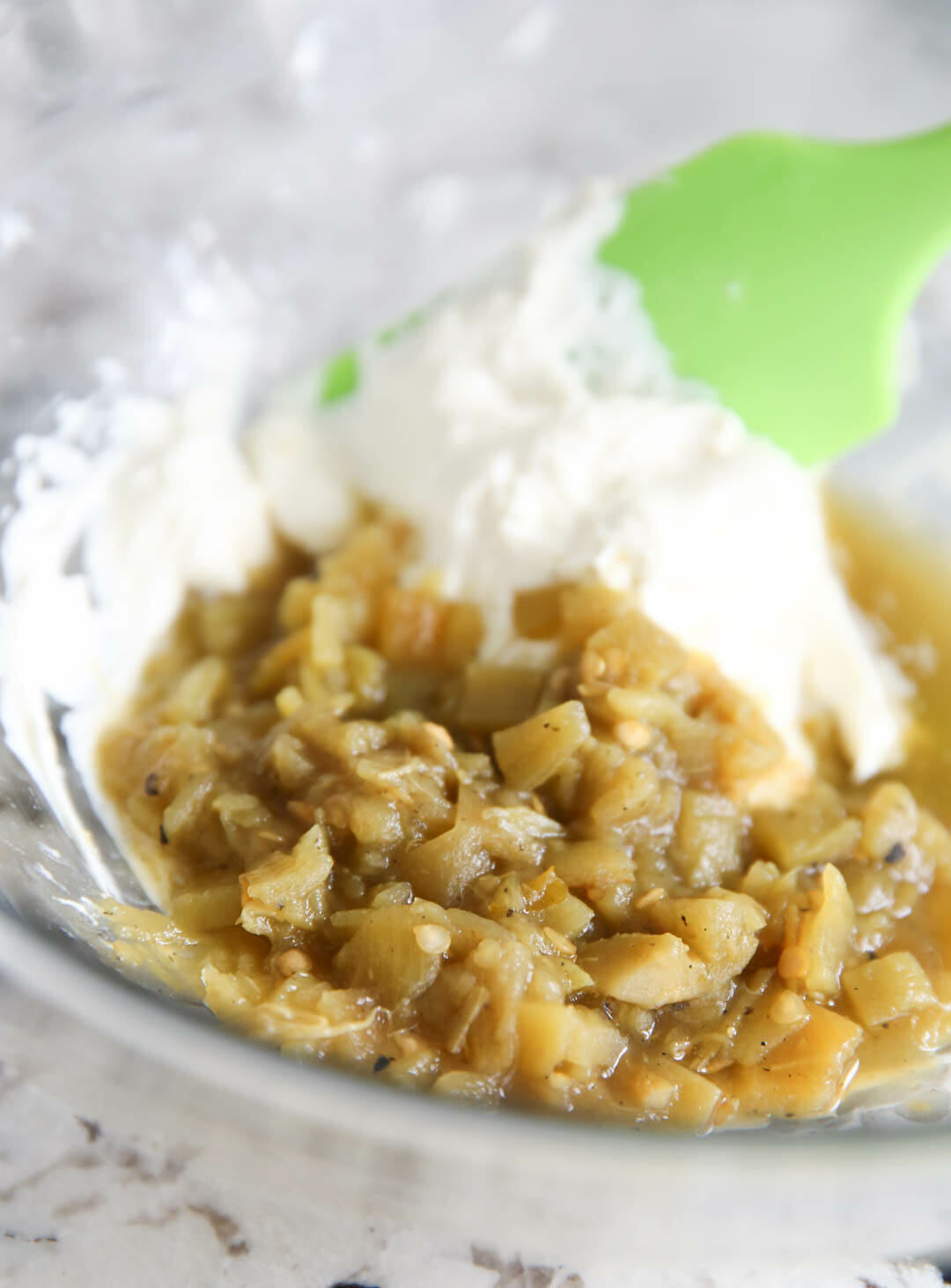 Then stir in a little of that sauce you just made.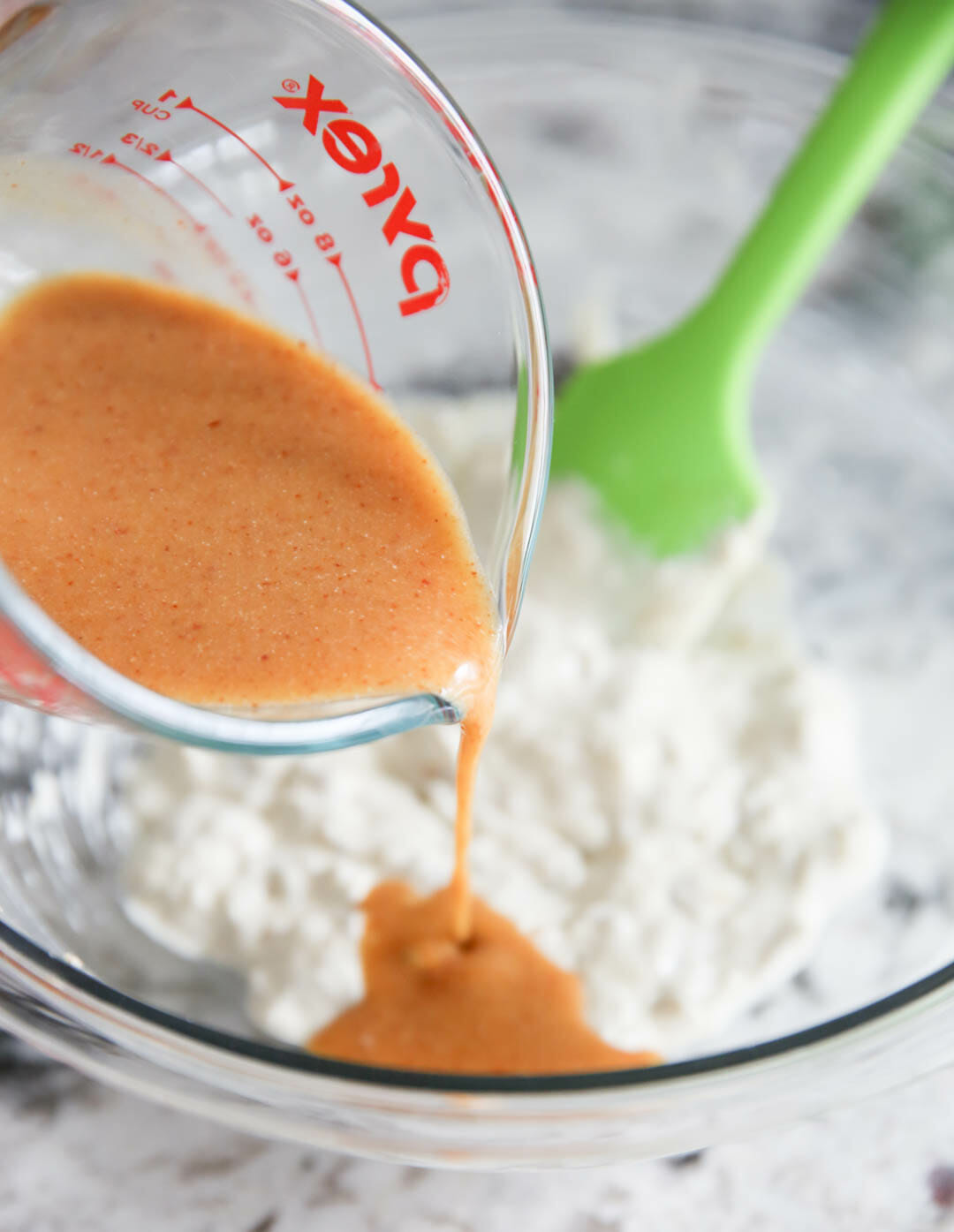 Cooked shredded chicken and cheese go in,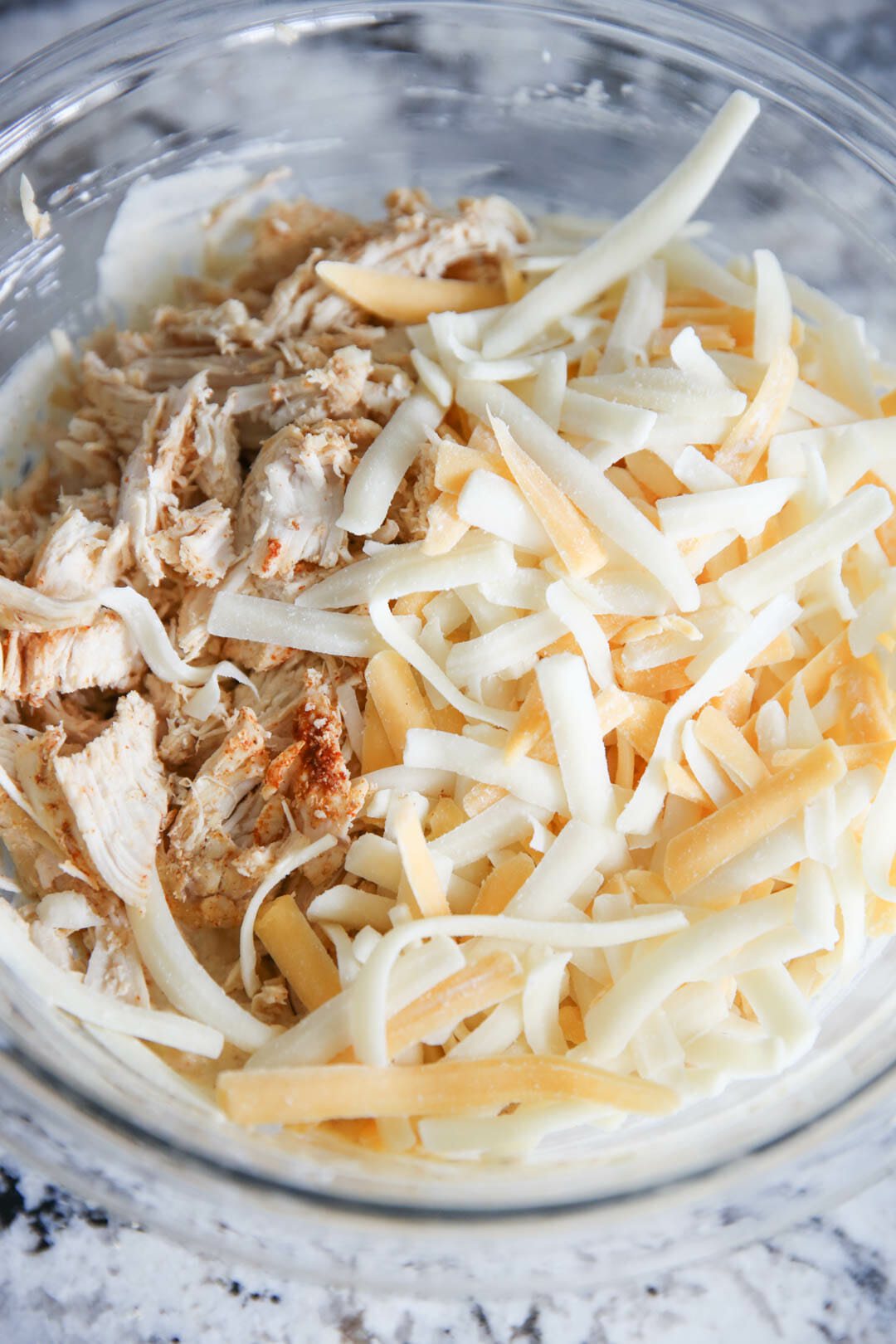 And just a note about cheese:  you can use any kind you like.  I call for Monterey Jack in the recipe, but pepper jack or cheddar is just fine too.  We are always telling you guys to avoid bagged shredded cheese in recipes (and I stand by that for the most part) but I do have a couple of exceptions.  This is totally un-sponsored opinion here, just products we love.  This Tillamook farmstyle is a game-changer.  It's not weird waxy stuff that doesn't melt.  It's shredded from the blog, HUGE shreds, and works so great in recipes- I love this Mexican blend!  I also love the giant bags of Tillamook shredded cheddar from Costco and the Kirkland brand equivalent.  All of those melt beautifully and taste great.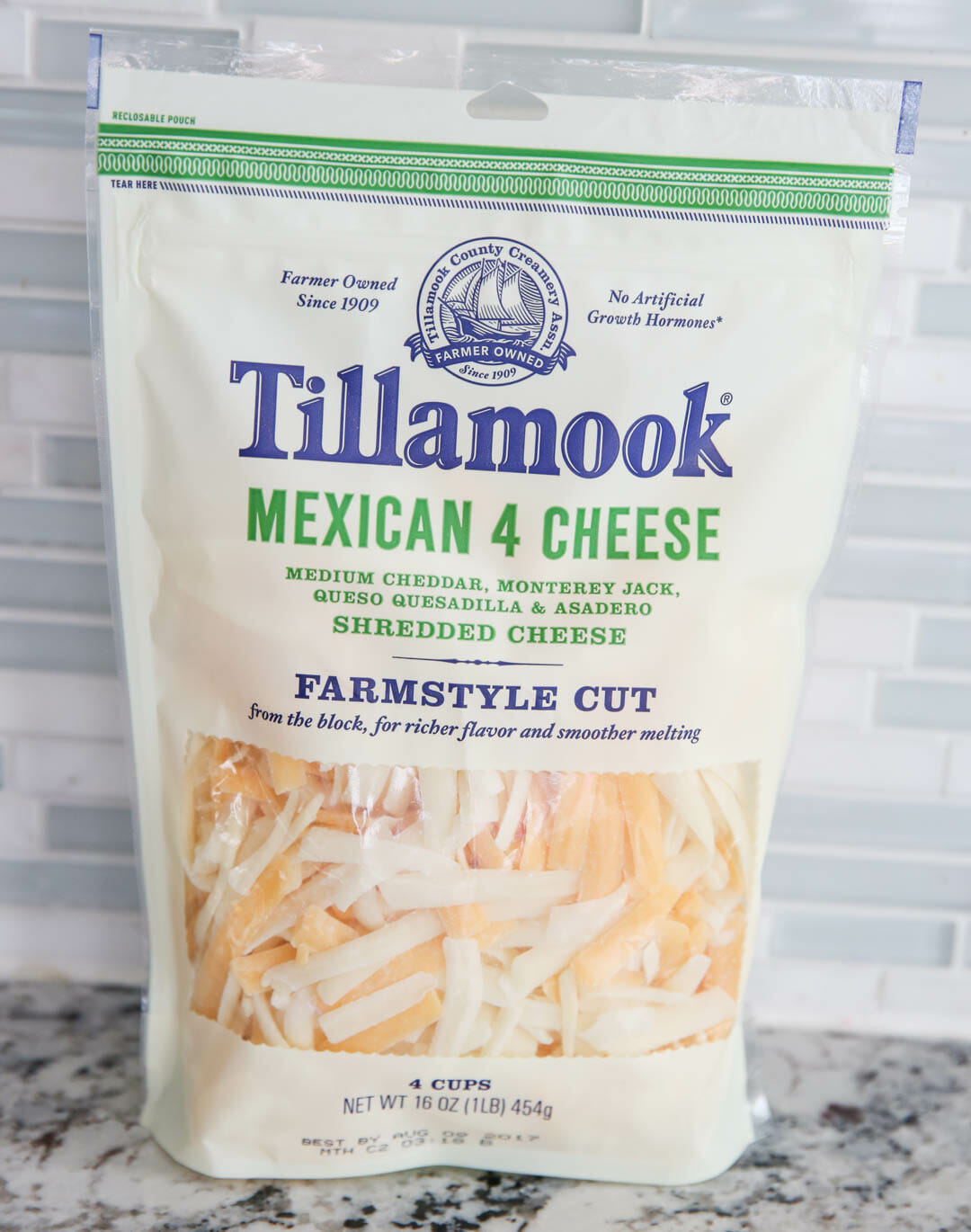 And that's it.  Flavorful, creamy, cheesy, but not so much that the chicken gets lost.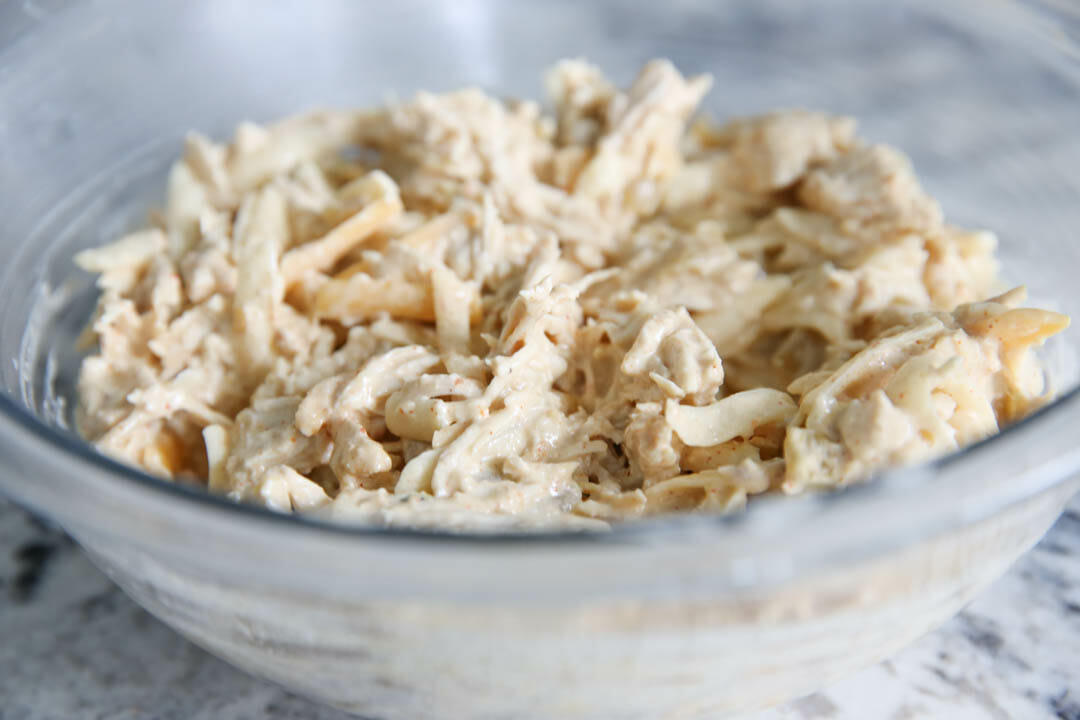 Now you know the drill.  Spread out some sauce on the bottom of the pan and then stuff and roll.  I personally like flour tortillas. I also really like them saucy.  Because of this, flour tortillas get really soft, but some people dislike that!  If you're in that camp, feel free to use corn tortillas!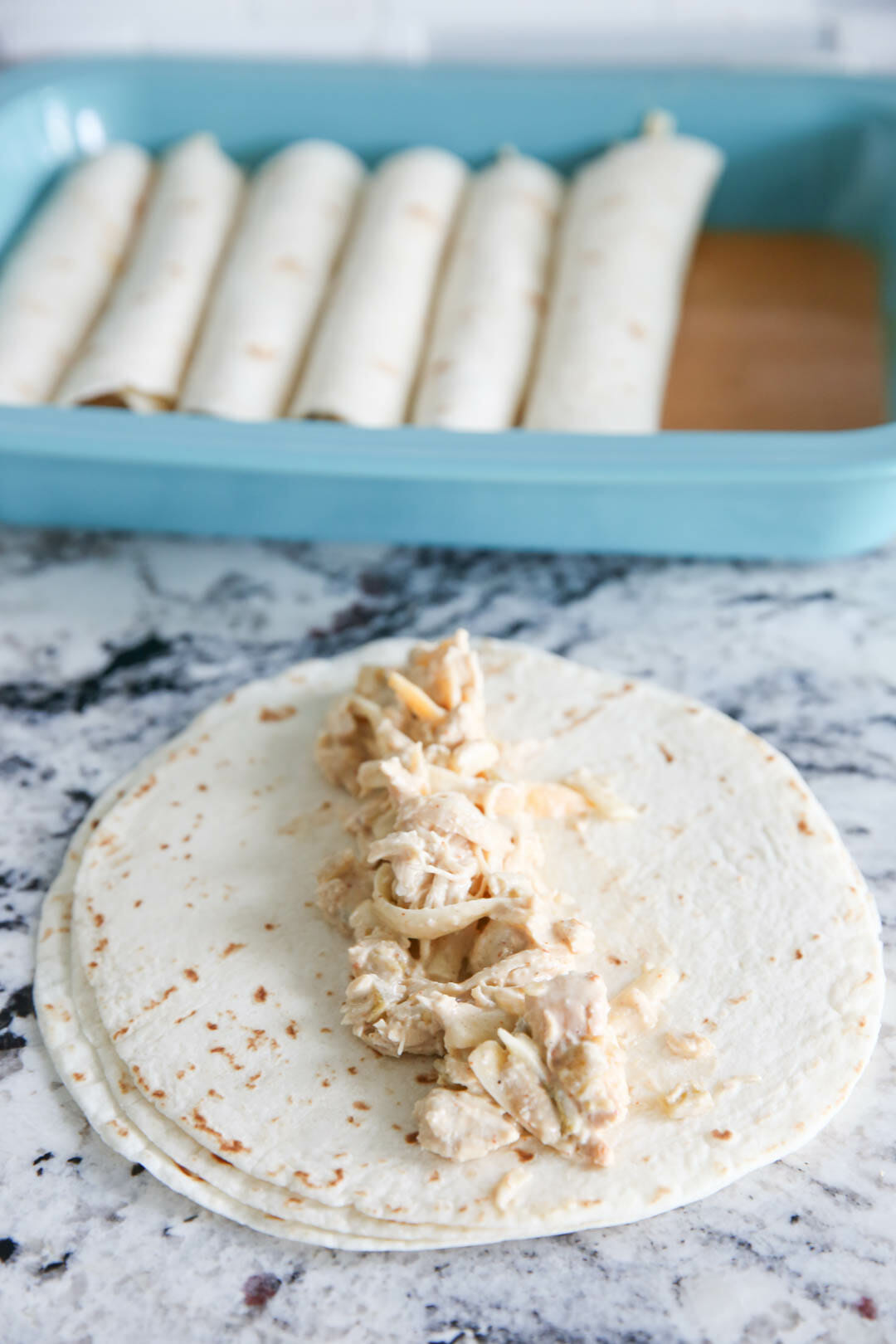 Top with the rest of the sauce and more cheese and you're good to go.  This can be baked right now, OR popped in the freezer!  This is a great thing to make in disposable foil pans.  You can stock your freezer or share with friends. You just extend the baking time by a bit but everything else remains the same.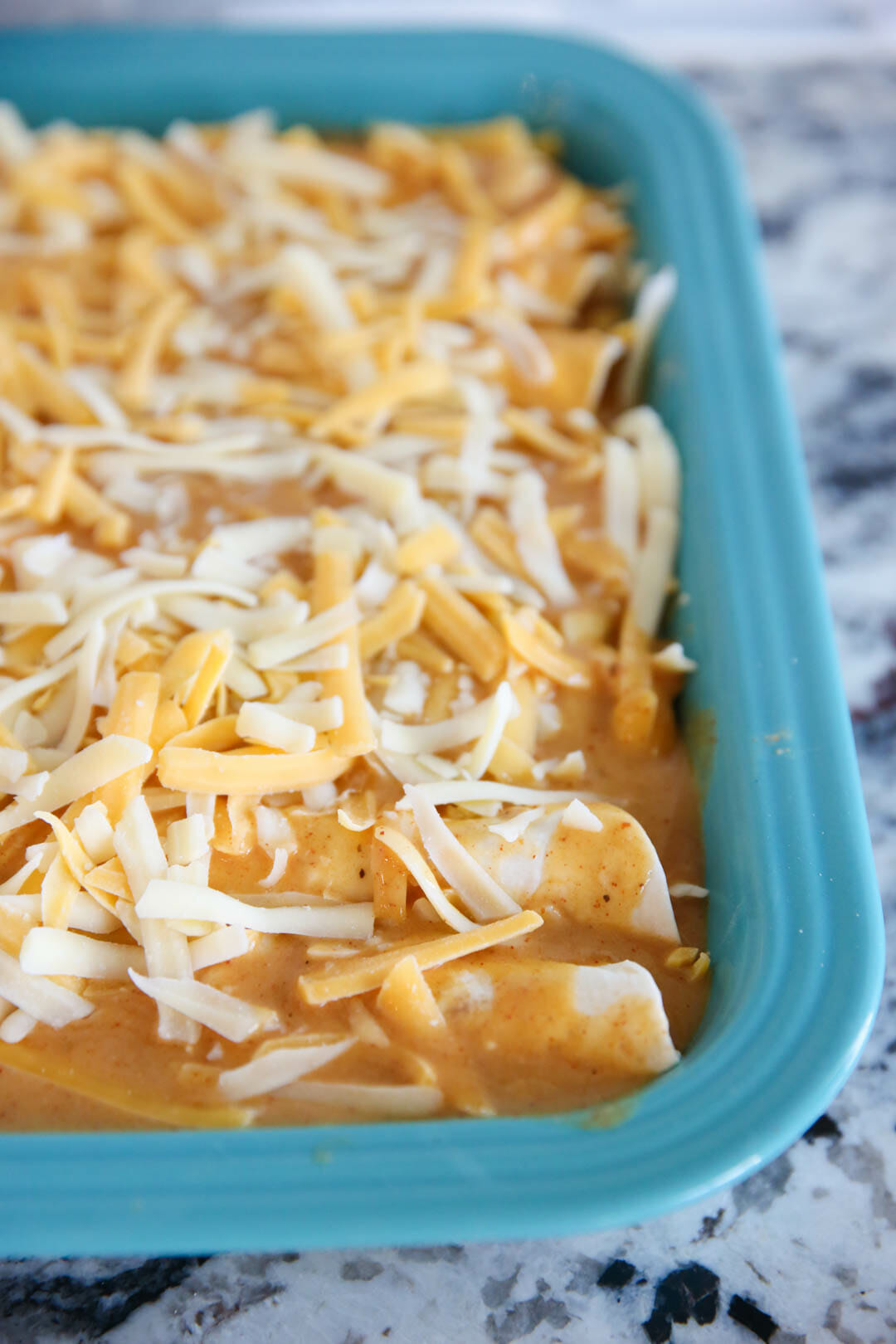 To serve, I find it much easier to to cut it right down the middle so each tortilla is cut in half.  Then you don't have to attempt to pull out a whole long tortilla on one skinny spatula.  You guys know what I'm talking about.
Also, this fabulous turquoise baker is one of my favorites, and the last few times I've used it in photos I've gotten lots of messages asking where it's from- so here ya go!  I love everything Fiesta makes.  Gorgeous and crazy durable.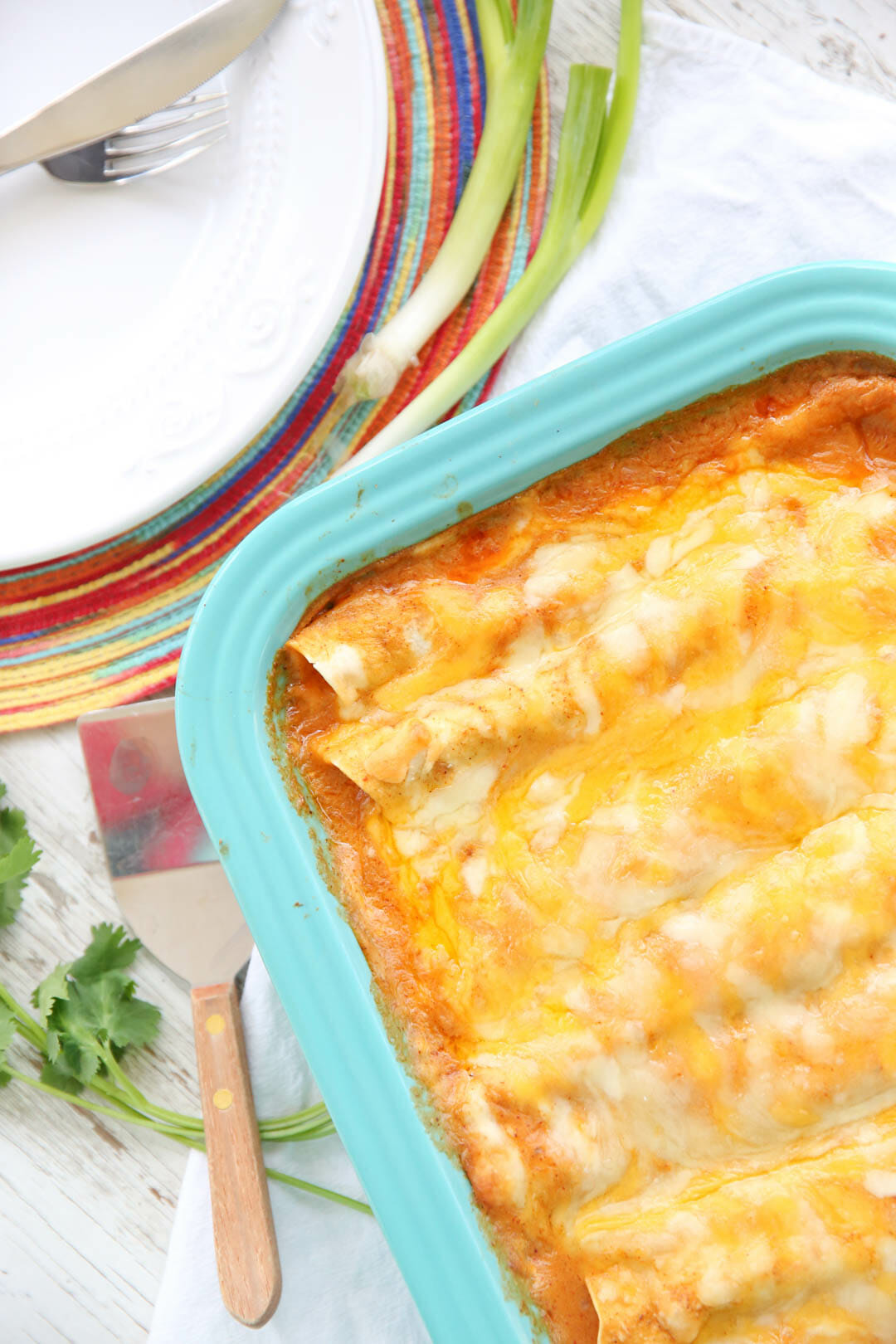 I like my enchiladas really saucy, but if you don't- you can always just use part of the sauce on top.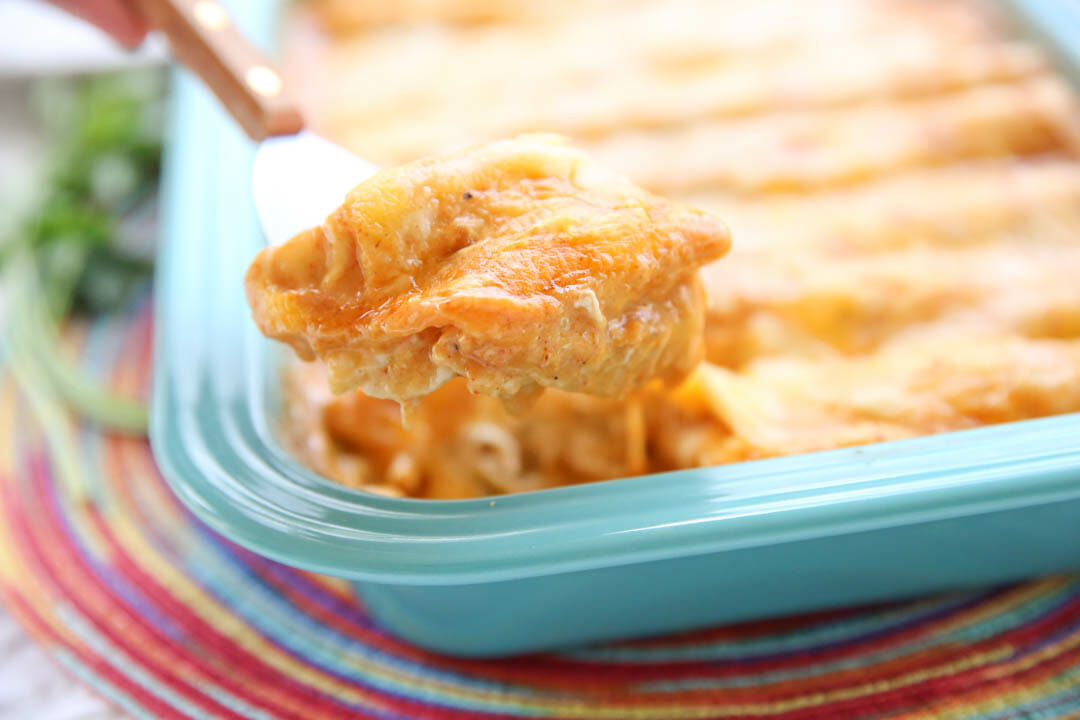 These will be so cheesy and creamy and flavorful.  I can almost guarantee your family will love these like mine does!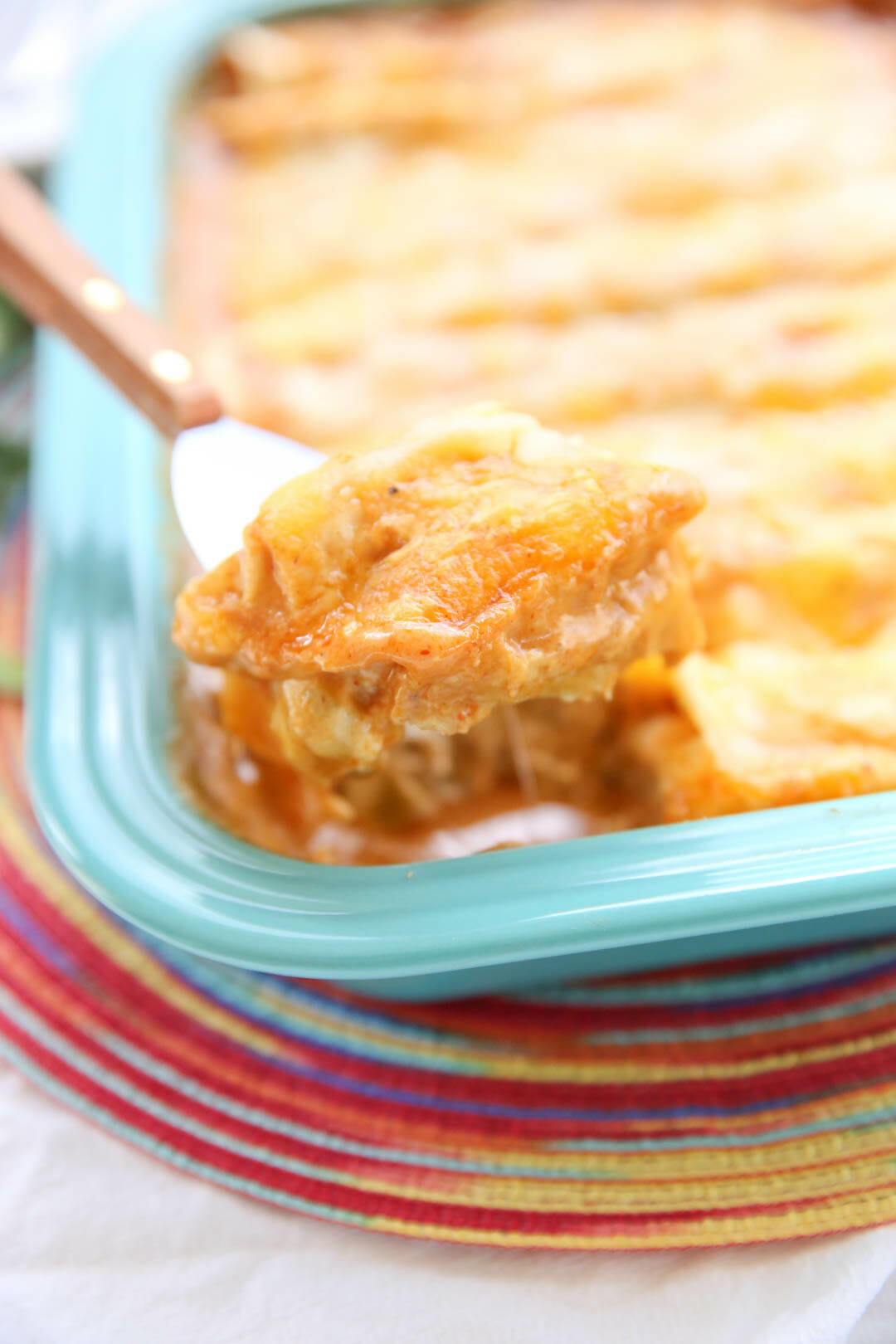 Make it a meal! We've had so many requests of what to serve WITH main dishes, so we'll try to include this little feature for you!
Favorite Side Dish Options with this:
– Simple side salad with this Creamy Tomatillo Ranch, Lime-Cilantro Vinaigrette 
– Fresh Fruit
– Regular or Brazilian Style White Rice with Black Beans (Pressure Cooker, Slow Cooker, or Quick version)
Print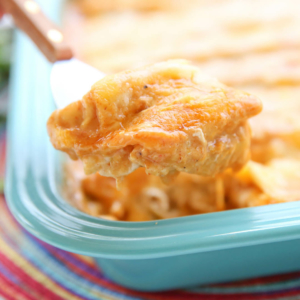 Cheesy Chicken Enchiladas
---
Description
An easy and delicious from-scratch recipe for cheesy chicken enchiladas. From the Cook Book: Savoring the Seasons with Our Best Bites.
---
4 tablespoons

butter

5 tablespoons

all purpose flour

2

15-ounce cans chicken broth

1 1/2 teaspoons

garlic powder

1 teaspoon

onion powder

1 1/2 teaspoons

cumin

1 teaspoon

coriander

1 tablespoon

chili powder

1/8 teaspoon

black pepper

1/3 cup

sour cream

2

–

3

shakes Tabasco (or similar hot sauce), Optional
kosher salt, to taste

4 ounces

(

1/2

block) cream cheese (low fat is fine)

1

7-oz can mild green chilis

14

–

16

ounces cooked, shredded chicken (about

3 1/2 cups

)

4 cups

shredded Monterey Jack or Pepper Jack cheese, divided

8

–

10

medium flour or corn tortillas
---
Instructions
Preheat oven to 350 degrees. Lightly spray a 9×13-inch pan with nonstick spray and set aside.
Melt butter in a large skillet over medium heat. Wen butter is melted and bubbly, add flour and stir to combine. Continue cooking, whisking continuously until mixture is light golden brown, about 2-3 minutes. SLOWLY add chicken broth, whisking constantly, until smooth.*note, if this part ends up a disaster and your sauce looks lumpy and clumpy- it's not ruined! Just pop the entire sauce in a blender to smooth it out, then back in your pan and continue 🙂
Whisk in garlic powder, onion powder, cumin, coriander, chili powder, and pepper. Bring sauce to a simmer and stir until thickened, 3-4 minutes. Remove from heat and whisk in sour cream and hot sauce. Add salt to taste and set aside.
In a separate mixing bowl, soften cream cheese in microwave until it's easily stirred. Add green chilis and 1/2 cup of reserved sauce. Stir to combine and add chicken and 2 cups cheese.
Tip: If needed, to make the tortillas easier to roll, place between damp paper towels and microwave until warm (20-30 seconds).
Pour about 1 cup sauce into the bottom of prepared pan and spread out evenly. Place about 1/3-1/2 cup chicken mixture on each tortilla and roll tightly. Place tortillas snugly in pan. Pour remaining sauce on top and top with remaining 2 cups cheese. Bake 30-35 minutes, until hot and bubbly throughout and cheese is melted.
---
Notes
You'll need cooked, shredded chicken for this recipe. I prefer boneless skinless breasts. Rotisserie chicken works great, as does leftover from another meal. If you need to prep chicken, here's a few ways I do it
1. Place frozen or thawed chicken breasts on a baking sheet and sprinkle with salt and pepper. Bake at 350 until they register 165 degrees.
2. Place several chicken breasts in pressure cooker, sprinkle liberally with taco seasoning and add about 2 cups chicken broth, and cook at high pressure for 6 minutes (if thawed chicken) and 15 (if frozen chicken).
3. Same as above, only place in slow cooker for 3-4 hours.
You guys- we have the BEST bonus feature for Mother's Day in our meal plan program this month!  Can't wait for you guys who are already members to get it!  You can sign up here and this alone is worth the already inexpensive monthly price.  It comes with a letter to hand off to your family with an easy but delicious brunch menu, a printable shopping list just for them, and easy instructions for THEM to serve YOU!  Every Momma needs it- click below to sign up!