So can we talk about Sara's birthday? It's coming up, but it's not for another couple of weeks. I've been collecting items for a little birthday box for a few months now and I thought it would be fun to do a little twist on our favorite things and that I would send some of my birthday picks for Sara to one of you!
1. Mason Jar Mug. I love these mugs! They're cute and stylish and durable and easy to clean and they fit in your dishwasher. I love putting little trinkets, gift cards, etc. in mugs like this and giving them to friends and my kids' teachers.
2. $15 iTunes Gift Card. Whether you're buying apps or music or games or movies. it's pretty hard to go wrong with an iTunes gift card. Unless you absolutely hate Apple, then you're just kind of out of luck.
I generally don't pick music for other people because it's so personal. And. I was gonna tell you guys what my top 5 most listened to songs were, like that would be useful or something, but my list ended up being a nice mix of embarrassing and kid-centric (think Daft Punk meets "What Does the Fox Say?" meets "We Saw Three Ships." Yes. The Christmas song. Not even my favorite Christmas song. What the heck?!) So we're gonna leave it at that, but if you guys wanna talk folsky rock with the occasional pop song, you know where to find me.
3. Hello Kitty BandAids. Because she cuts herself (on accident) a lot and even grown-ups deserve cute adhesive bandages.
4. Zapp's Salt & Vinegar Potato Chips. Sara loves chips, Sara loves salt and vinegar, I live in Louisiana, so I kind of had to send her a bag of Louisiana-made salt and vinegar kettle chips. I had to.
5. Essie Fashion Playground Nail Polish. In case you didn't know, Sara  has a color–it's  kind of a light blue-green. This nail polish is super pretty and a tiny bit sparkly, perfect for summer!
6. Aqua Stone Earrings from Lisa Leonard. If you've never checked out her website, you should–I have gotten some of my favorite jewelry and favorite gifts from her shop. These earrings were so pretty and versatile–you can definitely dress them up or down. Plus, they're "the color."
7. Nourish Organic Lavender Mint Body Lotion. I first discovered this lotion when I was shopping for a friend on bedrest and looking for something nicer and fancier than your average drugstore lotion, something that smelled good but wasn't overwhelming, and something that actually worked. This was the one and now, I snag a bottle at Target (when I can find it!) because it makes a perfect gift. Even if it's a gift for me.
8. Bath & Body Works Lanikai Coconut Candle. You didn't think we were going to make it through this without a Bath and Body Works candle, right?! For me, coconut scents are kind of weird. Sometimes, they're mixed with musky scents, and I'm not a huge fan of that. This one smells kind of funky when it's cold, but once you start burning it, it smells like coconut-scented sunblock. It's the one I cannot stop burning–so delicious!
9. Bath & Body Works Strawberry Lip Butter. The peach is also pretty delicious–hard to go wrong there. This lip gloss is healing and thick, but it's not sticky. Plus, it tastes like my Strawberry Shortcake dolls smelled when I was a kid, so how could I not include it?
10. Lindt Milk Chocolate Truffles with Coconut. You guys…there's just not a whole lot to say here. And I'm generally not a huge fan of chocolate coconut candy. But these won me over. And when I say "won," I mean that if I look at them too hard in the store, I'll fall under their spell and then I'll find empty wrappers and I won't know what happened. They're dangerous and amazing all at once.
So. That's it! Happy birthday (soon!), Sara! To enter to win EVERYTHING in the box, leave a comment saying what you want most in the box! Or what your most-played song is, just so I feel better about myself. The giveaway ends at 10:00 pm Tuesday, April 15 and I'll announce the winner on April 16th. The winner must have a residence in the United States (it's the law, not us being jerkfaces.) Ready?! Go!
ALSO. If you missed it yesterday, our olive oil is on sale to make room for some fun new flavors that we're SO excited about! Use the code EXTRAVIRGIN to get a large bottle of our extra virgin olive oil plus one of our flavored oils (lemon, basil, or garlic) for $25!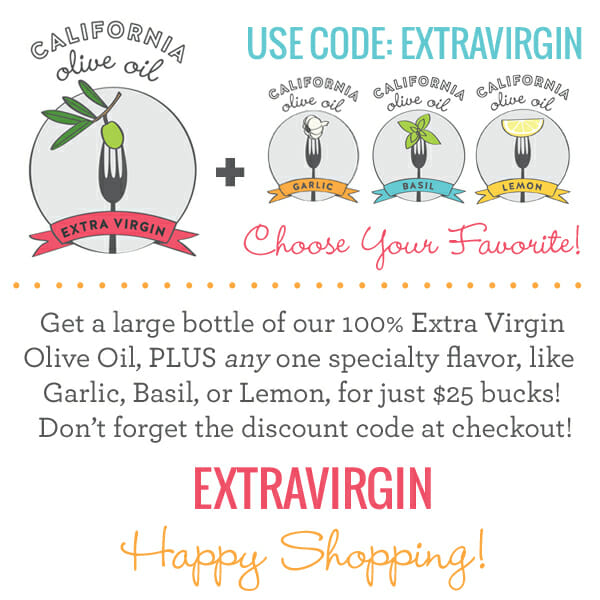 Thank you so much for all your comments! This giveaway is now closed.