Okay, let's just talk about this for a minute. I almost didn't post this recipe because we don't like to share recipes on this blog unless we really love them. I never understand why some food blogs will go to all of the effort to make and photograph a recipe, share it with their audience, and then in the final paragraph say something like, "So my final review is that this was just okay. I probably wouldn't make it again." Um, why are you telling me about it then?? So here are my thoughts on this recipe, which I've seen floating around the internet for quite some time and have always been curious about. First let me tell you what it is. It's a sweet quick bread, and like the title implies, it's made with only TWO ingredients. These two, specifically: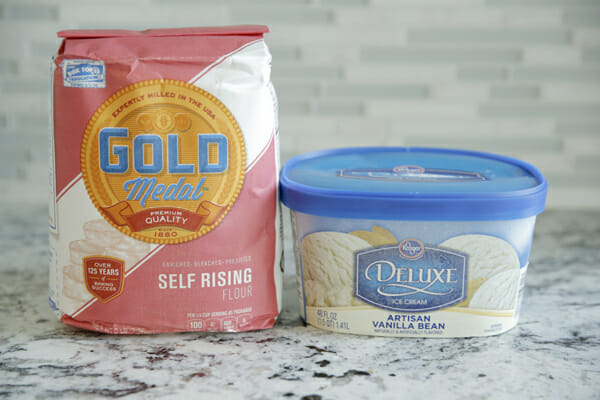 No, seriously. Ice cream and self-rising flour. I know, weird. I mean, how could I not try it?? I saw this link from Good Housekeeping magazine, which is what made me finally take the plunge and try it out. After all, those yummy looking breads came out of their test-kitchens, which is a source I trust. The final result? Yep, it does in fact make bread. It's sort of crazy. And sort of cool.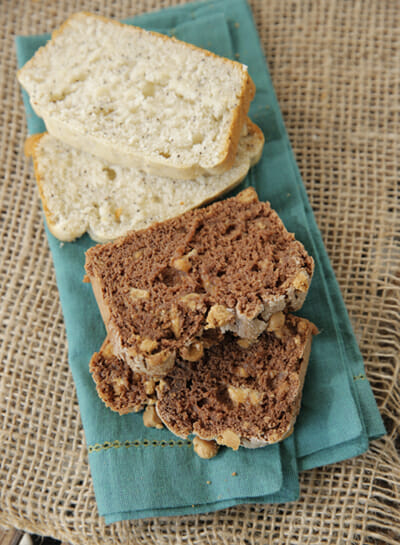 But unlike most sources of viral content on the internet, I want to actually be real and let you know exactly what you're getting here.
This is super fun and it tastes decent. Is it amazing bread? Nah. Is it totally nasty? Surprisingly, no. Would I make this bread for Christmas gifts for my neighbors? No. Would I serve it at a family brunch? Probably not. That being said, I'm sharing this because I do think it has a great place in the kitchen repertoire. It's an absolutely perfect cooking activity for kids. And don't get me wrong- the bread is actually quite tasty, especially when you add in some additional mix-ins, but if you make the plain bread alone, it's no where near the quality of an actual homemade quick bread and can have a flour-y texture and taste. But my kids thought this was AMAZING. And to them it tasted just as great as my homemade banana bread (which it is most certainly not). It's a really fun, quick project that you can do together, or older kids can make themselves, and they'll think it's so fun. I overheard my boys telling their friends about it and making them guess what the secret ingredient was. So check this out.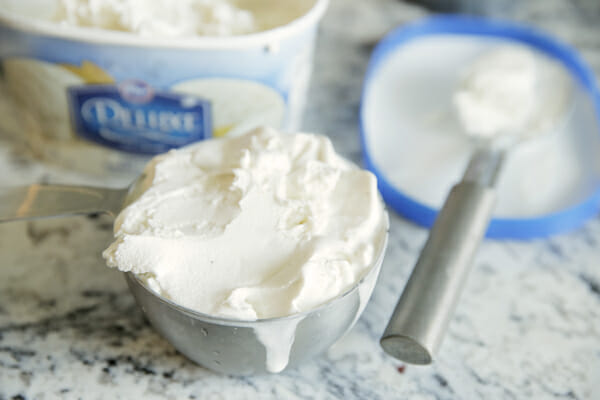 Start with 2 cups of really soft ice cream. If you leave your ice cream on the counter, you know how the edges always melt the fastest? Do that, and then just scoop out all around the edges for this recipe. The center of your ice cream will still be nice and frozen, so you can pop it back in the freezer without ruining it. I'm just tossing everything in my stand mixer.

Even though there are only 2 essential ingredients, you'll want to add some flavor here. I tried a couple combos suggested by that Good Housekeeping article. The first combo was lemon and poppyseed. I added some lemon juice to mine as well, and about triple the zest they called for. If I did it again I would probably add some vanilla extract as well. Mix it all up with 1 1/2 cups of self-rising flour.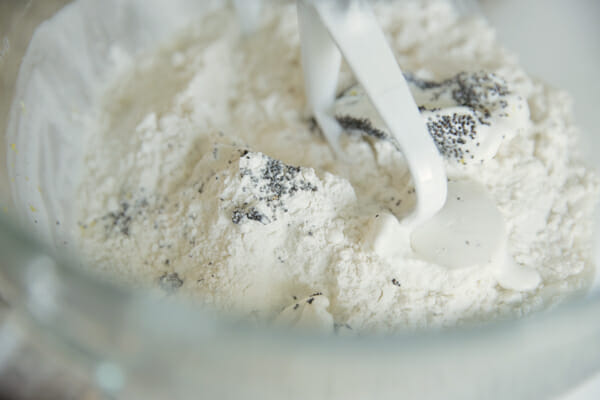 You'll get a batter that actually looks like, well, bread batter. But it's freezing.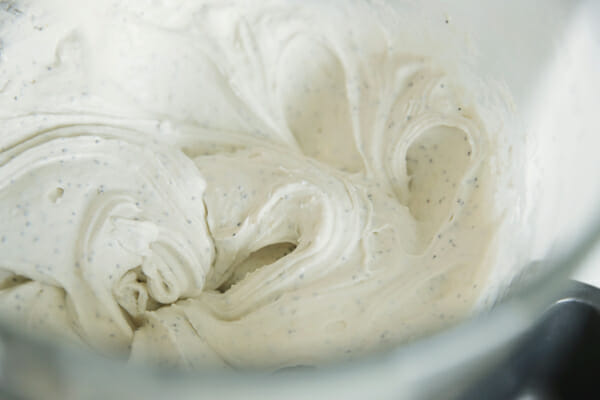 Place that in a bread pan to bake.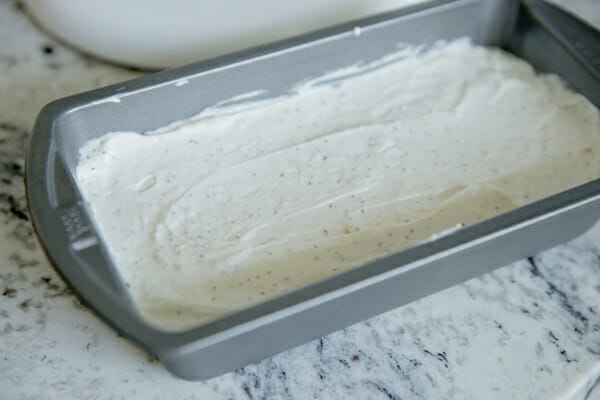 Since this was so quick and easy, I tried a chocolate version too: just plain chocolate ice cream, with peanut butter chips. On the chocolate bread, I sprinkled some plain granulated sugar on top, along with extra chips.
Oddly enough, it baked up looking like bread. Who knew!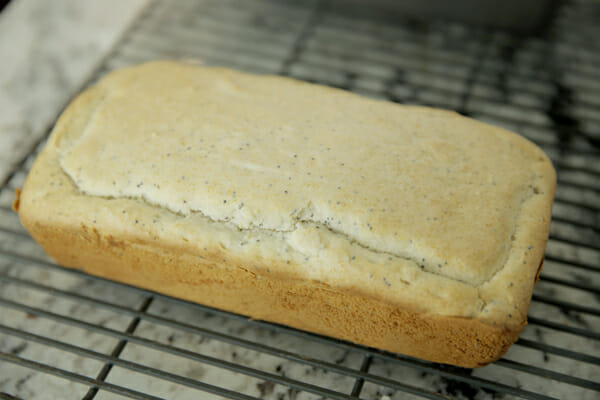 I was glad I tried the chocolate with the extra toppings because that one looked extra delicious.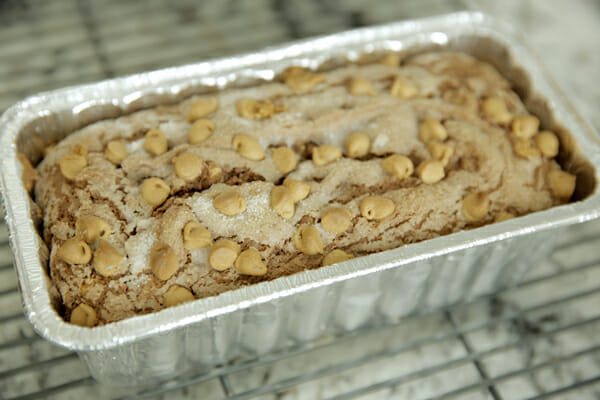 After they cool, you can dig in. See? Real bread. It's actually pretty light and fluffy to the touch.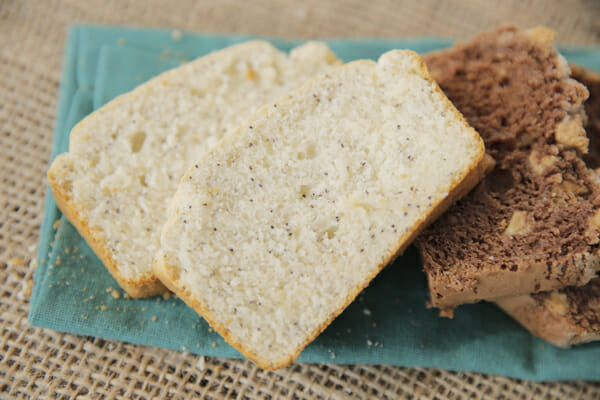 Everyone at my house agreed that the chocolate was better- I think it's because the peanut butter chips added so much flavor and the crunchy top was awesome.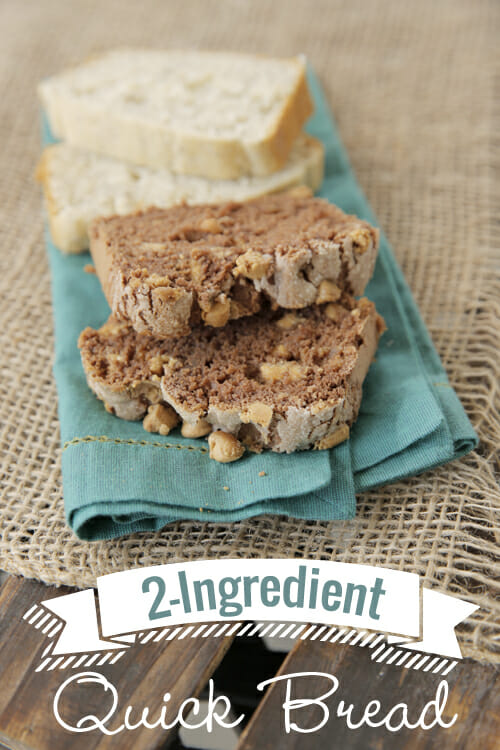 Like I said, my kids devoured it. And let's be honest, I ate more than one slice of that chocolate. Maybe slathered in butter. Here's some tips and suggestions if you want to try it!
1. Add flavor. You can use any flavor of ice cream, so play around with that. You can mix fresh fruit into fruit flavored ice cream, nuts or chocolate, crushed cookies, etc. Check out the ones that Good Housekeeping tried for some examples.
2. Try to not underbake (ends up with a weird, mucky texture) or overbake (dry). Test with a skewer and take it out as soon as it comes out dry, with just a few moist crumbs attached.
3. Don't tell anyone what it's made out of- make them guess! It's fun.
Two Ingredient Ice Cream Bread
Recipe all over the internet, this post followed these instructions (see that link for flavor combo ideas)
2 cups softened ice cream
1 1/2 cups self rising flour (scoop flour into measuring cup with a spoon and then level.)
Optional: add-ins. Fresh fruit, chocolate chips, spices, extracts, etc.
Preheat oven to 350 degrees. Mix up all ingredients and put into a greased loaf pan. For an extra delicious (and pretty) top, sprinkle a little granulated white or brown sugar on top before baking. Bake for about 42-48 minutes, or until skewer or tooth pick inserted in center comes out clean.
Speaking of ice cream- our Grocery Giveaway ends this week! I'd tell you when, exactly, but you and I both know I'd forget to actually end it and pick a winner right then. So it's going to be a surprise. But it will happen this week for sure, so you've been warned! Get those pics entered to win!