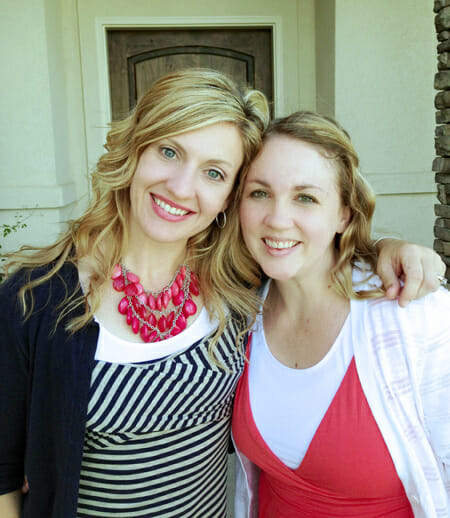 Sara Wells (L) and Kate Jones (R)
We're two girls who love to cook and create! We're also both wives and mothers balancing home management, jobs, church and community involvement, and a myriad of other things. So we're probably just like a lot of you. We want to show you that cooking at home can be a delicious, fun, and easy way to express yourself and to care for your families and friends!
About Sara: I was born and raised in the Seattle area, and moved to Boise after marrying an Idaho boy. I attended Brigham Young University and earned a degree in Horticulture with an emphasis in Landscape Design. I love the outdoors and still squeeze in a little design when I have the time. I also love hiking, fitness, photography, and playing sports with my four sons.
Food and cooking have always been the at the center of my family. I grew up following my Mom around in the kitchen, and now I have 4 of my own little helpers: Tyler, Owen, Jack, and Gavin.  I love cooking and baking and have a serious addiction to carbohydrates. My sweetie Eric is my best taste-tester and we love cooking and entertaining together. Well I love entertaining and he loves eating the food and he happily agrees to do the dishes as well. It works. He's also the official medical director of our kitchen (when he's off-duty providing the same service for the locals), which is a good thing, because as a certified klutz I have on more than one occasion needed serious medical care in the middle of my cooking adventures! We also both speak Portuguese and have lived in Brazil and that has definitely influenced my cooking style. (Just take a look at how much lime juice I use!)
About Kate: I am a mom to three fantastic (usually) kids—an 11-year-old son named Clark, an 9-year-old daughter named Meredith, and a 3-year-old wild thing named Will. My husband and I have been married for 15 years and while I'm a Utah native (I grew up in Logan, Utah and graduated from BYU with my degree in English), we have lived in Louisiana for the last 8 ½ years where we have slowly acquired more animals than we ever intended to own (a white German Shepherd, a Shih-Tzu/Dachshund mix, two stray cats, and a fish I did not consent to that my son got from a school science project.)
I have always loved to cook, but never really did it in earnest until my husband and I were very, very poor newlyweds and it not only became essential but also kind of an obsession—we could basically afford one non-Rice-a-Roni meal a week, so I would pore over cookbooks, online recipes, and family favorites trying to make that one recipe absolutely perfect. I love grilling, baking (especially cookies and yeast breads), and can pretty much never say no to Rice Krispie Treats. I love Diet Coke, obsessing over fonts, and spending a reasonable amount of time at the gym to try and offset the cookies from my kitchen. When I'm not cooking, I'm probably hanging out with my family, snapping pictures, reading, traveling (or at least dreaming of traveling), or talking about last night's TV.
One of the most common questions people ask us is "How do you know each other?" Especially considering that we live on opposite ends of the country. It's an interesting story and goes to show how sometimes the universe just puts people in your path when you're supposed to be friends! Here's the story (told in the third person so you can imagine it in whatever foreign accent suits your fancy.)
As mentioned in her bio, Sara grew up in Bellevue, Washington. She went to the same church congregation and high school as Kate's husband, Sam.  Sam was several years older than Sara, but one of Sara's closest friends growing up was Sam's younger brother, so she spent lots of time with their family and in their home. When Sara was 21, she left to serve a mission for the LDS church in Curitiba, Brazil. While in Brazil, she heard about Sam getting married and even saw pictures of the darling blond girl in her white dress. Likewise, as Kate married into her husband's family, she heard lots that first summer about Sara on her mission in Brazil.
Fast forward several years. Kate is living in Utah with Sam and their young son. Sara is also married, living in Oregon with her husband and young son. Unbeknownst to each other, they both frequent the same on-line parenting forum and know of each other by their screen names. It wasn't until one day when Sara was responding to a question on the forum about the Seattle area that Kate made the connection of who she was, realizing it was the same girl she had heard about who used to be such good friends with her brother-in-law. Sara got an email in her inbox that day that said, "Hey! I know who you are!" The two girls quickly became friends and found they had more in common than the boys in a particular family. They also loved the same types of food and recipes and had similar styles in cooking and entertaining. They became close friends, even though they rarely got to see each other in person.
Fast forward again. Kate and Sara both have 2 kids and needed a project. One day Kate says, "Hey, we should start a food blog together!" They started a site, put on a few of their favorite recipes with some simple photos from their point and shoot cameras and sent the link out to a few friends. They never, ever imagined it would turn into what it is today!