Those of you following us on social media saw that we've been in Vermont stuffing our faces with Ben and Jerry's ice cream all week. We'll share more about that later, but boy did I need a detox after returning home. Strangely enough, my head desperately wanted more ice cream, but my scale said, "Wait! Stop! Try a vegetable first!" I'm trying, guys. I'm really trying.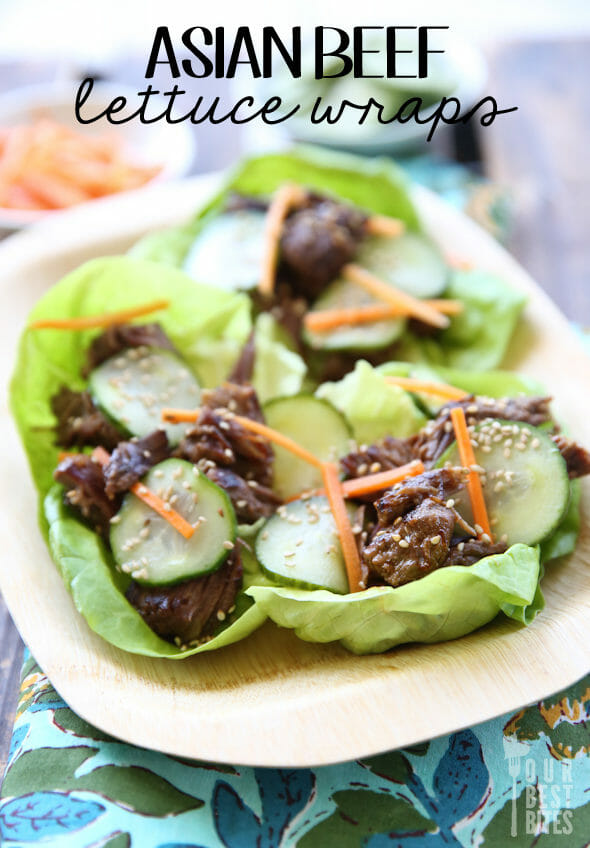 We have a couple of great lettuce wraps on the blog. These Spicy Turkey Lettuce Wraps are one of my all-time favorites, and this other version (also turkey) was a very early recipe, and a reader favorite. Kate has this post with a Spring Roll recipe, which could easily be used for lettuce wraps as well, along with 3 awesome sauces for dipping. Lastly, this Peach Basil Spring Roll recipe, is also delicious as lettuce wraps. One thing I noticed we didn't have? Beef. This recipe can easily be made in a slow cooker, OR a pressure cooker, and I've included directions for both! I was planning on slow-cooking this, but I completely forgot to put the meat in on time, and realizing it wouldn't be done until well after dinner time, I busted out my pressure cooker and it saved the day. It works beautifully in both! These have tender, juicy, Asian-inspired shredded beef topped with cool and tangy cucumbers and carrots. Makes a great meal paired with a side of rice or would be a fun appetizer as well.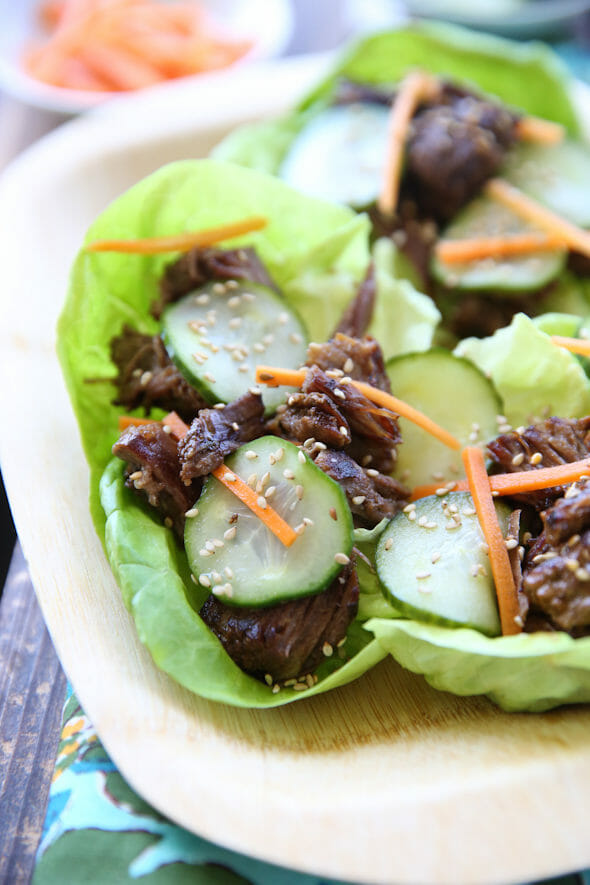 Start by searing your meat. If you're using a slowcooker, do this part in a pan first. If you're using a pressure cooker, you'll probably need to cut your roast into chunks to fit and maybe do it in a couple batches. We're using a chuck roast, and I do suggest sticking with that cut. I really works the best in dishes like this.
Next slice an onion into a few thick slices and lay them in the bottom of your pot.
Lay the meat on top and pour over a mixture of beef broth, soy sauce, rice vinegar, sesame oil, brown sugar, garlic, tomato paste, white miso, and a pinch of red pepper flakes.
While that's cooking away, you can chop up your toppings. I love the combo of warm, tender meat with the contrast of cold crunchy lettuce and tangy crispy veggies.
I don't know what it is about the world "pickled" that can sometimes be off-putting. I think I always envision a scary looking jar of who-knows-what deep in the recess of grandma's basement. But really, pickling is an awesome way to infuse a sweet tang into different vegetables. If you're a fan of our Sweet and Spicy Cucumbers, this is a really quick version of those. (Those would be fabulous here as well).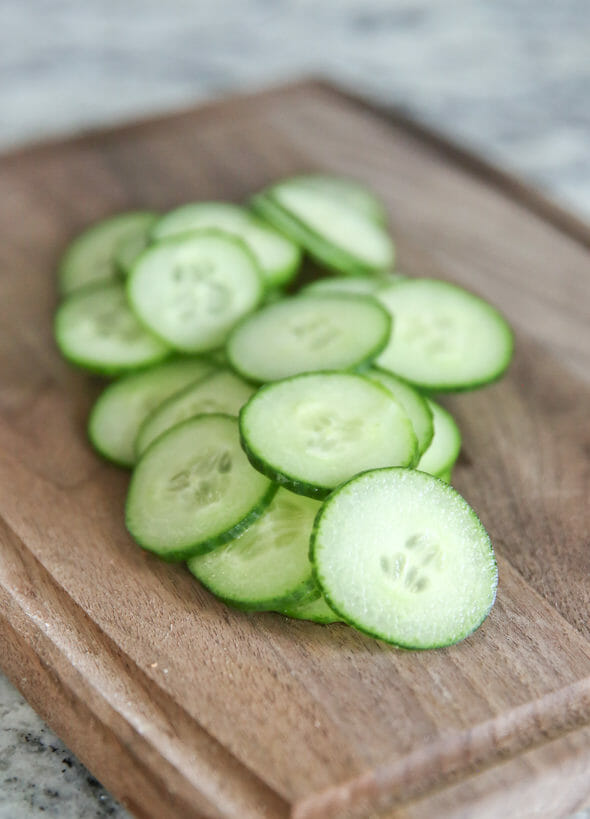 You basically bring rice wine, water, and sugar to a boil and then submerge cucumbers and carrots.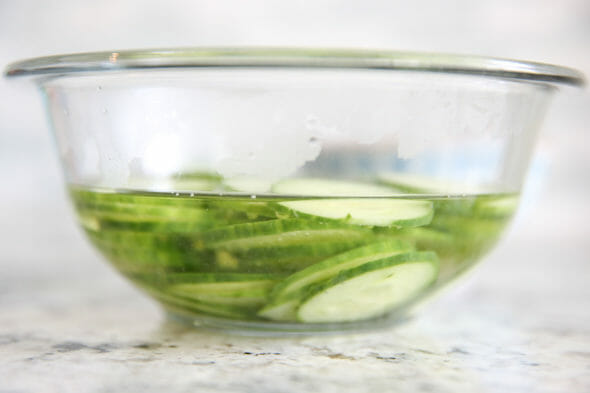 When your beef is done, give it a quick shred. I would also recommend separating your pan juices if you happen to have one of these nifty fat separators. They're inexpensive and SO handy. It quickly separates the fat and oils from the juices and then pours off only the juices. You can find them here.
I was tempted to skip this next part, because it seemed like just another tedious step, but that would have been a major mistake. If you've ever made homemade Carnitas, the best part is that the shredded slow-cooked pork is then popped in a hot pan and seared in oil, making the meat browned and crispy on the edges. This beef is tossed in a pan with sesame oil and it imparts so much amazing flavor and texture. Don't skip this step!
Pour a generous amount of the pan juices back over the meat, sprinkle with salt, and you're ready to go. Serve with those tangy cucumbers and carrots and a little sprinkle of sesame seeds.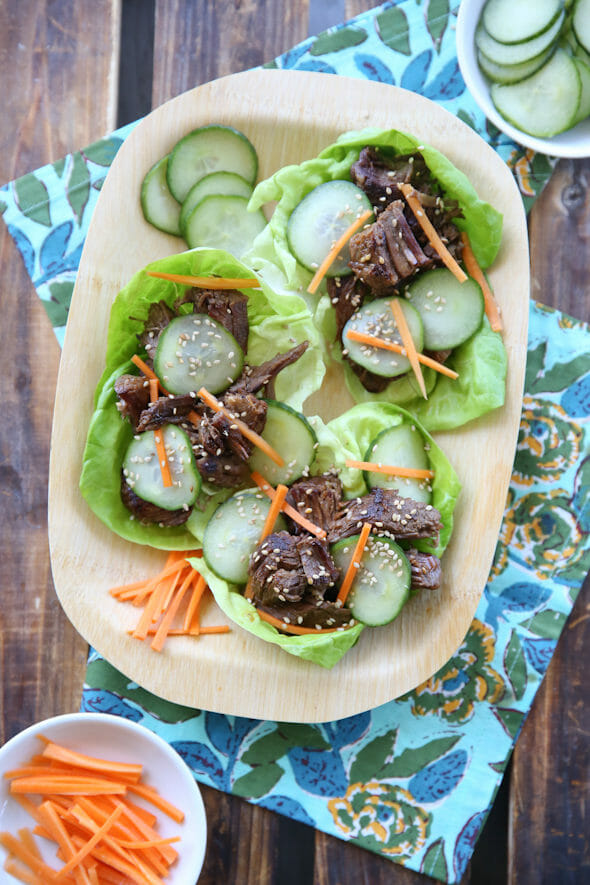 It's light and refreshing, but hearty at the same time. This would be great with a side of Coconut Rice, Brazilian Style Rice, or even our Lime-Cilantro Rice with Pineapple.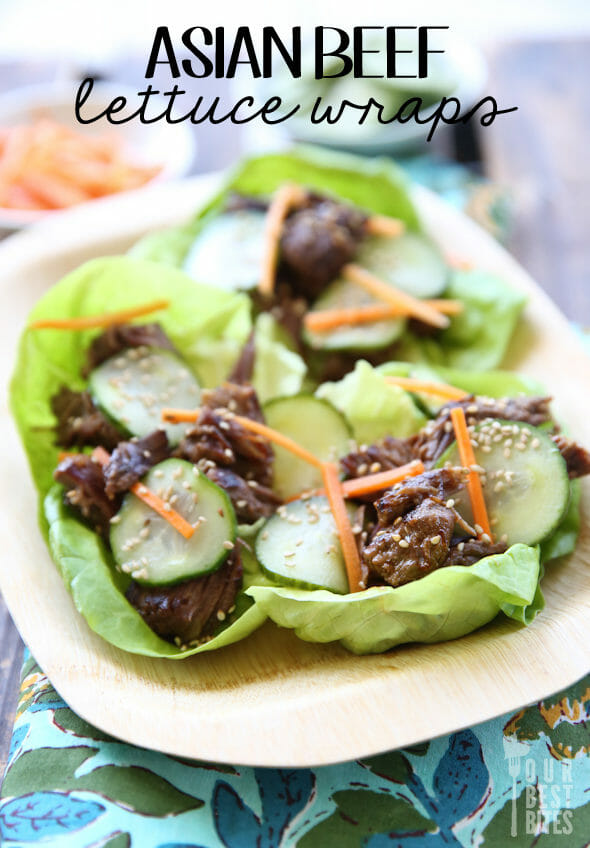 Ingredients
1

large onion, cut into 1/2 inch slices

8

cloves garlic

1 1/2

teaspoons canola or olive oil

1 2-pound

boneless chuck roast

1/2

cup low-sodium beef broth

1/4

cup soy sauce

11

tablespoons rice vinegar, divided

2

tablespoons sesame oil, divided

2

tablespoons brown sugar

2

tablespoons tomato paste

1

tablespoon white miso (soy bean paste)

3/4

teaspoons red pepper flakes

3/4

cup thinly sliced english cucumber

3/4

julianned carrot

1

cup water

3/4

teaspoons kosher salt

1

tablespoon sugar

bibb lettuce leaves (about 16)

2

teaspoons toasted sesame seeds
Instructions
(Slow Cooker Instructions)
1. Coat bottom and sides of a 6-quart slow cooker with cooking spray. Layer onion slices in bottom of slow cooker; top with garlic.
2. Heat canola oil in a large cast-iron skillet over medium-high heat. Add chuck roast to pan; cook 2 to 3 minutes, turning to brown on all sides. Place beef on top of onions and garlic; pour any drippings from pan over top.
3. Combine stock, soy sauce, 3 tablespoons vinegar, 1 tablespoon sesame oil, and next 4 ingredients (through red pepper) in a medium bowl, stirring with a whisk. Pour mixture over beef and onions in slow cooker. Cover and cook on LOW for 8 hours.
4. Place cucumber and carrot in 2 shallow bowls 15 minutes before meat is done. Combine remaining 1/2 cup vinegar, 1 cup water, and granulated sugar in a small saucepan over high heat; bring to a boil. Remove from heat; divide vinegar mixture evenly between cucumbers and carrots. Let stand until ready to serve; drain well.
5. Transfer beef from slow cooker to a large platter; shred with 2 forks. Heat remaining 1 tablespoon sesame oil in a large cast-iron skillet over medium-high heat; add shredded beef to pan, pressing into an even layer. Cook 2 to 3 minutes, without stirring. Turn off heat. Sprinkle evenly with salt and 1/4 cup cooking liquid from slow cooker; toss to coat. Discard remaining cooking liquid, onions, and garlic. Divide beef and pickles among lettuce leaves; sprinkle with sesame seeds.
Just a note- if you're wanting to order a Chat Book for Father's Day, you can now get 20% off with my code BESTBITES. They have a really cute new book with illustrations from artist Dallas Clayton (see a little instagram video, here). You can choose where to insert the illustrations with your photos, many of which are prompts where your kiddo can add drawings and commentary. Such a fun idea! You'll need to order by June 8th to ensure Father's Day delivery. We'll also be having an upcoming Father's Day sale in our Shop, too, so keep an eye out for that!
This post contains affiliate links.