Brazilian Lemonade is our most favorite drink, ever.  I fell it love with it while living in Brazil where at most restaurants and homes, fresh squeezed tropical beverages are the norm. It's tart, but sweet, made with fresh limes and a secret ingredient (spoiler alert: sweetened condensed milk) that makes it mildly creamy.  It looks a little strange but is refreshingly delicious and unlike any other beverage!
The first question that people generally ask about Brazilian Lemonade is why it's called lemonade when it's actually made with limes??  In Brazil, lemons are not common.  Their word for lemonade, "Limonada" actually refers to limes.  And in Brazil, they actually call this beverage  Swiss Lemonade.  This is because the signature ingredient there, Nestle brand sweetened condensed milk, shows a Swiss milkmaid on the label.  So.  We've got Brazilian lemonade, which they call Swiss Lemonade, which is actually limeade.  Got it?  All you need to know is that it's DELICIOUS.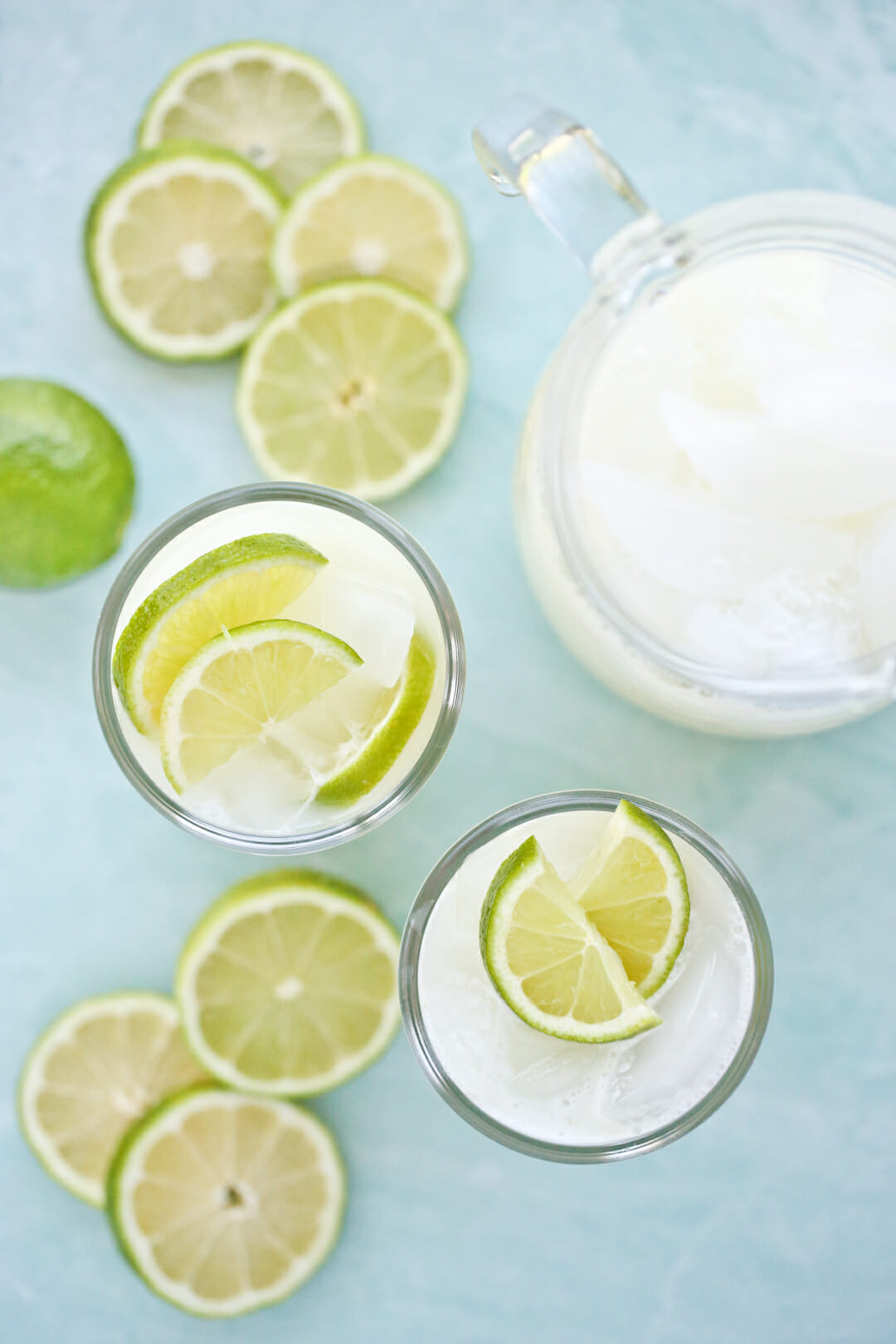 Make a Simple Syrup and Mix Limes
The first thing you'll do is make a simple syrup, and it's not cooked or anything.  You'll simply stir sugar into water and stir until it's dissolved.  You'll place part of that in a blender and add fresh limes, peel and all (no substitutes for fresh here).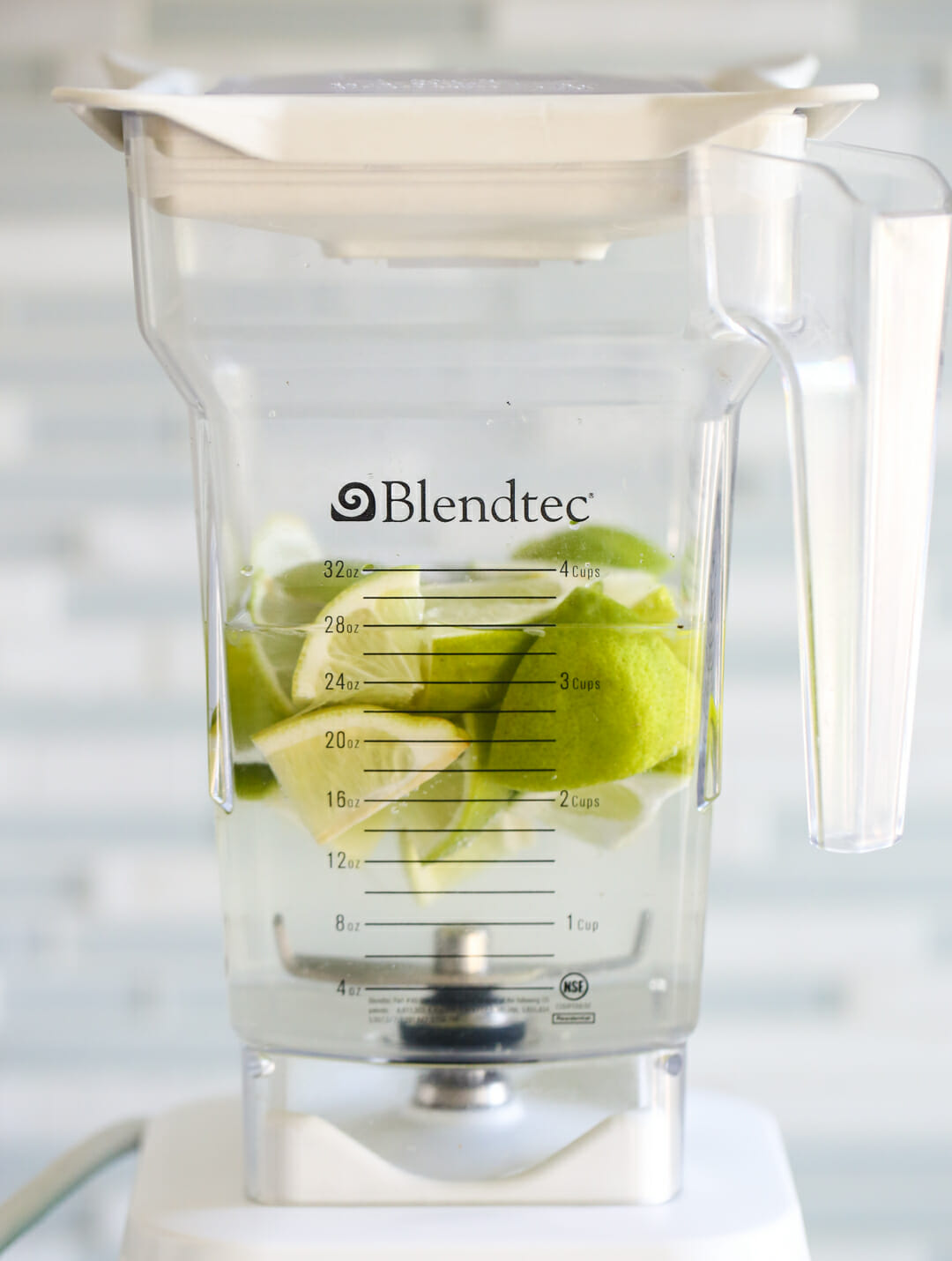 Pulse Mixture in Blender
You will pulse this mixture several times but DO NOT just blend the heck out of it.  If you do that, you'll break up the peel too much and blend in that bitter pith.   Using the whole lime and pulsing just a few times takes advantage of the flavors from both the juice and the flavorful oils in the rind.  I've made this using only the fresh squeezed lime juice, and it's better this way with the whole fruit!  I usually press the pulse button 4-5 times for just a couple seconds each.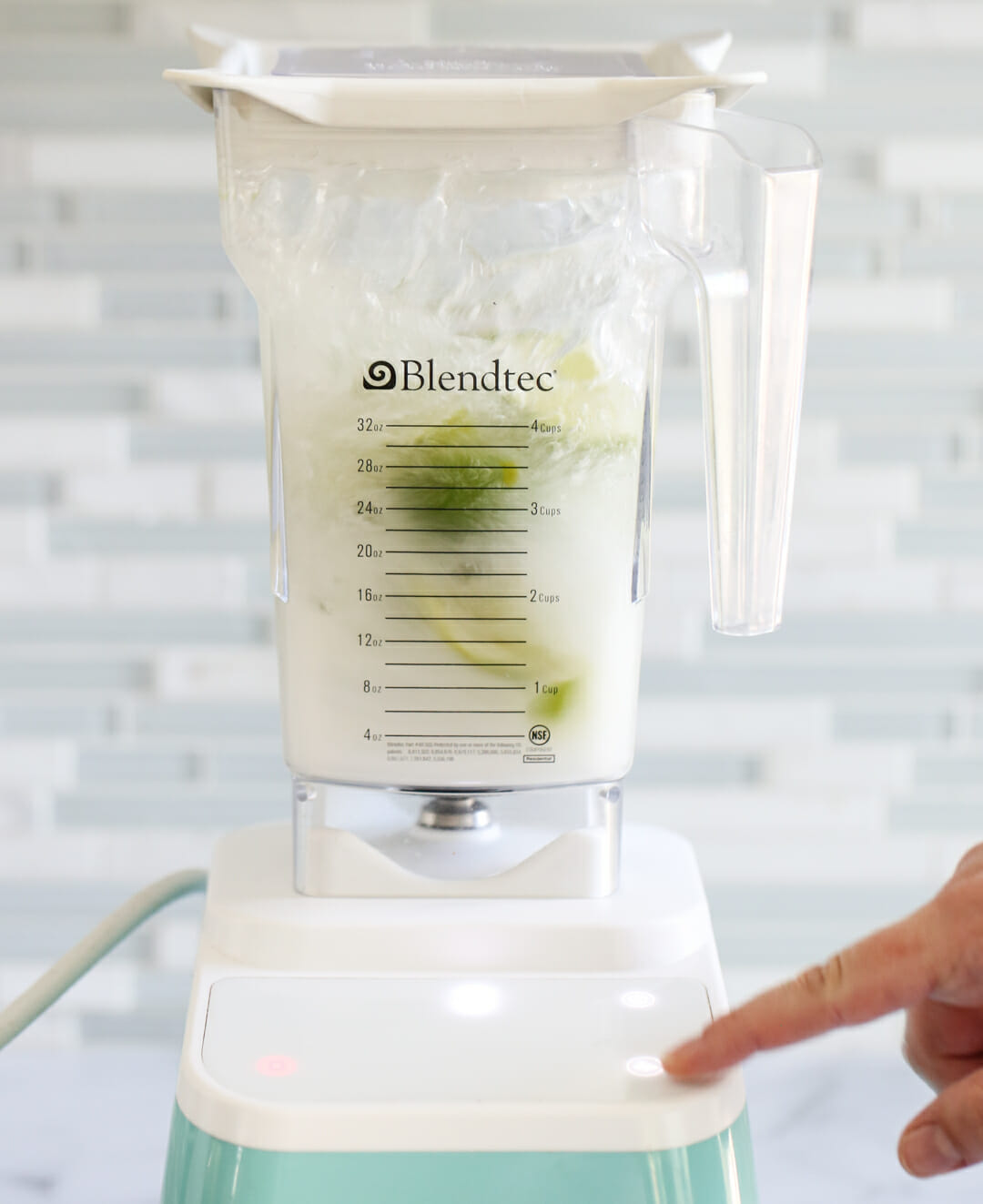 Strain the Brazilian Lemonade
Pour the mixture from the blender through a fine mesh strainer ( like
this one
) and into a pitcher, thus saving all of the flavorful liquid. You might need to do this in a couple of batches.  Use a spoon to smash down limes in strainer and extract all that great flavor.
Add Sweetened Condensed Milk
Then the secret ingredient: sweetened condensed milk.  You can often buy mini cans in the latin section of the grocery store.  This recipes needs about 1 1/2 little cans.  Since you'll probably want to double this recipe, that's 3 cans.  They also sell a squeeze bottle in the Latin foods section which is also helpful.   Or just open a regular sized can and make some chocolate sauce with the leftovers!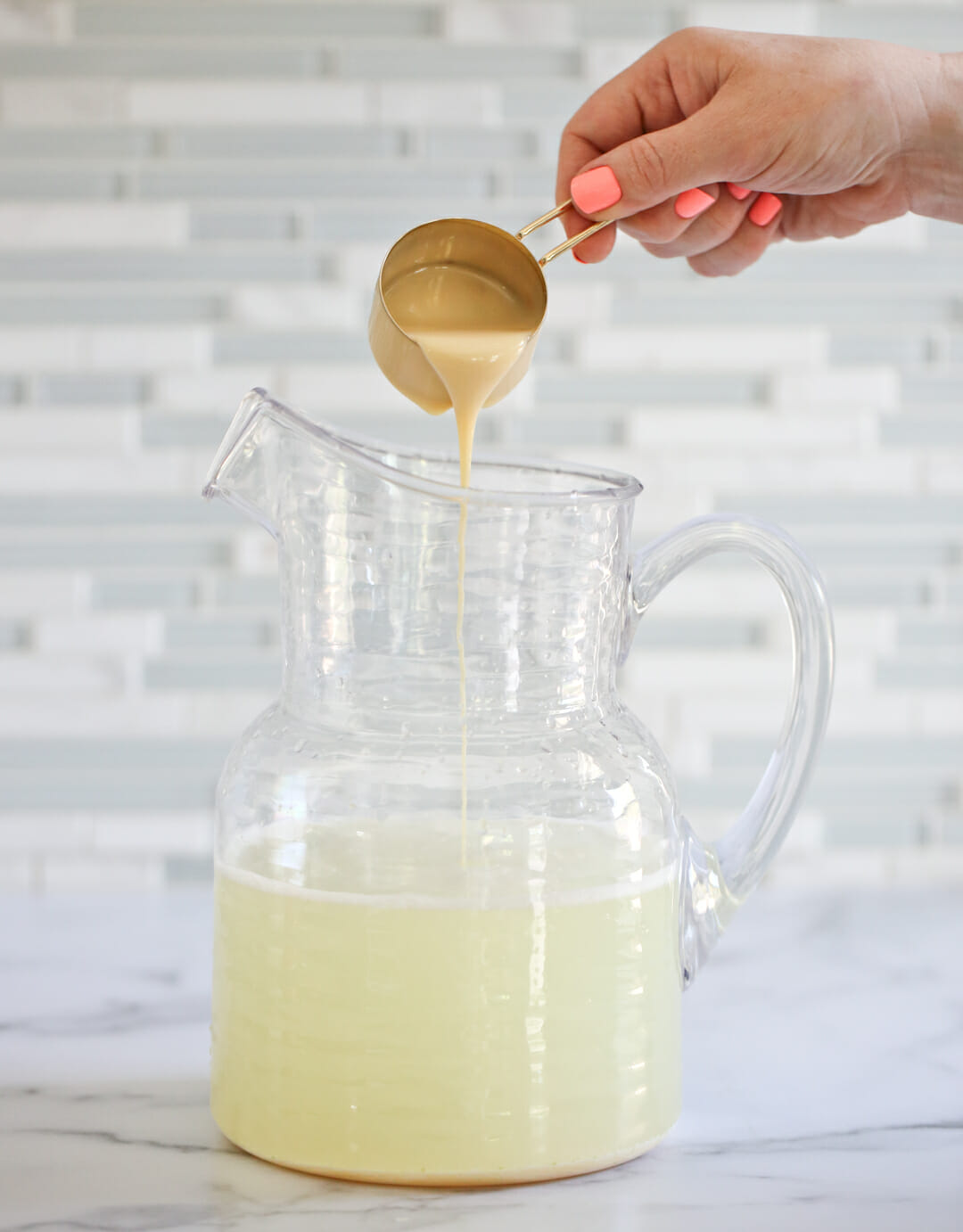 The sweetened condensed milk makes the drink itself look like milk, which is sometimes confusing to guests!  It's unique and so crazy good that I love serving this to people who have never had it before.
Chill and Pour
You'll want to avoid adding ice to your actual pitcher because it will water it down.  Instead, add ice to the glasses before you pour.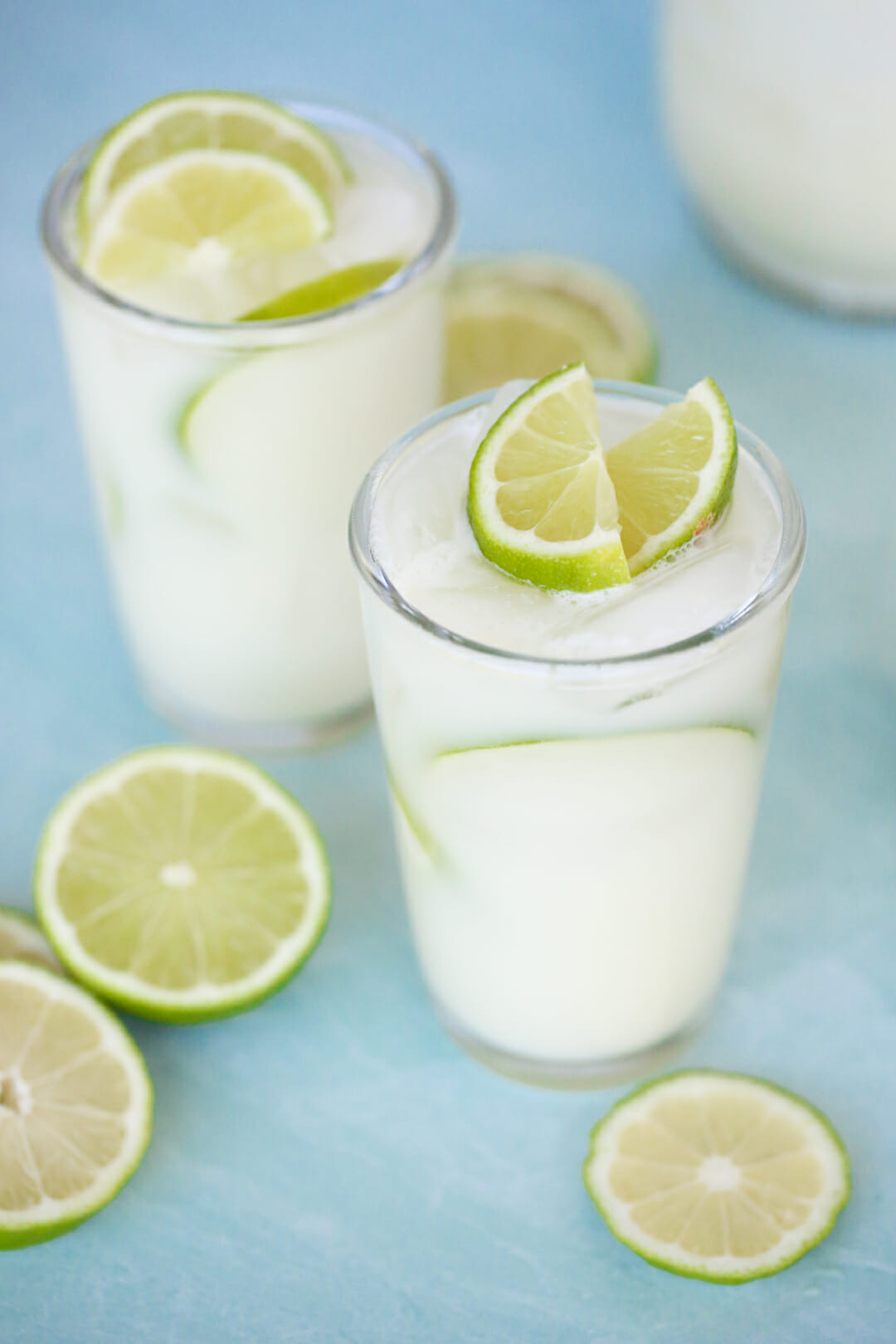 You can add fresh limes to the glasses if you like, it looks pretty and adds a little punch of extra flavor.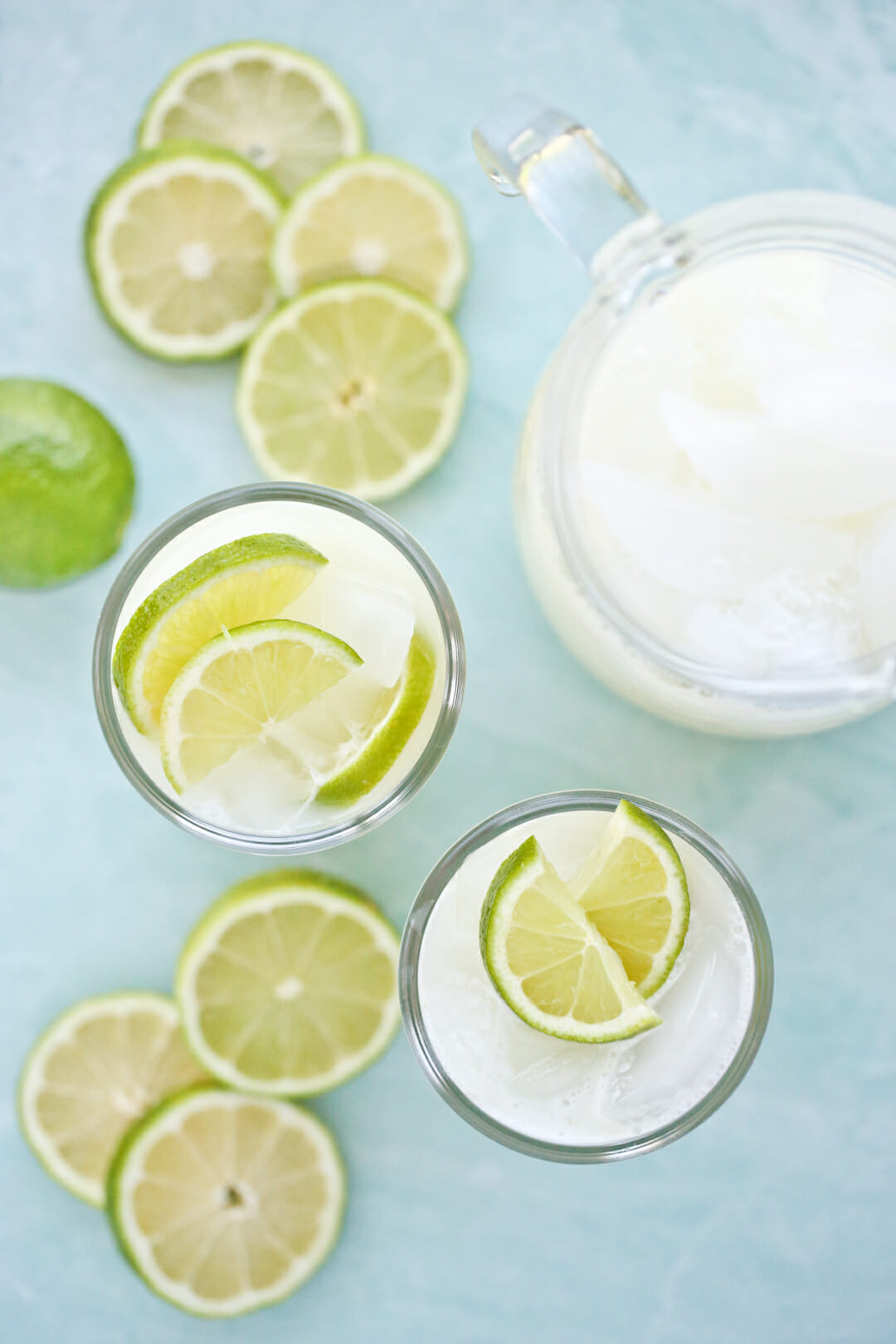 I hope you try a batch of this Brazilian Lemonade – it will most likely become your official drink of summer!
Print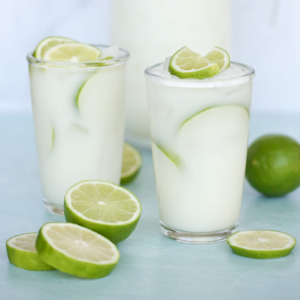 ---
Description
Citrus and sweetened condensed milk may sound weird but trust us on this amazing Brazilian beverage that's cool, creamy, sweet-tart and refreshing!
---
4

juicy limes (try and find ones with thin, smooth skins; they're the juiciest and the thin skin cuts down on the chance of your drink being bitter)

1 cup

granulated sugar

6 cups

cold water

6 tablespoons

sweetened condensed milk
---
Instructions
Mix cold water and sugar very well and chill until ready to use. This step can be done ahead of time.
Wash limes thoroughly with soap (hand-dishwashing soap or regular hand soap works great). Cut the ends off the limes and then cut each lime into 8ths.
Place 1/2 of the limes in your blender.
Add 1/2 of the sugar water, place the lid on your blender, and pulse about 5 times. Place a fine-mesh strainer over a pitcher (the one you'll serve the lemonade in) and pour the blended mixture through the strainer and into the pitcher. Use a spoon to press the rest of the liquid into the pitcher. Dump the pulp and stuff in the strainer into the trash. Repeat with remaining limes and sugar water.
Add sweetened condensed milk and stir.  You may want to taste test it at this point; Sometimes if you use bitter limes, it will need more sugar and maybe a little more milk.
Serve immediately over lots of ice. This does not keep well, so don't make this in advance (although you can cut the limes, mix the sugar water, and measure the sweetened condensed milk in advance).
---
Notes
Serving Note
Serves 4, technically, although I can pretty much guarantee you that people will want more.  You can double, triple, etc.  the recipe.  Just make in batches that will fit in your blender.
---
*Disclaimer: This post contains affiliate links.