This Chicken Taquito recipe is one of the all-time most popular recipes on Our Best Bites. The story behind it is interesting, too. I was actually making something entirely different that I planned on entering into a recipe contest. That recipe was somewhat of a flop, but the filling I came up with was amazing and I thought it would make an incredible filling for a crispy taquito. So I said forget-it to the recipe contest, and re-worked the filling in these crispy oven-baked taquitos, and turns out it was one of the best decisions ever, as this recipe has become a beloved family favorite all over the country.
These come together fairly quickly, and an awesome bonus is that these freeze (unbaked) beautifully so you can make extra and have a meal for later.
You'll need some cooked, shredded or diced chicken for this recipe. You can use a mix of dark and/or white meat, or whatever is easiest. For me, easiest is often a rotisserie chicken from Costco.
The "creamy" component in this recipe comes from a couple of things. For starters, I use a little bit of cream cheese. It melts together with the shredded jack cheese to make an awesome creamy texture that coats the chicken.
You can use either plain Jack cheese, or pepper jack if you'd like a little more heat.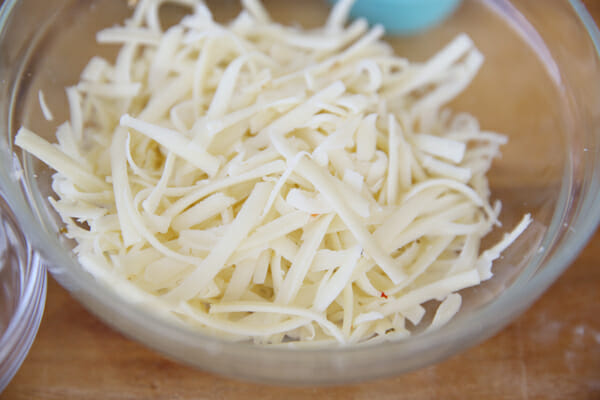 Some other things go in there for tons of flavor, like some green salsa,
green onions, fresh lime juice, and plenty of seasonings.
Just mix it all up and your filling is done.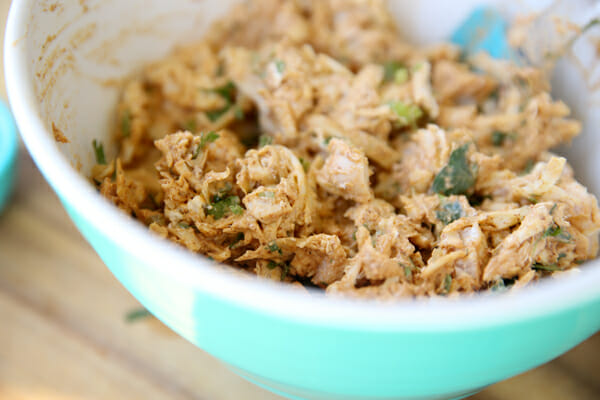 You'll place a few tablespoons on small flour, or corn tortillas and roll them up tight. You'll want to keep your filling about an inch away from both ends because it will leak out the ends. Another trick is to roll them tight. Don't be loosey-goosey or they'll fall apart.

Once you get them all rolled up, you can either bake them immediately, OR
save them for later. I've taken these to friends in a bag like this one below. They're great in the fridge for a few days and you can bake them up as needed. Or you can freeze them and bake them straight from the freezer. It's totally worth it to make a double batch so you can pop one in the freezer!
To bake them immediately, lightly spray a foil-lined baking sheet with non-stick spray, or brush lightly with oil. Place the taquitos in a single layer, not touching each other, and then lightly brush the tops with olive oil, or give them a quick spray of non-stick spray and sprinkle lightly with kosher salt.
Bake them in the oven until they turn golden brown, especially on the edges.
You can see how the bottoms totally crisp up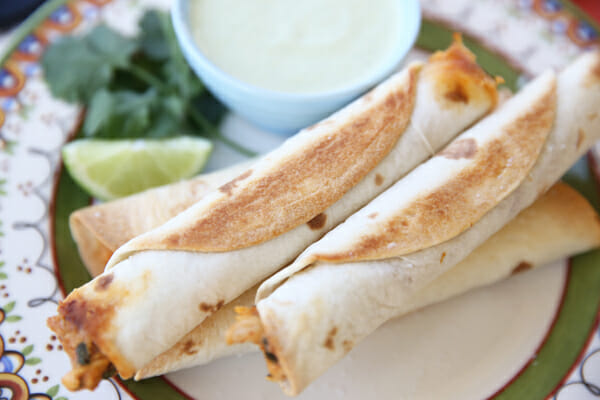 and while that outside tortilla is perfectly crisp, the inside layers are soft and awesome.
These are seriously amazing.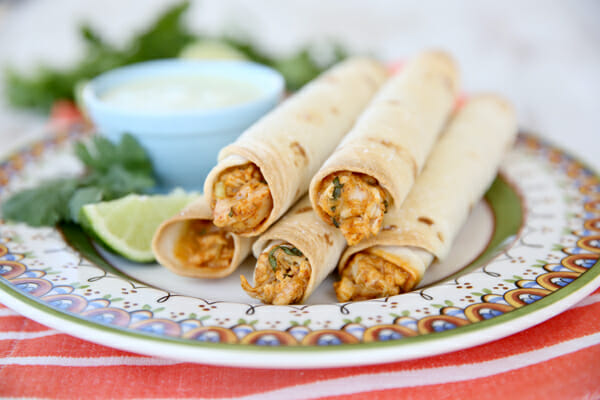 It is absolutely mandatory to serve them with our Creamy Lime-Cilantro dressing for dipping, but they're also good with good ol' salsa, sour cream, and guacamole.
If you've seriously never tried these, today is your day. Put them on your menu plan!
Print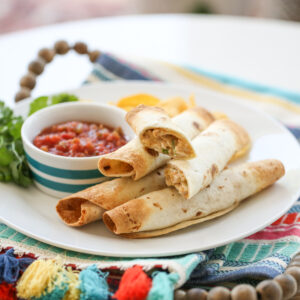 Baked Creamy Chicken Taquitos
---
Description
These taquitos are an all-time reader favorite, and it's so easy to see why. Pair it with our Creamy Lime Cilantro Dressing for a fantastic Latin dish!
---
1/3 cup

(

3 oz

) cream cheese (low fat is fine, avoid fat free)

1/4 cup

green salsa

1 tablespoon

fresh lime juice

1/2 teaspoon

cumin

1 teaspoon

chili powder

1/2 teaspoon

onion powder

1/4 teaspoon

granulated garlic, or garlic powder

3 Tablespoon

chopped cilantro

2 Tablespoon

sliced green onions

2

C shredded cooked chicken (for extra yumminess, use grilled taco chicken!)

1

C grated pepperjack or plain jack cheese
small flour or corn tortillas
kosher salt
cooking spray or olive oil
---
Instructions
For the filling
Heat cream cheese in the microwave for about 20-30 seconds so it's soft and easy to stir.
Add green salsa, lime juice, cumin, chili powder, onion powder and granulated garlic.
Stir to combine and then add cilantro and green onions.
Add chicken and cheese and combine well.
(You can prepare up to this step ahead of time. Just keep the mixture in the fridge.)
For the taquitos
Heat oven to 425. Line a baking sheet with foil and lightly coat with cooking spray.
If using corn tortillas, work with a few tortillas at a time and heat in the microwave, wrapped in damp paper towels until they are soft enough to roll without cracking. Usually 20-30 seconds will do it. If using flour tortillas straight from the fridge, it helps to warm them in the microwave so they're easier to roll.
Place 2-3 T of chicken mixture on the lower third of a tortilla, keeping it about 1 inch from the edges. Roll up tortillas and place seam down on a baking sheet, not touching one another. Spray lightly with cooking spray, or lightly brush with olive oil and sprinkle lightly with kosher salt. Place pan in oven and bake for 15-20 minutes or until crisp and the ends start to get golden brown. Remove from oven and let cool slightly before serving. Dip in sour cream, or our favorite: Creamy Lime-Cilantro Ranch.
For the freezer instructions
Prepare the taquitos through rolling them out and placing them on the baking sheet. Place the baking sheet in the freezer and freeze until solid, then transfer to a large freezer bag. When ready to cook, preheat oven to 425 and place the taquitos on a lined baking sheet. Bake for 20-25 minutes or until golden brown and crispy.
---
Wanna make it a meal?
Serve with a side of Black Beans and a simple green salad with Creamy Lime-Cilantro Dressing. Wash it down with some Brazilian Lemonade!
Looking for the beef version? It's right here!
Lastly, recently this recipe was noted in an article in the Chicago Sun-Times where the author noted that they were "some of the best taquitos I've ever had"
I'll take it!