This Asian BBQ Chicken recipe is always on my most-requested list! That may be because I make it so often for company. And that may be because it's always a reliable hit. It's one of the very first recipes I ever posted here on the blog and it was long overdue for a photo makeover!  If you haven't discovered this one, then definitely put it on your to-make list.  And check out my recommendations for side dishes at the end of this post, because it's so, so great with a yummy rice dish, and I've got several for ya!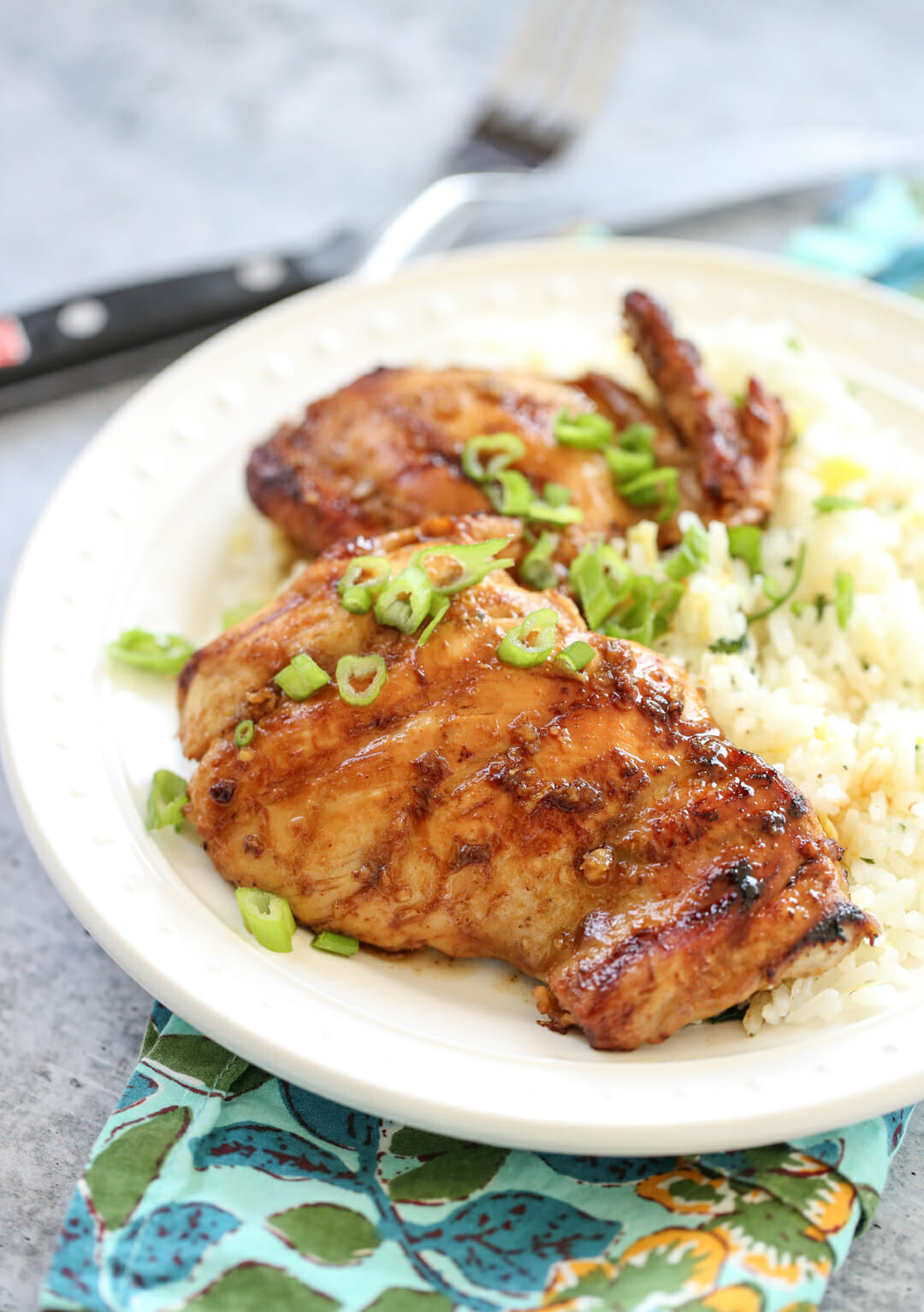 Start with a little somethin' somethin' sweet: brown sugar.

And some freshly grated ginger.
Brown sugar + fresh ginger = love.
And some
fresh garlic
.
Brown sugar + fresh ginger + garlic = supa' love.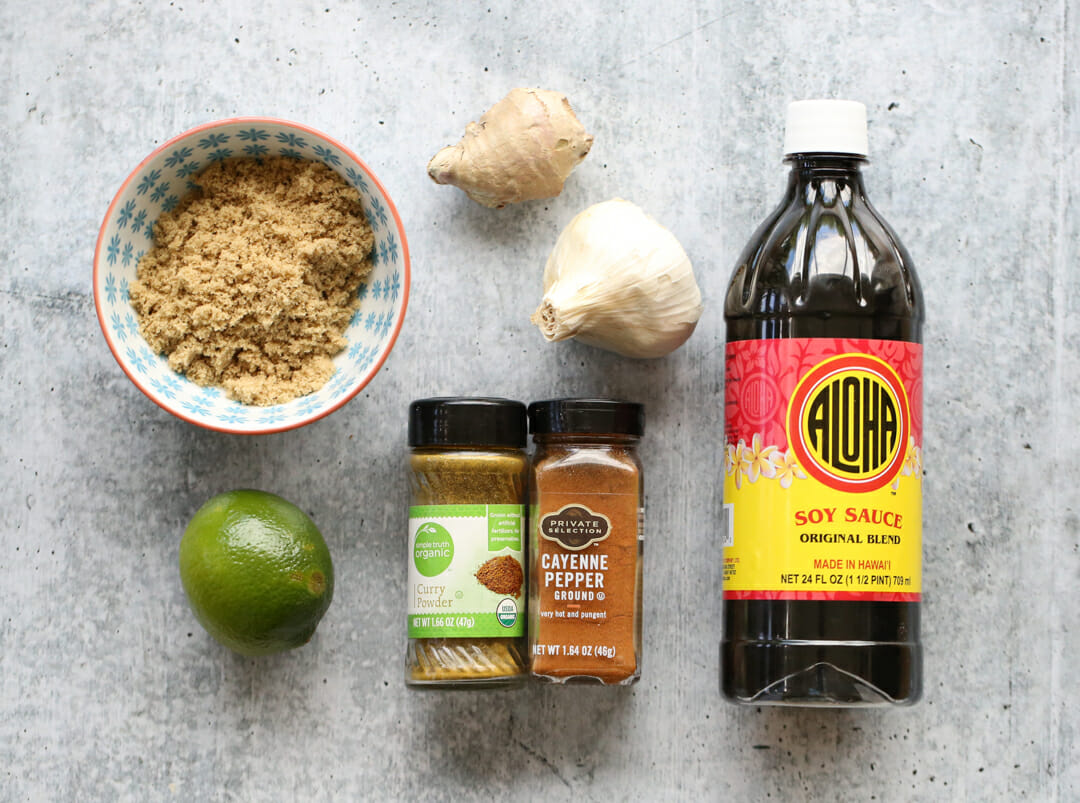 For a little kick, toss in some red pepper flakes.  It does add a little bite, but not crazy spice.  My toddlers eat it.  They also eat sand and stuff they pick out of their noses, so maybe they're not the best judges, but take it for what it's worth.
And some curry powder.
Make this easy on yourself and toss all of this in a ziplock bag.
Now that we've got the dry flavors- add the liquids.
A squeeze of fresh lime juice.
Squish it all together, and add your chicken.
And seriously, make it with chicken thighs. Don't argue with me.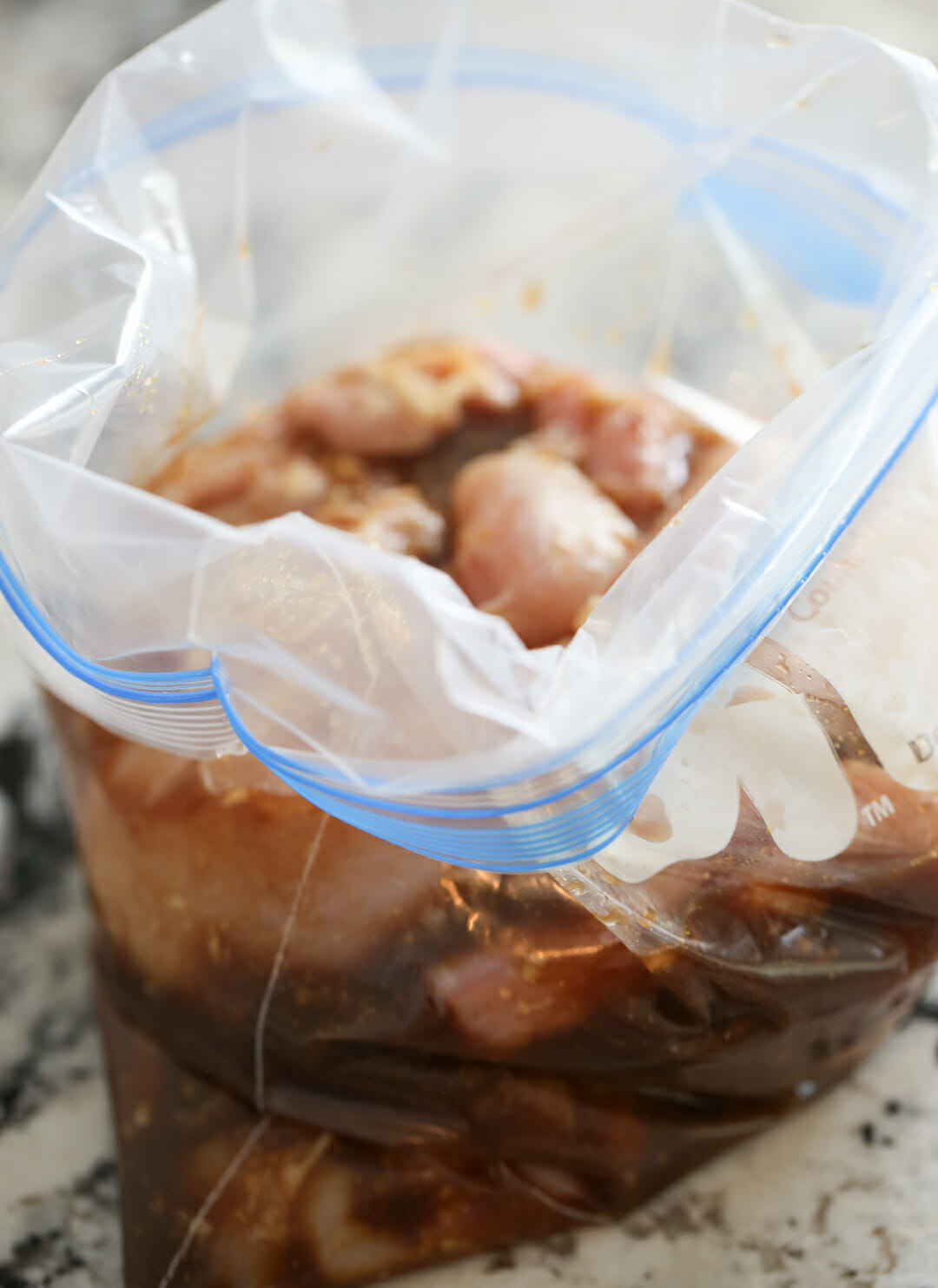 Then grill it up on your bbq (or use an indoor grill pan or broiler if you don't have a bbq)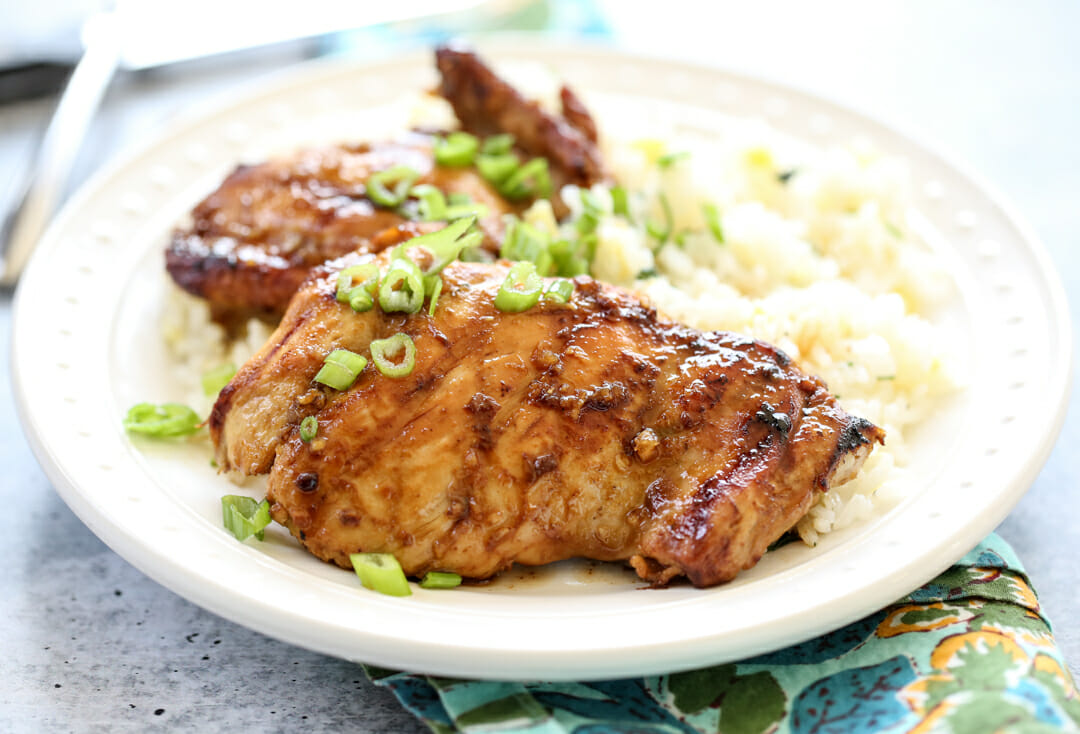 One of the reasons I love this chicken is that it can be served with so many things.  You can go Asian-ish, or Thai-ish, or Polynesian-ish.
I love it with this Lime-Cilantro Rice with Pineapple, and it's also great with Sweet and Savory Coconut Rice, or even Fried Rice.  When I made it for these photos I made some Jasmine rice and when it was done cooking I added a few pats of butter, a handful of both sliced green onions and cilantro, some diced mango and salt and pepper.
And if you end up with extra chicken, try this Asian BBQ Chicken Pizza!
Print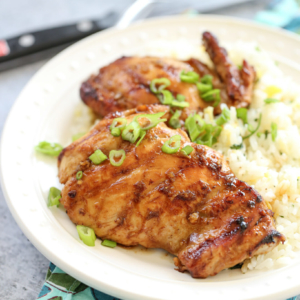 Asian BBQ Chicken
---
Description
A combo of sweet and savory, this chicken compliments any Asian or Island inspired meal.
---
1/4 C packed brown sugar
1/4 C soy sauce
2 T lime juice (about 1 lime)
1/4 t cayenne pepper
1/4 t curry powder
3–4 garlic cloves, minced
1 t grated fresh ginger
8 boneless, skinless chicken thighs
Optional: sliced green onions for garnish
---
Instructions
Combine everything but the chicken in a small bowl. Whisk to dissolve brown sugar. Place marinade and chicken in a zip-lock bag. Pop that bag in the fridge for a minimum of 4 hours, or longer if you have it (even overnight).
Preheat a grill (or an indoor grill pan or broiler). Spray cooking surface with cooking spray and place chicken on it to cook. Cook for 5-10 minutes on each side depending on the thickness.  Optional:  garnish with sliced green onions.
---
Notes
When I make this I usually make 1 1/2 times the marinade.  I reserve some of the marinade before adding the chicken and then use it in the last few minutes of grilling, or just brush it on after for extra flavor.