This is an at-home version of a beloved restaurant dish at local Idaho chain, Smokey Mountain Pizza.  If you're ever in town, grab a bite over there, they've got lots of great food!  My husband worked there in high school and it's one of the first places we went when I made my first trip home with him to meet his family when we were dating.  This creamy pasta dish has lots of fresh veggies and tender chicken, and that dreamy Alfredo sauce you know and love, just with a little teriyaki twist!  Scroll past recipe card for some notes and photo instructions.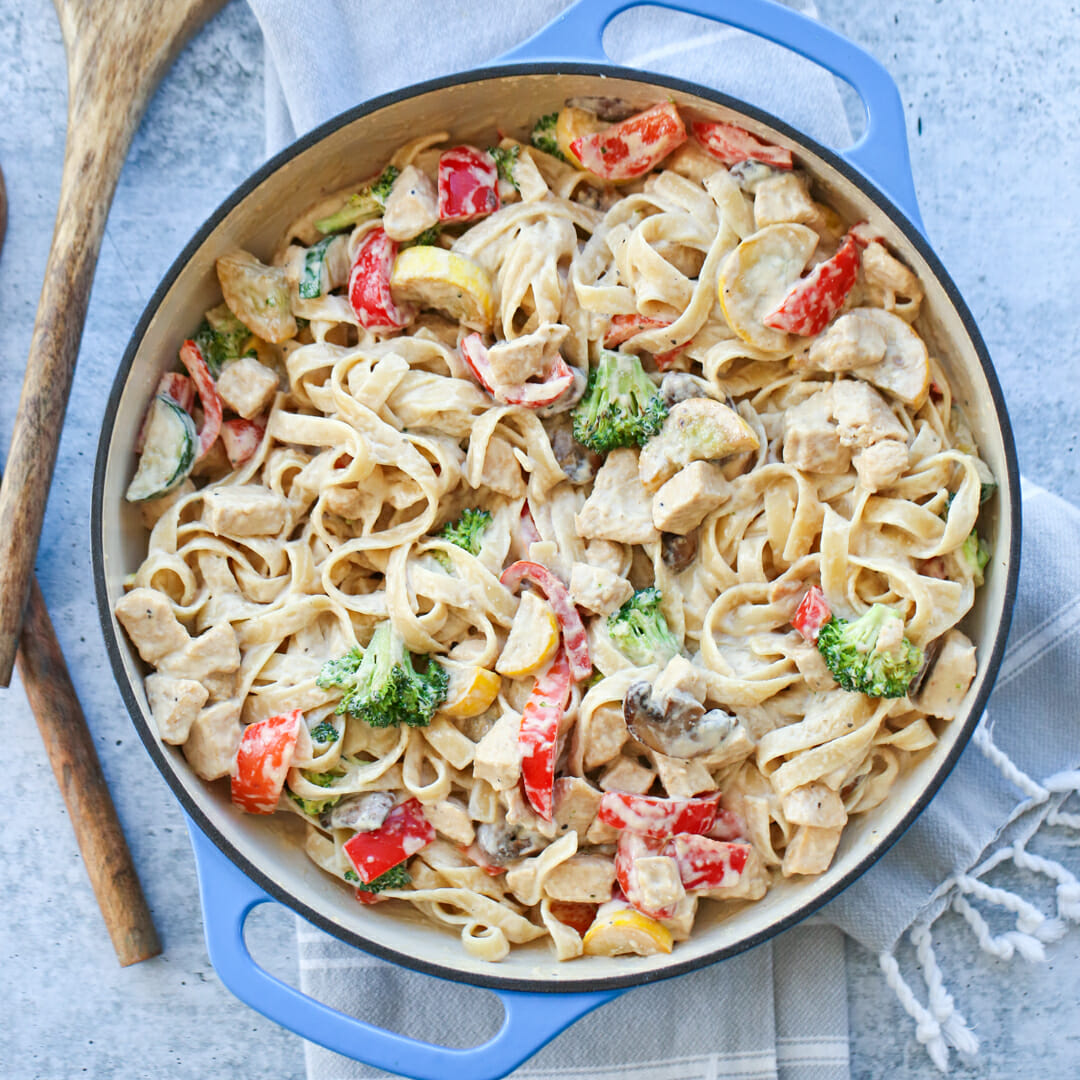 Print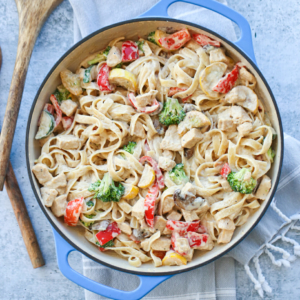 Teriyaki Chicken Alfredo
Author:

Sara Wells

Prep Time:

15 minutes

Cook Time:

25 minutes

Total Time:

40 minutes

Yield:

4-6 servings

Category:

Dinner

Method:

Saute

Cuisine:

American
---
Description
Creamy Pasta dish with with fresh veggies and a Teriyaki twist!  Feel free to use the veggies pictured, or mix it up depending on what you like or have on hand. It would be great with boneless skinless chicken thighs, as well.  Use an extra large skillet if you'd like to double it- I often double for my family of 6, including several hungry teenage boys!
---
1/2 pound fettuccini noodles (1/2 standard box)
2 tablespoons oil of choice, divided
4 cups assorted chopped veggies (bell pepper, zucchini, squash, broccoli, mushrooms, etc.)

For the Chicken
1 pound boneless skinless chicken breasts, diced into 1-inch pieces
1 teaspoon garlic powder
1 teaspoon onion powder
1 teaspoon dry ginger
1/4 teaspoon black pepper
1/2 teaspoon kosher salt
Additional Ingredients
3 tablespoons butter
1 cup heavy cream
1/4 cup good teriyaki sauce (I use Kikkoman Baste and Glaze, or homemade)
kosher salt and pepper to taste
---
Instructions
Cook pasta in salted water according to package instructions.
Heat a large skillet over medium heat.  Add 1 tablespoon of oil, tilting to cover bottom of pan, and then add vegetables.  Note:  If you have veggies that take longer to cook, bell peppers for example, put them in first and saute for a few minutes to soften before adding the more tender veggies so they are all done at the same time) Sprinkle lightly with salt and pepper and cook until tender-crisp, or however you'd like them (I like mine a little softer!) about 5-10 minutes.  Remove veggies and cover to keep warm.
While veggies are cooking, sprinkle chopped chicken with garlic, onion, ginger, pepper and salt.  Add remaining tablespoon of oil to skillet, tilt to cover bottom of pan, and then add chicken and cook until done.
Push chicken to one side of pan and add butter to open side of pan to melt.  Add cream and teriyaki sauce.  whisk together and then use a rubber spatula to stir it around with the chicken.  Bring it to a low simmer and cook for about 2 minutes.  It thickens slightly as it cooks.
Turn off heat, and add pasta and veggies to pan and toss everything together.  Season with salt and pepper to taste (this step is important,  the salt is purposely kept lower at the beginning due to varying amounts of salt in different teriyaki brands).  Sauce will thicken upon standing.
You are welcome to add more teriyaki if you'd like that flavor stronger.
---
Keywords: chicken alfredo pasta, chicken fettucine alfredo, teriyaki chicken
How to make Teriyaki Chicken Alfredo Pasta
Note: I've had quite a few people ask me if they can use our Guiltless Alfredo Sauce in this recipe. That's actually where I started years ago, the first time I attempted this.  You are welcome to try that if you like, but.  There's a reason why that version never made it to the blog! haha.  I went back to work on it one more time for this round and I started with the good stuff.  The stuff they would obviously use at an actual restaurant and that's when I realized that cream and butter made all the difference.  You are welcome to make any adaptations you want, obviously, but I do think it's best with the good stuff!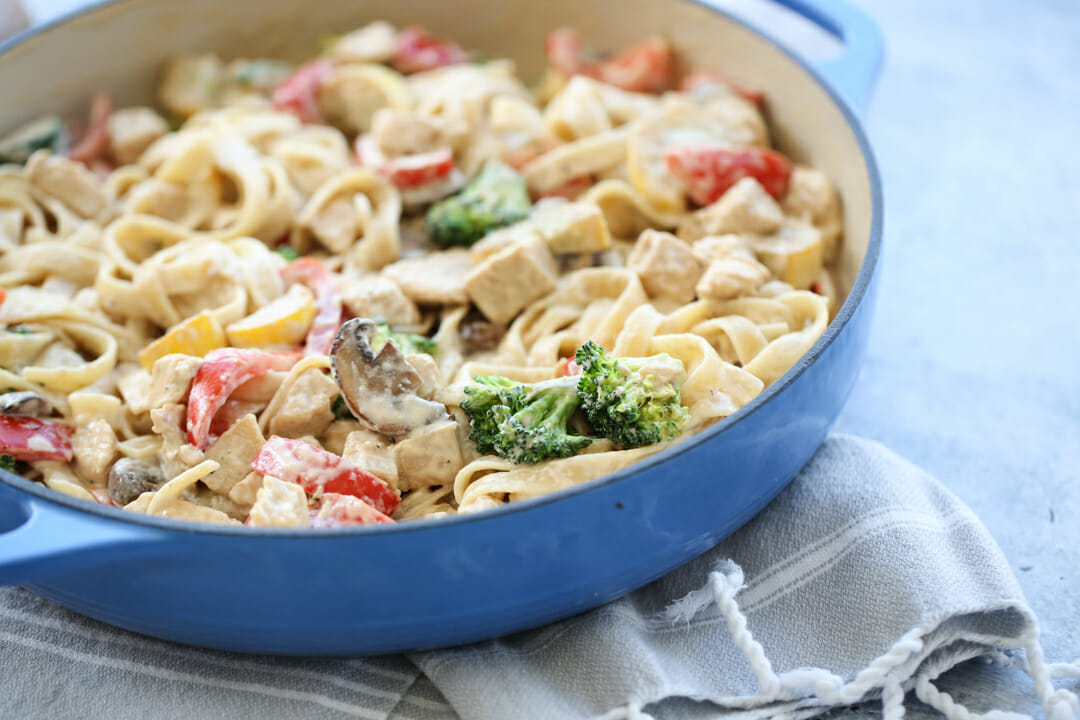 You'll need only a couple ingredients for this creamy, flavorful sauce.  Cream and butter (two hallmarks of traditional alfredo) and also a good Teriyaki sauce.  You can make your own Teriyaki Sauce, or if you want to buy something at the store, we are long-time fans of Kikkoman Teriyaki Baste and Glaze because of its thick texture and concentrated flavor.  You can use this in our Teriyaki Chicken Salad Sandwiches or Bacon Wrapped Teriyaki Chicken Skewers, too!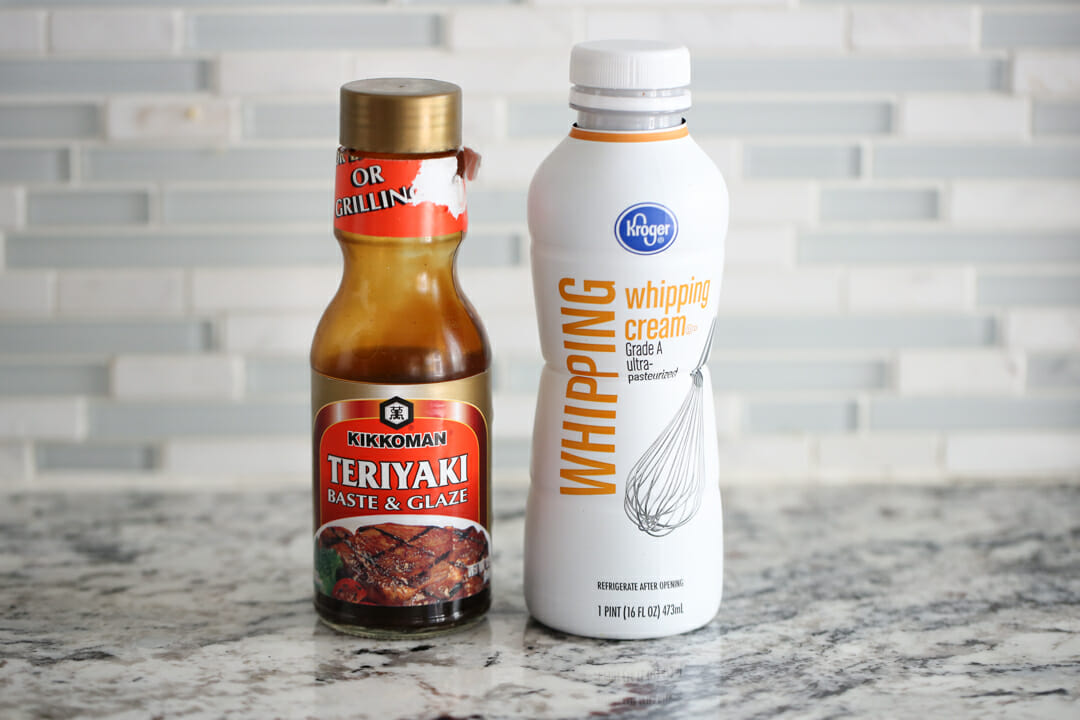 Choosing Your Vegetables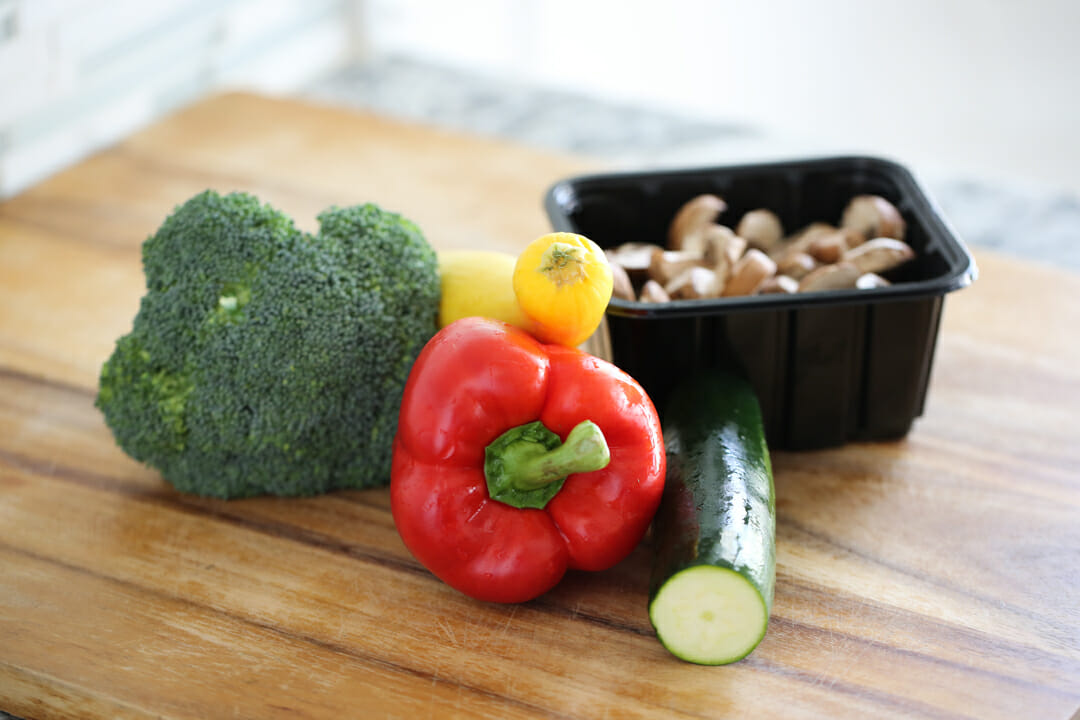 Feel free to use any veggies your family likes and eats. We like this recipe with broccoli, peppers, squash and mushrooms. I should add that my children eat none of these things by themselves, but they love them all mixed in with creamy sauce and pasta.  You'll want to chop or slice them in evenly sized pieces.  You'll saute these and then set them aside.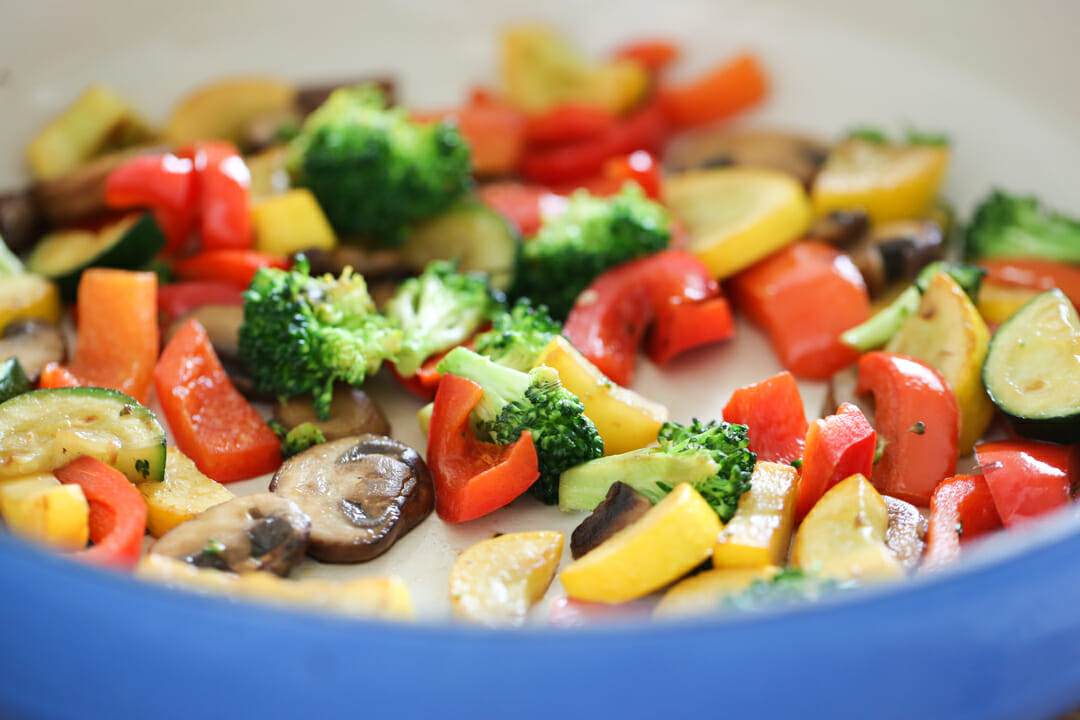 Cook the Chicken and Sauce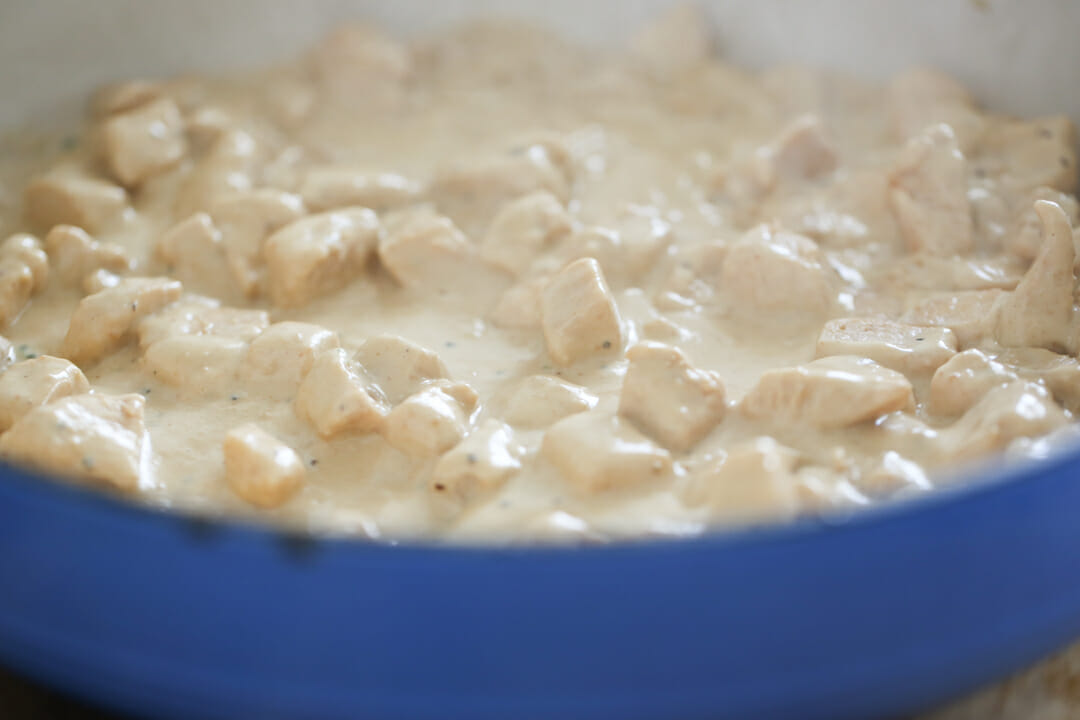 Diced chicken gets a quick spice rub and then cooks quickly.  Once it's cooked you'll add a little butter, cream, and teriyaki sauce and it will thicken as it bubbles away.
Toss it all together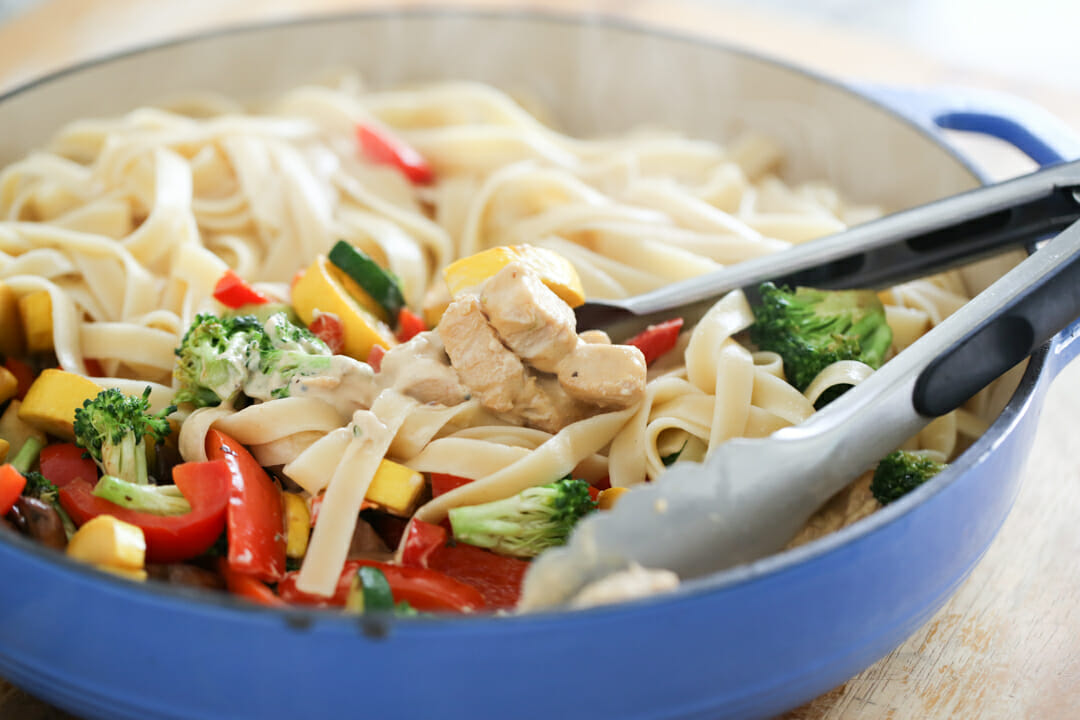 Toss your veggies and cooked pasta in there and it's all ready.  I've tried to over-complicate this dish in the past, (and also make it lower calorie) and I found that its simplicity, and using good ingredients (ie, cream!)  is what made it so great!  Hope you enjoy this one at home!