Every time I make this Black Bean Soup I think of
this clip
from Ratatouille. And it's not because of any filthy vermin sticking their nasty paws into my soup (was anyone else grossed out by that?) It's because of Anton Ego's childhood flashback. I love the way his eyes get huge as it zooms him back to his boyhood home. My flashback isn't to my childhood (if it was then this would be a post about some sort of heart-warming casserole involving cream of something soup). Instead, it takes me to this place
:
That's a quaint little house in the middle of a palm-covered oasis in Maceo, Brazil. It's the kind of place where you play pick-up soccer games barefoot in the middle of a palm clearing, and half of the members of your team have more than 2 legs.
And the kind of place where you can ride a horse into a lagoon and catch a guy in a canoe half way out who gives you a fish for dinner.
It's where some dear friends of ours live, and several years ago after a long day we sat around a creaky old table late one summer night while the cute little housekeeper made us a big pot of black bean soup. It was one of the best things I've ever tasted, probably in part because it represented so many memories and experiences for me. I was in a place and with people I had grown up hearing stories about, and I was with my Father who had told me those stories when I was a child. The whole thing was just surreal. I had just finished spending a year and a half in Brazil by myself and at that point I finally understood why it was such an important place to my Dad. We suddenly shared a bond centered on a culture, a language, and a people that we adored. Somehow that soul-warming soup represented all of those emotions so I've tried to replicate it ever since. I made countless versions over the years, tweaking and tweaking and starting all over. One day when I didn't have anything fancy to throw in it, I made it with the most basic ingredients, and even though I know this is probably not anything like the one the housekeeper made from the vegetables in the garden and fresh, local peppers and spices, it's the only one where when I took a bite, my eyes got wide and my mind zoomed back to that summer night. That's when I knew that this was the one. Something about it brought all of the memories back, and because of that it's on my list of big-time comfort foods. And because it takes minimal ingredients, and ones I almost always have on hand, it's also a regular on our menu.
The great thing is that it's super low-calorie,

and

high in fiber, so you can totally afford to throw some toppings on there (which they totally
wouldn't
do in Brazil, just for the record. Tortilla chips? Blasphemous! But I am American and I know no one will hunt me down. It's way better with toppings.)
It's also a great side for a big southwest salad, or paired with a grilled sandwich (we love it with pepper jack panini).
And don't forget the Brazilian Lemonade!
Alright, enough story telling- onto soup!
Start by sauteing some carrots, onion, celery, and garlic.  Pretty much the standard "soup starters."
And then some green chilies, beef broth, and a bunch of spices. 
Simmer for 20-25 minutes and then puree until smooth.  Add the juice from one juicy lime and then top with stuff like cheese, sour cream, chopped cilantro, tortilla chips, etc.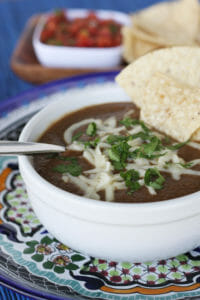 Print
---
Description
This Brazilian inspired Black bean soup is all at once homey and magnificent in it's simplicity. Perfect on it's own as a light meal, but also great as a side for a big Chipotle Chicken Taco Salad, or paired with a grilled cheese sandwich. We particularly love it with a pepper jack panini.
---
1 tablespoon olive oil
4 large cloves garlic, roughly chopped
3/4 cup diced carrots (about 2 med carrots)
3/4 cup diced celery (about 2 ribs)
1 cup diced onion (about 1 small-medium onion)
2 cans black beans, rinsed and drained
1  3.5-ounce can green chilies
2 cans low-sodium beef broth
1 teaspoon kosher salt
1/8 teaspoon black pepper
1/2 teaspoon chili powder
1/4 teaspoon cumin
1/2 teaspoon dry oregano leaves
Optional Toppings: sour cream, tortilla chips, grated cheese, chopped cilantro, etc.
---
Instructions
Place a large stock pot on the stove-top and set to medium-high heat.  When pan is warm, add olive oil.  Add carrots, celery, onion, and garlic and sauté 4-5 minutes.
Add in the black beans, chilies, and beef broth. Stir to combine and then add the salt, pepper, chili powder, cumin, oregano, and bay leaf.
Simmer uncovered for about 20-25 minutes or until carrots are tender.
Remove from heat. Remove bay leaf from soup.
Place soup in a blender. (You could use an immersion blender in place of this step.) Place lid on blender, but remove the stopper in the lid to let heat escape. Place a paper towel over the hole to avoid splatters.
Puree soup until completely smooth.  Optionally you could pulse until a semi-chunky soup is achieved. Squeeze in the juice from one lime and pulse to combine.
Ladle into bowls and top with desired toppings. Serve with extra lime wedges.
---
---
Nutrition
Serving Size:

1 cup, no toppings

Calories:

125

Fat:

2g

Fiber:

8g