This is one of our favorite holidays in the shop because it's a time that women celebrate women!  Mother's Day isn't just for you and your Mom, it's about sisters, friends, and other influential women in your life that play that role of "mother".  So we're sharing some super fun ways to gift unique items from our shop and giving you a code to save some dough!

First of all- you guys have been anticipating these cute cups and they're finally here!  Our hand-lettered tumblers are double-walled to keep cold stuff cold and each design was created by yours truly.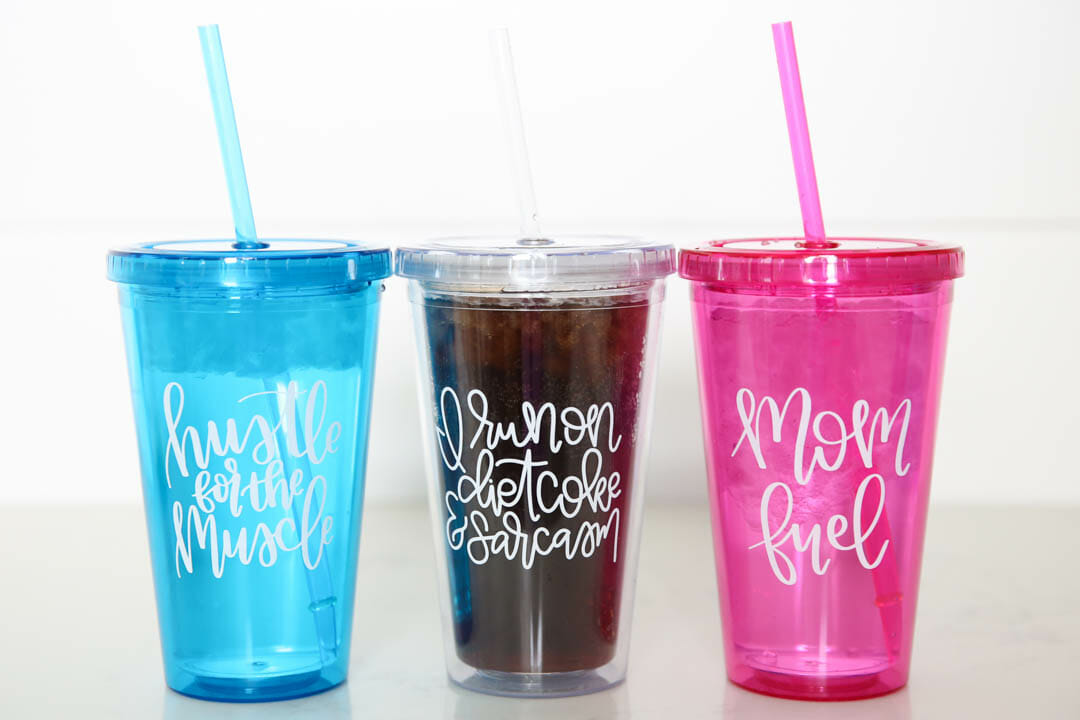 And we also have THE cutest packs of sunshine-y rainbow straws you can get to go along with them!  Guys, everything tastes better when you sip it through a rainbow straw.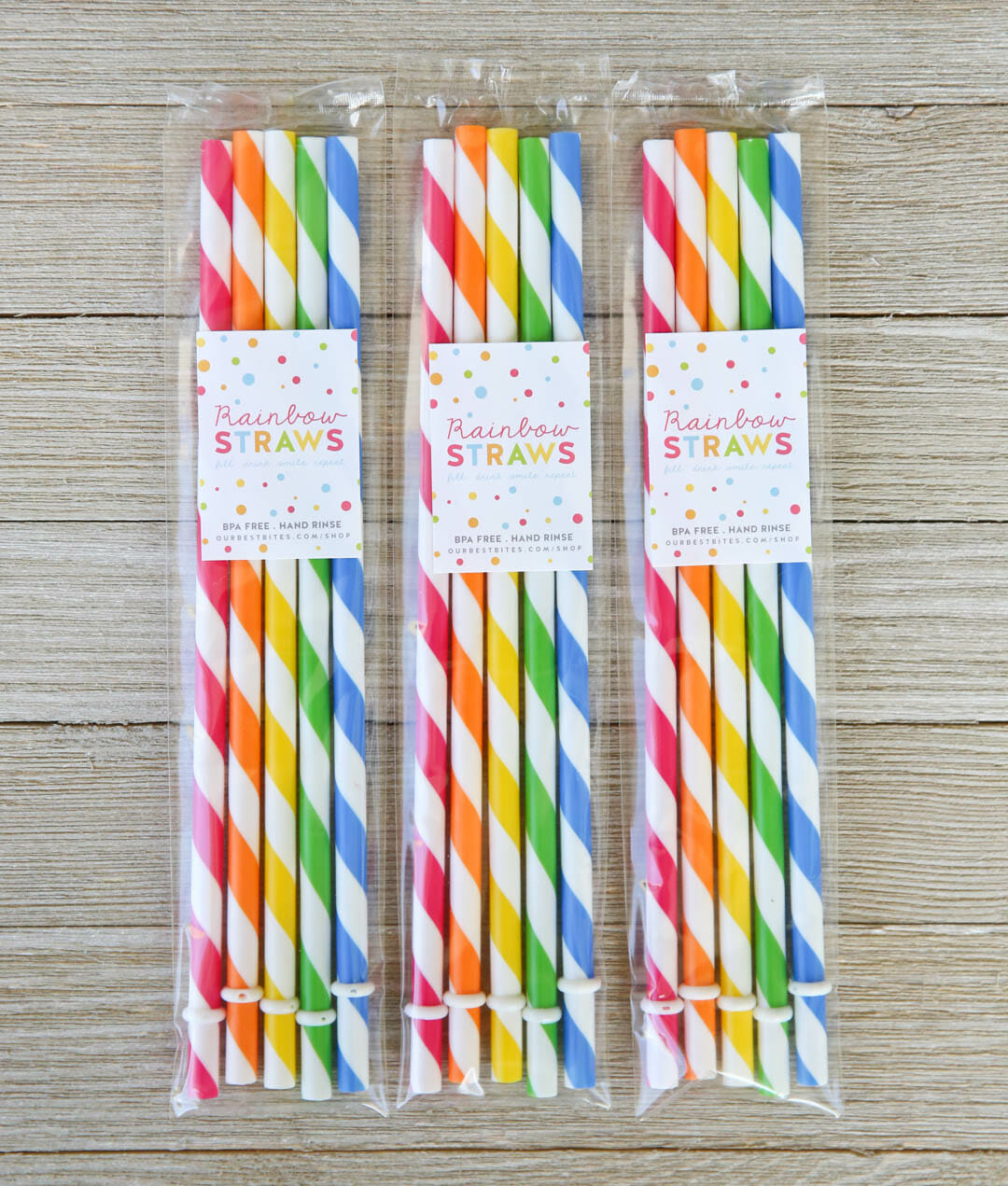 Kate and I created these because these types of cups are one of our favorite things to gift!  I keep cups like these stocked up for last-minute gifts. It's the perfect container to stuff with goodies- here's some ideas!
Let's be honest, all most Moms need to survive is chocolate and a jolt of caffeine.
Stuff this cute pink cup with your favorite treat and some single-serve drink packets.  Bonus: These cups are sized perfectly for those packets!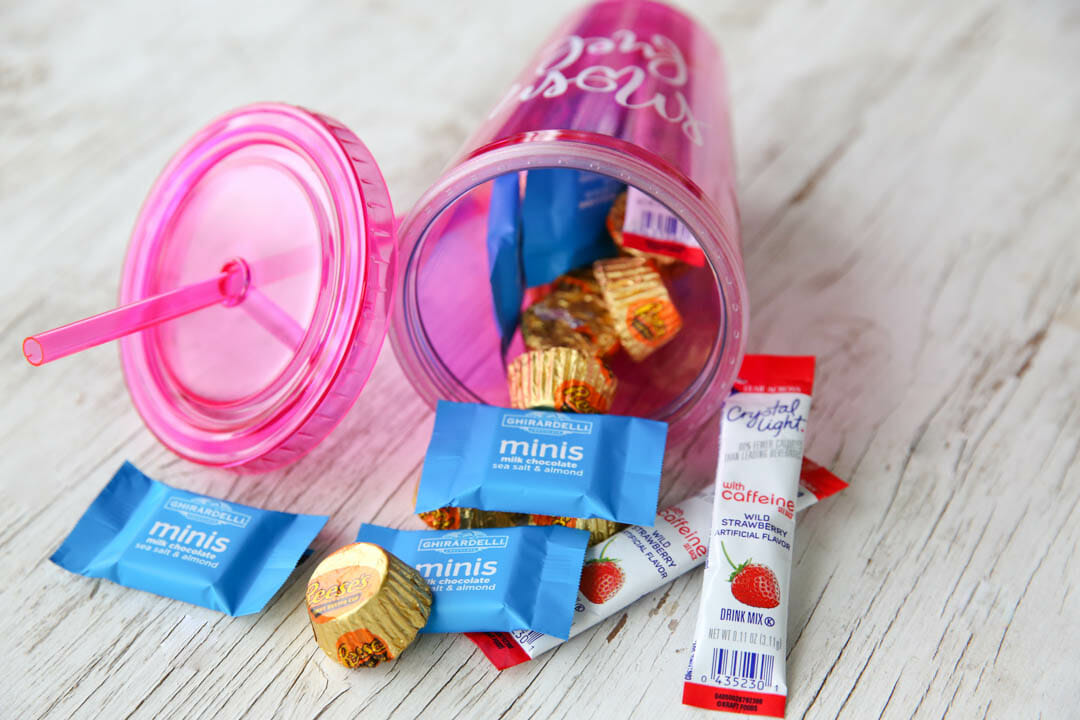 Diet Coke fans- how about a cute gift basket with supplies to make a Dirty Diet Coke??  Inexpensive and so fun!  Toss a lime in there, too, or a few packets of True Lime Powder!
If you've got fit-friends, our Hustle for the Muscle cup is perfect.  Fill it with a few mini beauty products, some healthy-ish treats, and maybe even a little gift card.  This is one of my favorite birthday presents to give to girlfriends.
Your discount code isn't just for tumblers- it's good for the entire site!  Grab a couple bottles of our flavored Extra Virgin Oil or sweet and tangy Balsamics and put together a cute gift in no time.
Our large Balsamics come in gorgeous frosted glass bottles. They're so beautiful you don't need much else to go along side them.  Try a set of fun serving utensils or a stylish spoon.  These gorgeous salad servers are from World Market, as is most of the extras featured in this post.  (It's not sponsored, I'm just a huge super-fan!) Our vinegars aren't like others you've tried. They're thick and syrupy and work beautifully in both sweet and savory dishes.  I LOVE this Vanilla Fig one drizzled over cheese, glazed on pork, or even mixed with berries over ice cream.
Try a little spin on the traditional gift basket and place your goodies in a colander.  I grabbed a inexpensive, but fancy looking bag of Italian pasta and an olive wood spoon, and paired it with our Lemon and Rosemary Extra Virgin Oils (two of my most favorites).  This is basically dinner in a bowl!
Cutting boards are always a great pairing for a culinary gift.  Grab a nice one and you don't need a whole lot more.  This piggy was just begging to be paired with our Smoked Bacon Olive Oil!  I added a little Mini Heart Whisk for the perfect finishing touch.
Our Letterpress Gift Boxes are one of our most popular gift items.  The packaging alone is gift-worthy, but pair it with a pretty spice grinder and it takes it up a notch.
Okay, this is one of our favorite uses for our olive oil.  If you have some and you have yet to drizzle it over popcorn- do it!  I've just put some popcorn kernels in a pretty jar, along with a little jar of our homemade taco seasoning, and paired it with both our Lime and Chili Olive Oils.  All you do is pop your popcorn (however you like, in a pan, in a popper, in the microwave, etc) then toss it with olive oil and seasoning to taste.  Ohhh my goodness it's so good. (PS this is one of my most favorite salad bowls– doubles as a great popcorn bowl!)
And last but not least, my very favorite go-to gift:  A bottle of our bestselling Dipping Oil and a loaf of yummy bread.  Side note:  I LOVE this bake at home bread, have you guys tried it?  You can buy it at Costco, many grocery stores, and this was at World Market.  If you're mailing a gift, this is a great option!  It's vacuum sealed so you can bake it any time and it is so soft and fresh with a crackly crust and tastes fresh from the bakery.  You could also grab a loaf of fresh bread from an actual bakery if you're gifting right away.  This is our go-to gift for new neighbors.  Everyone loves this dipping oil!
We hope this gives you some fun ideas to create unique gifts for all the ladies in your life- including yourself!  Don't forget to enter your discount code (MOMMA) under "view cart" in the Shop to save 15% sitewide!  Happy Shopping!