As many of you know, last year we had the opportunity to participate in a speaking tour called Time Out for Women. A lot of people assumed we were there to talk about our cookbooks or dinner or something, but we were actually there to talk about motherhood—the expectations we set for ourselves based on what we see on the internet and our own experiences as mothers, and also our experiences with our own moms. Since Mother's Day is on Sunday, we wanted to share a little of what we talked about last year.  This post is a little different than what we normally talk about around here; but we hope you take the time and enjoy the read, and share it with others if you feel so inclined.
If you spend any amount of time browsing the internet, you know what it takes to be an ideal wife and mother. If you read enough blogs or spend enough time browsing Pinterest, you'll know that you need to…
*Prepare 3 healthy, homemade, preferably organic meals a day.
*You'll need an elaborately simple system for folding and organizing your laundry.
*Due to a system of charts, your house will never be more than 10 minutes away from being company ready.
*You'll properly display your family with their coordinating heights and ages in a vinyl decal on your minivan.
*You'll send your daughters to school every day with a different hairdo, most of which involve mastering curling their hair with a flat iron and twisting elaborate shapes into her hair, fastened with giant bows and flowers that you have on a color-coded hair-bow organizer that you made yourself.
*You'll never buy eggs from the store—if you're a good mom, you'll build your own chicken coop in the backyard and paint it a popular Benjamin Moore shade where your free-range chickens can happily lay their organic eggs.
*You'll have professional portraits taken on a very regular basis. They should always be taken outdoors, either on abandoned rail-road tracks, in front of an abandoned burnt-down graffitied building that's clearly unsafe for children, out in nature, but with items that don't naturally occur in nature, like the big velvet couch that mysteriously appeared in the middle of a wheat field.  Bonus points if you get at least one shot with your family holding hands while walking away from the camera.
*You'll reupholster all your old furniture in funky, hard-to-find fabrics.
*Your kids clothes will be made from your husband's old work shirts.
*At some point, you'll consider redecorating your whole house with owls.
*You'll definitely make all your own baby food because it's just as easy as buying it at the store, and everyone knows that your babies will grow up with above-average intelligence and be better-looking in adulthood. Because of your homemade baby food.
*And finally, if you don't simultaneously bargain shop AND shop at Anthropologie, you might as well not shop at all.
We might be guilty of a few of those things, but it's easy to see how when we start looking around at what everyone else appears to be doing, we can start feeling a little inadequate.  While the internet and social media are amazing sources of inspiration and creativity, they can sometimes serve simply as a reminder of everything we don't have and aren't able to accomplish, especially as mothers.  Too often, they overemphasize the good and under-emphasize the bad.  As we peruse the cyber-world, it's easy to be left with the impression that everyone else is somehow able to accomplish so much more than we are.
We have seen this first-hand when people compare themselves to the very little part of us that appears on the Internet. Somehow, people have gotten the idea that ALL of the meals in our homes look like the ones we post here on the blog.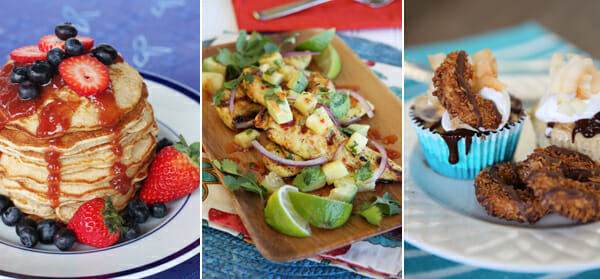 Our kids always get 27 pancakes with fresh berries on top, we garnish every individual serving, and we certainly serve all of our food on gorgeous plates with coordinating cloth table linens.
Yeah, not so much.  At my house it's often more a question of, "Hmm…what else could I possibly serve with ranch dressing today?"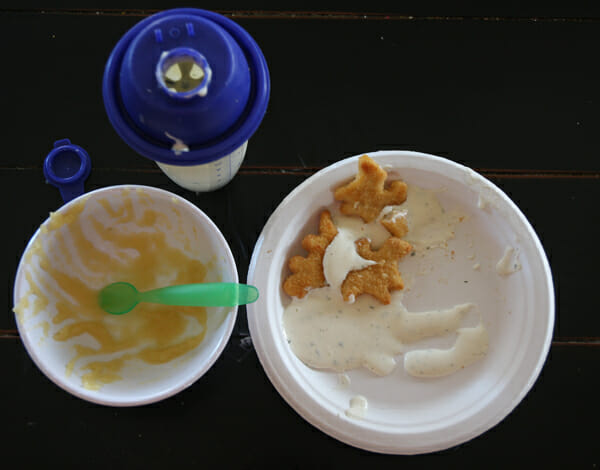 And we may or may not be on a first name basis with the drive-through attendants at both Sonic and McDonald's.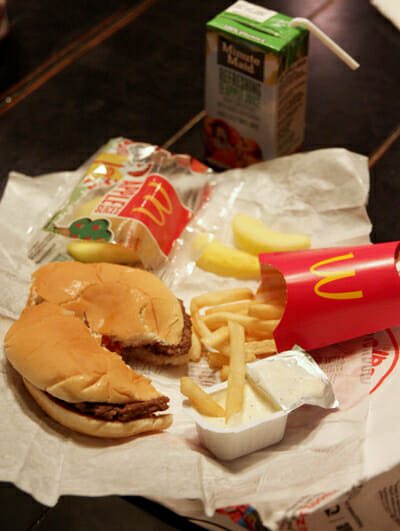 Here's one of our favorites: a little something I like to call "The 400 Special."  It's a great demonstration of the value I place on education and learning in the home.  I send my three young boys to rummage through the freezer and assert their exceptional knowledge of both letters and numbers as they search for anything and everything they can find that says, "bake at 400" on the package.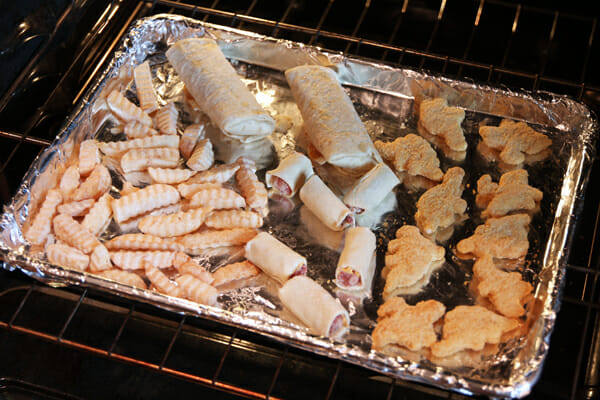 And because I also value the nutritional content of our family meals, I sometimes put the dino nuggets on lettuce and call it a Crispy Chicken Salad.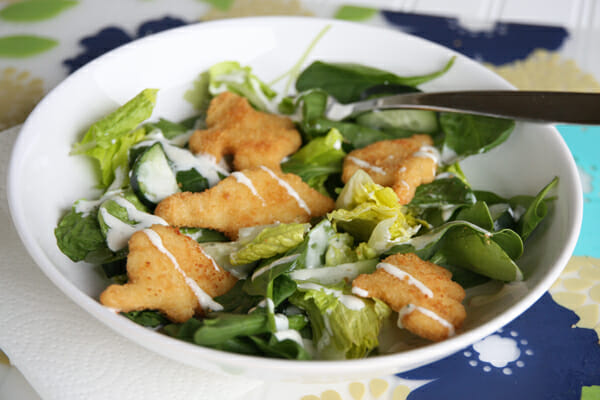 The facade of parenting and motherhood faces the same issues on the internet.  When you take a look at blogs and Facebook, you'd think that children are happy and smiling and that all babies lie nakedly wrapped in nets in fur-lined wooden bowls, like nature intended…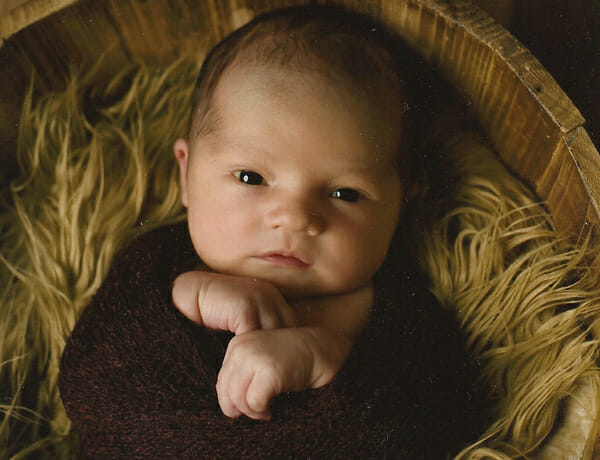 But you might not see as many little princesses transforming into evil queens…
Or little Picasos feeling a little too liberal with their definition of 'artistic expression'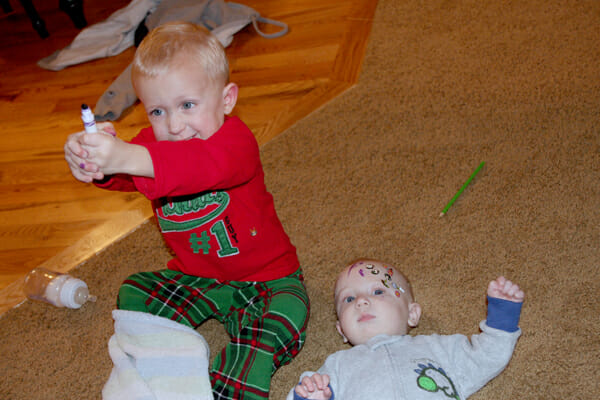 Or your Costco-sized bag of flour being turned into a playground for Bob the Builder and all his friends…
Or your special kitchen "helper" doing lots of "helping"…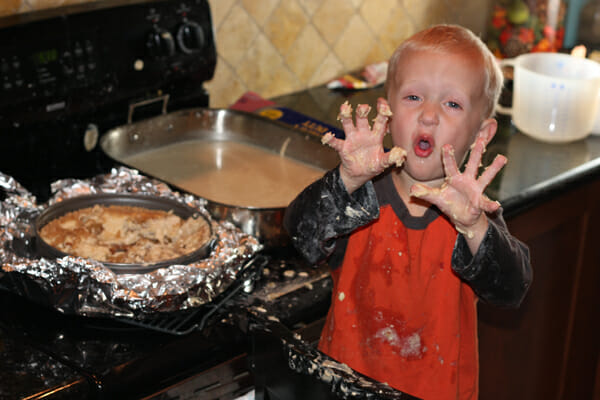 Or the little chef "making pancakes" in a household item that in no way resembles an actual cooking item.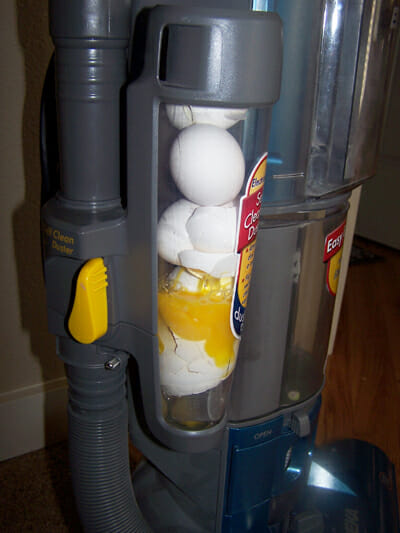 (Yes, that is in fact my vacuum.)
The fact is, motherhood is not all sunshine and rainbows.  And life isn't always bubbly, happy, color-coordinated, and pin-worthy.
Sara
The photo below is my Mother in 1979, holding me, her first daughter.  I often look at this photo and think what an exciting time it must have been in her life.  My parents had just built their first home, in a new city where my Dad would start a job he would excel at for the next 30+ years of life.  She had 2 young children, and would give birth to 2 more in the coming years.  Life was good.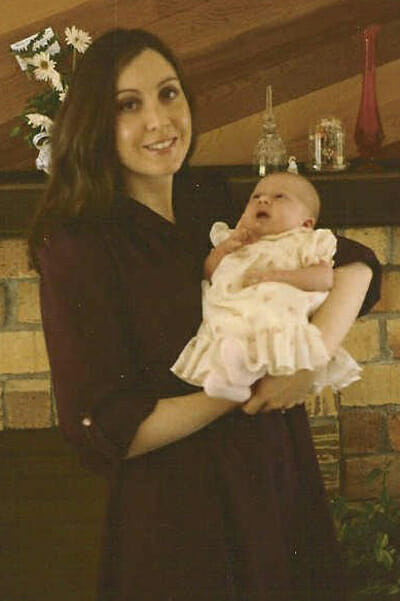 But as hard as we try, we can't always control every detail of our lives.  My Mom's life hit some bumpy paths and took unexpected turns.  In her adult years she's suffered from disease and brain injury that have disabled her over the years.  My mom is a much different woman now than she was when I was a child and as the years go by, my memories of her in her full capacity are largely ones from my childhood.  She started getting sick with a very progressive disease just as I was coming into adulthood.  Knowing a parent when you're a child yourself is much different than having a relationship with them when you're an adult, and her life took a drastic turn right at that pivotal time in both of our lives. Today, she is mostly bound to a wheelchair and needs constant care and assistance with basic daily functions.  Even now as I write this blog post, she's in a hospital, hooked to tubes and pumps and needles.  Her mind is as fragile as her body.  Sometimes she recognizes who I am when I call and sometimes I have to remind her that I'm her daughter.  That my name is Sara.  That I live in Idaho and have three little boys.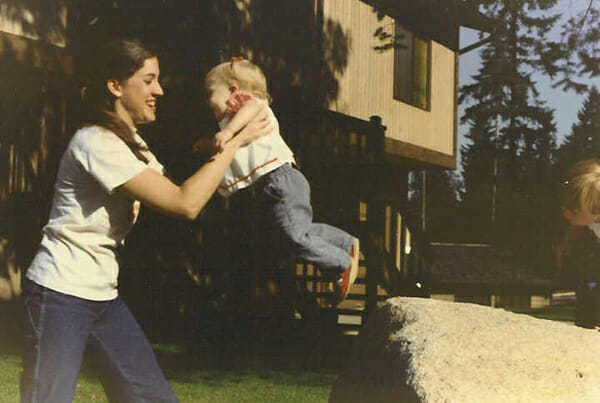 I wonder all the time what life would be like had these circumstances been different.  When I see girls my age out to lunch with their Moms at restaurants, or shopping at the mall together, it tugs on my heart a little bit.  I wish I could know the woman she was years ago now that I'm an adult myself.  I'm intrigued by that woman because I'm in her shoes now; I'm a mother.  I'm raising a family and doing all of the things she did when I was young. I want to remember her like that, I want to know her like that.  I want to ask her all about it and hear advice on how to do this mothering thing right.  Now I pour over photographs and memorabilia about her life.  And as I look back on those things and speak with people who have known her for many years, I realize what a smart, capable, and creative woman she was.  When I was a child she was just doing grown-up stuff.  She led complex organizations and planned huge events.  She created ridiculously magical birthday parties for me and my siblings with amazing cakes- and I can't help but think, how'd she do that?  She didn't even have Google, let alone Pinterest!  The woman planned neighborhood parties, PTA Fundraisers, and sewed every Halloween costume I ever wore in my entire life.  By the cyber-standards we measure motherhood today, she was a total rock-star of a Mom.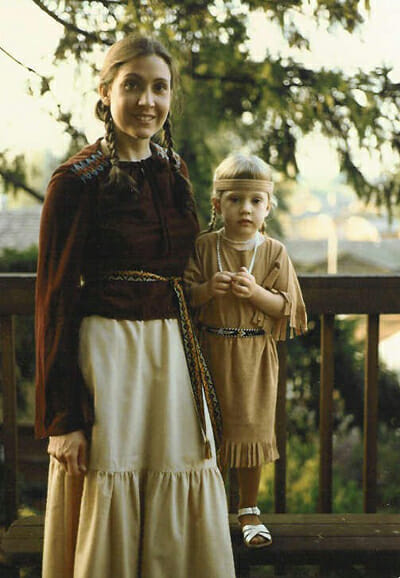 But here's the thing.  All of those things I just mentioned?  That's what I remember when I look back at photos.  When in quiet moments I let my mind wander to the things engraved upon my heart, it's a different set of memories entirely.  I remember as clear as day how she'd let me pull up a chair and play "ice cream man" while she did the dishes.  I remember her "letting" me match all of the socks in the laundry basket and making a game out of it.  I remember the feeling of her hands as they rubbed my back when I was scared at night.  I remember her talking to me and asking me about my day and my life when we'd drive around on endless errands.  I remember her favorite meal of canned tomato soup and slightly burned grilled cheese because she always sat down with me for lunch when we'd have that.  What I remember, what I treasure, are moments stemming from the most mundane moments of motherly duties: laundry, errands, bed time.  What I know now, that I didn't know then and I don't think she knew either, was that it was in those simple moments that she taught me how to be a mother.  If there is one thing I could express to her now, and have her truly understand; it's how grateful I am for that.  For those moments that so perfectly, and unexpectedly,  prepared me to be a Mom.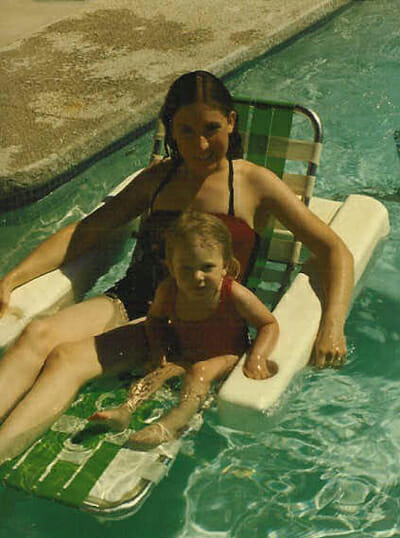 From my own circumstances, I feel grateful to have a little bit of an enlightened view of what's important as a child.  When the moments of my life come where I'm flooded with thoughts of self-doubt or inadequacy because I'm most certainly not hand-sewing all of my kids clothes, raising chickens, or planning a perfectly color coordinated birthday party, I take a deep breath and I think of those little moments with my Mom.  Those memories are a constant internal reminder.  Those memories teach me to calm down, slow down, to listen to my kids, to play with my kids, to do whatever it takes to show them in every way possible that they are loved beyond measure.  In the end I think the truth is spoken in one of my favorite quotes:
Enjoy the little things, for one day you may look back and realize they were the big things.  -Robert Brault
Kate
My own mom died when I was 9 and there were so many times throughout the years when I wished that she was there, first to see the things that I was doing and then, as I became older (and especially after I became a mom), I wanted her advice, I wanted to know what I was like when I was little, if my kids were like me or if they were just weird (or if those two things aren't mutually exclusive). Because I was so young when she died, I had a very limited, childlike recollection of who she was and I longed to know her better in a way that my older brother and sisters did.
When my oldest son was about 6 months old, I was going through a rough time adjusting to being a mom for the first time. I didn't know if the cycle of diapers and naps and feedings and naps and diapers would ever end. Every day looked exactly like the one before it and I was kind of feeling insignificant, like what I was doing didn't matter.
One day, I opened up my front door and there was a package from my oldest sister. I opened it up and it was every single letter my mom sent my sister when she was serving an 18-month mission for our church years and years before. I spent the next few days reading it, laughing and crying, reading about our family's highs and lows, realizing that my mom and I write the same and think the same things are funny, getting to know her as a person, hearing my mom's hopes and fears as a mother echoed in my own hopes and fears as a mother, understanding how she felt about me when I was little. Although it was a weekly task, probably something she sometimes viewed as a chore and solely for the benefit of my oldest sister, something she viewed as small and insignificant has become a great comfort and a blessing to me, and I'm grateful for that.
You guys, stop comparing yourselves to everyone around you and the big, fat half-truth that is the Internet.  Celebrate your strengths and try not to worry too much about the ways you feel inadequate to others. If you're a mom, remember that motherhood is messy and sticky and dirty and sometimes just flat-out hard and heart-breaking, but it's also beautiful and fulfilling and full of tiny moments that end up being the ones we hold closest to our hearts.
We wish women everywhere, both young and old, with or without children, a beautiful and blessed Mother's Day!