Electric Pellet Smokers are kind of all the rage these days, who has one??  If you don't- DON'T LEAVE! (Sorry to yell…too dramatic??) I'm including instructions on how to make this whole recipe in the slowcooker or oven as well.
I've wanted one of these forever and we finally added one to our back porch this past summer and we've been using it non-stop.  I had no idea how easy they were!  If you're not familiar with them, it's a wood smoker with an electric temperature gauge, so you basically push a button and it's all automatic.  No babysitting fires, staring at thermometers, or anything.  Wood pellets are burned, creating smoke that circulates around your food and infusing it with flavor.   I have this Camp Chef Woodwind and I genuinely LOVE it.  If you're interested in smoking meat, but intimidated, I can't even stress how easy this is.
One of the first things I started experimenting with was pork, because it's so easy and forgiving (and inexpensive!  Never try out a new toy with an expensive cut of meat- I'm looking at you, Instant Pot users.)   Plus smoked pork is just so, so good.
My only gripe about a big ol' pork roast is that it takes a LONG time and there's just no way around it.  You don't want to speed it through, low and slow is the name of the game with most smoke recipes.  So you either have to get up crazy early in the morning to throw it on the smoker, or perhaps cook overnight or cook one day and eat the next.  I've experimented with a few different methods and you'll just have to figure out what works for you.  I've found cooking it completely one day and then reheating it the next day in my steam oven is just as good as eating it fresh out of the smoker so I've done that a few times as well.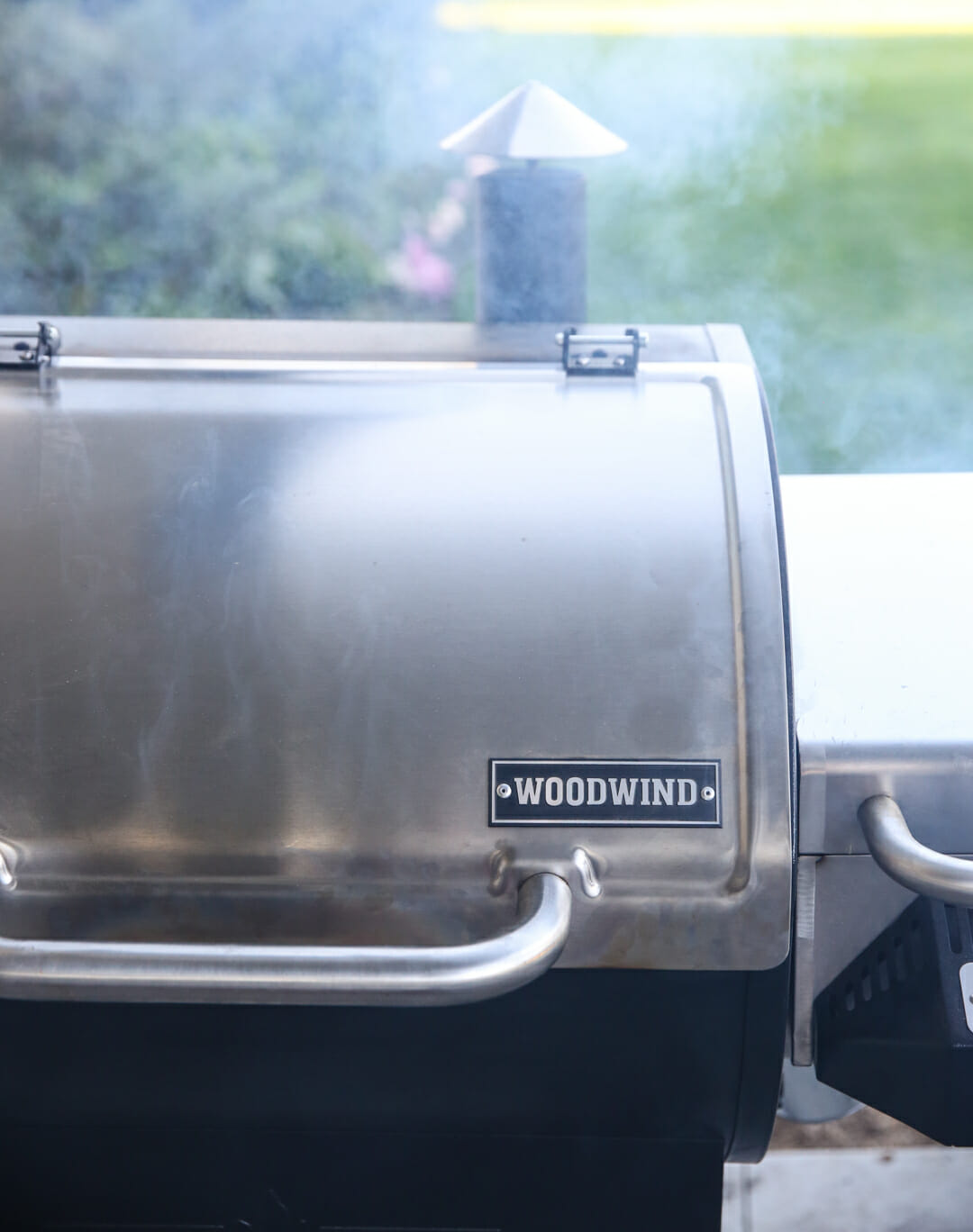 For pulled pork, I always go with a Pork Butt (also labeled Pork Shoulder).  This is a large bone-in roast.  You can also find little boneless roasts about half this size if you want to make a smaller batch in your crock pot (I'll explain!)  With pork, you lose volume from the roast with the fat and the bones, so if I'm estimating size, I usually go for 1lb per person.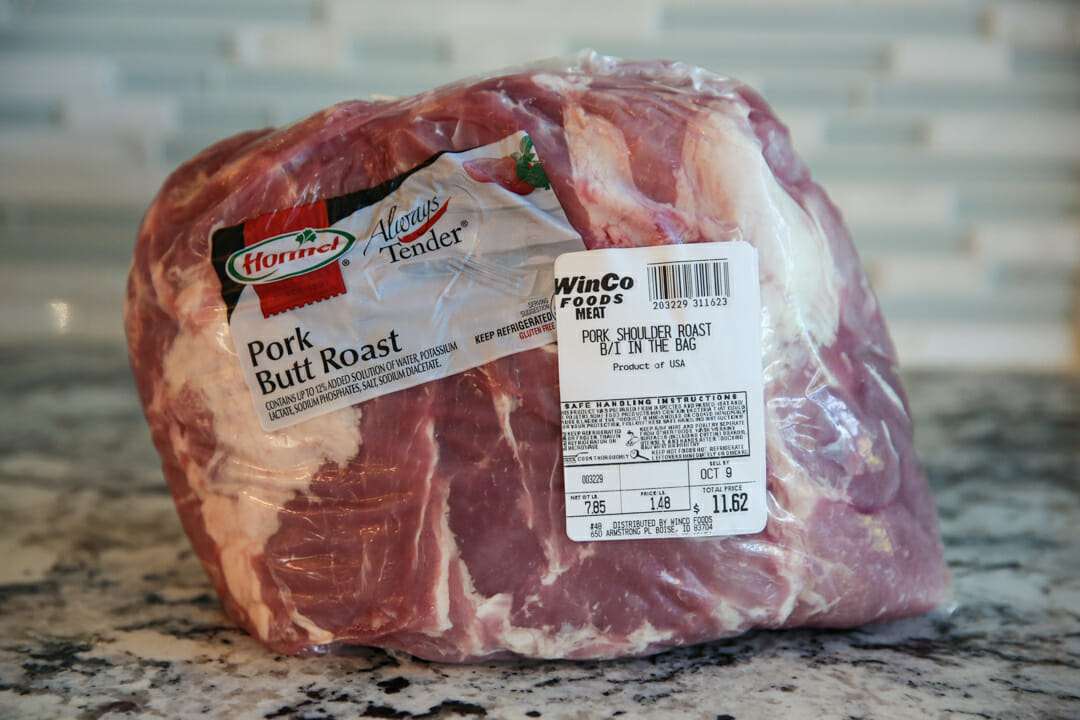 To start, I mix up a dry rub and rub it all over the pork and let it sit in the fridge over night.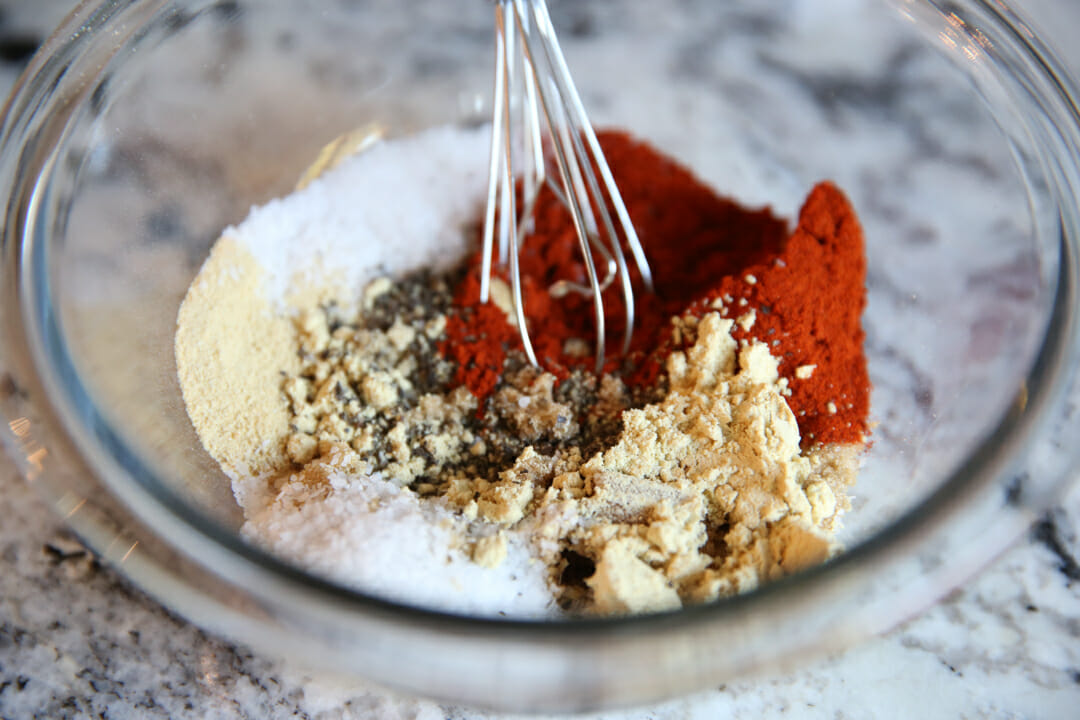 I forgot to take a photo before I put it in the smoker, but I also score the top of the pork, which helps those flavors get in there, and also looks cool!  This roast smokes for about 5 hours like this.  I fill a clean spray bottle with apple cider and apple cider vinegar and give it a good spritz about once an hour.
Pork roasts cook in a 2 part process.  The first part is smoking directly on the grill like that to absorb the smoke flavor.  The second part is cooking covered, and with liquid to tenderize that meat until it falls apart.  In this recipe I'm cooking it in apple cider, with fresh apple and onion slices.
So you have 3 options for part 2.  You can place your roast in large disposable pan and cover tightly with foil and leave in the smoker, or you can place it in a covered roasting pan and place it in your oven, or you can do what I'm doing and stuff it all in a slow cooker.  Once the roast is covered, it's not taking in any more flavor from the smoke, so I wanted to pop it in my slow cooker so I could turn off my smoker and save my wood pellets (and also open my windows without smoking out my house).  It barely fit, but I shoved it all in there!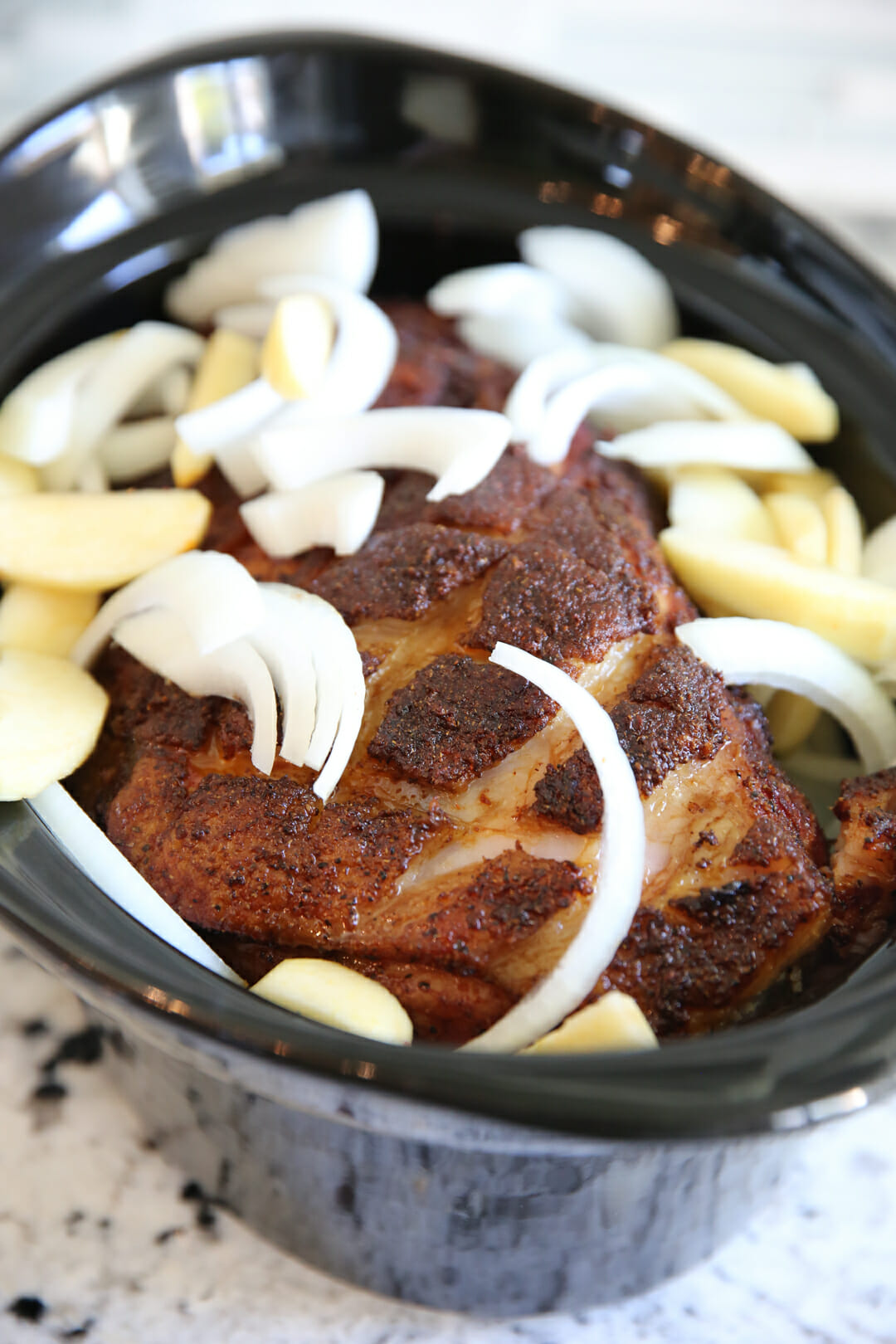 Once you nestle your roast in with the apples and onions, you'll pour in some good apple cider.
A roast this size is going to cook for another 7 hours or so with all those amazing flavors.  When I do leave my meat on the smoker, One of my favorite tools is this Smoke thermometer by Thermoworks, and also the Smoke Gateway.  These two together makes it so you can read the cooking temperature of your meat, on your phone!  This is awesome if you're out and about.  I often leave meat smoking while I'm close by at church on Sundays and it's awesome to be able to just look at my phone and see how it's doing.  If you know someone who loves using a smoker, this would make an awesome Christmas gift.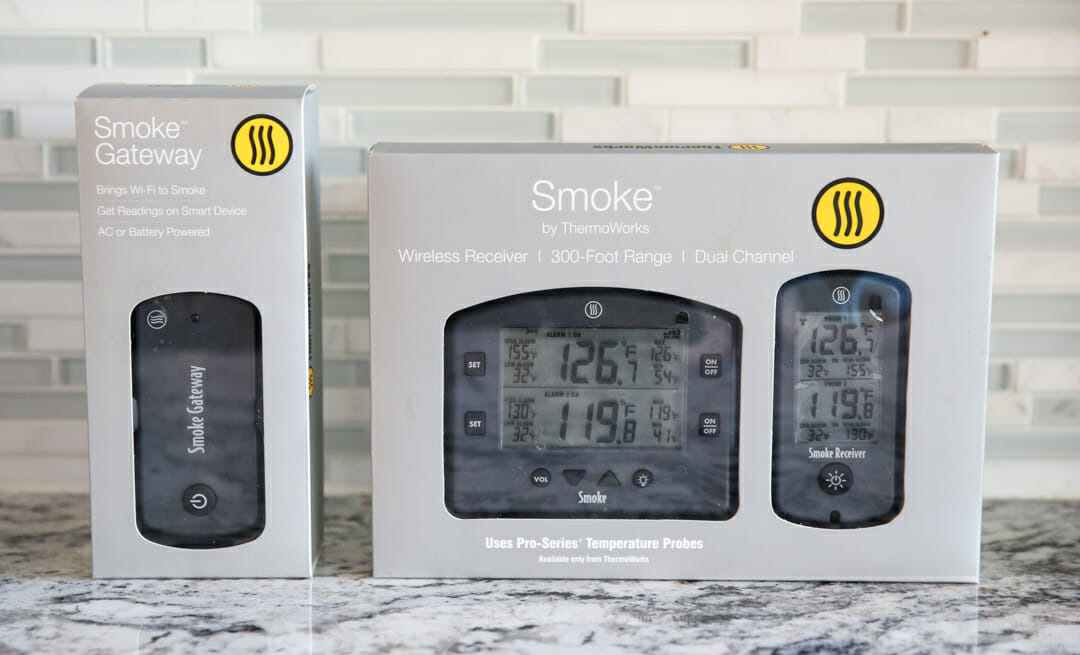 While the pork is cooking, you can whip up a homemade BBQ sauce!  I'm using 3 apple-y things for my sauce.  A base of apple cider, apple cider vinegar of course, and then for sweetness, instead of brown sugar (like many BBQ sauces use) I'm using apple jelly.
Those ingredients mix with ketchup and spices and come to a quick simmer.  The final component of the sauce will come when your roast is done and you'll add in some of the roasting liquid for the perfect finishing flavor.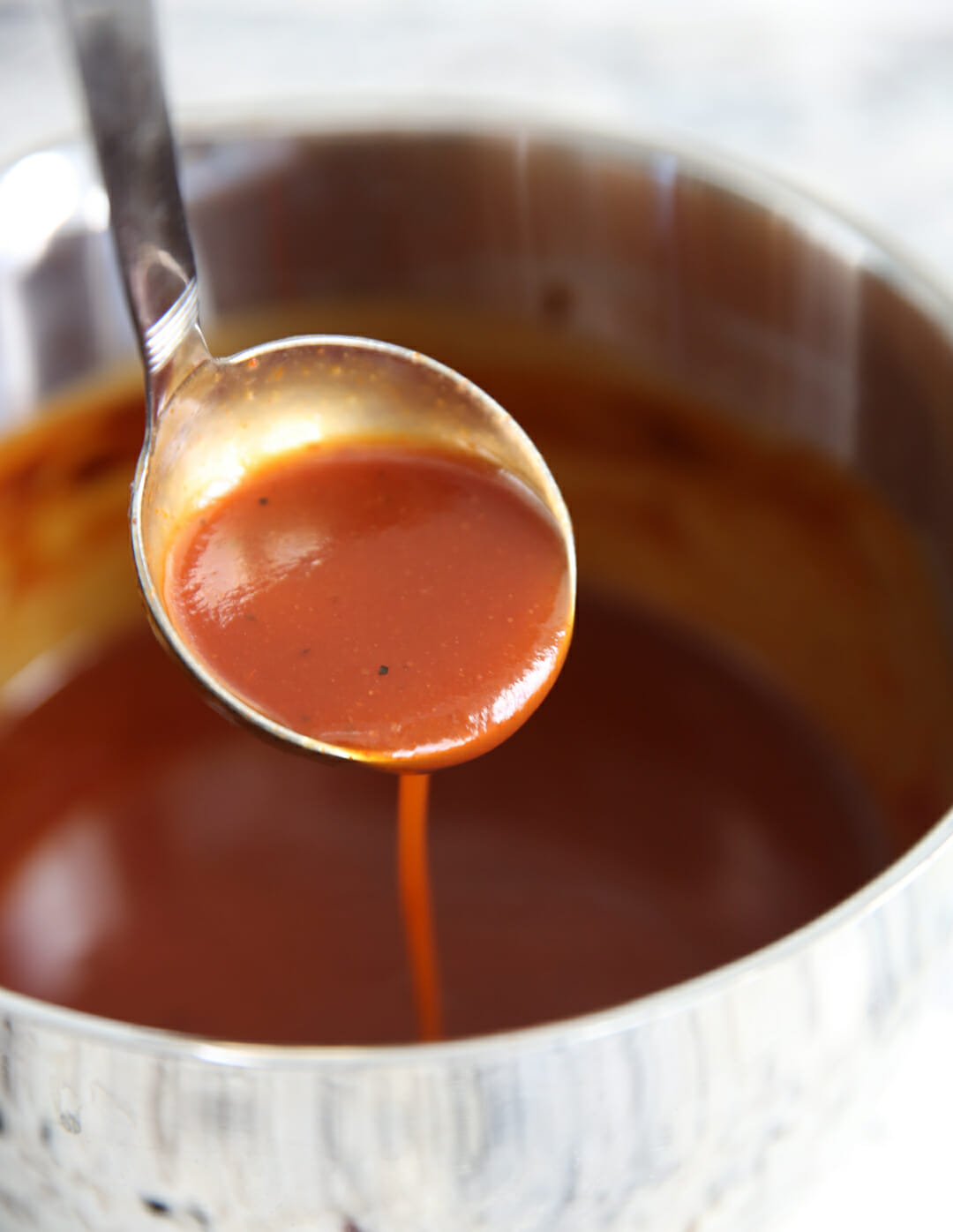 The pork should fall right apart.  See that pink in there?  That's the infamous smoke ring- where all that smoke flavor is!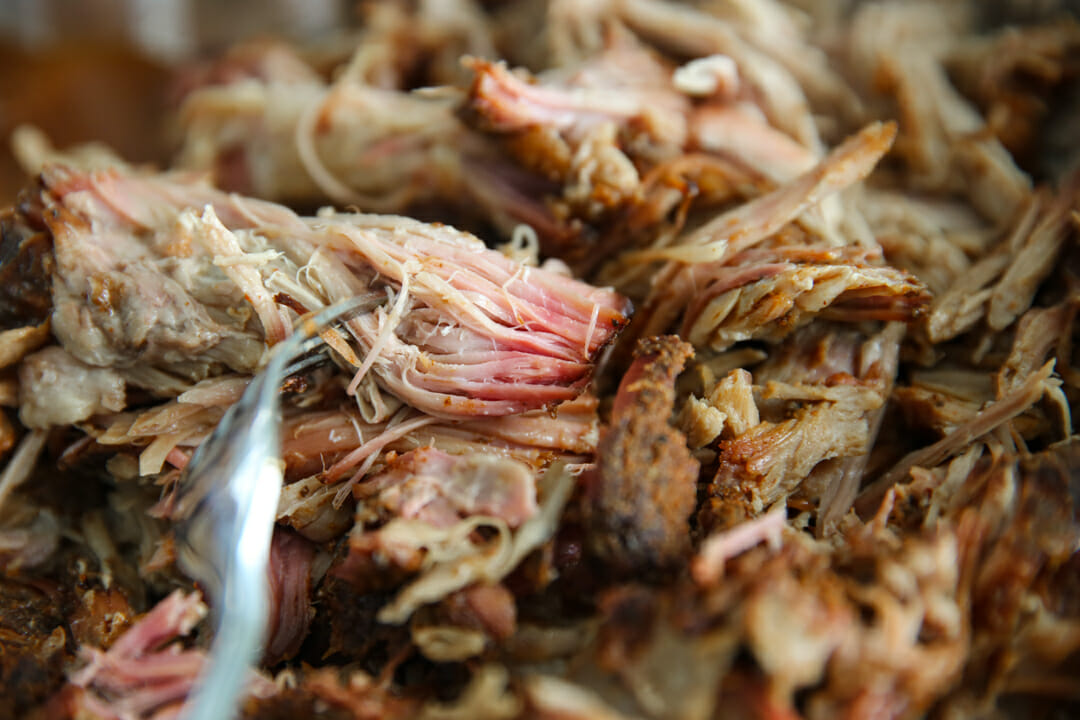 And the apples and onions will be totally cooked and soft and they'll just kind of mix right in with the pork.  It's okay if they dissolve into mush, that's how they should be.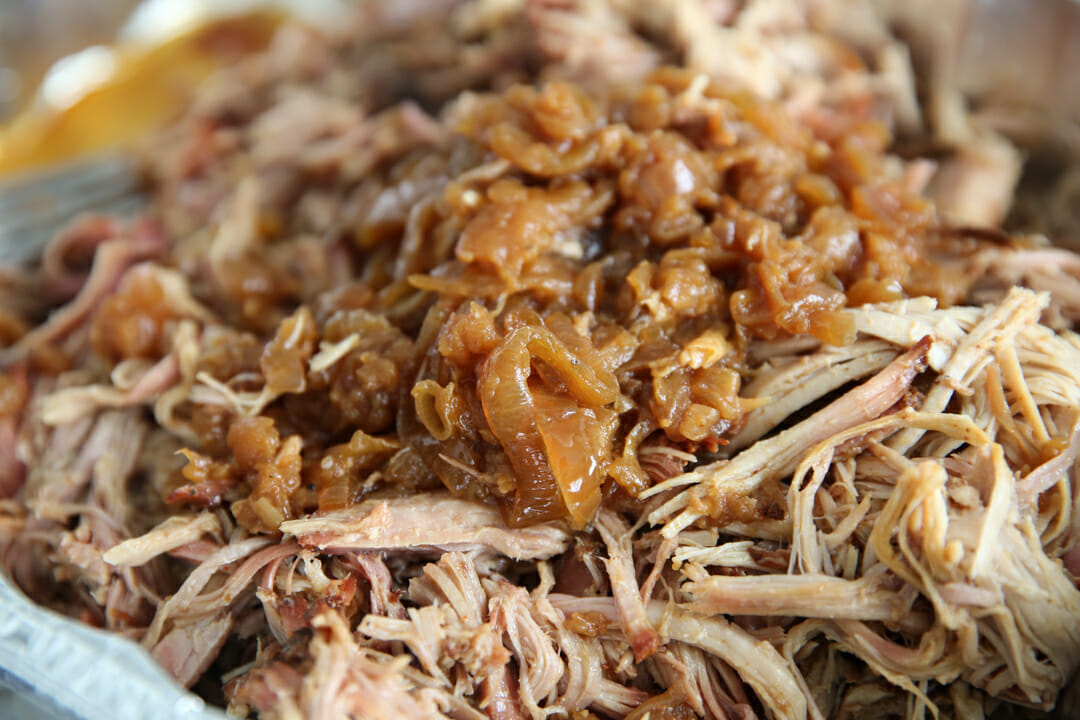 I've said it a million times, but if you don't have a Fat Separator, you need one!  This Oxo one is my favorite.  It will drain out the apples and onions and separate your fat from the pan juices, all in one easy step.  You should have plenty of juices to use for both the BBQ sauce, and also to pour a some over the meat to moisten.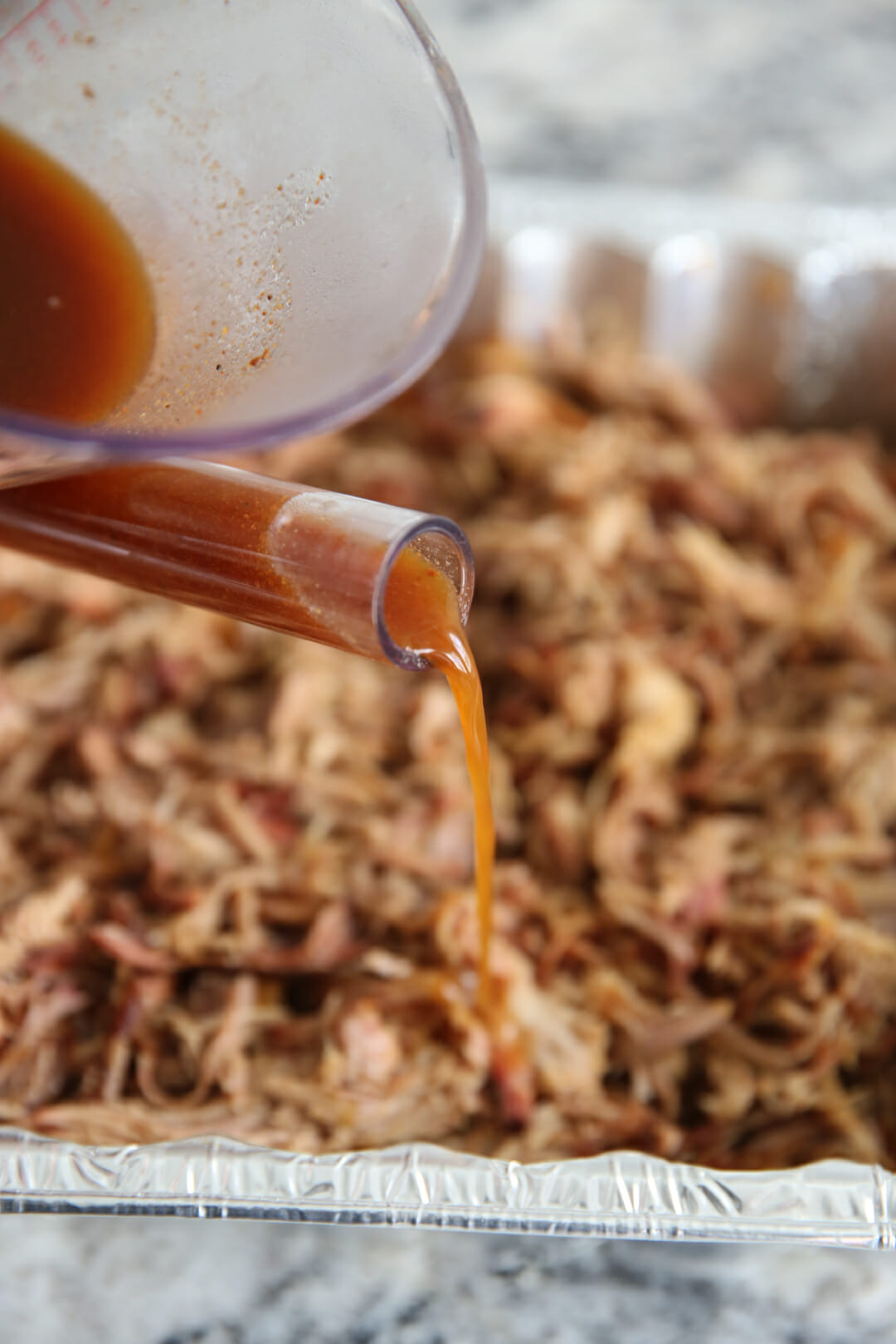 Then you can pile it on buns and drizzle the sauce over, or eat it plain, or whatever!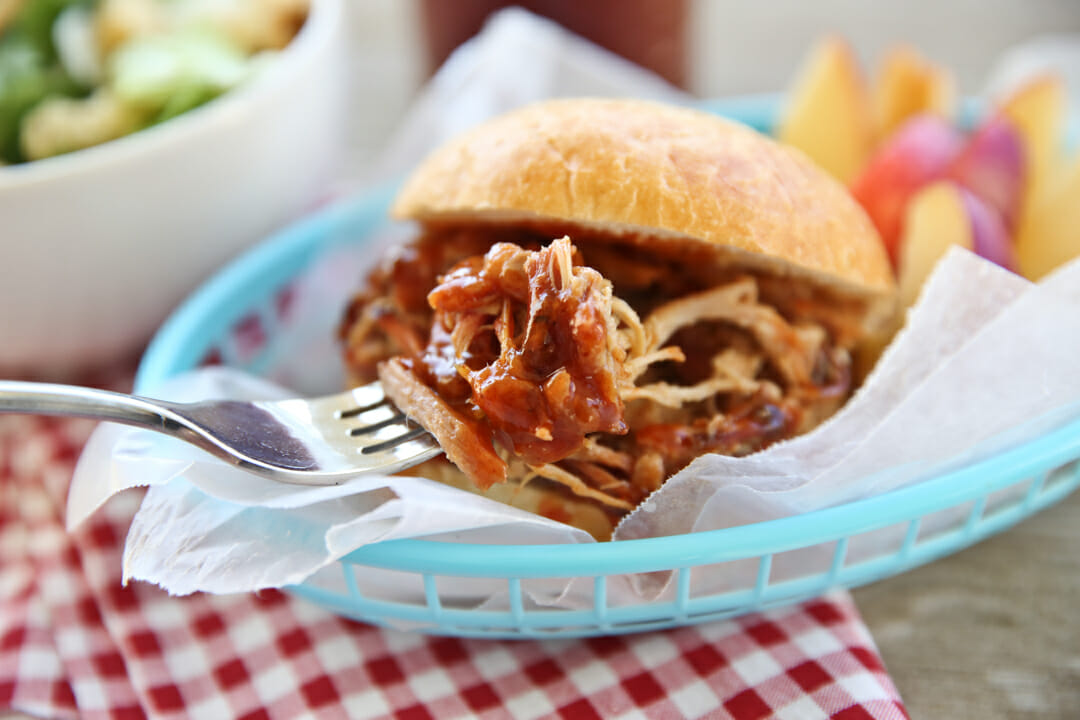 it's smoky and flavorful and so tender. Don't be intimidated by the long ingredient list on this recipe.  It's necessary since it has several steps, but it's not hard to pull together!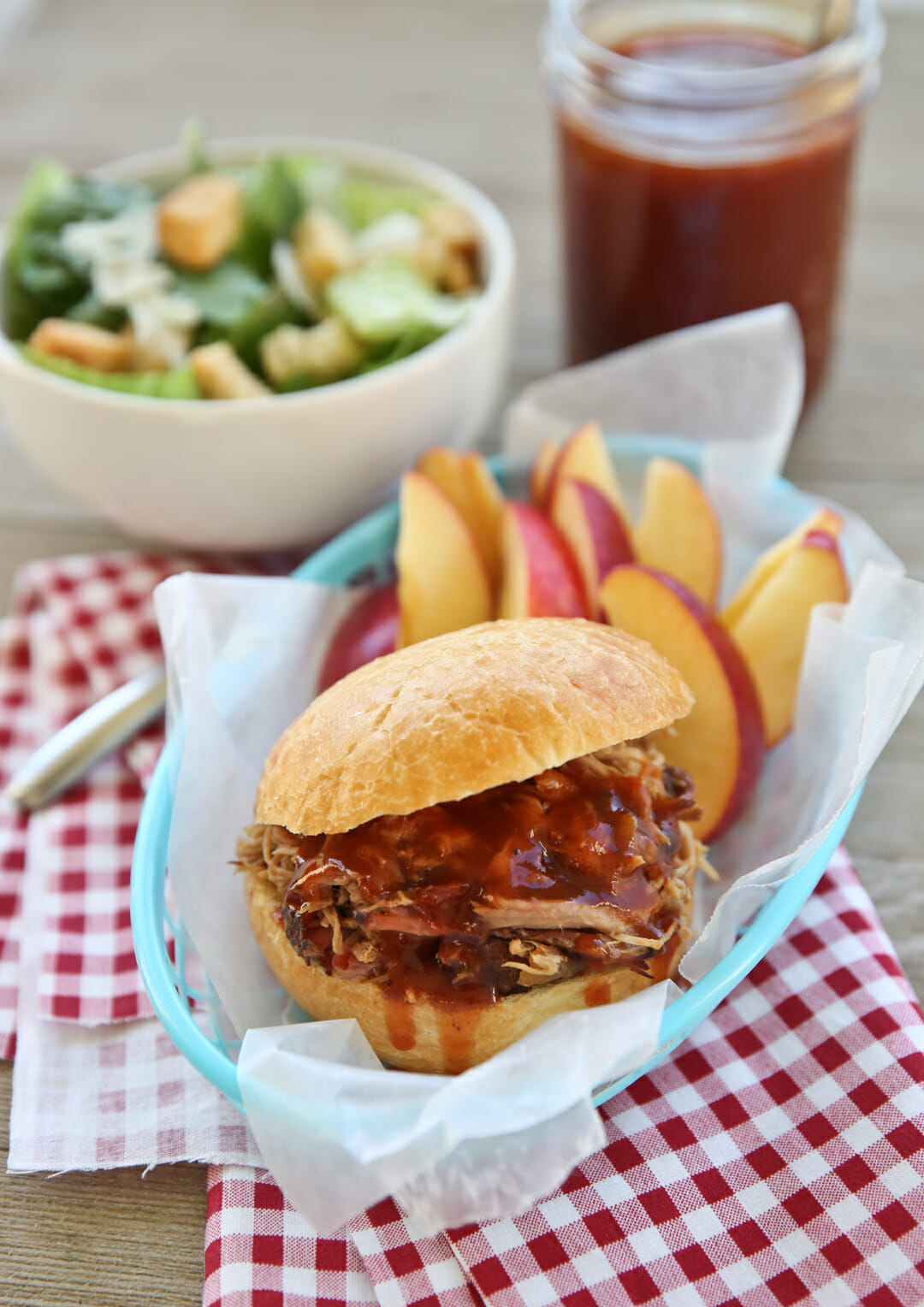 Print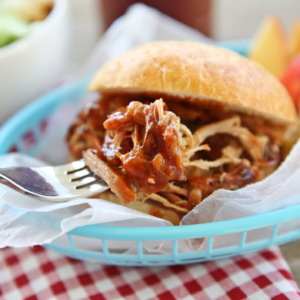 Apple Cider Smoked Pulled Pork
---
Description
Slow roasted smokey pork loaded with hints of sweet apple. I recommend, apple, hickory, or pecan wood chips/pellets.
---
7

–

9

lb bone-in pork butt/shoulder roast
Rub
4 tablespoons

brown sugar

1 tablespoon

garlic powder

1 tablespoon

onion powder

1 tablespoon

kosher salt

1/2 tablespoon

pepper

1.5 tablespoons

smoked paprika

2 teaspoons

dry mustard

1 tablespoon

coriander

1 tablespoon

chili powder
Spray
1/2 cup

apple cider

1/2 cup

apple cider vinegar
Braising
2 cups

apple cider

3

–

4

sweet, crisp red apples, peeled and sliced

2

onions, sliced
Sauce
1 cup

ketchup

1/2 cup

apple jelly

1/4 cup

apple cider

1 tablespoon

apple cider vinegar

1 teaspoon

liquid smoke

1/2 tablespoon

Worcestershire sauce

1 teaspoon

chili powder

1/2 teaspoon

onion powder

1 cup

pan juices from roast (fat separated)
---
Instructions
Pat roast dry. Combine all rub ingredients and pat on all sides of roast, rubbing in well. Cover roast and let sit overnight in the fridge.
When ready to cook, preheat smoker to 225 degrees and smoke roast directly on grill for 5 hours. While cooking, combine spray ingredients in a clean spray bottle and spritz roast all over once every hour.
While roast is smoking, combine all sauce ingredients and whisk together in a pan. Set aside until pan juices are ready.
After smoking, transfer your roast to either your slow cooker (if it will fit, remember you have more stuff going in there!) or a roasting pan, or disposable roasting pan (if you'll continue cooking on the smoker.)
Place apples, onions, and 2 cups apple cider around the roast in the roasting pan. Cover with lid, or tightly with foil. Cook in slow cooker on high for 6-7 hours (or low for more like 8-10 if you want/need to drag it out, overnight for example.) If you are cooking in the oven, set temperature to 275 degrees. In the smoker, you can increase temperature to 275 as well. Cook until internal temperature reaches 200-210 degrees, usually about 6-7 hours.
Let pork rest, covered for at least 15 minutes (longer is just fine) before discarding bones, separating fat, etc.
Pour pan juices into a fat separator. Pour 1 cup of juices into your BBQ sauce and bring to a simmer. Simmer for about 15 minutes until slightly thickened.
Pour a little of the remaining juices over shredded pork. Use a slotted spoon to grab the onions and apples and mix them in with the pork. Serve alone or on rolls or over rice. Freezes great! Excellent on nachos, pizzas, and more.
---
Notes
If you don't have a smoker, you can cook the entire recipe in the oven. Simply discard the smoking step and instead rub the roast with the spices, sear in a pan, and then place directly in a roasting pan or slow cooker with cider, apples and onions and cook until internal temperature reaches 200-210. (I would plan on 8-10 hours) To add the smoky flavor, add 1 tablespoon liquid smoke with the cooking liquid.
You could also easily use a smaller, boneless pork shoulder roast, which cooks much faster, simply use as much of the rub as you need, you'll have extra.
*This post contains affiliate links.  That just means that when you click through to products we love, we get a small commission.  I did a lot of research when deciding which smoker to buy.  I compared brands and consulted a few BBQ-Gurus I know and when they steered me toward the Camp Chef, I was happy since we've worked with them in the past and I love their products.  They provided me with my Woodwind so I could create recipes to share with you guys!  As always, I'm not being paid for my opinions- those are 100% mine, and although I did receive a Smoker to use at home, I'm not being compensated to create this blog post.  You can find more information on our affiliate and sponsor terms, here.