Note: Not a sponsored post.
I went on a fun international trip earlier this summer (I'll show you guys some pictures from that in another post) so for our family summer vacation we decided to stick a little closer to home.  We live in southwestern Idaho, in the Boise area, so we ventured up to the Northern part of the state.  I love Northern Idaho because it's so lush and green, and it reminds me of western Washington, where I'm from originally.  We checked off lots of things on our Idaho bucket list, but one in particular was the Hiawatha bike trail.  It runs through the top of the state of Idaho and a little into Montana.
This trail was once a functioning railway.  It was called one of the most scenic stretches of railroad in the country, and now it's open to bikers and hikers.  The trail is a little over 15 miles, but with a slight downgrade, so it's really pleasant and family friendly (including pregnant ladies!)  You can bring all of your own gear (bikes, helmets, etc.) or rent them all at the trailhead.  Since we had enough to pack with us on a road trip, we reserved everything online and it was all ready and waiting for us when we got there.  My 8 year old rode a bike, I pulled my youngest in a trailer (which was nice because then we could pack gear in the trailer, like snacks, my camera, etc.).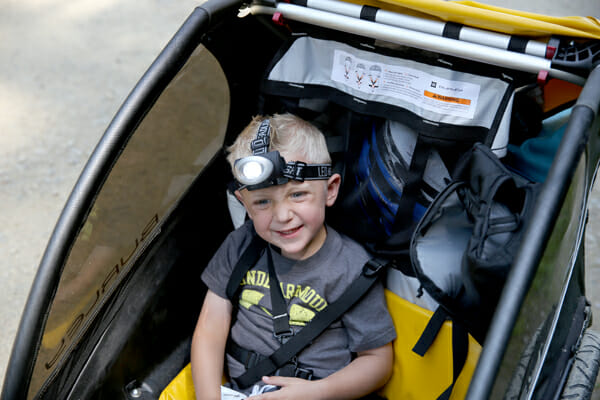 And for my middle son, we rented a tag-a-long, which is a bike that attaches to an adult bike, creating a sort of tandem.  It was great since he could just coast along if he got tired.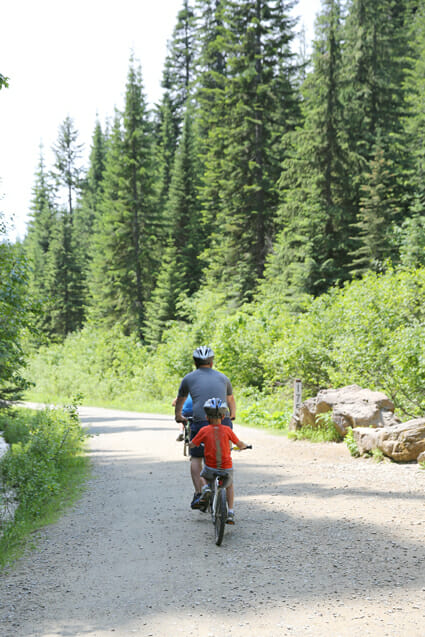 The coolest thing about the Hiawatha is that because it was a functioning railway, the trail traverses through old tunnels burrowed through the mountains, and trestles hundreds of feet above the forest floor.   This was the first tunnel, the longest, at over 1 1/2 miles long!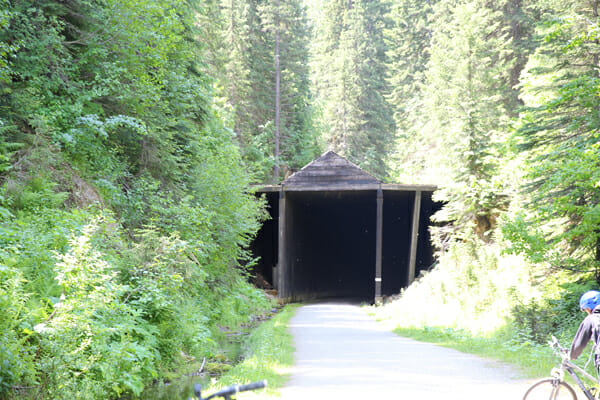 Inside was cold and pitch black, so headlamps or bike lights are required, which my kids thought was awesome.
It was also really wet inside the tunnels, since there's moving water around many of them.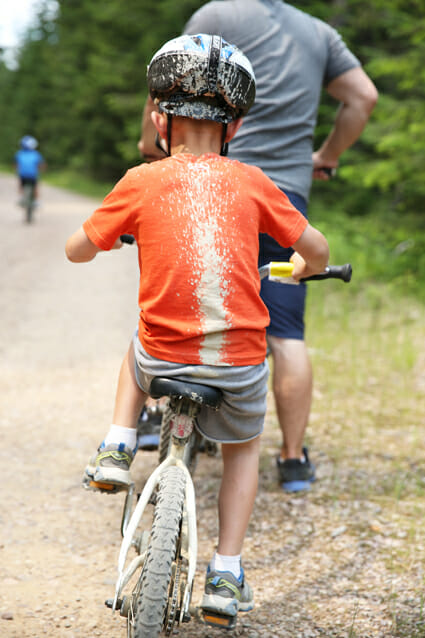 We were biking on a hot summer day so those cold tunnels felt amazing.  The trail goes in and out of tunnels and then over trestles like this one, seen across the valley.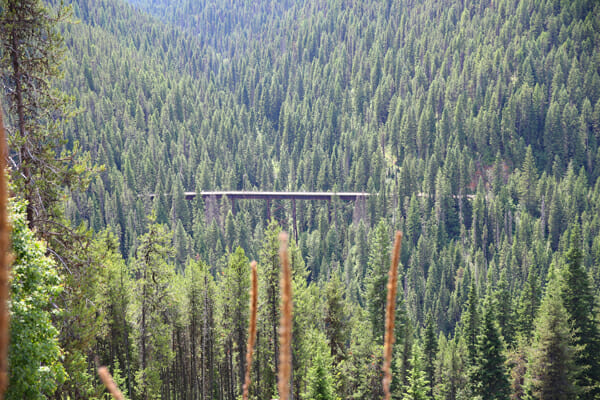 I'm not a fan of heights,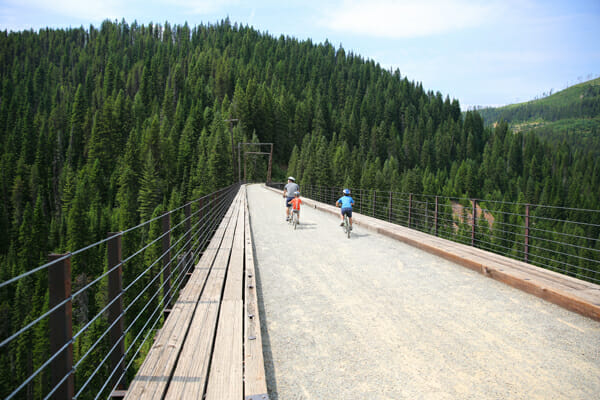 and some of these were REALLY high, but totally safe and secure. It was actually really awesome.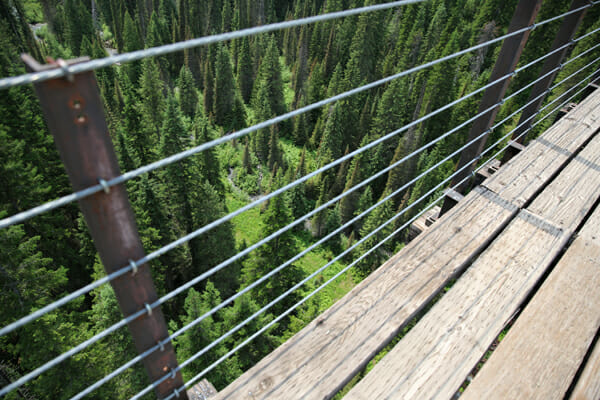 Other times the trail passes through meadows and past creeks.  It really is a nice, comfortable ride.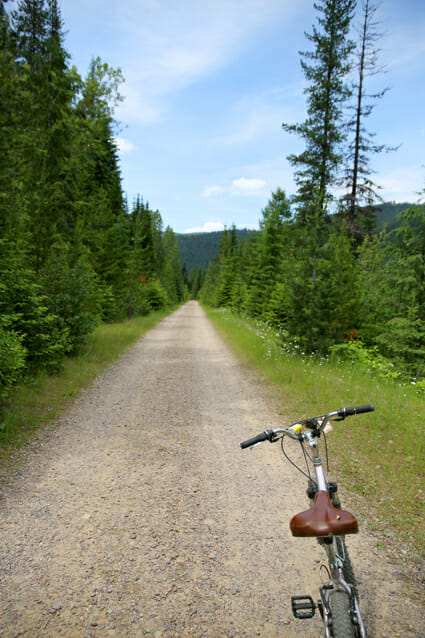 The whole thing start to finish took about 2 1/2 hours.  There are tons of stopping places where you can get off your bike, read some history facts, or simply enjoy the view.
And when you're all done, there's a shuttle at the end that takes you and your gear and shuttles you back so you don't have to ride up the 15 miles again.  My kind of bike ride.
All in all, it was a great experience and my kids loved it.  There is lodging and camping available near the trail if you're interested in taking a trip that direction.  You can bundle a lot of other things in there too, as it's close to Silverwood Theme Park, and the beautiful cities of Coeur d' Alene and Sandpoint, Idaho.  Check out the Hiawatha web page for all the deets!  Have any of you done it?  Wanted to do it?
—————————————————————-
Note:  Just a reminder of this actual giveaway we have going on.  Check it out and get snapping pics to win $$$!