I don't know the origins of the brookie (brownie + cookie) but after one of you emailed recently saying you used some of our recipes for brookies, it made me realize we've never actually shared a recipe here on Our Best Bites.  My quick and easy brookie recipe is a combination of homemade, plus a shortcut.  Because while I'm picky about chocolate chip cookies being homemade, I don't balk at a boxed brownie mix.  I've had lots of fantastic brownies out of a box and I think in a recipe like this, the box does the trick for me.
So to make this recipe amazingly delicious, but still quick and easy, I use a boxed brownie mix and then top it with a one-bowl easy chocolate chip cookie dough. 
If you have a favorite basic brownie recipe, you can certainly sub homemade here.  You a 9 x 13 pan full of soft and fudgy brownies layered with buttery chewy chocolate chip cookie.  Perfection!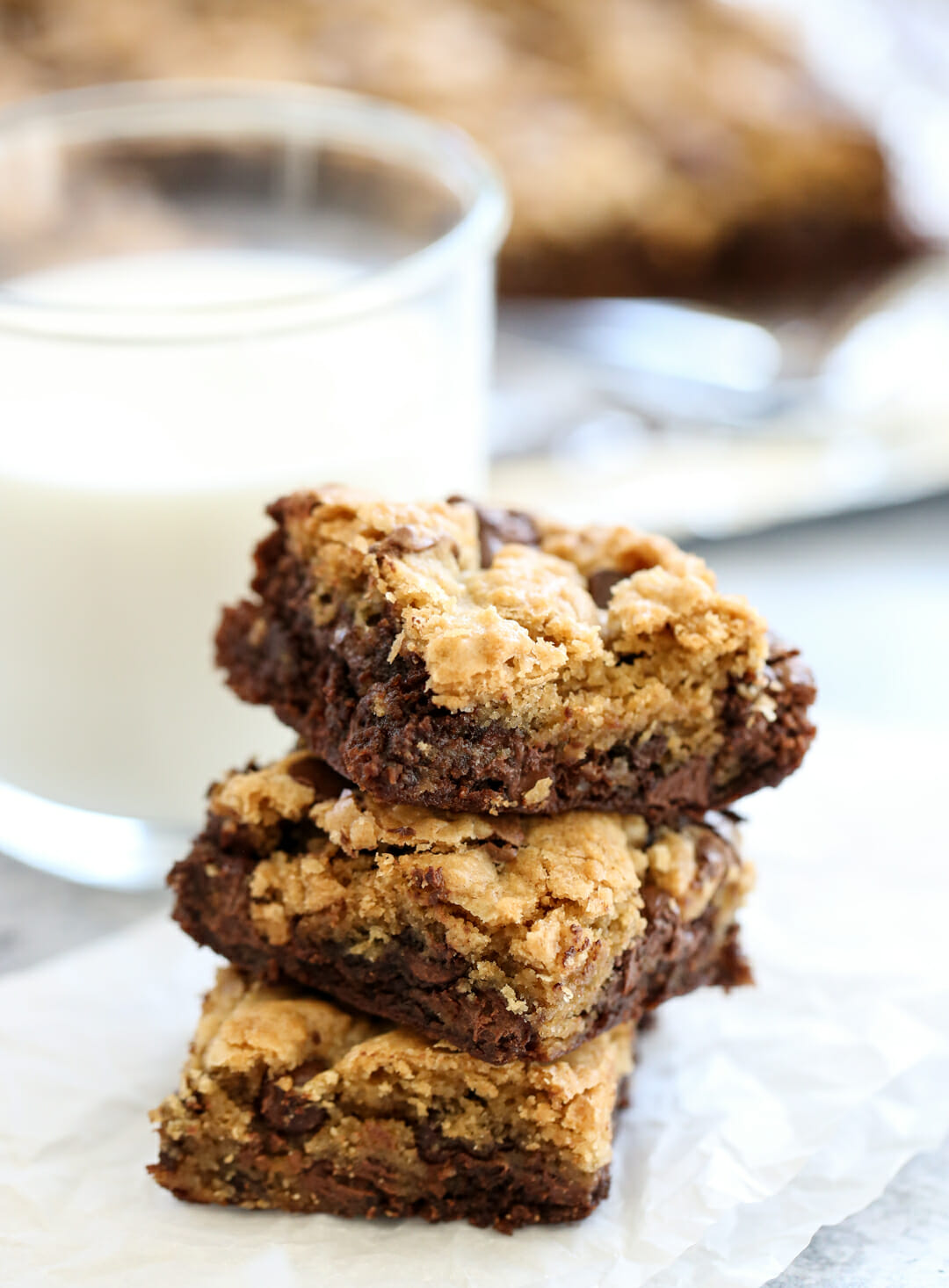 Make your Brookie Brownie Layer
Make your brownies according to the package instructions.  I use Ghirardelli brand, and if you look on the back of the box, some brownies have instructions for a 9×13 pan, and some say the largest pan option is 8×8 or 9×9.  Try to find one that is made for a smaller pan (the 8×8 or 9×9).  You will bake them in a 9×13, thus creating a thinner brownie layer that can complete cooking in the same time as the cookie layer.  If you get the larger box, your brownies might be too thick and be undercooked.  If all you can find is the larger kind, then maybe make 2 or use half the batter in an extra small pan for a snack 🙂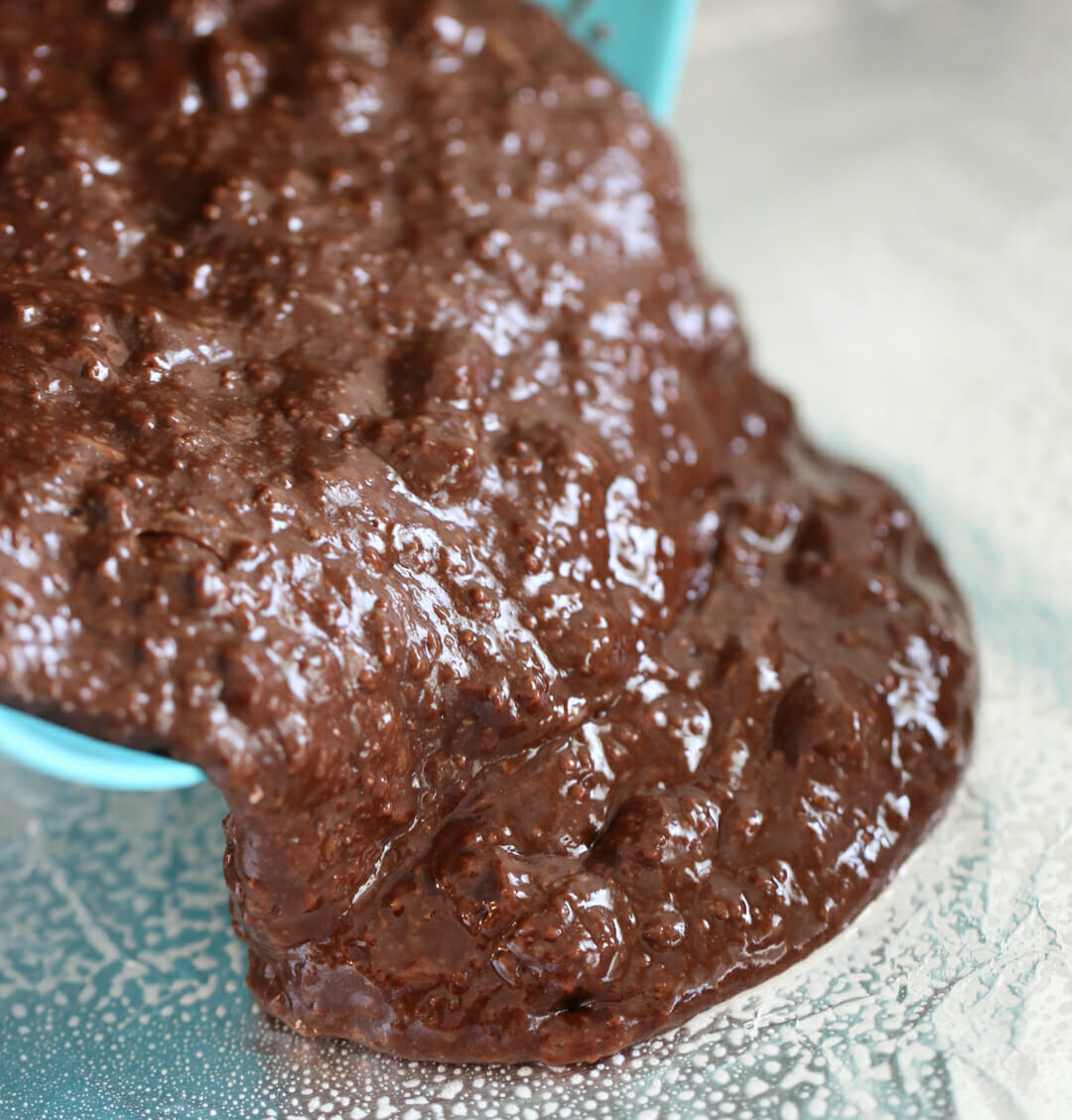 Make your Brookie Cookie Layer
For the cookie portion of this recipe, I use my Chewy Chocolate Chip Cookie recipe because it uses melted butter, so you can mix the dough with a spoon right in that empty brownie batter bowl.  Also 1 batch is the perfect amount for my 9×13 pan.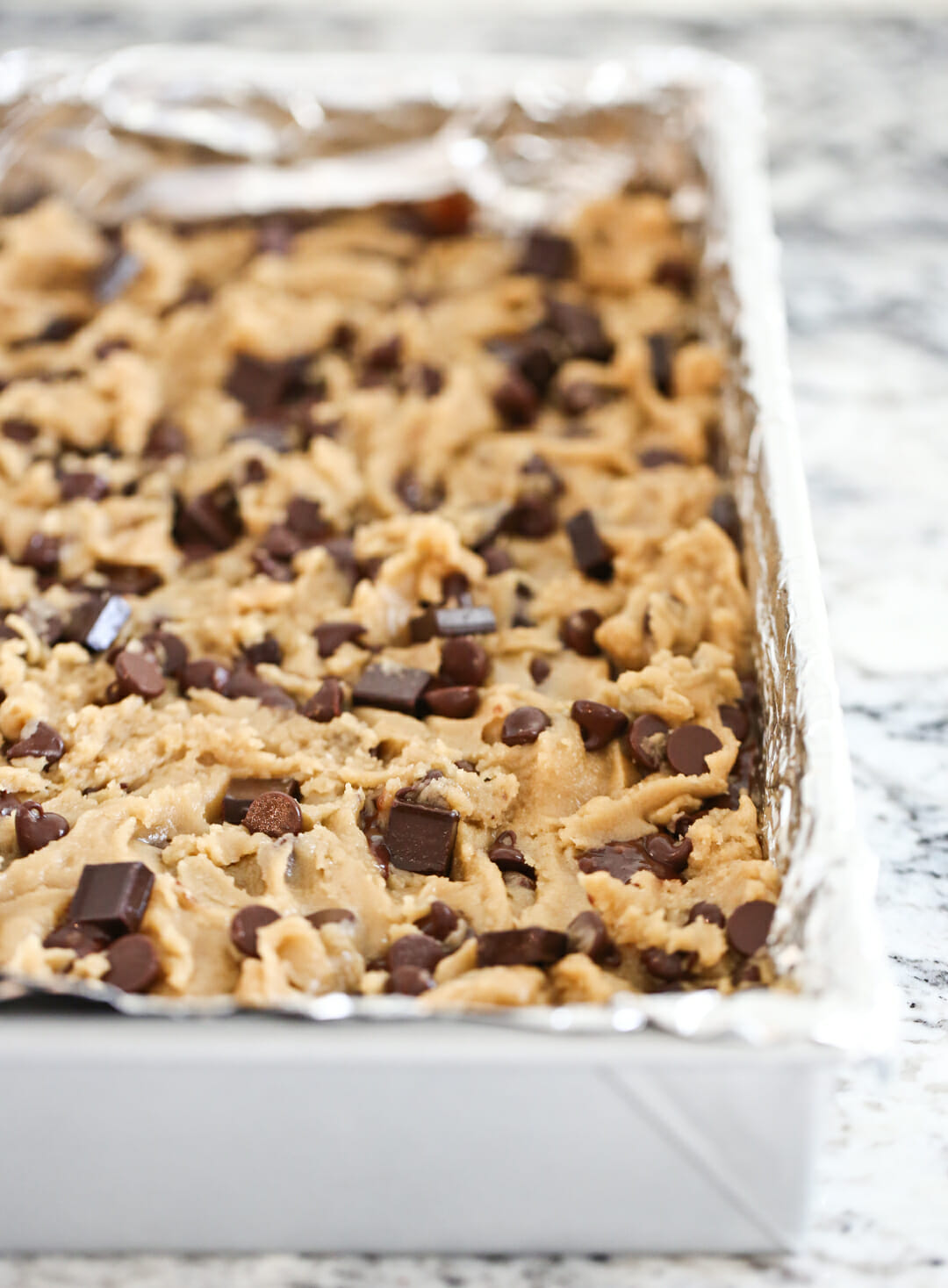 Bake Your Brookies
It bakes for about 30 minutes and that cookie gets all soft and chewy and the brownie nice and gooey.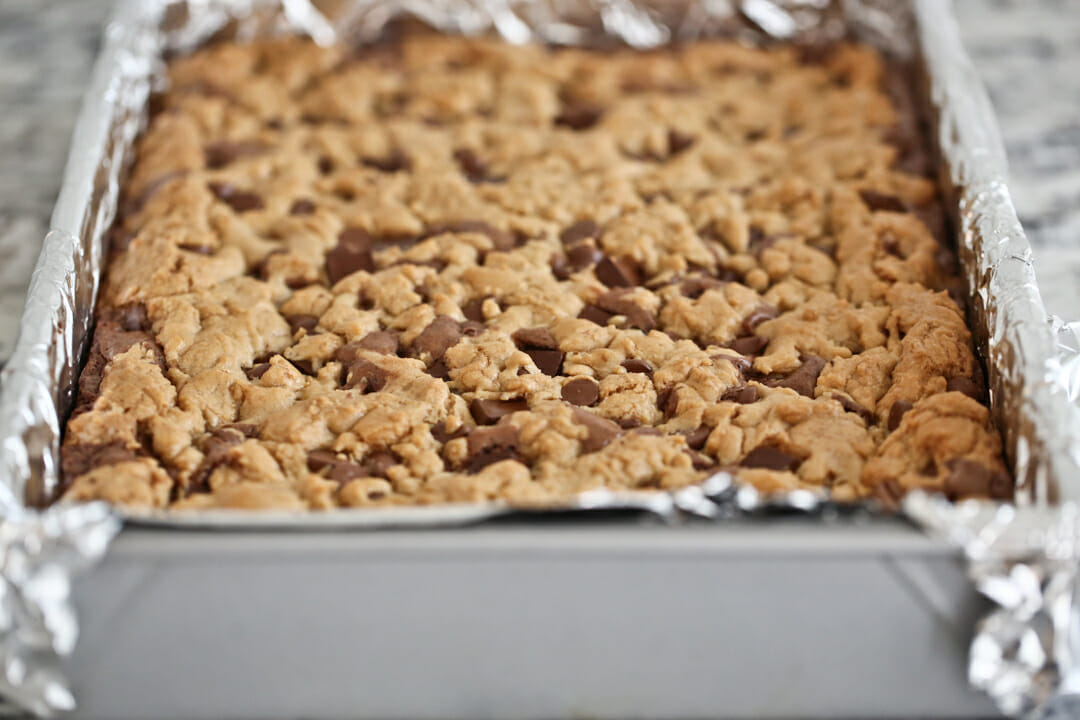 You can eat these warm with ice cream on top, but personally I like them cooled if I'm just picking them up to eat.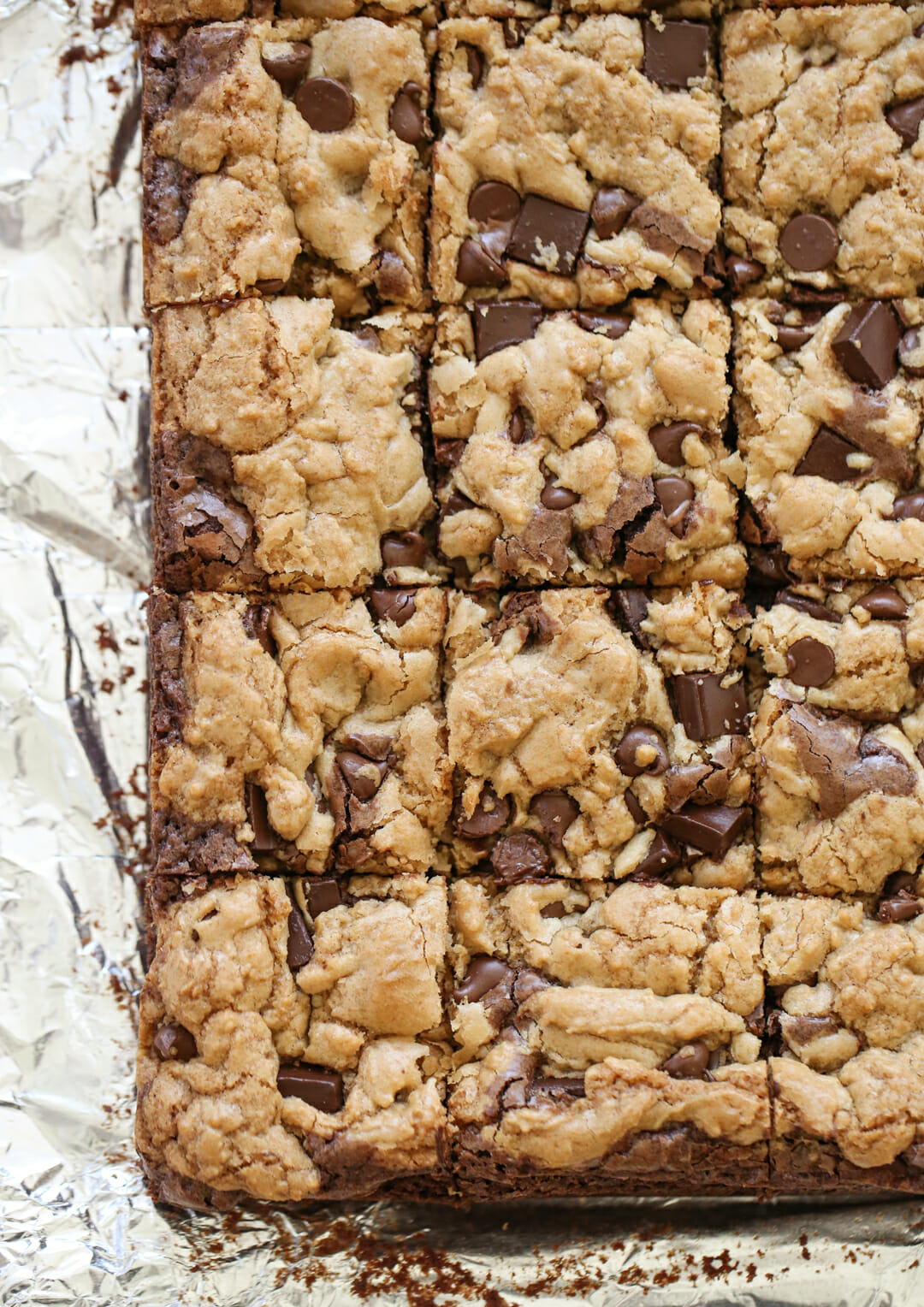 Layers of flavor give you the best of both worlds!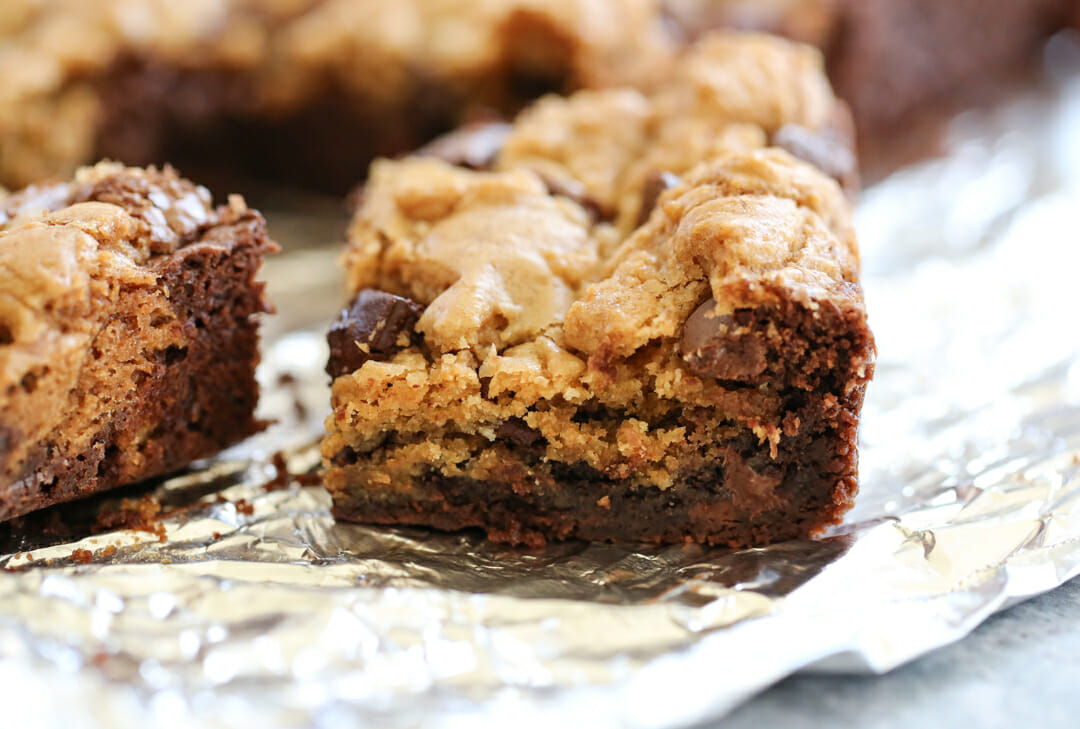 Pair them with a cold glass of milk and you'll keep going back for more and more.  This recipe is easy and definitely a family favorite at our house.  Let me know how you like them!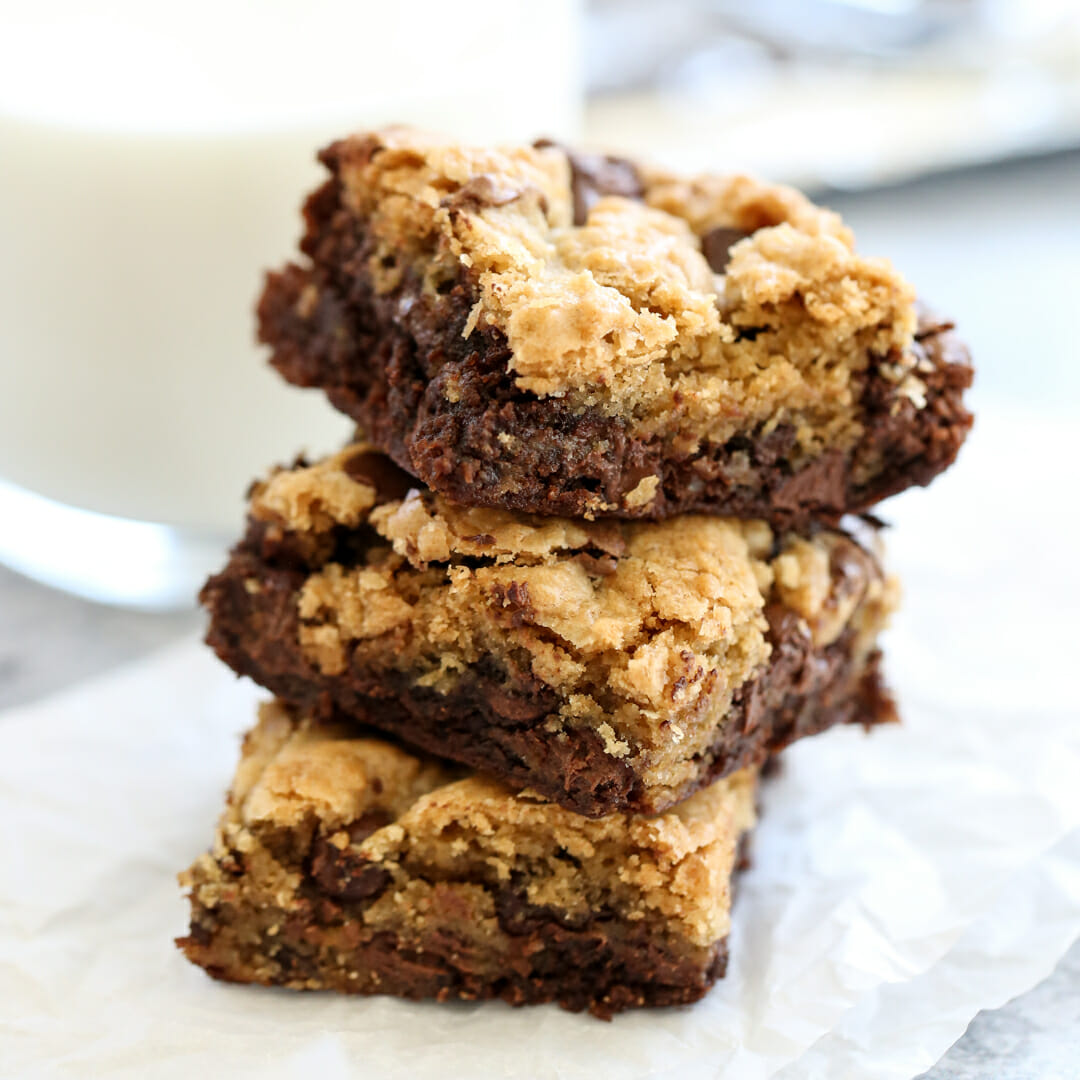 Print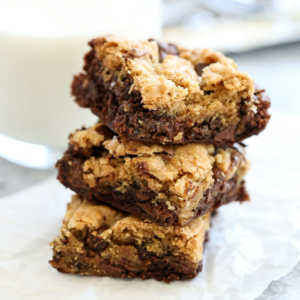 ---
Description
Two beloved desserts come together in one perfect bar cookie.
---
Brownie Layer:
1 box brownie mix, prepared according to package instructions
(feel free to sub homemade brownie if you prefer!). *SEE NOTE
Cookie Layer:
12 tablespoon butter (1 1/2 sticks) melted and cooled until warm
1 cup brown sugar (light or dark)
1/2 cup granulated sugar
1 large egg plus 1 egg yolk
2 teaspoons vanilla extract
2 cups plus 2 tablespoons flour
1/2 teaspoon baking soda
1/2 teaspoon salt
1 1/2 cups semi-sweet or bittersweet chocolate chips
---
Instructions
Preheat oven to 325 degrees.  Line a 9×13 pan with foil for easy clean-up and spray with non-stick spray.
Prepare brownie mix according to package instructions and pour into prepared pan.  Do not bake yet.
In your empty brownie bowl, add melted butter, sugar, brown sugar, egg and yolk, and vanilla an stir to combine.  Add flour, soda, and salt and stir.  Finally fold in chocolate chips until just mixed.
Use your hands to drop dough onto the top of the brownie batter, it's okay if some brownie batter shows through.
Bake for 25-30 minutes until cookie part looks set, but not crunchy and brown.  You can poke with a skewer or tooth pick to see if the brownie layer is done.  You really need to eyeball since all brownie mixes are a little different!  I'm using one that is meant to be baked in a slightly smaller pan so if you use a mix meant for a 9×13 it might need a little longer.   Cool, cut, and serve.
---
Notes
if you look on the back of the box, some brownies have instructions for a 9×13 pan, and some say the largest pan option is 8×8 or 9×9.  Try to find one that is made for a smaller pan (the 8×8 or 9×9).  You will bake them in a 9×13, thus creating a thinner brownie layer that can complete cooking in the same time as the cookie layer.  If you get the larger box, your brownies might be too thick and be undercooked.  If all you can find is the larger kind, then maybe make 2 or use half the batter in an extra small pan for a snack 🙂