Some people assume that since Kate and I do this whole food blogging thing, our holiday kitchen gift-giving is amazing and extravagant. Oh, how not true that is.  Well, I can't speak for Kate; she could very possibly be constructing miniature hand crafted gingerbread houses for all of her friends and neighbors, but I keep it simple.  We're just like most of you; with really great intentions, and sometimes the fulfillment of those intentions,  but still often a last minute scramble trying to catch up!  A couple of Christmases ago my friend Tricia brought over a big chocolate bar with this poem attached and it cracked me up:
Bells on our telephone ring,
The machine will take the call,
We have no time for family or friends,
It drives us up the wall.
How are you? How's your life?
We really want to know.
Hope you're ready for Christmas,
Now maybe it will snow.
A day or two ago,
We thought we'd make a treat,
For all our special friends–
A Christmas Gift to eat!
Our intentions were top notch,
But our schedules would not budge,
Hence, here's this year's version of homemade
CHRISTMAS FUDGE!
I quickly filed away the idea (like, in my brain file, not an actual file;  I'm not that organized…) because I knew it would come in handy one day!
photo by tomkat sudio
Kim at The TomKat Studio, who made these cute tin can treats labels, and these adorable "Reindeer Food" tags, whipped these up for us too.  Thanks Kim!  I love her style; make sure to go visit her blog for lots of other fun printables!
These labels are sized for the *big* chocolate bars, like Symphony (mmm…) or my personal fave, Hershy's Special Dark: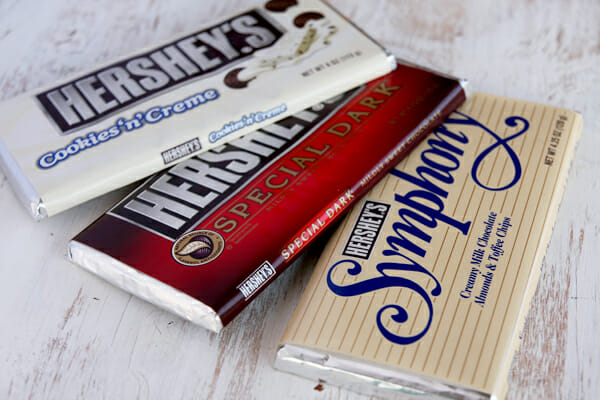 You can peel off the outside labels that come on them, or leave them on and cover it up.  All  you need besides chocolate bars is a piece of scotch tape and the oh-so-cute labels.
Just wrap and tape.  As my six year old would say, "easy peasy lemon squeezy."  Kim even included a cute little spot to personalize them!
Grab a few candy bars and keep these stashed in your house/car/purse for the next few days.  I can't tell you how many times the week before Christmas I think, "Doh!  I wish I had something for that person…"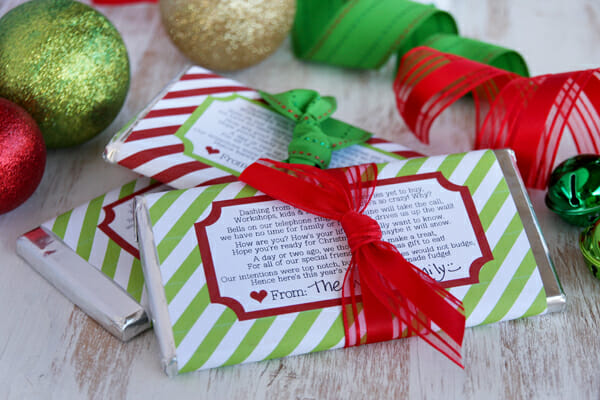 Well now you can be all ready!  I think easy stuff like this is especially great for mail carriers, garbage men, delivery people, etc.  When I was growing up, my Mom always gave a little something to all of them and I thought it was so thoughtful.  She truly thought of everyone, and found a token-often a simple one, to express her gratitude.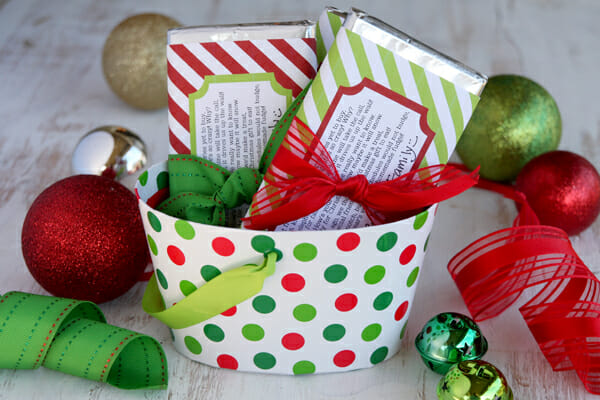 Thanks so much Kim of The TomKat Studio for another darling Printable!  Click the link below to download and print from your home computer!
Red Stripe Candy Bar Wrapper
Green Stripe Candy Bar Wrapper
And come back tomorrow for a recipe!  Yep, real food.  The kind you can eat.  And guess what?  There's no sugar in the ingredient list!  I know, it's a Christmas miracle.  There is however a vat of oil for frying, but c'mon, we're celebrating this week.  You can make up for the calories in January when we do an entire month of healthy recipes, okay?!