After my post on Wednesday, I know a lot of you were expecting a pot roast recipe today 🙂 Thank you so much for all of the kind words, in the blog comments, on social media, and everywhere else. We sure do love this community we have here and you have all been so kind. I have read every single comment on my last post and wish I could thank everyone personally. Muah!
Now, let's talk about caramel apples. And how I can't figure out why we tend to limit the bulk of consumption of them to 1-2 months out of the year. It's not like pumpkin that tends to be a very seasonal commodity. We always have apples, and we always have caramel. So we really should always have caramel apples.
Most people know that the very best way to eat a caramel apple is to slice it up into wedges first. But you can't keep the wedges around long (like to serve at a party, for example) because they turn brown. They also cause sticky fingers.
A couple of weeks ago I received a darling and delicious Edible Arrangement from some sweet friends of mine, and included in the arrangement were what appeared to be chocolate covered apples. Upon closer inspection (and a big bite) I realized they were chocolate-covered caramel apples, sprinkled with sea salt. And they were magnificent. And I thought it was such a brilliant idea because not only is chocolate and caramel and apple an amazing flavor combo, it was the perfect way to capture the illusive caramel apple slice in a way that is not only clean and tidy to eat, but in a way that keeps it fresh and makes it perfect for gifting or partying. You can't really "gift" someone one slice of apple, that would be weird. But a chocolate covered caramel apple slice on a stick? Drool-worthy.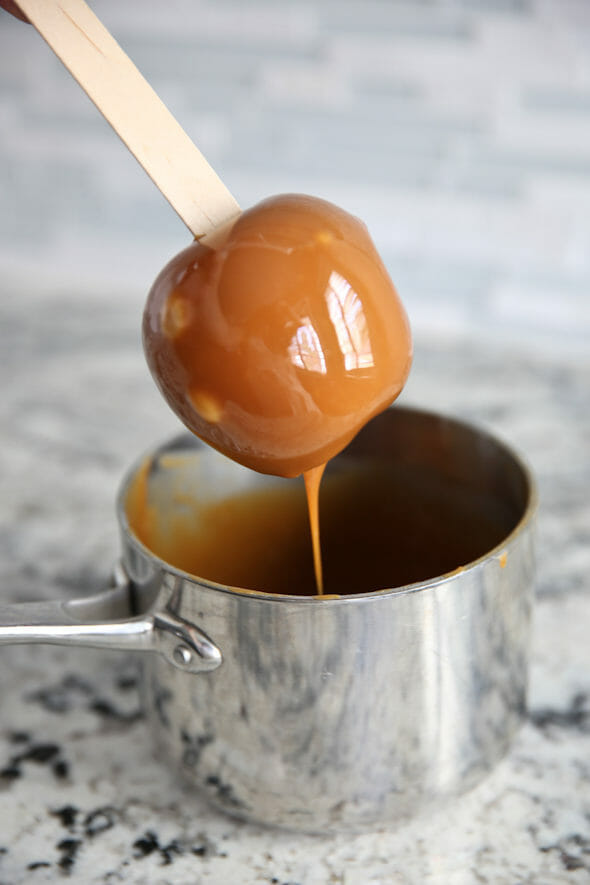 So then, step one: dip some apples. These are Honeycrisp apples we brought home from Washington on our recent trip there. And I'm using my favorite block of Peter's Caramel from Orson Gygi
You will want to let the caramel set completely and preferably harden in the fridge. Once it's firm, slice and core the apple.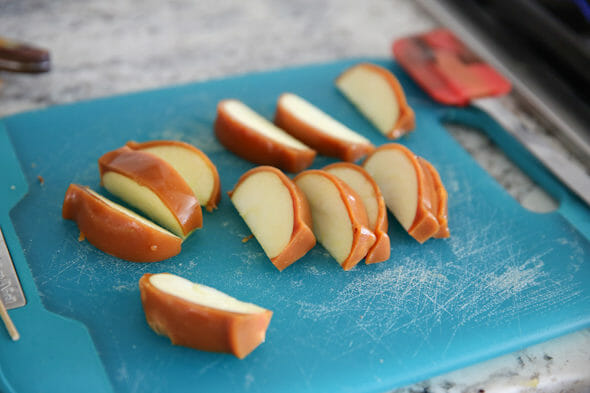 And pop it on to a medium-sized wooden skewer.
Dunk each slice in melted chocolate (super easy because they're on sticks)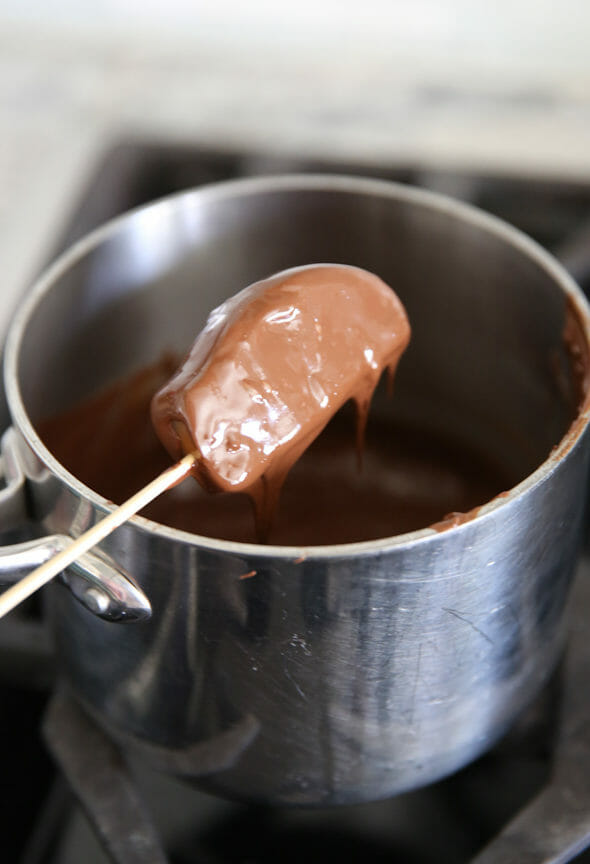 and then lay then down to firm up.
At this point you can sprinkle on some sea salt, or toffee bits, or sprinkles, or whatever. I went for a white chocolate drizzle.
You can place them in the fridge to speed up the chocolate hardening and then they are ready do go. Cutest little decadent treat ever. Great for a party or a little gift or just for snacking.
And fantastic (in terms of messy caramel apples in general) for little kiddos, too.
These are super easy to make, and also rather quick! We have a yummy homemade caramel recipe here, or if you'd like that loaf of Peter's Caramel, find it here!
Print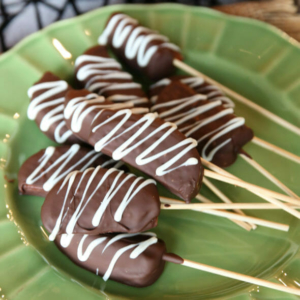 Chocolate-Dipped Caramel Apple Pops
---
Description
An easy and delicious way to serve caramel apple slices!
---
apples
caramel
chocolate chips (any kind), melted
medium-length wooden skewers
---
Instructions
Skewer apples and dip in caramel. Place in fridge until caramel is firm and then slice and core apples. Skewer each slice and dip in melted chocolate. Place on a silicone mat or parchment and leave to set up. Sprinkle with sea salt, sprinkles, toffee, candies, etc. as desired.
---
Notes
To make chocolate easier to dip, feel free to add 1/2 teaspoon vegetable oil per 1 cup of chips.