I mentioned recently on Instagram that people always assume that I'm the type of person that makes big fancy cakes for every event around here and I really don't.  In fact, for the last birthday we had, for my 6 year old, I literally called (okay I didn't even do that, I had my husband call) Mrs. Field's and ask the guy if he could pipe a Minecraft character on a giant cookie.  Bam.  Happy birthday kid.  My youngest son however, recently turned 4 and since he wasn't having a birthday party with friends, I wanted to make our little family celebration extra special so I told him I'd bake any flavor of cake he wanted, and he knew exactly what he wanted, immediately responding "Chocolate in the middle, with Oreos!"  Alrighty then. I have a couple of great from scratch chocolate cakes I like, but the kid is 4 and I was going for quick and easy so I just grabbed a cake mix to doctor up a bit.  When I was looking around for recipes, to see if I might try something other than my usual doctored mix, I noticed my friend Amanda's, which she claims to be the very best (and that chick doesn't kid around when it comes to desserts!), and was surprised when I realized I had that recipe memorized already.  It's the exact same recipe (with the exception of extra vanilla in my version) for the double chocolate budnt cake that my family has been eating since I was a kiddo.  We bake it in a budnt pan and slather it in a chocolate glaze, and I don't know why I never thought about baking it in a regular cake pan, but it was a good move.  It's sooo soft and fudgy and chocolaty and was the perfect base for my creamy white cookie-studded frosting.
Preheat oven to 350 degrees.  To start, we'll prepare our baking pans.  When I'm making a regular cake, like a sheet cake, I just use non-stick spray and give the pan a squirt.  But when I'm making layer cakes, I always take the time to butter and flour them well.  If I'm baking a chocolate cake, instead of white flour, I use a spoon of white flour and a couple spoons of cocoa powder.  Tap out the excess and then set those aside.
You'll need one Devil's Food cake mix  (Kate and I always go with Duncan Hines).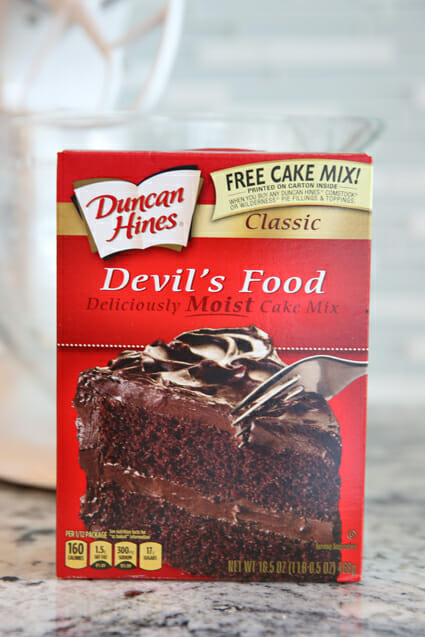 You're going to ignore the directions on the box and pull out some extra stuff, like sour cream, eggs, milk, oil, and a small box of instant pudding.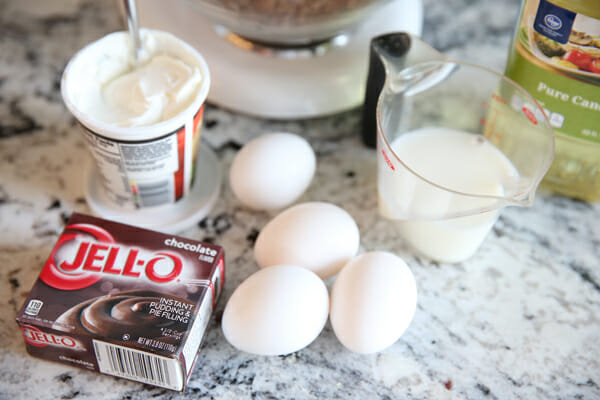 Add the dry pudding mix to the dry cake mix in a mixing bowl.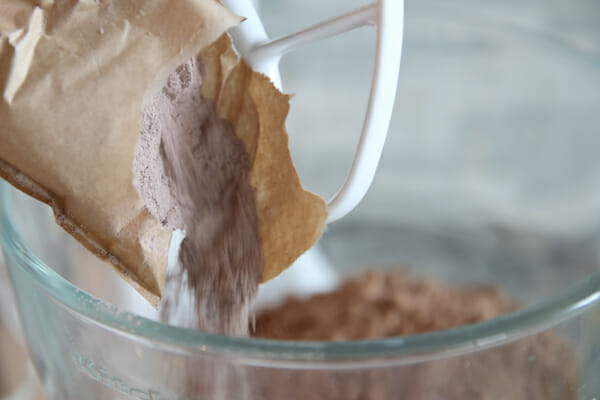 In a separate bowl, whisk together the eggs and sour cream, then whisk in oil, milk, and vanilla until smooth.  Add wet ingredients to the dry and mix on low, scraping down sides, until everything is combined.  Increase your mixer speed to medium/medium-high and beat for 1-2 minutes, until smooth and silky.   Once that's done, stir in some chocolate chips.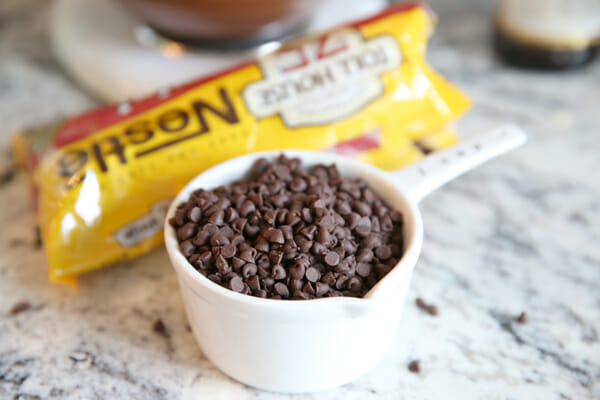 Just until they're mixed in evenly.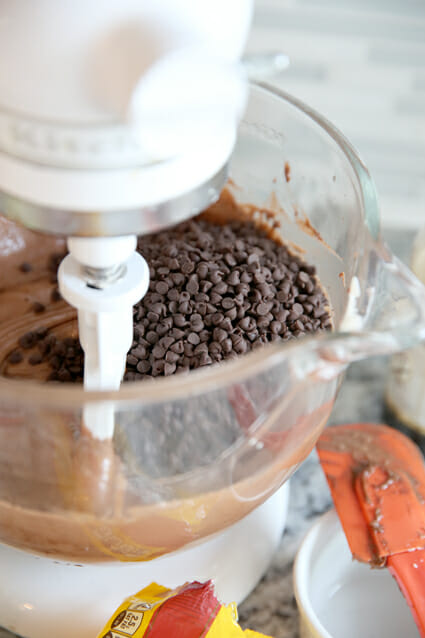 Divide the batter evenly and then bake them up until fudgy perfection.  This is a really fudgy, dense but soft, cake.  My brother-in-law commented after the first bite that it was almost like a brownie.  So when you're baking it, test it with a skewer and take it out the moment there's not wet batter stuck to it (but just a few gooey crumbs instead).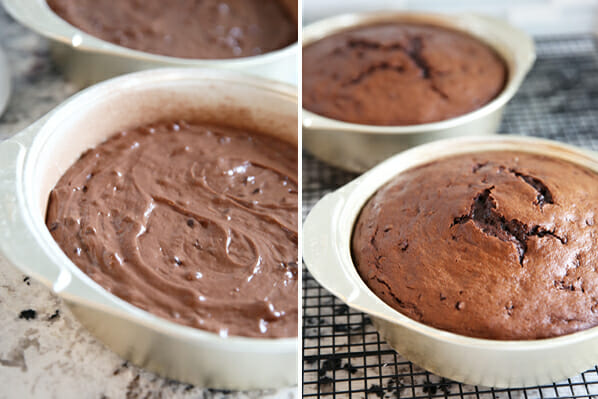 For the frosting, I start with our famous Whipped Buttercream.  If you've never made it, it's kind of funny, starting with a cooked mixture of flour and milk.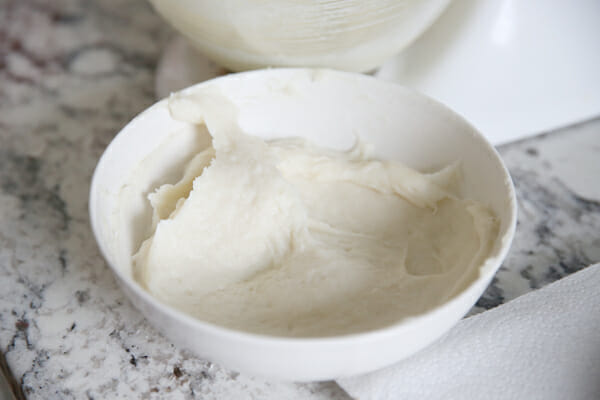 Something magical happens when you beat the heck out of it with butter and granulated sugar, and it turns into silky frosting heaven.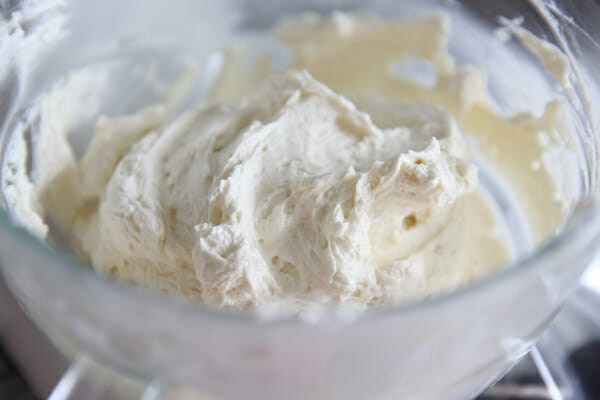 For the cookie part of "cookies & cream" I went with the birthday cake variety of Oreos.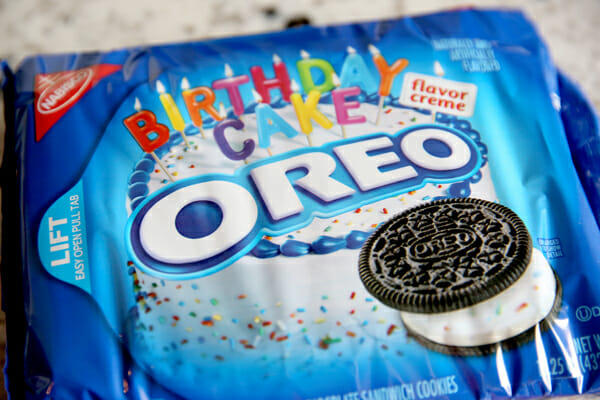 Honestly it doesn't make a whole lot of difference in the taste of the overall cake, but it's fun, and it adds subtle little colored bits to the frosting which is kind of fun.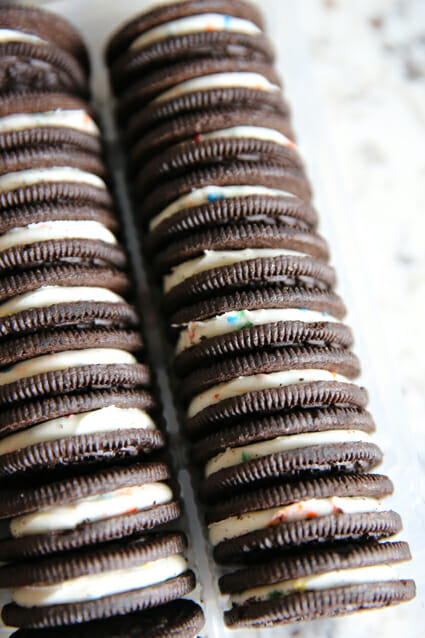 I find that when I need Oreo chunks/crumbs, smashing them in a bag only creates a muddy mess, so I always just use a big knife and chop them up that way.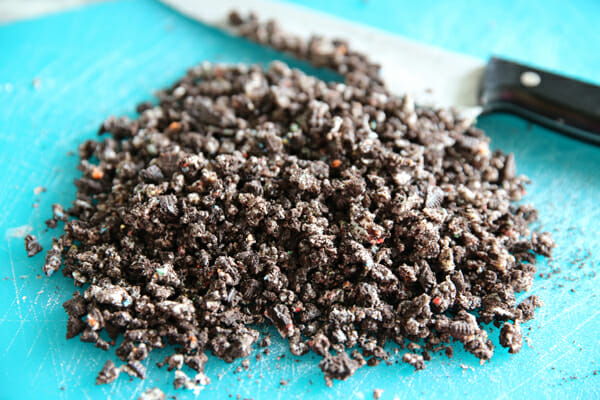 Gently fold them into the frosting.  If you over-do it, your frosting will be gray and ugly, so I don't beat it with the cookies,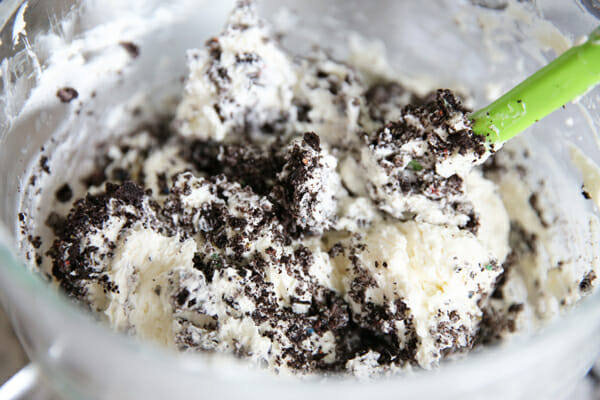 I just gently fold.  You are welcome to add more cookies to your liking.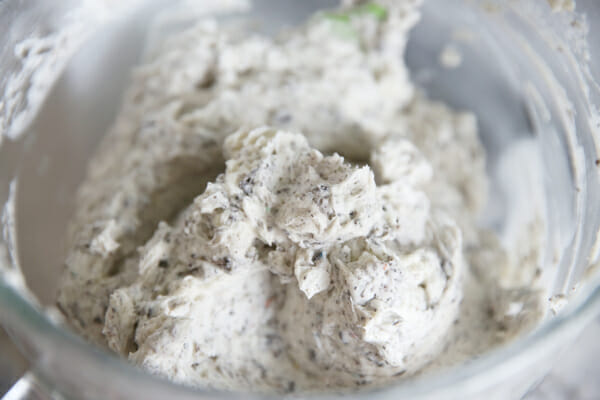 Place the bottom cake layer on a cake stand, but use 3 pieces of waxed or parchment paper on there first, in a triangle pattern.  Slap on a generous amount of frosting (you'll notice I have almost an inch there) and smooth it out flat on top, and up the sides.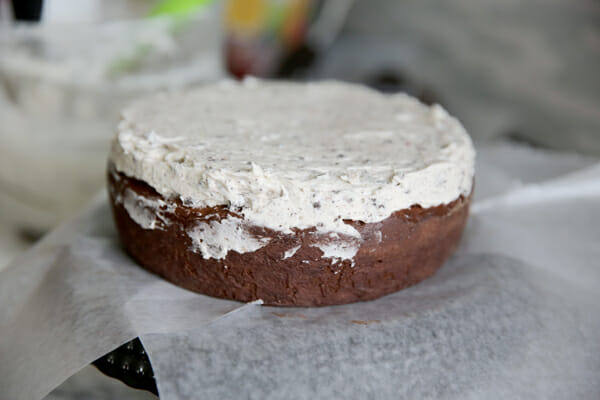 Invert the top cake later so the top of your baked cake is set facing the frosting and the nice flat bottom is on the top.  This will make it much easier to have a nicely shaped cake!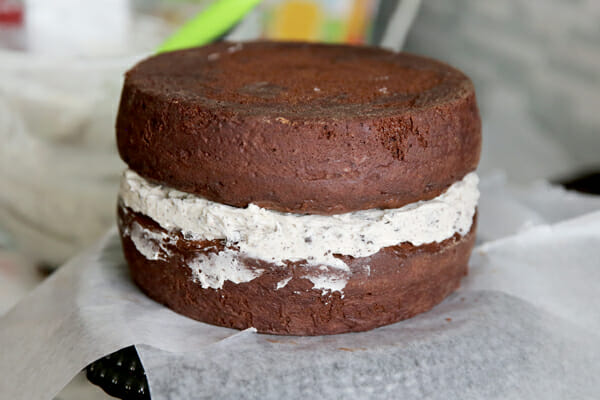 Frosting a cake isn't rocket science so don't be scared.  It won't look pretty at first and that's okay!  I start with just slapping blobs all over and gently spreading them out just to cover the cake evenly.  You don't even have to worry about crumbs because they will blend right in, and the cake plate will be protected by those pieces of paper.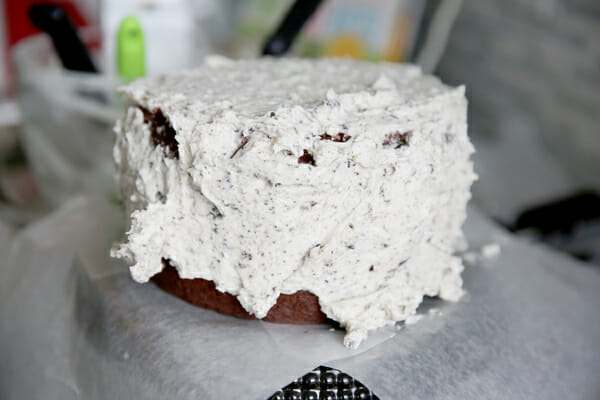 Once the frosting is on there evenly, use an offset spatula to gently smooth out the sides and top.  Easy peasy.
Then you can pull those pieces of paper off from the bottom and your cake plate will be nice and clean.
There's enough frosting here to save a little bit and pipe it on top for decoration.  I just used a jumbo star tip and made quick stars around the outside edge and a big ol' blob of them in the middle.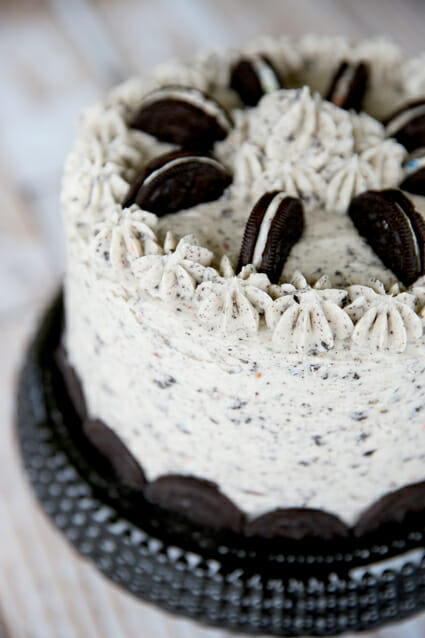 I often do some sort of embellishment on the bottom of the cake simply to cover up a not-so-perfect base.  These half-cookies worked perfectly!
Since this was a birthday celebration, we popped in tall candles and tossed around balloons.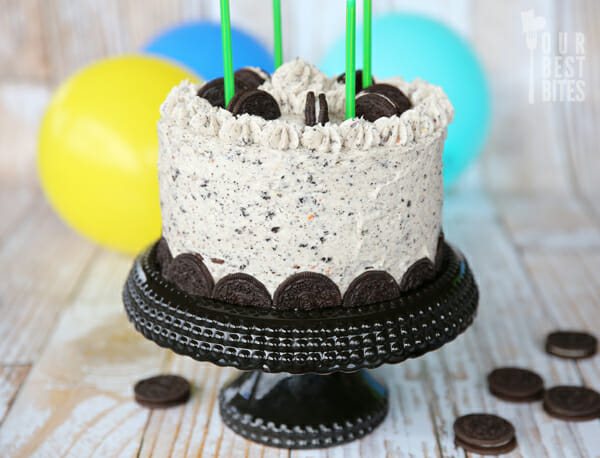 And we had one super happy birthday boy!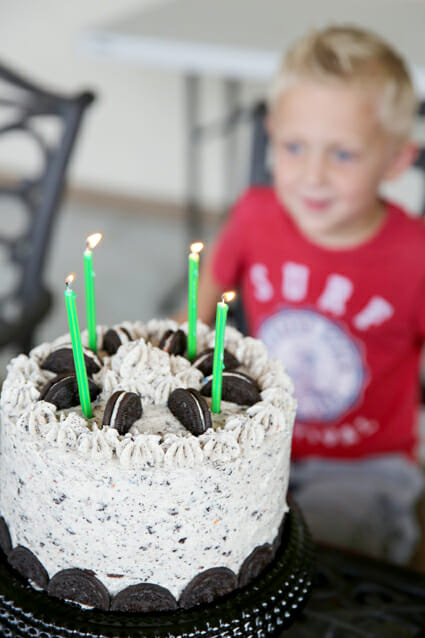 I actually think this cake is even better on day 2, so feel free to make it the day before and keep it refrigerated.  Bring it out an hour or 2 before serving to come to temperature and maybe wait to pop the cookies on until then so they don't get soggy.  Amazing.
Chocolate Fudge Cookies & Cream Cake
Recipe by Our Best Bites
Cake
Butter and flour/cocoa powder for flouring pans
1 box Devil's Food Cake Mix (I prefer Duncan Hines)
1 small box instant chocolate pudding
4 eggs
1 cup sour cream
1 cup oil
1/2 cup milk
1 tablespoon vanilla
2 cups (1 bag) mini chocolate chips
Butter 2 8×8 or 9×9 pans and sprinkle with a 1:2 mixture of flour and cocoa powder to coat all surfaces.  Tap out any extra and set pans aside.
Combine cake mix and dry pudding powder (ignore instructions and additional ingredients on pudding box) in a large mixing bowl.  In a separate bowl, lightly whisk the eggs, and add sour cream, stirring until smooth.  Add oil and milk, while whisking, to combine everything.  Add vanilla.  Add wet ingredients to the dry cake mix ingredients in bowl and mix on low, scraping down sides, until everything is combined.  Increase mixer speed to medium/medium-high and beat for 1-2 minutes, until smooth and silky.  Add chocolate chips and mix just until combined.
Divide cake batter evenly between pans and tap on counter to remove any air bubbles.  Baking time will depend on pans used.  My 8×8 pans generally take about 35-45 minutes.  Remove cake from oven when a skewer poked in the middle comes out without wet batter, but just with moist crumbs instead.  Let cool until luke warm to the touch and then carefully invert them out of the pans.
Frosting
quadruple recipe of our Whipped Buttercream Frosting (yes, x4!)
13-14 Oreo Cookies, finely chopped
Prepare the frosting and then gently fold in cookies until well distributed.  Frost cake and decorate with additional Oreos if desired.
Cake can be made and frosted a day ahead of time and kept in the fridge until ready to eat.  Set at room temperature about 1 hour before serving, and add cookie decorations before serving.   Alternately you could bake the cakes the day before and once cool, wrap well in plastic wrap and store at room temp, or make a few days ahead of time and freeze.
PS- If you haven't entered our giveaway yet- there's a $500 BestBuy Gift Card up for grabs Here.  Head on over and enter!!