Update:  We are so happy to announce that Sara's Ice cream, featuring Idaho's Huckleberries, was selected as the winner of this contest and will be produced by Private Selection and sold in stores across the country in June 2014!
Over the weekend we told you about a fun trip we took to Traverse City, Michigan to tour beautiful cherry country!  Our hosts, Private Selection, have an awesome product concept, and that is to source their ingredients from places that specialize in those particular ingredients.  That's why they went to Michigan, known for their famous cherries, to get the cherries for their Michigan Cherry Cobbler Ice Cream.  And now that they're ready for a new ice cream flavor to hit shelves, they invited food writers from different regions of the country to come up with an ice cream recipe that represents the flavors of their state.  Kate and I were so honored to represent our home states of Louisiana and Idaho, respectively.  We were among a talented group of ladies, all of whom came up with incredible flavors!  The absolute coolest part about this fun promotion, is thatYOU get to now vote on which flavor sounds the most amazing and the winning flavor will actually go through product development with Kroger and be released in stores as a limited edition!
I'm going to tell you all about our flavors and then you can head over to the Private Selection Facebook page and vote for whatever flavor you see there that looks the yummiest.  I will be so happy to see any of these bloggers get to have their flavor show up in stores!  You can vote once a day for your favorite flavor for then next 8 weeks.  Yes, 8!
We started our day in a beautiful professional kitchen at The Great Lakes Culinary Institute where we each got fancy hats and jackets.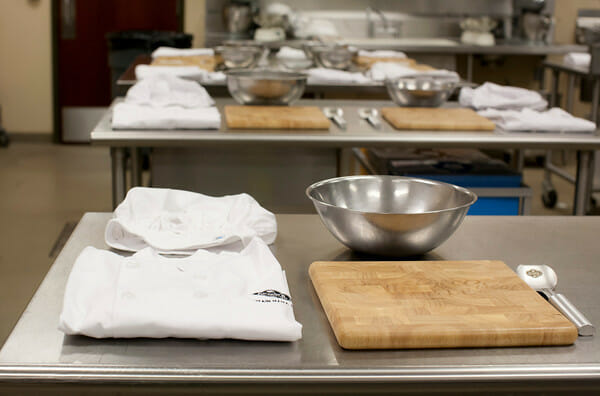 All of the ingredients for our flavor exploration were waiting for us and boy was there an interesting mix.  Everything from hot chili peppers, to bacon, to rosewater, to watermelon!  Kate and I definitely played it a little more traditional.
We got instructions and tips for working in a professional kitchen from director Fred Laughin (shown here teaching me how to use the counter top induction burner)
And then we got to work.  I shared a table with 3 other bloggers and it was so fun seeing what everyone else was up to; there are some very unique flavor combos!  Lots of laughs and lots of fun.
Kate's ice cream.
Kate got inspiration from one of her favorite southern comfort foods, Banana Pudding.  Yummy whole milk and cream, fresh bananas and sweetened condensed milk all went in to make a creamy pudding.
It was folded into vanilla ice cream and dotted with fresh banana slices,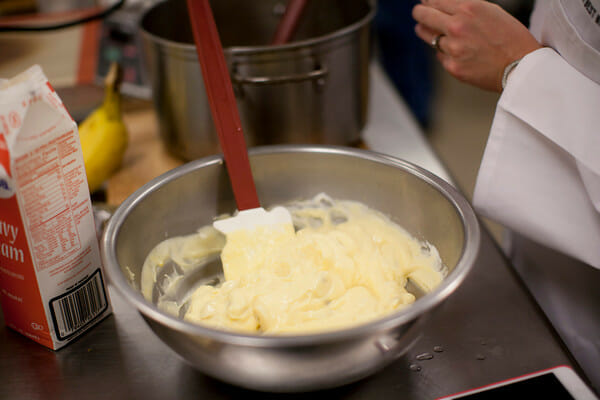 buttery crunchy Nilla Wafers, and smooth buttermilk caramel.
If you love our Banana Cream Pie, you'll love this ice cream!
Sara's Ice Cream
Most people know Idaho for the potatoes, but the truth is, I live in huckleberry country!  Private selection had some frozen fresh huckleberries over-nighted to Michigan just for this ice cream.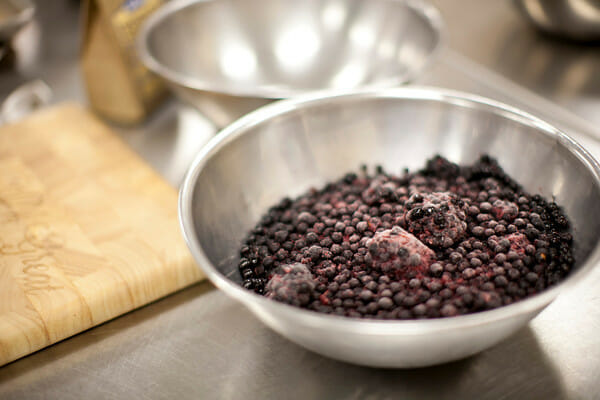 I wanted all of the flavors of the perfect piece of crumb-topped huckleberry pie all in one cool creamy bite. So my ice cream has little morsels of homemade cinnamon-brown sugar streusel throughout it,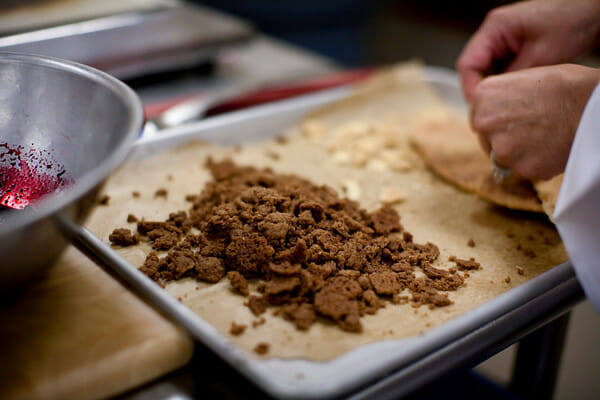 and chunks of buttery, flakey pie crust.  The fresh, plump huckleberries are the stars of the show and not only burst with sweet flavor, but they create this amazing violet color as well!
It's like a spoonful of summer, and it perfectly represents my great state!

We would love it if you took the time to visit the Private Selection Facebook Page and voted for your favorite ice cream flavor!  Just click on the "State of Great Taste" image you see here:
You can vote once a day for several weeks, and each time you do, you'll get an ice cream coupon for yourself.  If you want to see any of the flavors on that page in stores, this is your chance!  Support a blogger or a flavor you love, and thank you!
Note: Apple iOS App Users,
Click Here
to read this Post.