So last summer, we released our Summer, Simplified meal plan which was 7 weeks of dinners that you could make in 30 minutes or less where you didn't ever have to turn on your oven. It was a HUGE hit and we got so many requests for something similar that was better suited for the colder months. So Sara and I set out to make a quick and easy meal plan with cozy comfort foods. Turns out that's a little harder to fit the time constraints, but we put your crock pot (and/or Instant Pot) and oven to good use in Dinner, Simplified, which is a collection of pastas, hot sandwiches, roasts, and other favorites to help you get dinner on the table when you're crazy busy!
frequently asked questions
What kind of recipes are included in the plan? On the meal plan, you'll find recipes like Sheet Pan Mini Meatloaves, Creamy Chicken Noodle Soup, Sweet & Sour Meatballs, One Pot Spaghetti, BBQ Chicken Roll-Ups, Beef & Cheese Crunch Wraps, Food Truck Hot Dogs, Thai Peanut Noodles, Easy Pressure Cooker Tomato Soup, Sheet Pan BBQ Chicken Drumsticks, French Bread Pizza, Kielbasa Black Bean Skillet, and tons more.
30 delicious recipes total, PLUS, if you get the hard copy version, it includes two year's worth of weekly meal plans. You are honestly set for life!
Are all of the recipes brand new, never-before-seen to loyal Our Best Bites followers? Fans who have been following us for a long time may recognize a few fan favorites from over the years — they were too good to be left out! However, there are plenty of new recipes making their debut.
What about dietary restrictions and processed foods? We understand a lot of families have allergies or other sensitivities. We've heard from a lot of gluten-free parents that said they were easily able to work with the recipe to make it work for their family. The recipes are also low on processed foods. There are 3 recipes that call for slightly more processed ingredients: jarred chili sauce, grape jelly, apricot preserves, Catalina salad dressing, and dry onion soup mix. That's as processed as it gets! If you have other questions about a specific restriction or dietary need, just reach out to [email protected], and we'll see how we can help.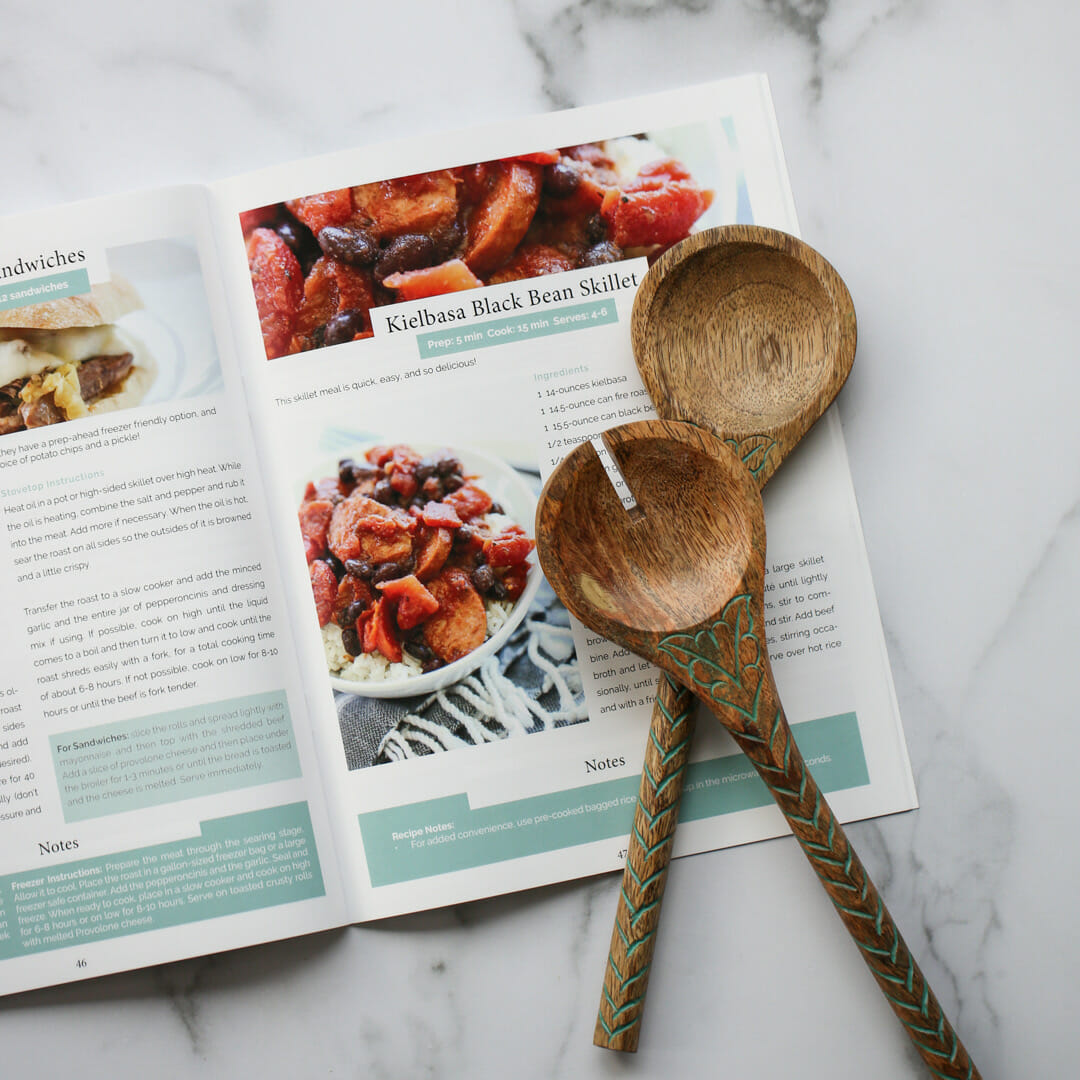 ​Is this a digital meal plan, or hard copy? We have both available! Please make sure to select which one you'd prefer!
Why does the hard copy cost so much? Because we're not mass producing it overseas. The number one request we've gotten in the past is that we offer a hard copy, so we searched high and low for the best way to do it and found it universally expensive. I just priced it out at Office Depot and if you were to purchase the digital file and have them print it into a stapled booklet for you, on their cheapest paper, it would be $23.14 before tax and to have it print and spiral bound, it would be $34.79 on their cheapest paper. We're not trying to rip you off, promise.
Will this increase my weekly grocery budget? We have found an actual decrease in our grocery bill — especially when combined with utilizing leftovers to roll into another meal!
Who can I contact if I have further questions? Please email Cat, our Project Manager, at [email protected].
If you've already purchased it, we'd love to hear what you think! And if you haven't, we think you're going to love it! Check it out HERE!