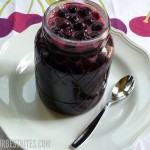 First off, we need to announce the winner of our food storage giveaway! The winner is #1025, Heather H. Congrats, Heather! Please email us ASAP to claim your prize!
Secondly, we're going to pick a winner for the Photo Contest Giveaway tonight, so you still have time to enter!
And finally…Blueberry Sauce. Yeah, yeah, it's kind of a summery thing, but for me, the most evil part of summer is starting to end and summer how I knew it growing up (hot days and cooler nights) is beginning. So while all of you were gallivanting around with your barbecues and your bonfires, I was huddled in a corner in the fetal position, wondering why my air conditioner wasn't working properly. And now I am barbecuing and bonfiring (yeah, spell-check, I know that's not a word…your squiggly red lines don't intimidate me…) And eating blueberry syrup. On my waffles (come Friday) and my ice cream (every night between now and Friday).
This recipe is super easy. You'll need 2 cups of blueberries (fresh or frozen), 1 cup of water, 2/3 cup sugar, 2 tablespoons corn starch, 1/4 cup strained lemon juice, and 1 teaspoon vanilla extract.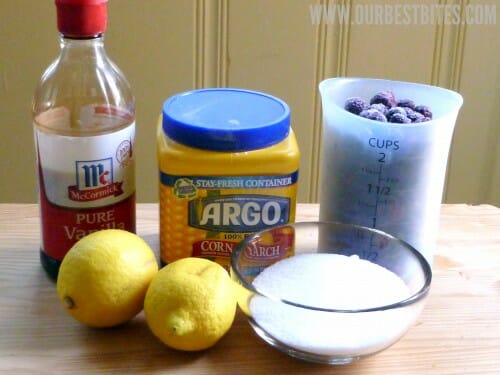 In a large, heavy saucepan, combine the water, sugar, lemon juice, and corn starch. Bring to a boil, stirring frequently, and boil for 1-2 minutes or until the mixture begins to thicken. Add the blueberries and stir constantly for 5 minutes. You can either mash or blend the berries or you can leave the berries whole. I think mashed berries work better for syrup and whole berries work better for ice cream (I like how they kind of freeze up on the ice cream, but I find them a wee bit creepy on pancakes or waffles or french toast).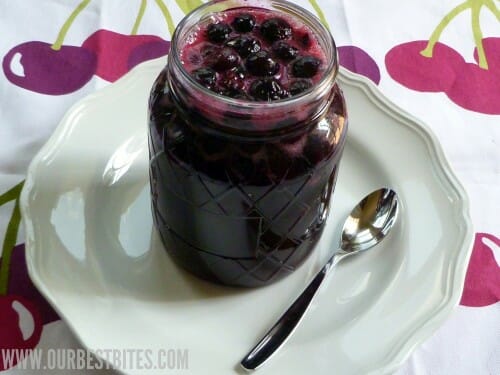 This makes about 3 cups. And yes, before you ask, this can be frozen and I'm sure it can be canned, but I am not a canning expert and have no idea how you would go about doing it. If refrigerated, use or freeze it within 1 week.
Easy Blueberry Sauce & Syrup
1 cup water
2/3 cup sugar
1/4 cup strained fresh lemon juice
2 tablespoons cornstarch
2 cups blueberries
1 teaspoon vanilla
Instructions:
Combine the water, sugar, lemon juice, and corn starch in a medium-sized heavy saucepan. Bring to a boil, stirring frequently, and cook 1-2 minutes until thickened. Add the blueberries and cook for 5 minutes. Remove from heat and add the vanilla. You can either mash or blend the berries (like for syrup) or leave them whole (to use as a topping). Serve warm and refrigerate the leftovers for up to