Every winter we get emails from people in search of the perfect gingerbread house recipe. And every year I tell people that I don't bake gingerbread houses. I've done it in the past, and every time I remember about half way through why my brain tried to tell me not to start it in the first place. The mess, the stress, the frosting EVERYWHERE…I could go on and on. What I do love, is making little graham cracker houses. I'm sure this concept is nothing new to most of you, but I do feel like I've simplified and perfected the process so that it's not one of things I regret doing halfway through!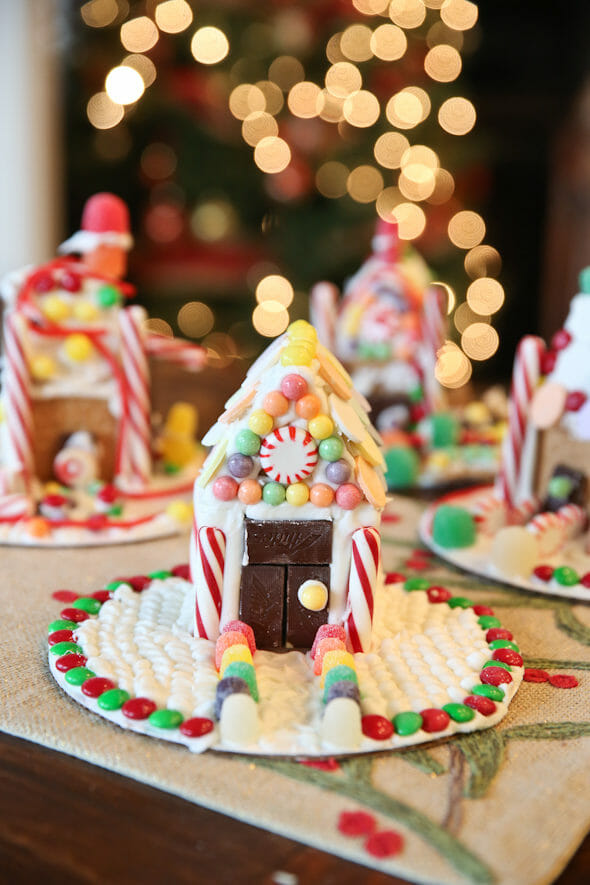 One of the things that makes our gingerbread house tradition easier is that I prohibit my children from actually assembling the houses. For real. Honestly, it's so much easier if you do the work to prep them ahead and then you can sit down relatively stress free with a smorgasbord of candy and just have fun decorating. Here's a few supplies that make this really easy.
First, the icing. (One important note is that you might find to make this even easier, you can skip the icing and hot glue those houses together. Just putting that out there.) To assemble the houses, you'll want something that dries hard, and royal icing is where it's at. You can make it with raw egg whites, but I prefer powder. Meringue Powder is just dried egg white powder, and it's easily found wherever Wilton products are found. They carry it in-store at Walmart (on the Wilton aisle) and at Michael's Craft Stores. You can also get it on Amazon. It's just a dry powder and it keeps for a long time so it's great to have on hand. This makes it so your frosting will glue like cement.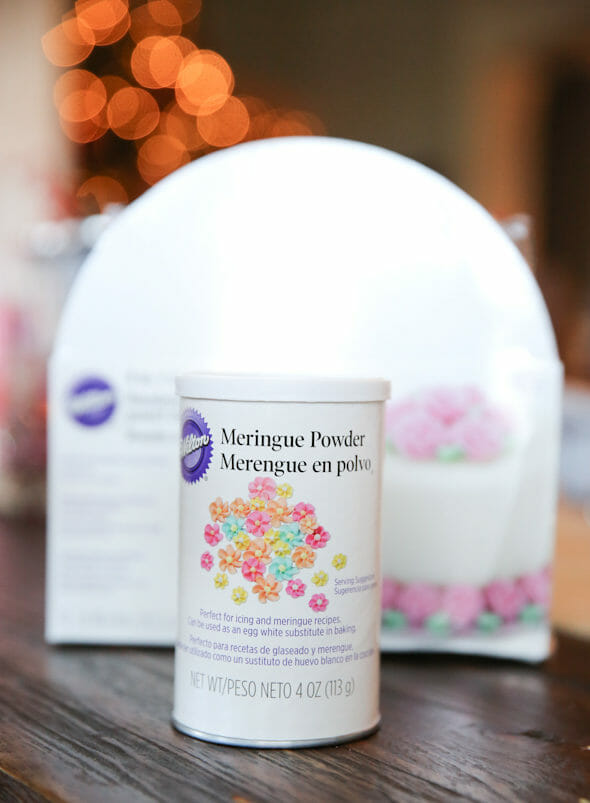 The second thing is Cake Circles. These are totally unnecessary- you can obviously make little gingerbread houses on a sturdy paper plate or a piece of cardboard covered in foil. But if you're getting meringue powder anyway, these packs of cake circles only cost a few dollars for a pack of several. They come in lots of sizes, circles or squares, and even silver-coated with scalloped edges if you want to get fancy. They're sturdy cardboard that's coated in a nice coating that won't absorb moisture. Makes it easy and uniform! You can find these near that meringue powder in all the same places.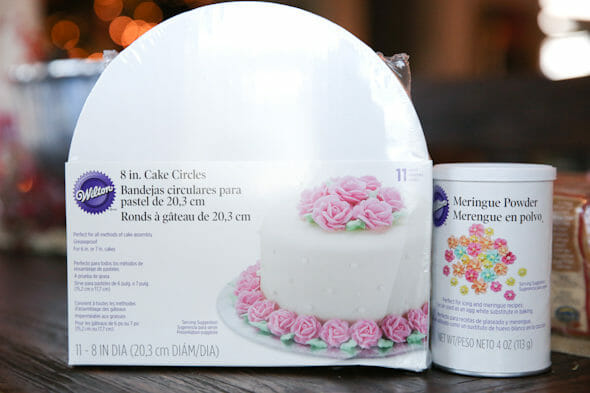 Now apparently I didn't take any photos of frosting, but it's super simple. I use a basic ratio or 1 tablespoon meringue powder to every 1 cup powdered sugar, and then enough water to make what I call "toothpaste consistency". Since this frosting is thick, I recommend using a pastry bag (as opposed to a ziplock with the end cut off, which can easily burst and split) again, you can grab a pack of several disposable ones with that Wilton stuff if you need a few. If you're going to use a plastic bag, I'd go for a heavy duty freezer bag. If you've got little hands helping, use a rubberband or zip-tie and tie the end off tight so it doesn't squirt out the end.
To assemble the houses, start with two sides like this:
Some people like to glue their crackers to a mini milk carton, but I just free form them. I frost the entire outside of the next side and finish the base.
You'll put two of those same sized crackers on the roof, but there will be a little open space that needs filling, so I use a sharp, serrated knife and very lightly cut another cracker like this: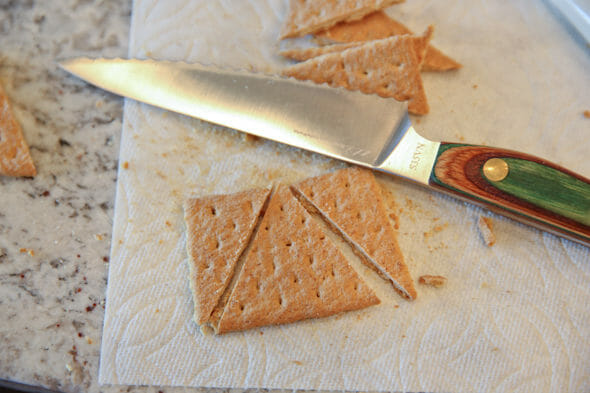 You'll want to saw super softly so it doesn't shatter, but it works- I promise! Then assemble the roof like in the photo below. The other reason you should assemble all of the houses beforehand is so your kids don't hear all the naughty words you mutter as you wonder why it's so difficult to turn tiny crackers into a small house.
Now, since I mentioned I like to make these ahead of time so they are assembled, dry, and sturdy for the kiddos, I don't want big globs of frosting all over the edges because it will be dry as cement by the time they decorate and it tends to just get in the way. So I just use my finger and wipe off excess around all of the joints, and then the houses can sit and dry like this.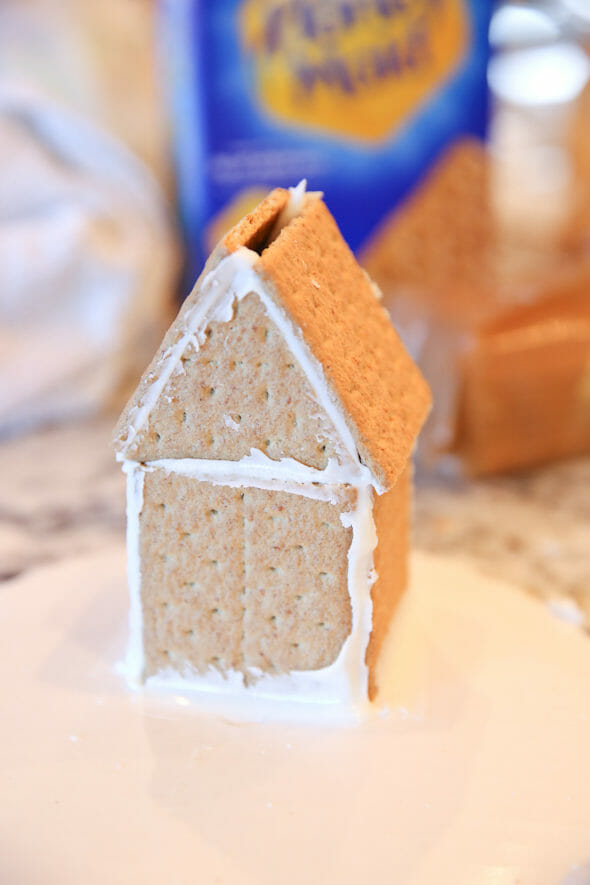 When it's time to decorate, you can either make more royal icing, or it's often easier for little kids to just use a standard buttercream. Buttercream stays soft so it's easy to use, and it tastes yummy! For me, Necco's are always a must- my Mom always made a shingled Necco roof so I always get several packs of those (get twice as many as you think you need since half of them are inevitably broken)
And the load up on anything and everything you want.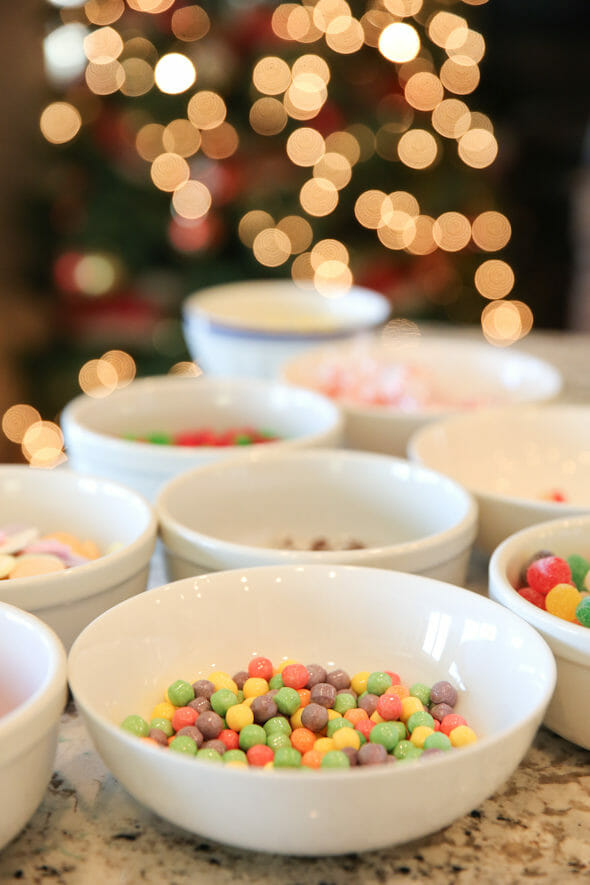 Part of the fun of making gingerbread houses is eating half of the candy during the process.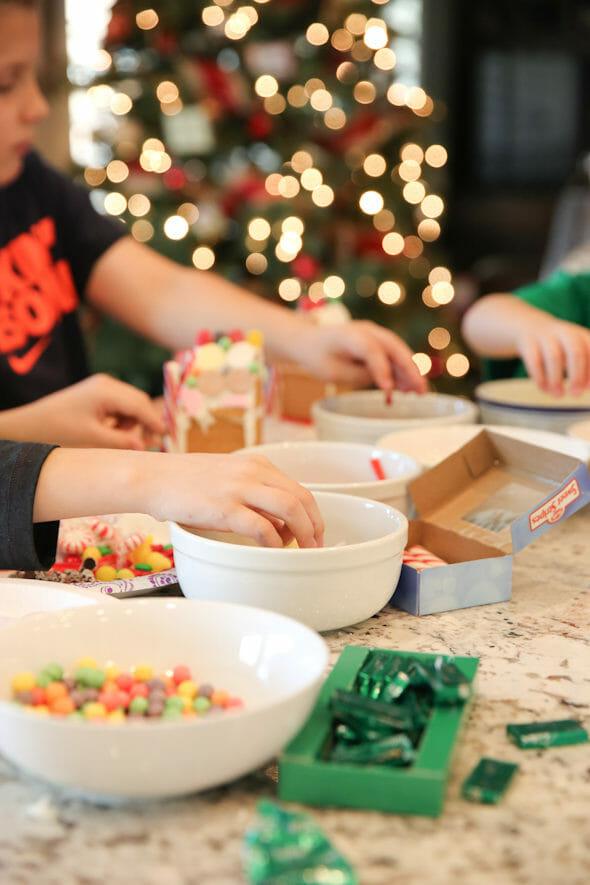 Try not to be jealous that my kids are obviously creative geniuses.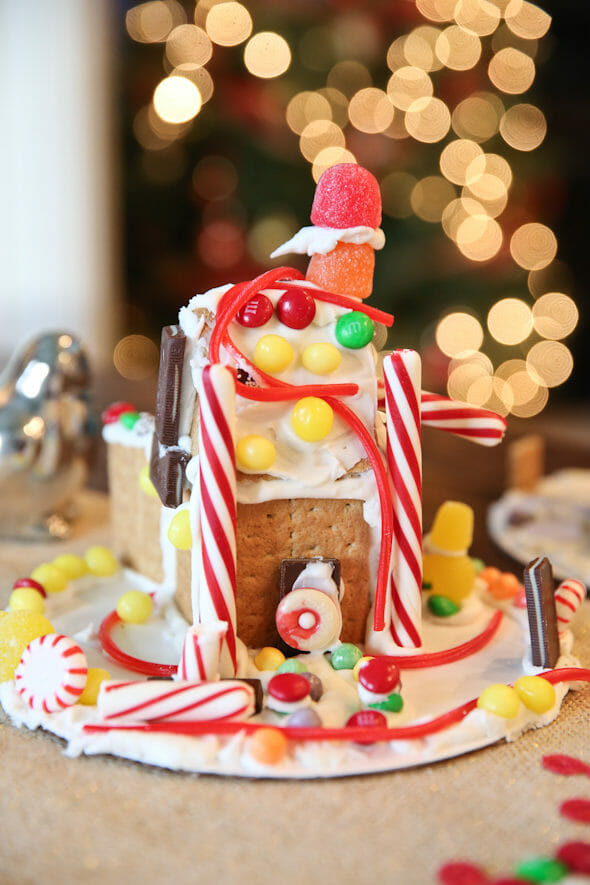 In all seriousness I was actually surprised and impressed at the creativity they all exhibited. This one made a clock from a peppermint and licorice whips, and I loved the little door knobs on the door!
This one added a porch, and another kiddo even created a little candy dog.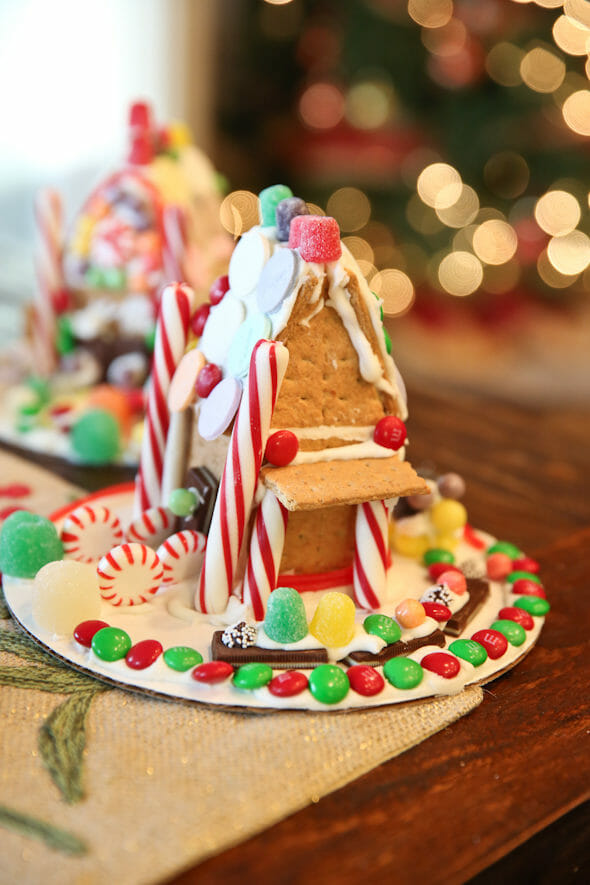 This one is mine and I have to say, I find making houses out of candy quite therapeutic!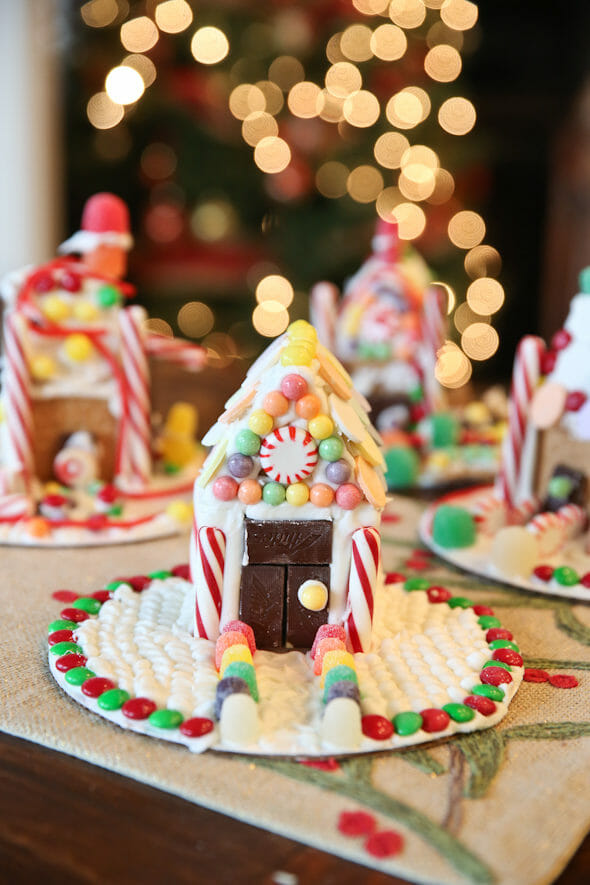 Hopefully this post makes the process a little simpler for someone out there so you can enjoy a fun afternoon activity at home before Christmas. Tag me on Instagram so I can see your creations!
Print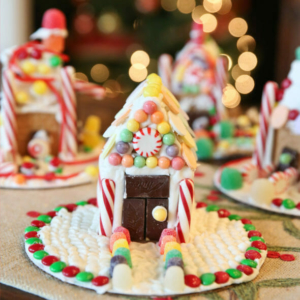 Graham Cracker Gingerbread House
---
Description
Simple way to make a "gingerbread" house, great activity for kids!
---
Icing
1

pound powdered sugar (about

4 cups

)

4 tablespoons

meringue powder
water
Graham crackers
candy for decorating
optional: buttercream for decorating
optional: cake boards (see post for details)
---
Instructions
In a stand mixer, combine powdered sugar and meringue powder. VERY SLOWLY add water as to not add too much, it takes a minute for it to absorb. Drizzle in water with mixer running until frosting reaches consistency of tooth paste.
Place icing in piping bag and assemble houses. Wipe off excess frosting at joints. Let dry until hardened and then use buttercream or more royal icing to decorate with desired candies.
Let sit on counter for days while getting stale and be eaten/destroyed by small children until it drives you so crazy that you throw them all in the trash one day and said children have emotional meltdowns about it. Repeat the following year.
---
Notes
Make any amount of frosting you like by using ratio of 1 tablespoon meringue powder to 1 cup powdered sugar.