I realize that Valentine's Day is in 2 days, and as a blogger I'm supposed to be doing my part to cover the world in homemade cards, DIY wreaths, and a sea of fluffy pink frosting.  But I'm making hummus instead.  I figure after this week of sweet treats you might want a healthy snack to munch on anyway, so I have your back.
Even though I love hummus, and I love edamame, I always thought the two of them together sounded strange.  But that was until Doris.  Doris is my favorite sample lady at Costco and she gets me every time with those enticing little paper cups that you're legally not allowed to touch until they're placed on the front of the metal cart.   After I tried this hummus a while back, my husband and I were hooked.  We've been going through tubs of that stuff so I figured I'd just make my own.  I also wanted to make it a little healthier.  For something that's packed with healthy ingredients, the store-bought version is quite caloric at 80 calories per 2 tablespoons.  I eat that much in one bite!  Yikes.  I've put the nutritional info for my recipe at the end of this post, and I've cut the calories down by half.  Woot!
Start with shelled soybeans.  That means the little beans are already removed from the pods.  Don't make the mistake of buying regular edamame, because you will hate my guts about halfway through the process of pulling them all out of the shells.  Generally "edamame" refers to the beans IN the pods, and "mukimame" are the shelled beans by themselves.  Look for them in the frozen veggie aisle.
I made the recipe specifically to use 1/2 of a 1 lb bag, (but you can easily double the recipe and use the entire bag).  That way you can get 2 batches out of the bag, or you can use the remainder tossed in one of our Asian salads, like this one or this one.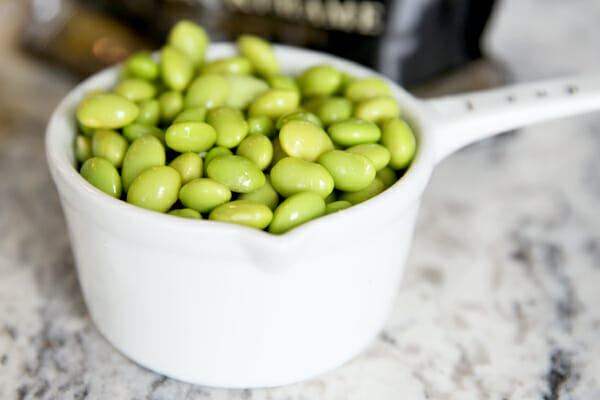 Pop those beans in a food processor.  The next ingredient you'll need is Tahini.  If you've never made hummus before, Tahini is one of the main flavor components.  It's made from sesame seeds and you can find it in the foreign foods aisle in the grocery store.  It's similar to peanut butter.  When you open the can it will be separated, kind of like natural peanut butter is, with oil on top.  Be patient and slowly stir with a spoon until it's smooth and creamy.
Then add some garlic.  I always keep a jar of minced garlic in my fridge for when I'm in a big hurry, or I run out of fresh.  Look for ones that have basically garlic and water as the only ingredients (besides a preservative, which is normal.)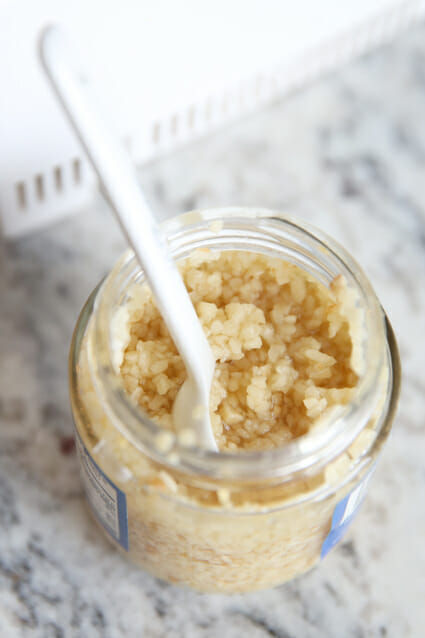 Add in a squeeze of fresh lemon juice
and you'll also need some olive oil, and this is a perfect use for either our garlic or lemon flavored oil.  If you stocked up in our recent sale, pull those babies out!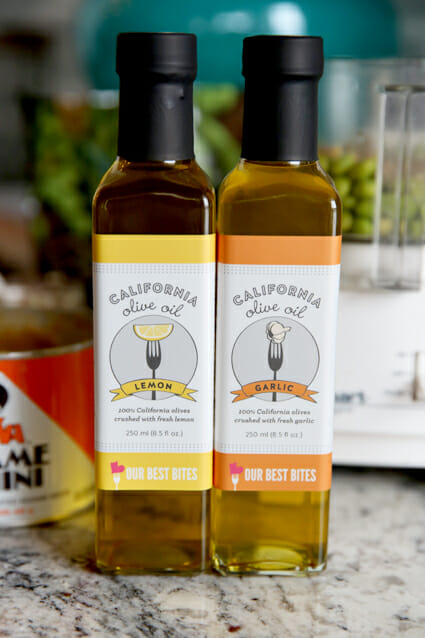 Sprinkle in some kosher salt and black pepper and you've got everything you need.  I know it looks like an odd mix, but trust me.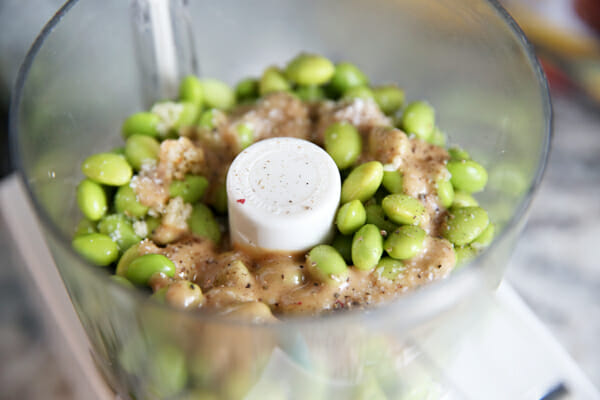 You'll want to pulse it several times to break up those beans, and scrape down the sides.  When it's well chopped, you'll add in some water, a little at a time as the mixture comes together and can spin around on it's own.  At that point, let the machine run for several minutes.  It takes a little time for it to really smooth out.  Like standard hummus, it will always have some texture to it.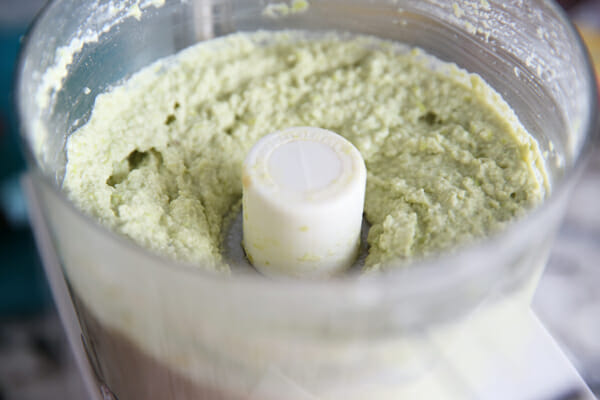 Definitely taste it at this point and add more salt to taste, along with anything else (more tahini, more lemon).  I tend to like mine heavy on garlic, lemon, and tahini, but I have a range in the ingredient list so you can start somewhere and add more to taste.
I recommend chilling this for an hour or two (or more) for the best flavor.  Before serving, top with some diced roasted red bell pepper (from a jar or homemade), a final drizzle of olive oil, and a sprinkle of sesame seeds.
It makes a great dip, obviously, for pita chips, pretzels, crackers, and vegetables, but it's also a great sandwich spread.  Use it in place of mayo on your favorite wrap, bagel, or sandwich!
Edamame Hummus
Recipe by Our Best Bites
*This recipe is suited to adjust to taste.  When a range is given in the ingredient amounts, start with the lower amount, and then add more to taste.
Ingredients
1 1/4 cups shelled edamame (that's about 1/2 of a 1 lb bag)
1-1 1/2 tablespoons tahini
3/4 teaspoon minced garlic
3 teaspoons extra virgin olive oil, divided (I recommend this or this)
1 1/2-2 tablespoon lemon juice
1/4 teaspoon kosher salt, plus more to taste
a few cracks black pepper
3-4 tablespoons water
2-3 tablespoons diced roasted red bell pepper (click here to make your own)
toasted sesame seeds (plain or black)
Instructions
Place edamame, tahini, garlic, 2 teaspoons olive oil, lemon juice, salt, and pepper in a food processor.  Pulse several times, using a spatula to scrape down the sides of the food processor bowl.  Add water until mixture blends continuously in food processor.  Stop occasionally to scrape down sides.  Process for several minutes, until mostly smooth.  Add additional salt and pepper to taste.  Place in a serving bowl and top with diced peppers.  Drizzle with remaining  1 teaspoon olive oil and sprinkle with a few sesame seeds.  Yields about 1 1/2 cups.
Nutritional Info (per 2 tablespoons)
Cal: 41, Fat: 2.6g,  Carbs: 2.2, Fiber .9g, Protein: 2g
If you've missed our extra posts this month, check back in tomorrow!  We're posting EVERY Thursday on The Scoop, and tomorrow I'll be sharing some of my favorite things! Also, like we mentioned a few days ago, we're having some trouble with our spam filters, so right now, we've enabled comment moderation until we can get a better handle on things. That means your comment won't show up immediately, but we're working as fast as we can to approve them quickly. And as long as you don't call us fat, ugly jerkfaces or say otherwise horrible things, we'll approve your comment–we're not in it for censorship, just to make sure all these icky spam comments don't wind up here.