This is a continuation of a post I began on Monday about a grand East Coast adventure with kids.  If you missed Part 1, start by clicking –>Here!
I shared our itinerary in part 1; over 1200 miles in about 2 weeks- here's the route!
And now I'll tell you a little more about how we did each of these stops.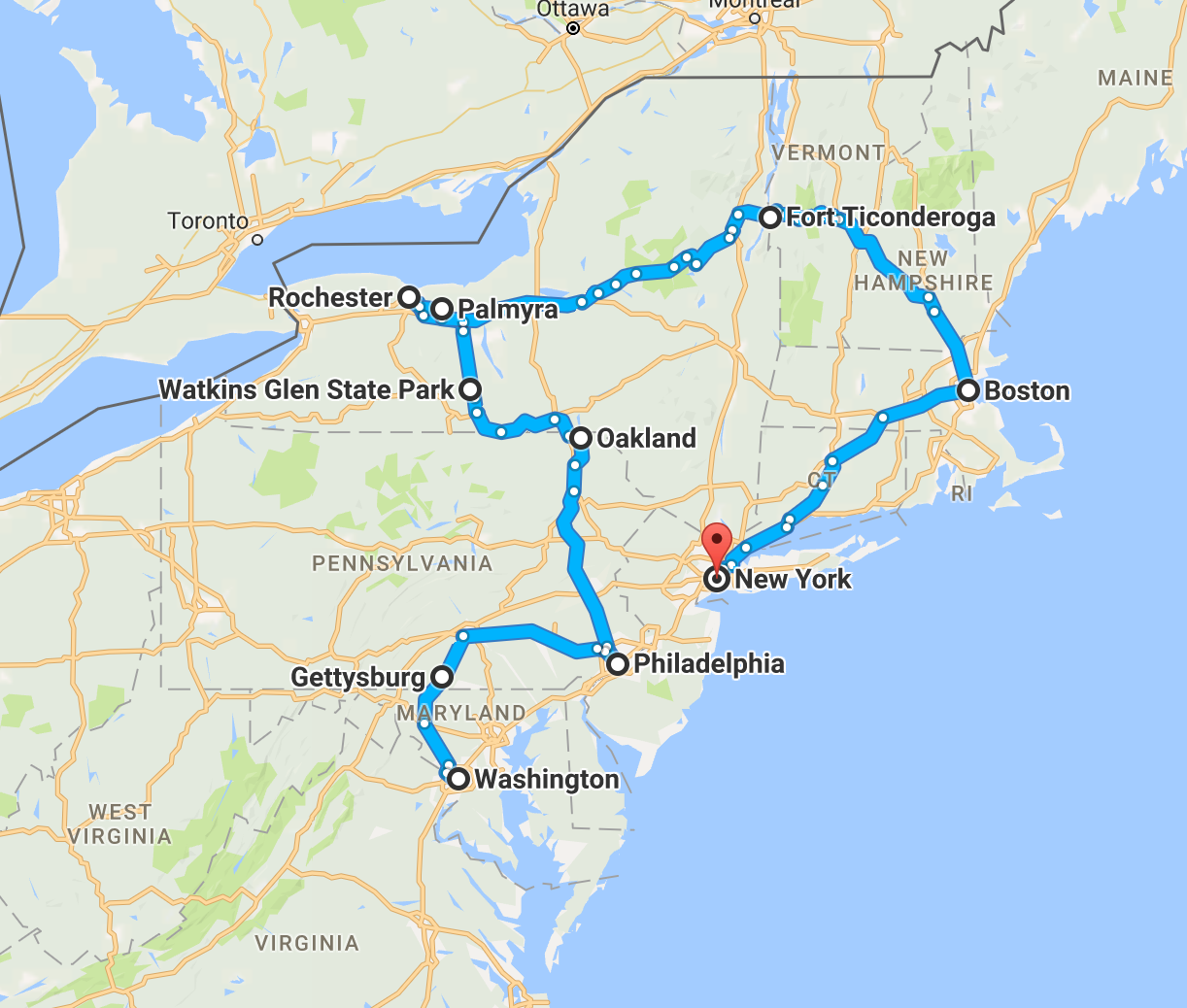 WA S H I N G T O N   D . C .
---
Our first day we explored Mount Vernon, George and Martha Washington's first home (and by "home" I mean giant, breathtaking estate that housed a small village). We were home by late-afternoon so we did the National Mall (which, surprise, isn't an actual mall- it's all the famous monuments) to save time and small legs, we had our friend drive us from place to place.  We would jump out at each monument and check it out, take pictures, etc.  and then hop in the car to the next one.  Our friend brought a book and was so nice to just let us do our thing.  There are busses that will do this same thing, or you could hire an Uber or Cab.  You can also bike the monuments which is a popular choice, but not something I was going to do with small children and limited time.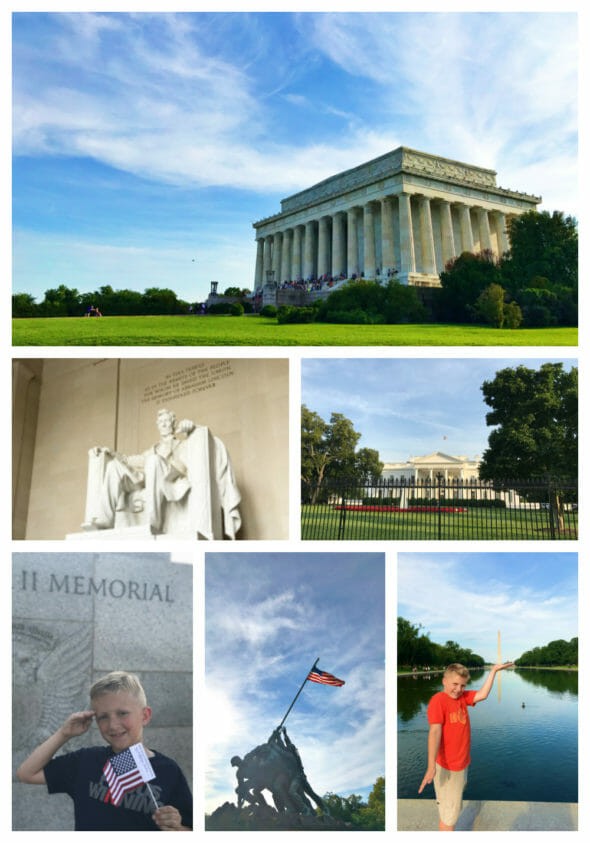 The next day we had a full day to pick from the many museums and national sights. My advice is to look at everything ahead of time and decide what you really want to see, and what's doable.  MANY Smithsonian museums in DC are free, but you do have to wait in line to get in.  We loved this because then we didn't feel pressured to stay in any of them forever.  We could make a few quick rounds, and leave when we were losing the troops, or stay for a long time if everyone was loving it.  We paid to visit the National Spy Museum (we have 4 boys, so- no brainer.)  and then we hit the Museum of Natural History (the gem exhibit there was one of my favorite parts of this whole trip), The National Air and Space Museum (super kid friendly), and the  National Archives– but the latter just to see the Constitution, Declaration of Independence, Bill of Rights, etc.  Also, my toddler set all the security staff in a tailspin when he used his fake laser souvenir from the spy museum to laser the actual Declaration of Independence.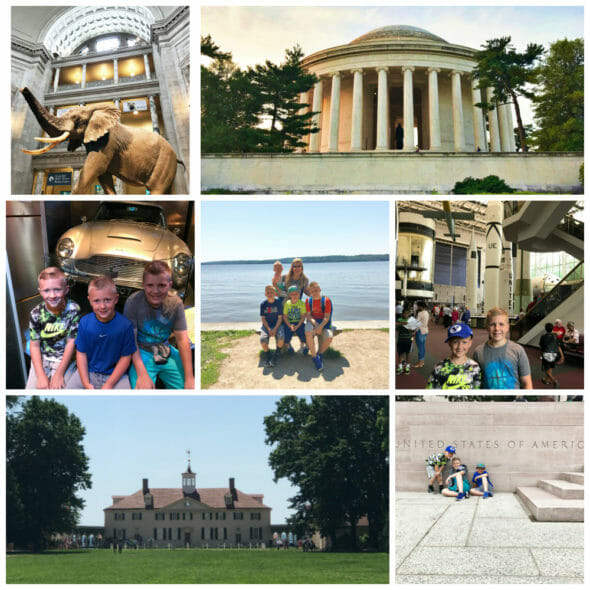 F O O D : Click here to check out Washington DC foodie recommendations from our readers!
L O D G I N G : We were fortunate to stay with good friends on this stop.  Not only were they great tour guides and taxi service, they were kind enough to have warm meals waiting for us every day!
T I P :  You will most likely have to wait in a line to enter the rotunda to see documents at the National Archives.  If you have a small child in a stroller, you can jump out of the line and most likely security will let you up a ramp and through the side door, by-passing all the waiting.
T I P : Buy tickets ahead of time for anything you know you need tickets or reservations for and you know you'll use for sure.  Research ahead of time so you know if there are things you need to book ahead of time that might be sold out by the time you are there.
G E T T Y S B U R G
---
We left DC and stopped at Gettysburg on our way to Philadelphia.  This was a surprise hit for me.  I wasn't sure what to expect and I knew we would be somewhat limited on time at this stop, so the first thing we did was speak to a park ranger to find out what would be the best use of our time.  He suggested a self-guided driving loop to see some of the main highlights.  You can do a full drive around the park, which weaves all around gorgeous Pennsylvania countryside while participating in an audio tour and stoping at each monument along the way.  We didn't have a couple hours to spend, so we hopped on the middle of the tour and went straight to a few of the main highlights and it was perfect.  Had we had more time here, I would have gladly stayed a little longer and seen a little more, but I feel like we got just enough.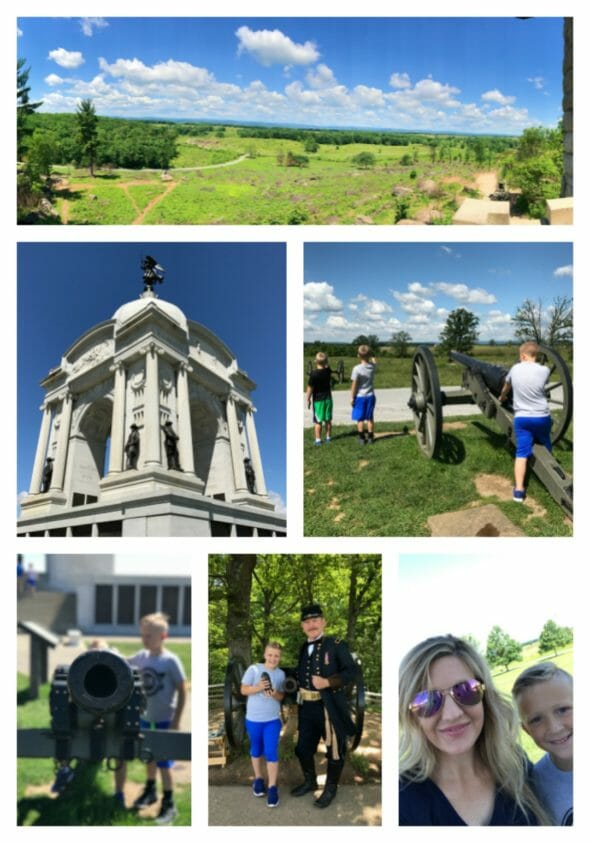 My boys loved all of the armory and the impressive monuments, many of which were like castles you could climb.  We sat high on the hill at Little Round Top and I was actually really emotionally moved at the scene.  There was a beautiful reverence about that place.  My boys loved speaking with a reenactment character and learning more about weaponry and artillery.  I was glad we did the self-guided tour because it really gave us the freedom to stop when we needed to and get out when we needed to, etc.  It was perfect for the kids who loved running around, and also learning some history.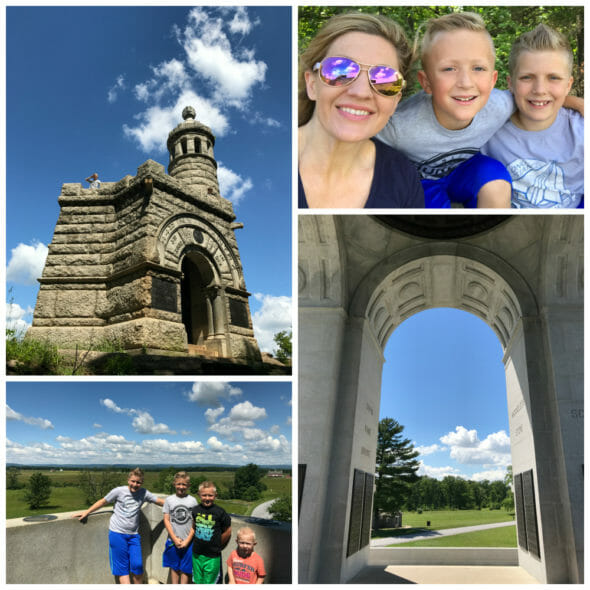 P H I L A D E L P H I A
---
After Ghettysburg, we made our way to Philly and arrived late afternoon.  Fortunately I had been to Philly just one year before this (remember this trip?) So I was super familiar with all of the main sights.  We had the shortest amount of time here so we knew we needed to make the most of it!  Fortunately there is tons to do relatively close together so right after checking in we immediately hit the streets and just explored.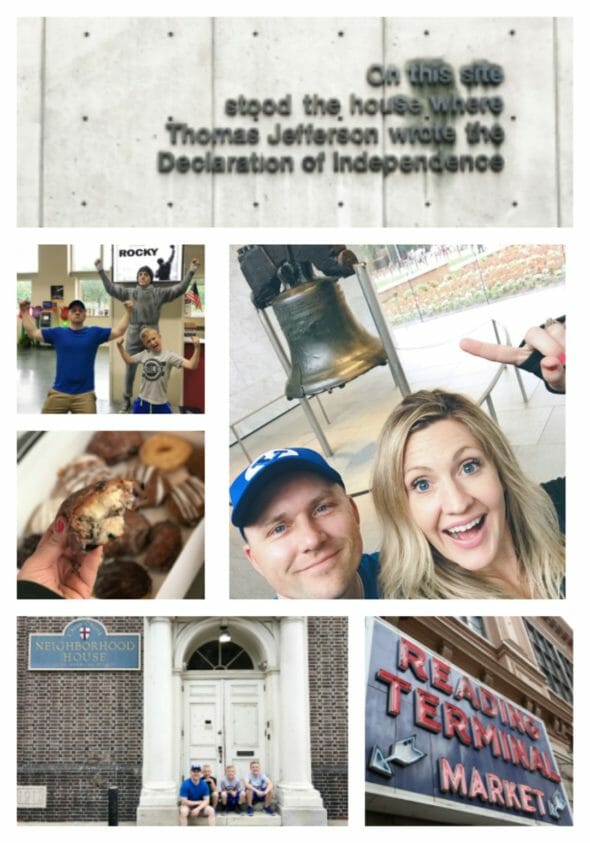 My one huge regret after so much planning is that I forgot to reserve tickets to go inside Independence Hall and by the time we got there they were sold out (they're free, so I didn't think to actually reserve them). We brought our stroller and walked all over town the day we arrived.  We explored the grounds of Independence hall, Christ Church, Ben Franklin's Grave, the Liberty Bell, and saw many of the monuments and historical markers they have all over town.  There are hop-on hop-off busses that run through Philly, where you can get on and off a double decker bus at your leisure as you explore different sites, which is a great option if you have kiddos who will whine about walking.  There's also the Betsy Ross House and my favorite stop: Reading Terminal Market.   We stayed right across the street from the market so we went over several times!  It's an open air market with lots of food vendors and a great place to eat if you want to try a few local specialties.  I was so happy my cousin messaged me the night before we left and told me to swing by the market one last time first thing in the morning on our way out of town for hot fritters from the Amish Doughnut Stand.  Worth every calorie.

F O O D : Click here to read food recommendations for Philly, including where to find the best cheesesteaks!
L O D G I N G : We stayed at the Downtown Philadelphia Marriott, which was a great location, within walking distance to many of the sights and just across the street from Reading Terminal market.
H A R M O N Y , P E N N S Y L V A N I A
---
We left Philly early the next morning to head toward upstate New York.  We stopped off at Harmony Pennsylvania to stop at our first LDS History site.  It's a quick stop off the highway and they have a beautiful new history center there.  There are volunteer missionaries that come from all over the world and give guided tours there.  We met the sweetest young women who showed our family around and took us on our own tour of the old historic homes there.  We walked through the Emma Hale's family home, and then the home she and Joseph Smith built up the road.  There is also a small cemetery nearby where their first child is buried.  You can then hike down a short way to the banks of the Susquehanna River.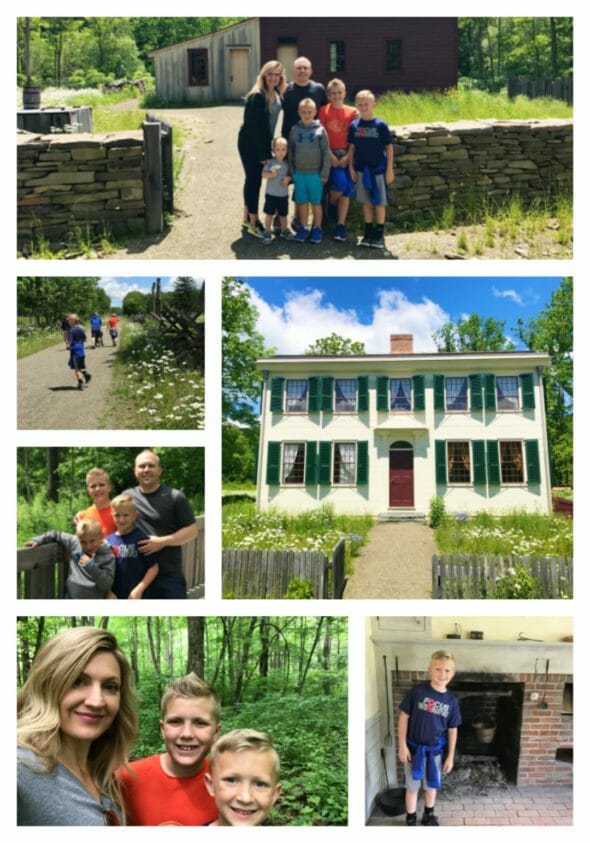 Even if you don't have time (or you have young children who don't have much of an attention span for a tour inside the history center) definitely take the time to watch the short movie they play there.  It is SO well done, and if you continue on like we did up to Palmyra, you'll watch another movie which is a continuation of this one.  Doing these stops in this order completely brought church history to life for me and helped me visualize the timelines and "characters" so much better.   After this quick stop, we continued on to Upstate New York- which is GORGEOUS.
W A T K I N S   G L E N   S T A T E   P A R K
---
Our next stop was Watkins Glen State Park.  If any of you take this trip, or visit anywhere even near the Finger Lakes region, you need to stop here!  It was the perfect place for us to get out of the car, breath in some fresh air, and see a natural wonder that was straight up magical.  It's a short hike to this giant staircase entrance.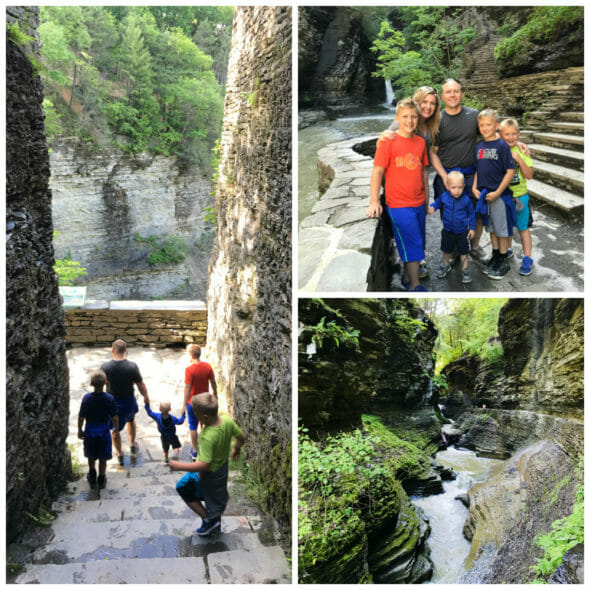 Then there is a beautifully paved path that winds through a cavern and within two miles, the stream descends 400 feet past 200-foot cliffs, generating 19 waterfalls.  It. Is. Breathtaking.  At first I was nervous about my toddler, but the path is well built and as long as we kept a close watch, there are little barriers between the path and the water below.
You walk underneath a couple waterfalls, over bridges, and along beautiful cliffs.  It was definitely a highlight!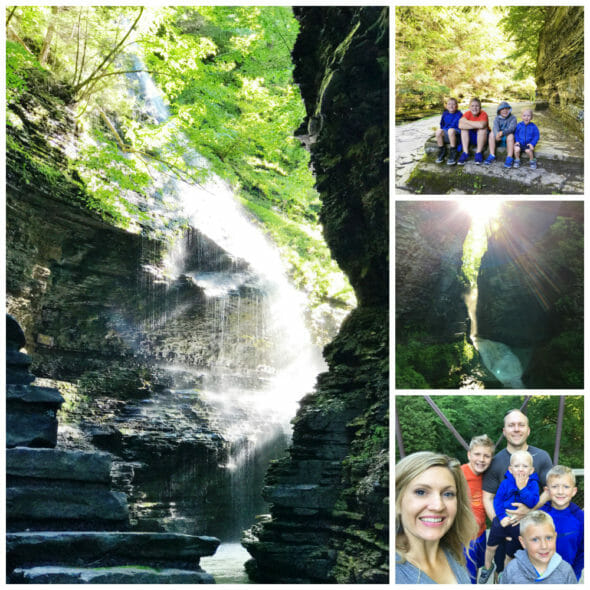 T I P :  You are bound to get a little wet and muddy here.  Be prepared and have a bag for muddy shoes and possibly a change of clothes if you have a toddler, lol.  It's worth taking the hike for as long as you can because it just keeps getting better and better.
This marks the half-way point of this trip!  We took a total of 13 days.  I'll share the final half with you in one last post next time!